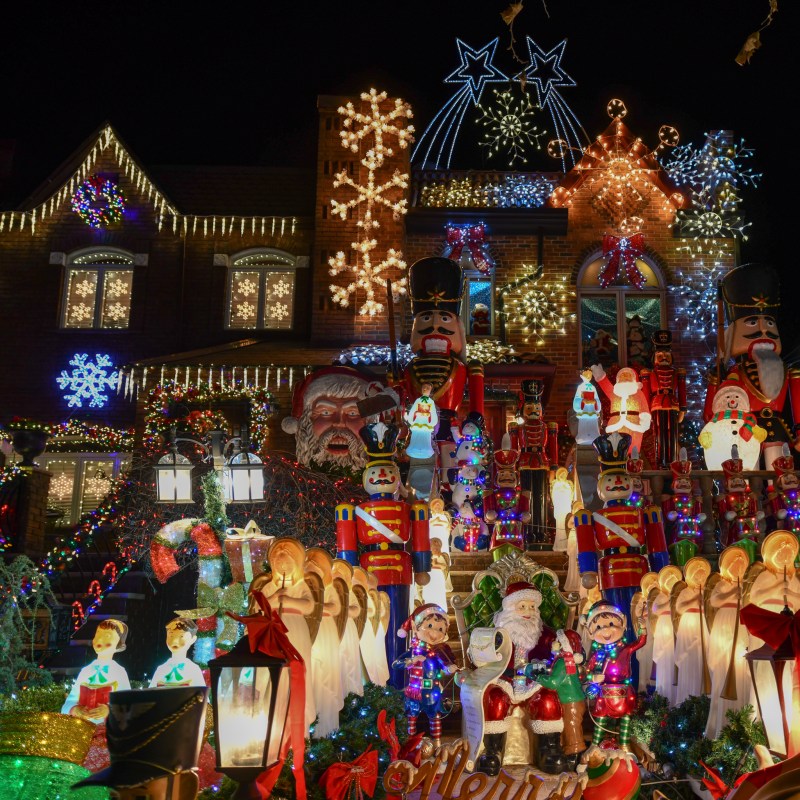 The most wonderful time of the year is finally here! If you're like the TravelAwaits team, you're probably on the lookout for the best and brightest light displays. Though we love professional displays at botanical gardens or city squares, there's something extra charming about an off-the-beaten-path neighborhood display. Well-decorated streets and neighborhoods are often quiet and cozy, and they remind me of what the precious holiday season is all about.
With the help of some TravelAwaits writers and travel experts, we compiled a list of some of the best lesser-known light displays in the U.S.
Grab your best blanket and settle in — we're about to take you on a scenic tour of some pretty magical light displays!
San Francisco
A snowy Christmas morning might not be in the forecast in San Francisco, but don't miss out on the city's beautiful residential displays.
Lauren Levy, the founder of Adensmom.com, has two recommendations. Her first recommendation, the Tom and Jerry House, is located at 3650 21st Street.
"It's on top of a steep hill overlooking the city. They have an enormous, real tree covered in lights and decorations. There are two oversized Christmas stockings hanging from the house stuffed with humongous stuffed animals," said Levy.
But wait, there's more!
"There are moving trains, Ferris wheels, and endless things to notice. There is no fee to visit; it's just a fun gift to the community from a couple of residents." Levy's other recommendation is located on Castro Street and is also free to visit.
"The second is less known but [is] also really decked out from top to bottom! There are hundreds of ornaments, lots of lights and bows, and a giant Santa Claus hanging from the center," said Levy.
Billings, Montana
TravelAwaits writer Teresa Otto suggests a residential winter wonderland at 4516 Stone Street in Billings.
"I haven't been to the North Pole in the Arctic Ocean, but I've visited the North Pole in Billings. Each year, Chris Troup decorates his home, beginning in September, with over 100,000 lights and hundreds of decorations," Otto said.
"Not only does the display bring great joy to Billings' residents, [but it also] serves as a drop-off spot for toys for local children who may otherwise not have a visit from Santa," Otto said.
If Billings is your go-to Christmas light display adventure, read up on our list of the best things to do in Billings. Or, if you're exploring Montana by car, here's our epic Billings to Missoula road trip.
Elizabethtown, Kentucky
If you find yourself in Elizabethtown this holiday season, don't skip out on the lights at Freeman Lake Park.
One visitor thinks the display "only gets better year after year."
"The attraction is free, although donations are appreciated and go toward the electricity costs and enhancements for the following year. Guests travel along an illuminated roadway with headlights off to enjoy more than 100 brilliant displays and see favorite characters like Rudolph, Olaf, and themed Star Wars figures," the visitor said.
For a mix of your fun display themes and exceptional decorations, head to Kentucky!
Sonoma County, California
Sonoma County is home to quite a few dazzling holiday displays. Birgitt Vaughan, Director of Global Media Relations from Sonoma County Tourism, suggests two displays in particular.
The Charlie Brown Christmas Tree Grove at the Town Green in Windsor is one of her recommendations.
"The event highlights 200 individually decorated holiday trees lining the walkways of the Green. Students, families, and local businesses showcase their talents in design and decorating with their themed trees," said Vaughan.
"The Charlie Brown Christmas Tree Grove will be open December 3rd through New Year's Eve with streaming holiday music and lighting displays as well as virtual celebrations." If you're planning a trip to the area, don't forget to check out our list of things to do in Sonoma County!
St. Louis, Missouri
Jordan Palmer, a TravelAwaits and Drink314 writer, suggests free and residential Candy Cane Lane — 6500 Murdoch Avenue — in south St. Louis City.
"Even as a Jewish family, we made a tradition of taking our kids to the street from when they were babies, and till high school," Palmer said.
"The displays change each year, but some, not all, usually try to be clever and outwit each other. They have a radio frequency that you can dial in your car and follow along," he said.
Candy Cane Lane inspired nearby neighbors to indulge their inner Griswold. You can also enjoy Angel Avenue and Snowflake Street when visiting Candy Cane Lane. All can be enjoyed by car or strolling along the sidewalks.
Greensboro, North Carolina
Kristi Haight, a writer from Chatfield Court, recommends the Sunset Hills neighborhood display in Greensboro.
"What started with one family hanging lighted Christmas balls from their trees has turned into a neighborhood tradition. Most homes in our neighborhood hang lighted Christmas balls made by hand with chicken wire and Christmas lights," Haight said.
"It really is a magical sight to see, and people come from all over our city and beyond to drive through the neighborhood to see them. Our neighborhood also uses the opportunity to collect canned goods and food for our local food pantry… It is free to enjoy, but it would be awesome if you could bring a can of food or two," she said.
The display offers the opportunity to see a neighborhood lit up with dazzling lights, and you and yours can give a little to a good cause too. Sounds like a great way to celebrate the season to us.
Torrance, California
Sleepy Hollow Holiday Lights Extravaganza is another breathtaking light display in California. This display is located on Roberts Road in Torrance, less than 30 miles south of LA.
A representative from Discover Torrance has the insider scoop on the display.
"Taking place for more than 40 years, Sleepy Hollow Holiday Lights Extravaganza in Torrance is one of the largest holiday decorations displays in the county. Visitors can drive through the neighborhood, reveling in the sights, sounds, and scents of the season," the representative said.
As for practical information, here's what they know.
"The wildly extravagant decorations are on display from December 1 through January 1 from about 6 p.m. to 10 p.m. Visitors are cautioned to drive safely, watch for pedestrians, and be courteous while enjoying the beautifully lighted neighborhood," said the rep.
If walking is more your speed, that's an option too!
"Visitors also can park along Pacific Coast Highway and walk the blocks of this winter wonderland."
New York City
Dyker Heights in New York City is a neighborhood display experience unlike any other.
Rachel and Dana Reed from the travel blog Traveling Found Love recommend this free-of-charge, "out-of-this-world-festive" display.
"Come see how the residents of Dyker Heights transform their yards, houses, and streets into a Christmas wonderland, filled with glistening lights, joyful music, and traditional holiday decoration: From the oversized nutcrackers, fluffy snowflakes, magical reindeer, and giant Santa Clauses," they said.
"You will be in pure amazement at the sheer size and quality of the decorations that brighten up this neighborhood for the holiday season. It is a must-visit in New York City during the holiday season."
For the best views, they recommend exploring "11th to 13th Avenues from 83rd Street to 86th Street. This is an area you will not want to miss!"
If you're interested in learning more about the display, read up on our full review of Dyker Heights — featuring our seven top tips for how to make the most of your visit.
Brownsville, Tennessee
Sonia Outlaw-Clark, director of West Tennessee Delta Heritage Center/Tina Turner Museum, recommends a display that started small at just one home.
"David Markowski has been doing a light display in Brownsville since 1991. His display has grown to five acres, and he plans to keep expanding as he can," Outlaw-Clark said.
"It's [a] drive-through this year [so it's] safe for social distancing." In addition to that, visitors can tune into a radio station, hear holiday music, and get even more in the Christmas spirit.
According to Outlaw-Clark, the display has over 750,000 lights, and it grows more and more each year. Visitors will enjoy custom radio, free admission, appearances from Santa and Mrs. Claus, and tons of gorgeous displays.
You can find the multi-acre display at 1675 Coburn Road.
Fort Wayne, Indiana
Jessa Campbell, Marketing and Communications Manager from Visit Fort Wayne, recommends several that will knock your socks off.
The first house, located at 1618 Crooked Creek Parkway, "has more than 60,000 lights and alternate displays between musically timed and solid. Plus, you can even walk through the lighted tunnel!"
Her second recommendation at 721 Pelham Drive offers "more than 35,000 lights and a Santa's workshop and a gingerbread house. Plus, kids can drop off their letters to Santa and see Santa and sometimes Mrs. Claus on Friday and Saturdays."
There's a lot more to see and do in Fort Wayne. Here's our favorite way to spend a day there, plus some fantastic outdoor activities there, too.
We know this is only the beginning of great Christmas light displays in the U.S. What would you add to the list? Let us know at contact@travelawaits.com or contact us here!
To continue the festivities, read below for some of our other holiday stories!