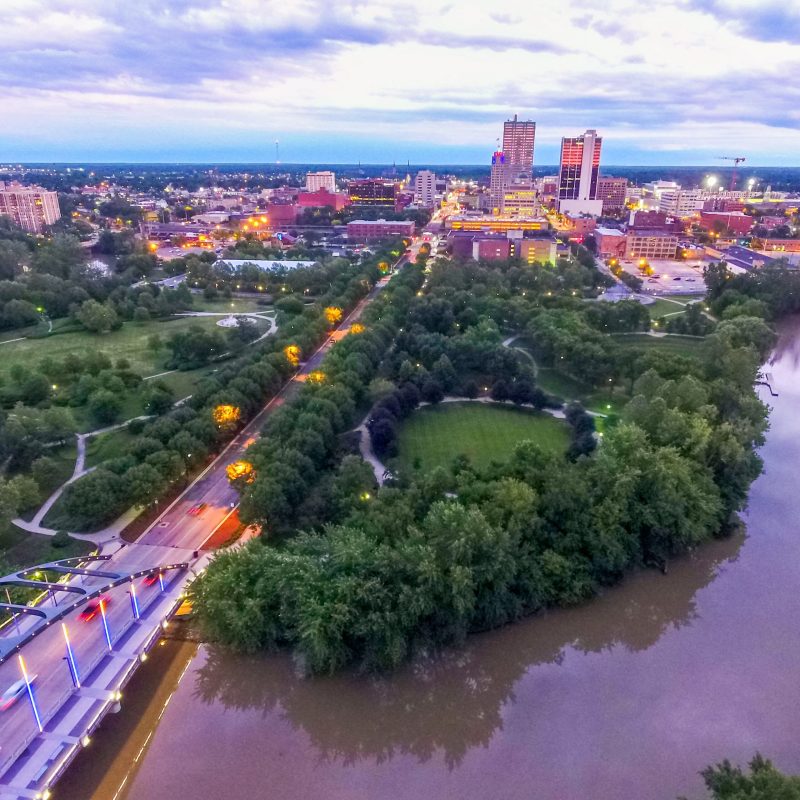 Fort Wayne, Indiana, is Indiana's second largest city and is two hours northeast of Indianapolis. This city is home to arts and culture, sporting events, and much more. Boutique shopping is offered in many areas of Fort Wayne, and the experiences will not disappoint you.
If you have one day to spend in Fort Wayne, here is how you can make the most out of it. I recently visited as a guest at some of the establishments and attractions below. My meals and admission fees were comped, but all of my suggestions are based on my honest opinion and nobody else's!
Allen County Public Library Genealogy Center
Fort Wayne is proud of the fact that it is home to the nation's largest public genealogy collection at the Allen County Public Library Genealogy Center. This center is open seven days a week and is free to visit. While in Fort Wayne, I had the opportunity to work with a genealogist who helped me answer some family questions I had. If you have any questions in regard to your family history, you will want to spend a minimum of two hours here. There is no cost for these services, and it's much easier to use than going online to search your family history.
When you visit the genealogy center in Fort Wayne, you will have a personal assistant working alongside you. This center is handicapped accessible and is located in the heart of downtown Fort Wayne near hotels, restaurants, and boutique shopping.
Riverfront Fort Wayne
Promenade Park is where you can rent a kayak, listen to music, and stroll along the Fort Wayne riverfront. This is also one of the newest attractions in Fort Wayne, and it's something that you will want to experience. What you want to do along the riverfront will determine how long you spend there. If you book a boat tour, you will want to allow a minimum of two and a half hours in the area. You can also rent bikes and explore the riverfront's 100 miles of trails. The Rivergreenway Trail is very popular, and it runs 25 miles from Fort Wayne to New Haven. In my opinion, the best way to enjoy this area is to grab lunch at a nearby restaurant and take it to the riverfront as there's nothing like dining outdoors with a river view.
Foellinger-Freimann Botanical Conservatory
The Foellinger-Freimann Botanical Conservatory is located in the heart of downtown Fort Wayne. Three indoor gardens cover 25,000 square feet and showcase more than 500 species of plants. The tropical garden features a beautiful waterfall and is surrounded by ferns, orchids, and even banana trees. The outdoor gardens offer another view of the city, plus sculptures and seasonal plants. There is a small admission fee and the conservatory is closed on Mondays. Free parking is provided in the Civic Center Parking Garage with paid admission to the gardens. Depending on the season, you will want to spend one to two hours here.
Eating In Fort Wayne, Indiana
Fort Wayne, Indiana, is a food-lover's paradise. Steaks, pizza, sushi, burgers, and steak and eggs are popular menu items. You will not go hungry on your visit to Fort Wayne as the selection of restaurants is abundant. None of these restaurants require a special dress code, but I would suggest wearing nice, comfortable, casual clothing at Proximo and Copper Spoon.
Proximo
Proximo is located downtown and offers a fun, relaxing atmosphere. They are open seven days a week and, in my opinion, offer one of the best breakfasts in the Midwest. Your day will start off right as you wake your taste buds up with a chorizo or quinoa Bowl. Mixed-berry pancakes are also a popular American breakfast item served with eggs and bacon. The Garbage Skillet is most likely the most colorful dish on the menu and is guaranteed to fill you up for the day.
Copper Spoon
Copper Spoon offers the best ribeye in Fort Wayne as it's smothered in chorizo butter. The menu items are locally sourced and the cocktail menu is sure to win you over. The bartenders at Copper Spoon are award-winning, as they have had three bartenders ranked in the top 100 in the country in the USBG World Class bartending competition.
This intimate dining experience is sure to win you over. Parking is available on Ewing Street and is free after 5 p.m. Paid parking is available at both the Marriott and Ash parking garages, which are also nearby. Reservations are recommended for parties of four or more.
Hop River Brewing Company
Hop River Brewing Company is a microbrewery and taproom that offers terrific food. I would not typically recommend a brewing company for meals, but I highly recommend this one. I had the White BBQ Chicken Sandwich and it was some of the best barbecue I have ever had. The Vegan Sloppy Joe (topped with mustard vinegar collard slaw) is also a local favorite. Order up a flight of four beers and pair it with the Caramelized Onion Dip served with colored carrots, watermelon radishes, and celery. It's fair to say that this microbrewery won me over.
Shopping In Fort Wayne, Indiana
Fort Wayne is home to several boutique shopping experiences. Downtown offers numerous shopping opportunities, and you will be sure to find something that interests you. Fort Wayne is home to Vera Bradley, which offers a distinctive line of superior handbags, travel bags, and the like. It should be no surprise that you will find Vera Bradley products in many specialty shops throughout town.
Vera Bradley Annual Sale
Every spring, Fort Wayne is home to the ultimate Vera Bradley Annual Sale. For five days, visitors will find 40 to 60 percent off of the retail prices of prized Vera Bradley items. This is the ultimate shopping experience in Fort Wayne, as it is held in a space of more than 100,000 square feet. If Vera Bradley is calling your name, this is the time of year you will want to visit Fort Wayne.
Maisie And Maude
Maisie And Maude is located at 1529 W Main Street in Fort Wayne and offers vintage clothing, restyled furniture, vintage and recycled jewelry, and linens. If you enjoy seeing things repurposed, this specialty shop is for you. Have fun discovering the vintage items that are stocked by this Main Street business.
The Hedge
The Hedge is where you can experience custom-printed items and maybe even sign up for a class to create your own artwork. Located at 1016 Broadway in Fort Wayne, you are sure to be inspired by this independent fine art shop. The fun thing about these boutique shops is that they will surprise you once you walk inside. The store windows are cute on the outside, but once you step in, you will be hooked. You will most likely walk out with one or two shopping bags, as much of the merchandise cannot be found elsewhere.
DeBrand Chocolates
A visit to Fort Wayne would not be complete without a visit to DeBrand Chocolates. You'll find their downtown location at 878 Harrison Street. The gelato, ice cream cones, and gourmet chocolates are sure to please you. This store is closed on Sunday but is open daily at 10 a.m. otherwise. If you would like to see these fine chocolates created firsthand, tour the corporate headquarters at 10105 Auburn Park Drive. Tours last 35 to 40 minutes and are handicapped accessible. It's important to note that tours are not available every day; look at the calendar for available tour dates.
The one thing that surprised me most about Fort Wayne was the fact that this city is very walkable. It's easy to get around and I felt safe. The Hilton Fort Wayne At The Grand Wayne Convention Center offers safe and convenient lodging. Many attractions, shopping, and dining experiences are within walking distance of this hotel. You have choices of many things to do when you visit this city in Indiana. It's an up-and-coming metropolis that you will want to pay attention to.
Debating where to vacation in Indiana? Here are eight reasons to visit Hendrick's County, Indiana, plus the inside scoop on a weekend getaway in Bloomington: the best things to do.