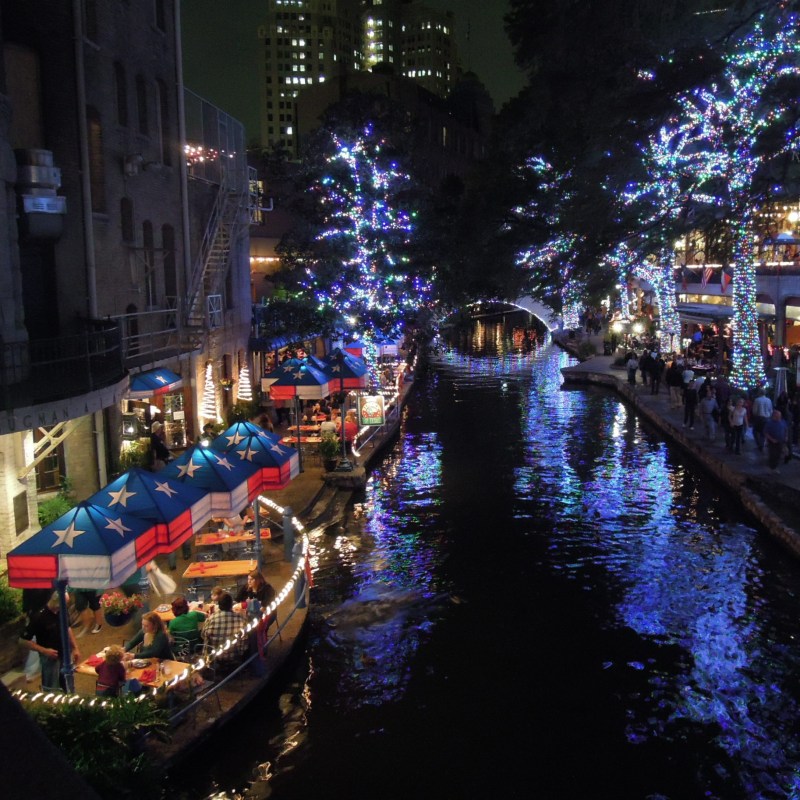 Thanks to Texas's mild climate, many activities and attractions are enjoyed by locals and out-of-town visitors each year in the winter. Activities such as going to the beach, playing a round of golf, fishing, and antiquing are enjoyed year-round in this southern state. Texas is one state where you can enjoy the four seasons back-to-back.
The winter climate in Texas is comfortable to many, but it does get down to freezing on some days. When it does, it rarely stays that way. The further you travel south, the warmer it can get, but as they say here in Texas — with a blink of an eye, the weather can change before you know it. Being a native Texan, I've enjoyed many fun winter experiences in my lifetime, and I'm here to share a few with you. Learn about these fabulous experiences in Texas during the winter, and find a few that resonate with you.
Pro Tip: Since the state's winter weather can turn, within hours, from pleasant to cold, come prepared with a few winter outfits and a nice, thick jacket.
1. Cruise The Texas Antique Trail
There are plenty of unique antique shops to visit in the Lone Star State, and 118 are members of the Texas Antique Trail. But since Texas is so big, I suggest choosing a particular Texas region (there are seven) and starting there. Visit Texas Antique Trail's website to begin mapping out your course either by city or region. You never know, you might find an antique your grandparents once had or that particular hard-to-find unique object that's been on your antique bucket list for years.
2. Sip Your Way Through The Wineries In Texas Hill Country
There are roughly 60 stunning wineries scattered throughout the Hill Country that are part of the Texas Wine Trail. Toast to a good time with friends while enjoying the scenery of rolling hills and the beautiful grasslands that belong to the region. The Texas Hill Country Wineries Association hosts four annual self-guided wine events where you can experience various wines at participating wineries. Check out the Event Passport to see if this is something you would like to do. Other fun discounts are included in the price of a passport. This is an awesome way to try new wines at wineries that you have not been to. Experience all that the Texas Hill Country has to offer while sipping your way through the wineries of your choice.
Pro Tips: It's best to contact the wineries you would like to visit as wineries operate at different times and days. Also, if you're in Texas Hill Country during warmer months, check out our list of must-visit caverns in the region.
3. Play A Round Of Golf
Texas is home to many top golf courses with beautiful, well-kept lawns throughout the year. It's nothing to see golfers out on a warm day in December. However, I've seen golfers out on the lawn in pretty darn cold weather too. I guess if you love the game, you do it often and whenever you can. So, yes, you can play golf year-round in Texas. Cities like San Antonio, South Padre Island, and Corpus Christi have wonderful golf courses that operate year-round. But you can definitely find a few open golf courses in the Dallas/Fort Worth area, as well. Check out The Hideout Golf Club and Resort for fabulous golfing in the Hill Country.
4. Visit The Fort Worth Stockyards
Fort Worth is probably the city with the mildest year-round weather in Texas. And on any given day or evening, there is always something happening in the Stockyards. It's such a fancy, cowboyish way to see and experience Fort Worth. This part of Fort Worth never gets old, and you'll probably want to visit again and again. From rodeos and cowboys to good grub to great shopping, you'll have fun walking around on the straight, narrow path of East Exchange Avenue. I happened to have written an article on things to do at the Fort Worth Stockyards that you may find interesting.
5. Experience South Padre Island
One of Texas's best beaches that I've been to is South Padre Island, a popular, well-known Texan Gulf Coast destination for Texans and out-of-towners. It's a lovely resort town on a barrier island off Texas's southern coast and has nice clean beaches and calm waters. If you want to escape cold temperatures and possible snow, plan a trip to this tropical island paradise. Peruse your way through South Padre Island online to see all you can do here in the winter. You'll be amazed.
6. Spend The Day In Dallas With A CityPASS
For around $50 per adult ticket (children's tickets are less), you can spend the day, or days, seeing the best of Dallas with the purchase of a Dallas CityPASS. Admission Includes a visit to the Perot Museum of Nature and Science, the Reunion Tower's GeO-Deck, The Sixth Floor Museum at Dealey Plaza, and the Dallas Zoo. See these top attractions in Dallas while saving money by bundling them with the CityPASS. No need to hurry, as the Dallas CityPASS is valid for about a month.
7. Holiday In The Park At Six Flags Over Texas
Holiday in the Park festivities at Six Flags Over Texas in Arlington start in late November on select days through the new year. Enchanting experiences will help create special family fun outings. Its breathtaking winter wonderland features a variety of delightful and interactive activities to help capture the holiday spirit. Enjoy millions of lights, thrilling coasters, and special holiday treats. Check out the Holiday in the Park guide to help plan your visit. Fake snow, snow cones, and maybe real snow — who knows!
Pro Tip: Six Flags is also opened after the new year, but only on Saturday and Sunday through January.
8. Head South To San Antonio
Winters in San Antonio are very mild and rarely get under 60 degrees. One February, my grandson and I went to San Antonio for an event, and the weather was so nice and warm at a whopping 78 degrees that I had to stop at a store to buy him a swimsuit. Thank goodness they had a few to choose from and in his size! It never occurred to me to pack his swimsuit, much less swim outdoors in February. You'll find that the San Antonio River Walk is all decorated with holiday lights and boats are running with guests. Visit San Antonio in the winter for some magical experiences.
9. Explore Guadalupe Mountains National Park
Just south of the New Mexico border in Big Bend Country, Texas's large and remote region, lie the Guadalupe Mountains, where open-wide land is not taken for granted. Whether you're a hiker, backpacker, or nature lover, there's plenty of sightseeing to enjoy. Experienced hikers can hike on rugged trails to the top of Guadalupe Peak, which is the highest point in Texas, while the sightseer and nature lover can enjoy the scenery from below. Permits are available for overnight camping.
There's more to do than just hike as Guadalupe Mountains National Park has more than 1,000 species of plants, such as the ocotillo and prickly pear cactus, and other plants that are found only in the park and nowhere else in the world. Exploring the Guadalupe Mountains is just one way to experience Big Bend Country.
Pro Tip: When planning a trip here, be sure to mark out at least a week or so to be able to see it all. This land here is large and wide, and well worth a trip.
10. Feed The Gators In Southeast Texas
A year-round rescue park that houses over two hundred gators in Beaumont, Texas, offers interactive, educational gator shows, swamp tours, gator feeds, and hands-on fun for kids and adults alike. If you dare, you can hold a gator in your hand or, for a real experience, jump in and swim with one. This will surely be a fun experience for you and the grandkids. I've always wanted to do this, and it's on my adventure bucket list. There are other animals to see and feed, such as turtles, goats, and other reptiles. Make a memorable moment or two at Gator Country Adventure Park.
11. Cast A Line In The Gulf
Texas is home to many lakes, and fishing is a big deal here. But for a big Texas experience, may I suggest going bigger and casting a line in the Gulf? Just Cast Fishing Charters in Galveston can take you to the best spots to fish for beautiful speckled trout, redfish, flounder, and mullet, to name a few. And while you're in Galveston, take a free ferry ride to Port Bolivar and back on the Galveston-Bolivar Ferry — open 365 days of the year. Take a jacket!