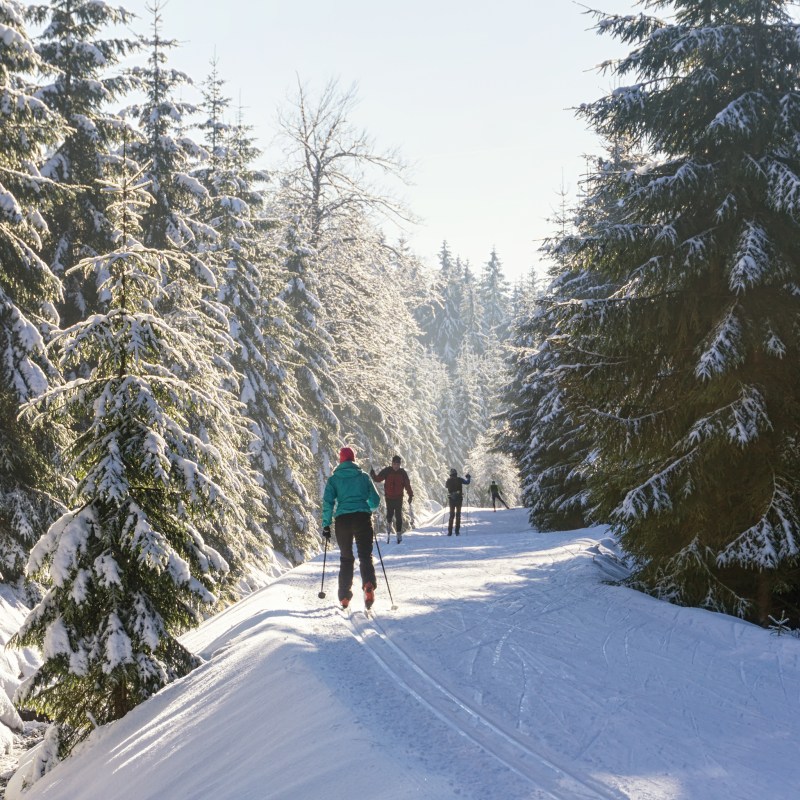 Of all the winter sports I know, cross-country skiing is the most rewarding. You don't have to be super fit to do it, but top athletes can challenge themselves. Like walking and running, skiing is suitable for people of most ability levels.
You can go cross-country skiing at a resort, in a forest, in a field, on a golf course, or in a park. You only need snow and some space.
Here are seven tips to keep in mind before you try it for the first time.
1. Know Your Cross-Country Ski Equipment
The three essential pieces of equipment for cross-country skiing are skis (with bindings), ski boots, and ski poles. If you're a beginner, try renting ski equipment rather than buying it. Get a feel for what suits you best.
Compared to downhill gear, cross-country (or Nordic) ski equipment is light and flexible. The skis are long and thin, the boots are low like hiking shoes, and the poles are longer than downhill poles.
2. There Are Three Styles Of Nordic Skiing
There are three main styles of cross-country skiing: classic, skate, and touring. Each has its own equipment. For now, we'll stick to the classic style.
In classic cross-country skiing, you follow a double track, one foot in each groove, and you simply go forward like a train in a straight line. Most beginners will start out on flat terrain and groomed trails where the track has already been set. Later, you can get into skate skiing and ski touring.
3. Start By Kicking And Gliding
As a child, did you ever wear thick socks to skate across a newly waxed floor? The gliding was easy, but the pushing off to get that glide was a little tricky. On a really slippery floor, it could lead to you doing the splits without trying to!
Cross-country skiing is a bit like that. You need a good kick to get started. The glide is your reward, just like coasting on your bicycle is the reward for pedaling hard enough.
As with walking, in cross-country skiing you move your weight onto the ball of one foot and push off to propel yourself forward. The difference is that your skis will then glide forward before you push off with the other foot.
Start by walking on the skis, and soon you'll be gliding between steps. Don't worry about moving your arms. The motions of skiing come naturally if you relax and let yourself be playful. Look at how other skiers do it.
4. Rent Waxless Skis Or Skis That Have Been Waxed
To get a grip on the snow, you need a little friction on the bottom of the ski in the area under the foot (called the grip zone or the kick zone). For a good glide, the bottom of the ski should be very smooth everywhere else.
One way to create friction is to wax your skis. As a beginner, you don't have to learn about waxing right away. Instead, simply rent skis that are ready to go, either waxed skis prepared by the rental shop or waxless skis.
Waxless skis come in two types. Crown and fishscale skis have a pattern in the grip zone. Skin skis have a skin of either a natural fiber (like goat hair) or a synthetic version, also in the grip zone.
Do waxless skis work? Being skeptical, I called Trail Sports Inc. at the Canmore Nordic Centre in Canmore, Alberta, for advice.
"A properly sized waxless ski will not need any grip wax. In fact, applying grip wax on a pattern base ski can create a mess that is difficult to clean. Applying grip wax to a skin ski could significantly damage the skin," said manager Patrick Gallagher. In short: Don't wax waxless skis!
Gallagher also mentioned that waxless skis should be the proper size. It's important to get these skis professionally fitted at a shop.
5. Make Sure Your Boots Fit Comfortably
Cross-country boots should fit like running shoes. For warm feet, make sure you can wiggle your toes. Too-tight boots lead to cold feet.
Most people are fine with just one sock layer. I go for two (one thin and one thick) to help prevent blisters from forming. Blisters! The curse of hikers and skiers alike.
Maybe this is too much information, but I almost always get blisters on my heels and baby toes, even with ski boots I've worn for years. Before I put my socks on, I put tape or thin adhesive bandages on the sensitive areas. That way, there's no friction and no blisters. I carry a pocket full of extra bandages just in case.
6. Wear The Appropriate Clothing
Your first time cross-country skiing is a chance to start testing the equipment and clothing options to see what makes you most comfortable. Try your best to stay warm and dry.
As long as there is snow on the ground, you can ski. You could be out in weather that's as cold as you can stand, or it could be a sunny spring day and above freezing. You'll be moving and getting warm from the exercise. You'll probably sweat. When you stop for a break, you'll start to cool down.
For warmth and easy movement, dress in layers. The inner layer should carry moisture away from your body. Choose a breathable outer layer that snow won't cling to. In the middle, wear warm layers as needed.
Cold weather running gear can work for skiing. When it's cold, add a parka, ski mitts, a scarf, a hat, and wind or snow pants for warmth and to repel the snow.
The old-style outfit for cross-country skiing consisted of tall socks and short pants (knickers) that met at the knees. That still works.
Snow clings to the fabric of most everyday trousers, especially denim jeans. When the snow melts, you feel cold and soggy. So avoid jeans, and instead wear water-repelling rain or snow pants over long underwear.
Gaiters are a marvelous invention for skiing. These water-repellent cuffs cover the tops of your feet and come up almost to the knees. With good gaiters, you can largely avoid the wet trouser problem, even with absorbent fabrics.
Since I'm not particularly fit, I get really warm when going uphill, but I'm also often cool because I don't exert myself. My outer coat is a water-repellent parka shell with a full-length, two-way main zipper and zippers under each armpit. I often wear a synthetic hoodie under that, again with a full-length zipper. I wear a headband to keep my ears warm, and a toque over that. One of the easiest ways to warm up or cool down is to put on a hat and scarf or take them off.
For your hands, choose mittens with a leather or synthetic outer layer so that the snow falls off them rather than melting and soaking through to your skin. Gloves are okay, and lots of skiers prefer them, but with mittens, your fingers will be warmer.
Wear sunscreen and bring protective sunglasses. Even on cold, cloudy days, the sun is still powerful.
Rather than buying a lot of new gear, start with what you have and test it.
I like to wear a light backpack to hold my clothes and lunch.
7. You're Never Too Old To Learn
Brad Hiebert of Trail Sports Inc. is a Level 3 CANSI (Canadian Association of Nordic Ski Instructors) instructor.
"I encourage everyone to take a lesson first. I'm 61 years old, and my biggest responsibility and pleasure at the Canmore Nordic Centre is teaching first-time 50+ skiers to try it and enjoy it," he told me.
Hiebert emphasized that the best way to get started is to take a lesson. I agree. I think a new skier should be taught how to start, stop, go up and down gentle slopes, and follow basic trail etiquette. Learning to fall and get up is useful, too.
After one lesson, Hiebert said that even first-timers have the confidence and skill to ski on their own for another hour or so before they call it a day.
Bring some spare dry clothes to change into when you're done. You'll be hungry and thirsty. Cross-country skiing burns lots of calories!
On cross-country skis, you can easily get away into the forest. All you hear are the birds and the swishing of your skis on the snow. The smooth action of kicking and gliding becomes a peaceful and almost hypnotic rhythm. Every now and then, there's the thrill of climbing up a hill and skiing down the other side. It really is a fantastic sport for everyone.