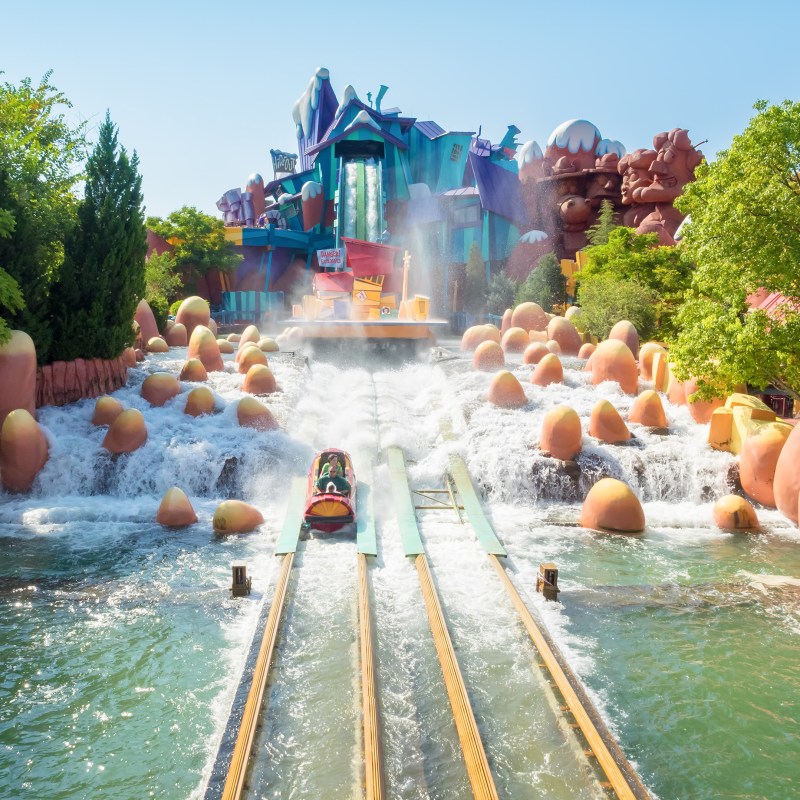 There's good news for Florida theme park fans who've been putting off a trip and missing the thrilling rides, character meet-ups, resorts, dining, and general excitement. "Everyone now acknowledges that theme parks have not led to any type of major outbreaks," Governor Ron DeSantis said during a press conference. He went on to praise Florida's theme parks, saying that Disney World, SeaWorld, and Universal "have done very well" at curbing the spread of COVID-19.
In a similar vein, Orlando Mayor Buddy Dyer told WKMG-TVin Orlando that while there is — of course — concern that people may travel to Orlando with COVID-19 and spread it, the theme parks are safe.
"People flying in and going to Disney or Universal, those are two safer places I can think of to go and not worry as much about whether you might contract COVID-19," Dyer said. "That's because of the social distancing and other practices that they put in place."
Like pretty much everything, Florida's theme parks closed due to the COVID-19 pandemic in March. Universal Orlando reopened in June. In July, Disney World reopened with new safety guidelines in place. For example, the parks opened with limited capacity, barriers to enforce social distancing, and a requirement for masks.
Effective Requirements Still In Place, Plus Some New Protocols
Those requirements are still in place, and some other changes have been made as well. For example, the parks feature enhanced cleaning protocols, temporary adjustments are in place to promote physical distancing, and the use of contactless payments and interactions reduce contact. Face coverings are still required for all guests over the age of two, as well as cast members. Temperature screenings are also now required for entry to some locations.
Nonetheless, it's fun to take a look at what the holidays are like at Universal. Indeed, as Universal Orlando notes, "Not Even The Grinch Can Steal The Holidays This Year." For instance, at the park, which is open daily through January 3, you can still experience The Wizarding World of Harry Potter, as well as the Macy's balloons and Christmas floats. Characters from DreamWorks Animation's Shrek and Madagascar franchises also come out to make appearances, as do the Minions from Illumination's Despicable Me.
What We're Looking Forward To At Orlando Parks In 2021
At Disney World in Orlando, which is open at 35 percent capacity, there is a lot of excitement about the rides coming in 2021.
For instance, the DisneyParks Blog reported that work on Harmonious, Guardians of the Galaxy: Cosmic Rewind, and Remy's Ratatouille Adventure continues as planned.
"Harmonious will be one of the largest nighttime spectaculars ever created," the blog explains. "It'll feature the hallmarks of a Disney experience, including music and images, reimagined by diverse cultural musicians and artists from around the world."
Central to Guardians of the Galaxy: Cosmic Rewind, is what Disney calls a family-friendly "storytelling coaster," the Omnicoaster. The programmable roller coaster ride system features vehicles that rotate 360 degrees. That allows guests to "be rotated along the ride track in any direction while traveling at high speeds."
Finally, work is also proceeding on Star Wars: Galactic Starcruiser, where guests "will live aboard a starship for a 2-day, 2-night experience."
Guests will become the heroes of their own Star Wars story in what Disney calls an "immersive experience," cruising the galaxy aboard the Halcyon as well as making a planet-side excursion to the Black Spire Outpost on Batuu. They also will have opportunities to participate in onboard activities and interact with characters, crew, and other passengers to become part of the Star Wars saga.
Hope For Safe Theme Park Visits Starts Now
These new attractions and Governor DeSantis's announcement that Orlando theme parks haven't been the sources of any COVID outbreaks are all good news for anyone planning to visit any of Florida's theme parks for the holidays or next year. If you are planning a trip, be sure to check with the theme parks in advance to monitor their safety protocols. Also, read up on what the holidays will be like at Walt Disney World and Universal Studios Orlando this year.
Editor's Note: See our source for the information presented in the first paragraph of this article here.