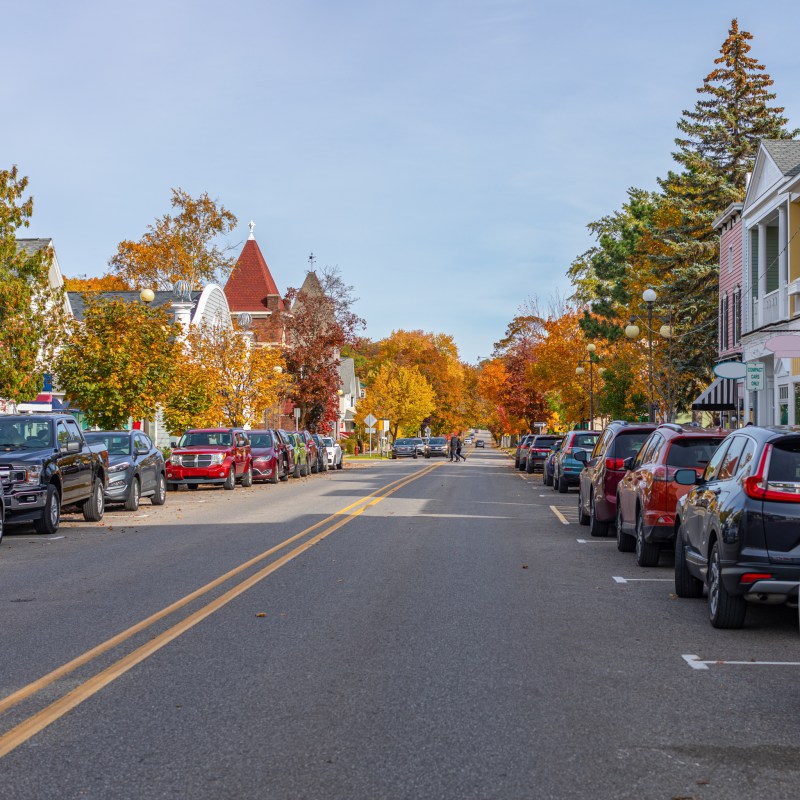 Growing up, we always made northern Michigan our summer playground. Harbor Springs, located in northwest lower Michigan, is a place where I made fond memories of sandcastles on beach days. As an adult, I've discovered Harbor Springs as a four-season destination.
You'll find the crisp air of a winter wonderland, where active sports will keep you warm. Spring brings renewal in the woods with spring flowers and morel mushrooms, and the Tunnel of Trees makes it the perfect place for autumn leaf-peeping.
Today summer is still my favorite time of year in Harbor Springs. I love settling in at the beach with a good book or playing the links on one of the award-winning golf courses. But no matter the season, we always find something fun to do in Harbor Springs.
Winter In Harbor Springs
Harbor Springs usually has winter sports conditions from late November through spring if you're a snow enthusiast. That leaves plenty of time to enjoy those cold-weather activities like skiing, snowboarding, and sledding. Here are my top winter picks for Harbor Springs.
Take To The Slopes
While you may not think of mountains when you think of the Midwest, Michigan has slopes that are great for downhill skiing and snowboarding. Harbor Springs has two of Michigan's best ski areas in Nub's Nob and Boyne Highlands Resort. Nub's Nob's longest run is seven-eighths of a mile, while at Boyne Highlands Resort, their longest run, North Peak Pass, is a mile and a quarter run.
If you're not into downhill activities but still want to play in the snow, try cross-country skiing, snowmobiling, or snowshoeing.
Pro Tip: If you're playing at Nub's Nob, staying at Hamlet Village Condominiums will provide ski-in, ski-out access to Nub's Nob's chairlifts and groomed cross-country ski trails. When you play at Boyne Highlands Resort, you can stay there and be in the middle of the action.
Attend Ice Fest
The first weekend in February, downtown Harbor Springs comes alive with winter activities at Ice Fest. You'll find the excitement of dueling chain saws and the peace of carriage rides. Learn a new skill through a craft class or the snowshoe and dog sled demonstrations. Artists will enjoy the hand-carved ice sculptures, while foodies will appreciate the chili cook-off. Everyone can warm up with a cup of hot chocolate and some s'mores.
Take A Gallery Tour
If you want to warm up after some outdoor activities, browse some of downtown Harbor Springs' galleries. Boyer Glassworks Studio and Gallery is a working glassblowing studio where you might catch a demonstration.
Spring In Harbor Springs
In spring, the forest floors burst with trillium blossoms. Foodies forage for the earthy, slightly meaty taste of morel mushrooms.
Sample Tom's Mom's Cookies
Stop by Tom's Mom's Cookies for a bite of their award-winning cookies. The cookie shop featured on Food Network and the Today's Show offers various cookies, including their original chocolate chunk. They're a great snack to add to your day pack for hiking and biking.
Hike Thorne Swift Nature Preserve
Located on Lower Shore Drive, 4 miles north of downtown Harbor Springs, you'll find the Thorne Swift Nature Preserve, a 30-acre wildlife sanctuary. The preserve features three nature trails: the Beach, the Balsam, and the Cedar.
The Beach Trail at Thorne Swift Nature Preserve is a quarter-mile trail that leads to the beach. While the water is too cold in spring to finish this hike swimming, you can quell your appetite with a picnic lunch on the beach.
The half-mile Balsam Trail includes the Dune Observation Deck for a perfect view of the sunset. Birdwatchers at sunset may spot owls or nighthawks, while daytime hikers might find chickadees, waterfowl, or warblers.
Those who enjoy wildlife should hike the Cedar Trail with a path overlooking the Cedar swamps. Chances are you'll spot a deer or other wetland creatures.
Pro Tip: The hiking trails at Thorne Swift Nature Preserve are wheelchair accessible.
Bike The Zoo-De-Mackinac
The Zoo-De-Mackinac ride starts in Harbor Springs at Boyne Highlands Resort, continues along a paved road with little traffic, and culminates in a ferry ride to Mackinac Island. This ride is not a race, but rather where a group of outdoor devotees, about 4,000 in years past, who get together and ride one of Michigan's most beautiful areas. While the 51-mile bike ride starts at your leisure on Saturday morning, you don't need to complete the entire ride. Organizers say that a good place to start for those who want a shorter ride is Legs Inn in Cross Village, where the group stops for lunch.
Visit The History Museum
The local governing body originally built the Emmet County courthouse in 1886. When they moved the county seat to Petoskey in 1902, the building had several incarnations over the years. For many years it was the Harbor Springs City Hall. Today, the local History Museum tells the story of local history, starting with the Odawa Native Americans and finishing with how the ski industry grew in the town post-World War II.
The History Museum also features the stories of local folks. You'll find the tales of Ephraim Shay, a locomotive inventor, Chief Andrew J. Blackbird, Elizabeth Whitney Williams, a lighthouse keeper, and downtown merchant Rose Rosenthal.
Summer In Harbor Springs
Summer is busy in Harbor Springs. You can devote a day to the beach, swimming or sunbathing. If you prefer being on the water, a boating day might be just the thing. If you're a landlubber, spend the day on the links.
Spend A Day At The Beach
In addition to the beach at Thorne Swift Nature Preserve, Harbor Springs offers two beaches downtown. Grab your lunch from one of the downtown restaurants and walk over to Harbor Springs City Beach at Park to enjoy your meal al fresco. Zoll Street Beach, also downtown, is the place to go if you're traveling with Rover.
Play A Round Of Golf
Boyne Highlands Resort has four 18-hole championship golf courses that have won accolades from various golfing magazines year after year. The courses feature designs by Arthur Hills and Robert Trent Jones, Sr. Another golf course is the Harbor Point Golf Club, around since 1896, which features a classic 18-hole layout.
Pro Tip: Boyne Highlands Resort is the right place to stay if you have an early morning tee-time.
Get Out On The Water With Paddle Sports
Kayaking and stand-up paddleboarding (SUP) are two ways to enjoy a day on the water in Harbor Springs. Kayaks come in a variety of types from sit-on-tops and sit-ins to fishing and sail. If you haven't brought your gear, check out The Outfitter in Harbor Springs to gear up for the day or an overnight kayaking trip.
Fall In Harbor Springs
Harbor Springs is the place to enjoy Michigan's autumn colors and the bounty of the harvest. At Pond Hill Farm, you can sip some cider and munch donuts while having some fun with various pumpkin and apple activities. They also have a winery if you prefer to do a wine tasting.
Leaf-Peep Through The Tunnel Of Trees
Michigan 119 Scenic Heritage Route officially begins in Harbor Springs. On a day trip through the Tunnel of Trees, I like to do half the stops along the way and have a late lunch at Legs Inn in Cross Village then make my way back to Harbor Springs, exploring as I go, finishing the day with dinner in Harbor Springs.
While the driving distance is just over 20 miles and takes about an hour, you'll want to spend some time exploring all the route has to offer. Coming back to Harbor Springs the same way you went provides a different perspective, and you'll notice more things. Road markers along the way tell the story of the area's history.
Check here for Tunnel of Trees peak color information and read more about the best stops to make while exploring Michigan's tunnel of trees here.
Attend Harbor Springs Festival Of The Book
September in Harbor Springs is a special time for book lovers when the Harbor Springs Festival of the Book brings nationally published authors to Northern Michigan. The three-day event strives to inspire readers of all ages. It takes place throughout the community, from storefronts to the streets. Foodies will find cookbook authors and experts from the beverage industry. Whether you enjoy fiction, plays, poetry, or non-fiction, you'll have a chance to hear presentations from nationally known authors. Get answers to your questions from your favorite author, or have them sign their book.
Enjoy The Harvest: Dine At Willow
Willow, which made our roundup of nine must-try Michigan farm-to-table restaurants, serves modern American cuisine, and the chefs develop the selections around Michigan's micro-seasons. While local, in-season produce is the foundation of their menu, what stands out is the plating. The chefs use the plate as a canvas for their food art.
Pro Tip: Another local favorite is The New York Restaurant overlooking the Little Traverse Bay waterfront. They serve gourmet meals in a fine-dining atmosphere. You might find local favorites like whitefish, cherries, and morel mushrooms on the menu depending on the season.