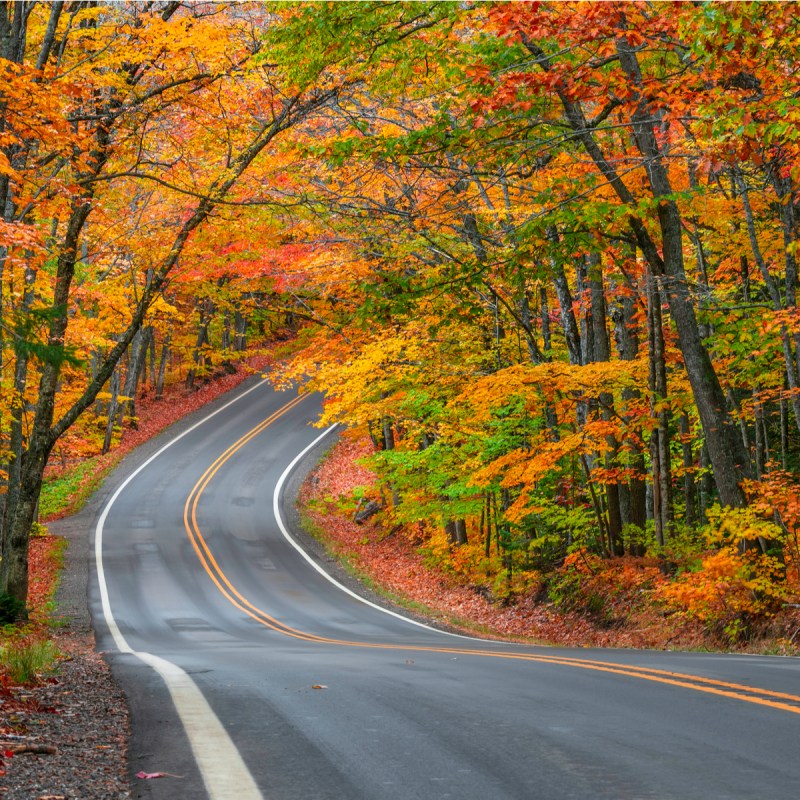 Michigan 119 snakes along Lake Michigan's shoreline with hairpin twists and turns. With no centerline or shoulders, this Scenic Heritage Route is one of the nation's narrowest highways. The hardwood trees grow at the road's edge, with their leafy canopies reaching out over the byway to create a tunnel-like experience.
In 1936, Alice Irwin used her statewide newspaper column to develop a grassroots effort to preserve and protect the trees lining Michigan 119, now known as the Tunnel of Trees. In addition to its beauty, the Tunnel of Trees has an essential ecological function. The trees are critical to maintaining the area's bluffs. The tree's roots hold the soil in place, and the roots' growth helps the ground absorb more water, replenishing groundwater feeding Lake Michigan and reducing flooding. The foliage minimizes the force of falling rain on bare surfaces, reducing erosion.
We made the drive by car, but it's also known as one of the country's top motorcycle itineraries. Biking is another way to travel through the Tunnel of Trees, and you'll hear the waves as you ride. We noticed that the slight peaks and valleys made it difficult for some bikers to keep up with their groups.
While the driving distance is only 20.5 miles and takes about an hour, you'll want to spend some time exploring these stops along the way. Highway markers along the route provide information about the tunnel's history.
1. Harbor Springs
The Michigan 119 Scenic Heritage Route officially starts in Harbor Springs; however, the tunnel-like feeling begins a couple of miles from town. If you're planning a day trip through the Tunnel of Trees, Harbor Springs would be an excellent place to visit on your return trip for dinner. Willow offers farm-to-fork dining and artfully plated dishes. While we enjoyed the salmon and beef filet, the meals change regularly depending on what's fresh.
Spend some time at the beach, and then browse some of Harbor Springs's art galleries. One example is Boyer Glassworks Studio and Gallery, a working studio where the staff members demonstrate the art of glassblowing.
2. Pond Hill Farm
Pond Hill Farm, located about 4 miles north of Harbor Springs, is a family-friendly venue. In the fall, they celebrate the harvest with a festival that centers on pumpkins and apples. The farm is also home to a winery where you can sample wine in their tasting room, grab a glass, and explore the vineyards. Craft beer enthusiasts will appreciate their outdoor beer garden, where they serve craft beers made on-site. The grandkids can pet the farm animals and play on the playground. The cafe serves farm-to-table lunches, and you can buy homemade canned goods and fresh, farm-grown produce at the market.
3. Thorne Swift Nature Preserve
Located 4 miles north of Harbor Springs on Lower Shore Drive, the Thorne Swift Nature Preserve is a 30-acre wildlife sanctuary with three nature trails. Each path is wheelchair accessible.
The Beach Trail is a quarter-mile trail leading to the beach, where you can have a picnic or go for a swim. The Cedar Trail has a boardwalk path overlooking cedar swamps. This trail is excellent for spotting deer and other wetland populations. The half-mile-long Balsam Trail features an observation deck high above the restricted dunes; it offers a good view of the sunset. Bird-watchers might see waterfowl, warblers, and chickadees. At dusk, owls and nighthawks fly over the deck.
All trails start at Elizabeth Kennedy Nature Center, where you'll find educational displays on the area's plants and wildlife.
Be sure to bring some insect repellent. Dogs and horses aren't allowed at this nature preserve.
The Thorne Swift Nature Preserve is one of many nature preserves in the Little Traverse Conservancy.
4. Five Mile Creek Schoolhouse
About 5 miles north of Harbor Springs, you'll find the Five Mile Creek Schoolhouse, built in 1880. The red brick building served as a one-room schoolhouse from 1880 to 1950. Past the school to the north, take in Lake Michigan shoreline views from bluffs 900 feet above.
5. Horse Shoe Bend And Devil's Elbow
Horse Shoe Bend and Devil's Elbow, located 9.4 miles and 11 miles from Harbor Springs, are sharp curves along the Tunnel of Trees. The route offers 137 curves over 20 miles. The Odawa people believed that spirits lived in the flowing spring in the ravine. After dark, at Devil's Elbow, the Odawa felt that these spirits made their presence known.
6. Trillium Woods Antiques And Espresso
Trillium Woods Antiques and Espresso, located 2 miles south of Good Hart, is in an original Good Hart log cabin. You can enjoy a hot caramel cider or coffee while you search for that unique treasure.
7. Land Of The Crooked Tree
The French gave the name L'Arbre Croche, meaning "Crooked Tree," to the area between Harbor Springs and Cross Village due to the large, crooked tree that stood on the bluff's crest. The tree, visible for miles, marked the center of a large Odawa settlement. In addition to the site of the tree, stop at the L'Arbre Croche Museum in Cross Village, where you'll find a four-room museum and main display hall. Exhibits cover the history of the area between Middle Village and Cross Village.
8. St. Ignatius Church In Middle Village
From Good Hart, turn onto North Lamkin Drive and go down the hill to the old Native American village, Middle Village. You'll spot the steeple of St. Ignatius Church peeking through the tree canopy. Adjacent to the church is the Middle Village Cemetery, where rows of white crosses mark Odawa graves.
A pathway will take you to Middle Village Beach, which is a popular swimming spot. Readmond Township Park offers another public beach; both beaches are just off South Lamkin Road. You'll find another public beach in Cross Village.
9. Good Hart
Good Hart is halfway between Harbor Springs and Cross Village. The Good Hart General Store that doubles as a post office is a good stop for meals, snacks, and Michigan 119-themed gifts. They are known for their cookies and pot pies. We can confirm that the cookies are a perfect road trip snack!
A Studio Shop is a seasonal gift shop located in a former trading post next to the Good Hart General Store in downtown Good Hart. They offer an eclectic mix of one-of-a-kind gifts.
10. Area Of The Old Council Tree
About 4 miles north of Good Hart, you'll find the Area of the Old Council Tree. In the late 1700s, beneath a large tree — so big they used it as a navigational tool — tribal chiefs held many meetings.
11. Legs Inn
Legs Inn is a restaurant located at the end of the M-119 Tunnel of Trees in Cross Village. The structure, named for the iron stove legs trimming its roofline, is a Michigan State Historic Site open seasonally from mid-May through mid-October.
Their specialty is authentic Polish cuisine, so you'll find pierogi, or Polish-style dumplings; kielbasa, or Polish smoked sausage with sauerkraut; and golabki, or cabbage rolls. You'll also find some local Michigan favorites, like the smoked whitefish spread. Their house specialty is a blend of smoked Great Lakes whitefish, cream cheese, and seasonings served with crackers and bread.
This spot doesn't accept reservations. We arrived just as they opened for lunch, so we didn't wait for more than a few minutes. While you may have a wait, browsing the on-site gift shop will make the time pass quickly.
If you prefer to eat outdoors, there is an expansive outdoor dining garden with Lake Michigan views. Your wait could be over an hour, but the time will pass quickly in the charming outdoor waiting area, a large grassy area and garden with Adirondack chairs where you can take a drink from the bar and enjoy the flowers and the panoramic view of Lake Michigan. The space is so calming that you'll be sorry when your table is ready!
Pro Tip: Weekdays along the Tunnel of Trees are less crowded than weekends. While the drive is short, try to take your time and make stops. If you're prone to motion sickness, be prepared for the curves and slightly hilly terrain.