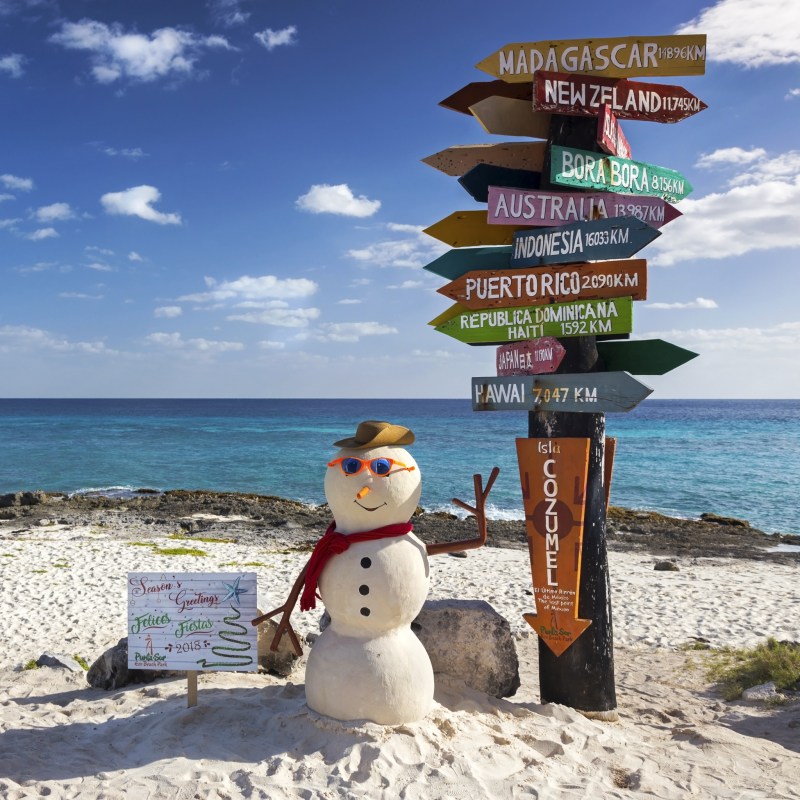 It was supposed to be our first Christmas at the home we had bought in Phoenix, Arizona, after RVing for eight years. But since I had also spent several months helping my daughter settle in Melbourne, Australia, it was no wonder El Cid Vacations Club, where we own a timeshare, called to tell us that we would lose three weeks' worth of points if we didn't use them by year's end. Of all their resorts, we had not tried the one in Cozumel.
We flew to Cancun on the Yucatan Peninsula, took a bus south to Playa del Carmen, rode a 35-minute ferry, and finally took a 10-minute taxi ride to our hotel. Cozumel is a favorite stop on western Caribbean cruises. Entirely flat, about 30 miles long and 10 miles wide, it is Mexico's largest permanently inhabited island with a sizeable population of 80,000 that lives mostly in and around the town of San Miguel de Cozumel in the middle of the island's western shore.
Things To Do In Cozumel
It wasn't my idea of a Christmas celebration but our Christmas in Cozumel turned out to be a wonderful combination of what's great about a Caribbean island and a tropical holiday that brought me back to my home country: the Philippines.
Punta Sur Eco Beach Park
One day, we rented a car to go to the 247-acre Punta Sur Eco Beach Park, which encompasses the reefs, beaches, lagoons, and low forest of southernmost Cozumel. It is part of the Arrecifes de Cozumel National Park, which is one of the reasons Cozumel is a highly sought-after diving destination. For a $14 fee, we were able to enter a dirt road that cuts through the low mangrove forest, leading to the park's many features.
The first was a wooden observation tower that we climbed to look at the whole landscape available for bird-watching and crocodile sighting. Just southeast of the tower, we came upon the Caracol Ruins (Tumba del Caracol), a Mayan building erected during the post-classic period that was used to warn about a hurricane's arrival. At the southern promontory, we found the lovely Celarain Lighthouse and Nautical Museum. Then we reached the two Beach Clubs and the Laguna Colombia, where four hundred crocodiles live. After a seafood lunch at one of the clubs, we made it just in time for the last guided boat tour. We spotted six crocodiles and plenty of swallows from which the name Cozumel was derived.
Hacienda Antigua
While in Mexico, my husband added tequila tasting to wine and beer tasting as a favorite thing to do. We went to take the Hacienda Antigua Tequila Tour, which was free at the time and just north of our resort. But since tequila thrives in higher elevations like in Jalisco, Cozumel doesn't have production facilities. It was just a show and tell. But there were rows of blue agave — replicas of the 10-year-old huge agave fruit that produces the drink when cooked — the equipment used in the process, and many samples of different grades of tequila: blanco, oro, reposado, anejo, and extra anejo.
Chankanaab Adventure Beach Park
On another day, we took a taxi to go to the other famous park in Cozumel, Chankanaab Park, just two miles south of our resort. The welcome festivities were quite colorful. The park actually lies within the National Marine Park of Cozumel, which is ideal for snorkeling and diving. The Sea Trek Adventure and SNUBA diving will offer any participant the opportunity to see not only the gorgeous underwater flora and fauna but also the submerged sculptures, including one of Jesus Christ! It would have been my first underwater experience, but I chickened out. Crocodiles, manatees, and dolphins to swim with and a bountiful Mexican buffet lunch took my mind off the missed opportunity. Soon I had my greatest thrill when I was kissed by a sea lion at the Sea Lions Show!
Christmas Day
There were about nine Catholic churches around our resort but on Christmas Day, we asked a taxi to take us to the festively decorated Corpus Christi in downtown San Miguel to hear a traditional Christmas mass. It was in Spanish, but we loved sharing the spirit with many locals. On Christmas Eve, we attended the party organized by our resort at La Castilla, their waterfront buffet restaurant. A great roast turkey dinner with all its accompaniments was served together with favorite Mexican dishes with the brightly lit cruise ships as a backdrop.
New Year's Eve
We looked at all the many offerings around town to celebrate New Year's Eve. Finally, we selected the one offered by Hard Rock Cafe Cozumel because it was just across from our resort. And we were not disappointed. We truly rocked that night away dancing to the music of a great live band. After dinner, we had the traditional dozen round fruits — also a Filipino tradition — that we had to eat before the stroke of midnight. And that was when a flood of balloons and tons of confetti descended upon us amid the thick faux fog and the blaring noise ushering in the New Year.
Three Kings
We thought that was the end of the festivities, but on January 6, the fully costumed Three Kings appeared on the resort premises. Mexicans really know how to celebrate this holiday just like what we did in the Philippines. It was so much fun being personally greeted by Balthasar, Melchior, and Gaspar. It was as if I was truly back home without having to take a long-haul flight.
Where We Dined
We were on an all-inclusive arrangement at our resort and could choose from two restaurants and the poolside barbecue buffet that was set up some nights. The Castilla Restaurant was dedicated to a buffet that alternated between international and Mexican offerings. The other restaurant was Italian; we went there for more casual dining. There was also a pool bar serving snacks.
It was a definite bonus that I also found — Yes! — a Filipino restaurant that catered to the thousands of Filipino seamen who expertly man the cruise ships that dock in Cozumel. In fact, restaurants all around the International Cruise Terminal that was just beside our resort featured other cuisines for the many cruisers and seamen who come to Cozumel from all over the world.
At the Punta Sur Eco Beach Park, I also had a memorable lunch. The Papito's Beach Club Restaurant and Bar served pescado frito, a good-sized fried fish that was served with fresh tomato slices, lettuce, and onions. Again, it is a comfort food from back home, another testament to the similarities between Mexican and Philippine culture due to a common Spanish heritage.
Where We Shopped
The International Cruise Terminal that was beside our resort has a large official shopping center, too. Besides the shops there, the streets and alleys around it are populated with many great places that offer cheap and colorful Mexican goods. The trick is to shop right after the cruise ships leave because that's when they all drop their prices. In the middle of them all stood a lovely replica of the famous Chichen Itza.
But the truly best place to shop is San Miguel de Cozumel, the city center. It was a familiar holiday bedecked town, just like I remember my hometown in the Philippines. The Main Plaza and the Malecon were all decorated with the Christmas spirit, and right across was the other cruise terminal, Punta Langosta. There are many excellent places to stroll, shop for local goods, and imbibe the culture.
Where We Stayed
El Cid La Ceiba Resort Hotel is an 85-room boutique hotel located beside two of the three Cozumel Cruise Terminals: the International Cruise Terminal and the Puerta Maya. Every morning, we stepped outside to a bright new scene. On any given day, two to six huge cruise ships dock seemingly right at our doorstep. During our stay, we saw the world's first-, second-, and third-largest vessels. Every evening, I delighted at the unique sunsets splashed behind them and their reflections on the water.
Lovely Christmas decor was all around the resort, so I took a lot of photos for the unique Christmas card we sent to family and friends. There was plenty to do: the saltwater pond, a regular pool, a large hot tub with a swim-up bar, the small beachhead, a beach volleyball area, diving, snorkeling, and a docking area, a tennis court and table, and a giant chess set. There were even Spanish, cooking, and handicraft classes. Some evenings we had our pick of a movie or a show.
Mexico is known for friendly and warm people, and the staff at La Ceiba certainly made it my home away from home. We loved our Christmas in Cozumel so much that we upgraded our timeshare ownership to three months' worth of points. Thus, we now spend the Christmas season and the whole of winter somewhere in Mexico every year.