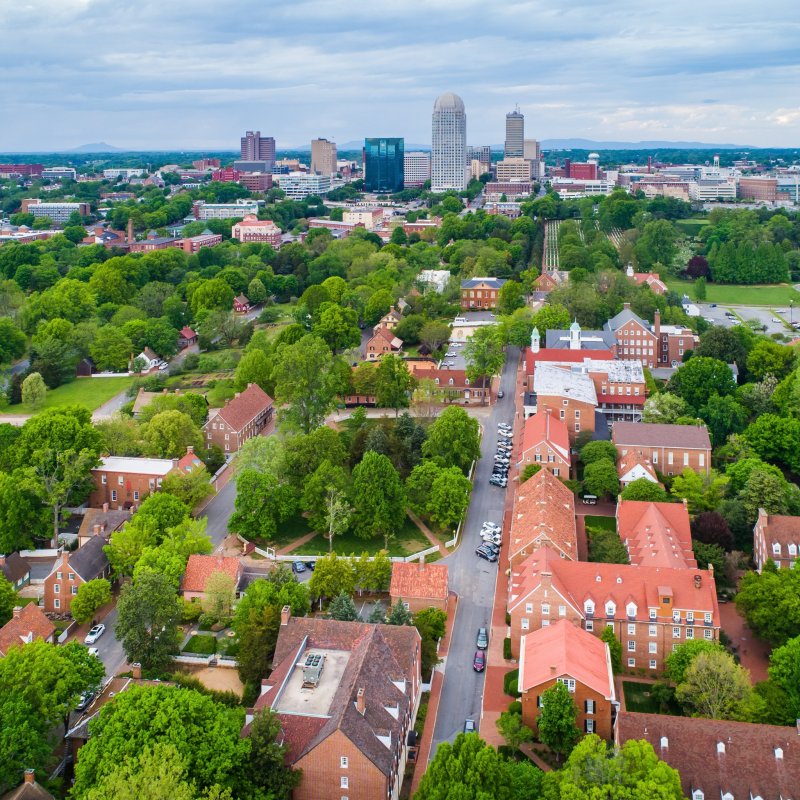 Winston-Salem is one of North Carolina's best-known cities, one chock full of rich history and world-renowned technology, arts, and medical care. It is located in the northwestern part of the state, has about a quarter-million population, and is synonymous with tobacco and agritourism. I'd driven by Winston-Salem probably 100 times before I finally visited, and could kick myself for taking so long to get there. Here is why you should consider a visit to Winston-Salem, the Twin City.
Things To Do In Winston-Salem
You'll find all the typical things in Winston-Salem as in any city of its size, but the food, beer, and historical scene are incredibly noteworthy.
Old Salem
I lived near Winston-Salem my whole life and never knew of the immense history here. Moravians, a strict religious group of savvy entrepreneurs, settled old Salem in 1766. The town of historic buildings, complete with costumed interpreters, shares its exciting history through tours and hands-on experiences.
You are free to walk through the Old Salem village and enjoy the handful of shops that are still open, but several historic buildings and venues are currently closed. Salem Pathways is developing an interactive smartphone app to offer a reinvented approach to the historic settlement.
Reynolda Gardens And Estate
Reynolda Gardens is a beautiful free attraction that features 134 acres of the property that was once the Reynolds' estate. Reynolds, the most well-known name in tobacco, is a name you will hear continuously mentioned in this part of North Carolina. The open-to-the-public formal gardens feature roses, black cotton plants, vegetables, and color-themed flowers, to name a few. Constant improvements are being made in the garden and original 1913 greenhouse.
Reynolda Estate (House Museum of American Art) is a 1917 home that served three generations of the prominent Reynolds family. The art collections are so impressive, with American art spanning 300 years. You'll see works from O'Keeffe, Warhol, Wood, and Lichtenstein in the galleries.
Reynolda Village
The property around Reynolda Gardens is known as Reynolda Village, a treasure-trove of chic boutiques, eateries, and businesses. Shopping is top-notch at All Through The House and Monkee's, but I'm more a fan of delicious donuts and coffee from Dough-Joe's and made-to-order sweet and savory crepes from Penny Path Cafe and Crepe Shop.
Downtown Arts District
Make your way to downtown's Trade and Liberty Streets for impressive street art, murals, boutique shopping, cultural galleries, and a handful of eateries. Head over to Sweet Potatoes, an African American-owned restaurant for down-home Southern cooking.
You'll also find a beloved Mast General Store downtown. This over 130-year-old chain store has a superb selection of retro candies, toys, clothing, souvenirs, T-shirts, and much more. I love the novelty gift section and got a jump start during holiday shopping on my visit.
Segway Or E-Bike Through Winston Salem
I love riding a Segway or electric bike equally, and to me, there is no better way to see a town than these choices. At Triad Eco Adventures, you can learn how easy it is to do both and take guided tours of Winston-Salem.
Electric bikes allow you to pedal as much or as little as you want and are great for those who don't have the stamina to ride several miles, myself included. They are super fun and, to me, easier than riding a regular bike.
Pro Tip: The Segway is straightforward to maneuver, but can be daunting at first. Triad Eco Adventures does a wonderful job of showing you the ropes and making sure you can handle a short obstacle course before hitting the pavement. I did a two-hour Segway tour, which was plenty for my age.
Holiday Offering
In nearby Clemmons (15 minutes away), the Christmas holiday fun at Tanglewood Park runs mid-November through New Year's. The five-mile stretch at the Festival of Lights offers thousands of colorful lights, wintery displays, and a gift village for shopping and meeting Santa. Check the website for hayrides, carriage rides, and special events.
Craft Breweries
Winston-Salem has excellent selections at craft breweries around town. Choose your favorite beer style from Wise Man Brewing, Fiddlin' Fish Brewing Company, Foothills Brewery, and Small Batch Beer Co., to name a few. My favorite is Incendiary Brewing, where you feel like you are in Ancient Rome in its outdoor seating area, though actually in the Bailey Power Plant's lower level. Plus, the Blueberry Banana Pancake imperial stout is divine.
Best Restaurants In Winston-Salem
Winston-Salem has several local eateries to check out, around 500 per TripAdvisor. I was only in town for two days, and my hotel graciously fed me breakfast and lunch one day, so my knowledge is limited. I know that these four were all highly impressive and I would recommend and go back again in the future.
Flour Box Tea Room And Cafe
If you love a good English-style afternoon tea as I do, the gorgeous Flour Box Tea Room inside the historic 1907 Shaffner House will blow you away. There are several tea rooms to choose from, and your food and tea are served on exquisite pieces of china. There is a full menu to choose from, or you can have Full Tea, a three-tiered tea experience with finger sandwiches, sweet and savory scones, and mini-desserts.
The Katharine Brasserie And Bar
Located in the Kimpton Cardinal Hotel, this aesthetically pleasing restaurant has a French-inspired menu and great craft cocktails, beers, and wine. No need to even look at the Katharine menu, have the Steak Frites; trust me on this one. The Katharine also has daily breakfast, tasty dishes like Croissant French Toast Souffle, Croque Monsieur, and Quiche Lorraine.
Village Tavern At Reynolda Village
Village Tavern is a scratch-kitchen with two locations in Winston-Salem and a few in other states and around North Carolina. Its American menu features sandwiches, salads, pizzas, and craft cocktails, but I chose the Pimento Cheese Dip (with vegetables) and Pimento Cheese Deviled Eggs. If you aren't from the South, there is a reason why so many menu items have pimento cheese in them, because it is so darned good.
Bobby Boy Bakeshop
Never have I seen a pastry shop this impressive outside of France or Italy. Bobby Boy Bakeshop appears to be a regular business from the outside, but when you step inside this beautiful grab-and-go shop, you'll be amazed. Picture-perfect artisan pastries of all types, flavors, and price ranges fill two glass counters. Impressive bread loaves and boules fill the bread pantry. And the taste — let's just say I sampled a fair amount of products (and a cold brew), and they were all 10/10 incredible. My top picks at Bobby Boy Bakeshop are the frosted cinnamon rolls and the sinful savory bread pudding, with roasted tomato, a six-minute egg, and gruyere. This is a do-not-miss stop.
Best Places To Stay In Winston-Salem
Though the choices are immense, there are three places I recommend staying while visiting Winston-Salem, plus an RV campground option.
Cardinal Hotel
First is the Kimpton Cardinal Hotel, a 174-room and 15-suite property that was initially the historic R.J. Reynolds building and prototype for the Empire State Building in NYC. It has beautiful art deco details and beautiful architecture. The hotel's fitness center is the best I've ever seen, and the hotel has a super cool recreation room for enjoying basketball, bowling, and even a slide for adults. In 2018, the Cardinal Hotel ranked third on Southern Living's best hotels in the South.
Graylyn Estate
You'll feel as if you stepped into a European castle at the Graylyn Estate, a historic residence since 1930 with modern upgrades and accommodations. You'll be in awe as you wander through room after room of beautiful antiques and antiquities in this 85-room boutique hotel and conference center. There are lovely grounds to explore, nooks and crannies with seating arrangements for intimate get-togethers, and lots of space for riding bikes; you can even fish in the pond. Breakfast is complimentary with your stay, and a bar and game room are located in the basement.
Henry F. Shaffner House
Perhaps you fancy a special place to stay in Winston-Salem. The Henry F. Shaffner House (bed and breakfast) has seven guest rooms and two suites to choose from, each uniquely decorated, and most with private baths. Rooms feature luxury bath products, premium linens, robes, free Wi-Fi and parking, and a complimentary gourmet breakfast.
Tanglewood RV Campground
Tanglewood Park features an immaculate 1,100-acre park and campground on the Yadkin River with hiking trails, a golf course, horse stables, and an aquatic center. Pets are allowed.