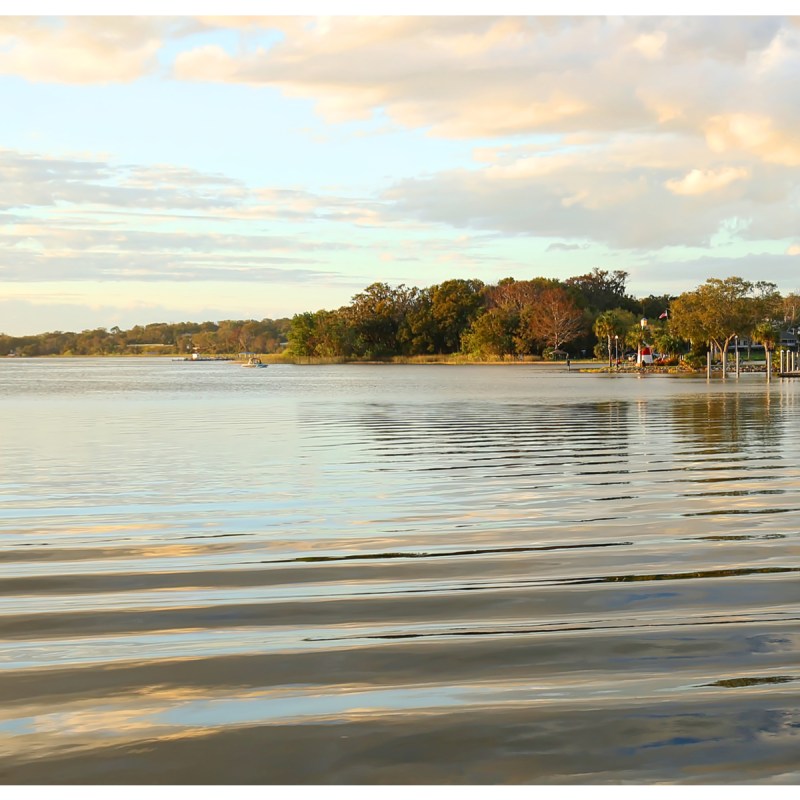 When I moved to Florida nearly 10 years ago, I was guilty of only being familiar with the big names associated with the Sunshine State: Miami, Orlando, and Fort Lauderdale. For months, which turned into years, I spent time exploring the lesser-known towns in my wonderful state, the hidden gems, if you will. Not only did I discover places that excited me to no end and provided wonderful visits without breaking the bank, but I fell in love with Central Florida. With dozens of places to choose from, here are the four hidden gems in Central Florida that you must visit during your travels.
1. Mount Dora
Mount Dora sits around beautiful Lake Dora, less than an hour from Orlando. My first visit was to see the Mount Dora Christmas celebration, a month-long holiday festival extraordinaire. I was so excited as I watched it "snow" on the Mount Dora streets, holiday lights lighting up the park and Victorian buildings, and merchants extending hours for shoppers and locals.
The town of Mount Dora offers adorable boutique shopping in a town square fashion (a three-block area, so walking isn't a strain), and a nice selection of tasty restaurants. My favorite is The Bavarian Haus, a German eatery with authentic cuisine, indoor/outdoor seating, and live music. My go-to meal is Jaegerschnitzel with sauerkraut and spaetzle (I'm drooling just thinking about it). After dinner, treat yourself to a decadent cupcake or decorated sugar cookie from Allyson A. Bake Shop.
If you like antiques, Mount Dora offers Antique Extravaganzas, where 1,500+ antique dealers set up their goods in nearly 1000 booths. It is quite impressive and you'll easily fall down the rabbit hole looking at all the treasures.
For an overnight in Mount Dora, check out the historic 1883 Lakeside Inn, with a guest list including Thomas Edison, Henry Ford, Calvin Coolidge, and Dwight D. Eisenhower. It is also the oldest continuously operating hotel in Florida. You may want to get out on the 4,500-acre Lake Dora adjacent to the hotel and explore the beauty and photo-ops, which you can do with Premier Boat Tours. I would recommend spending two full days seeing everything you can in this charming town.
Pro Tip: You can buy T-shirts in Mount Dora saying, "I climbed Mount Dora" — alluding to the fact that a plateau found in town is 184 feet, a mountain by our standards.
2. DeLand
DeLand, southwest of Daytona Beach, is a small town with a big city feel and my favorite downtown in Florida. DeLand touts one of the first Mainstreet U.S.A. award-winning towns. Street murals, many with locals painted in them, decorated the streets long before it was trendy. You'll find an arsenal of small businesses in DeLand, upscale restaurants, great beer, and even better downtown murals and art.
I like to eat around DeLand; it is far more tempting than in my town. If you choose BakeChop (amazing veggies), Emmy's Time Out Tavern (more German food), or Cress Restaurant (fine dining), you can't go wrong. Or, you can enjoy the best of both worlds and have a beer and yummy bar food at Half Wall Beer House, or delicious meads and quesadillas at Abbey Bar. You'll find even more great beer at Persimmon Hollow Brewing, and an all-around enjoyable taproom. Save time to explore the Museum of Art.
DeLand is home to the Athens Theatre, a circa 1922 film and performing arts hall. It is stunning! You'll also have two of Florida's best state parks to choose from on your visit — Blue Spring and De Leon Springs. Both offer rich history, bird-watching, manatees, constant 73-degree water temperatures, and epic scenery. Both parks are a 20-minute drive from DeLand.
You can't come to DeLand and not visit the incredible Stetson Mansion. The former winter home of the famous hat-maker, the mansion has tours year-round, emphasizing the holiday tour — it is insanely popular and outstanding. Each year, the mansion is decorated around a different theme, and the rooms are decorated to the hilt. It is something I drive up for every year from my house, which is two hours south. While the holiday tour isn't taking place in 2020, they are offering a history tour instead.
Pro Tip: Have a sampling of several DeLand eateries with a food tour from Great Tasting Tours, and tell Larry I sent you. You'll also learn much of the town's history as you stroll around the streets and admire the sculptures and points of interest.
3. Sebring
Sebring was a Florida town that surprised me. I loved how tranquil it feels, but it's still exciting, with cool restaurants, breweries, and an outdoor distillery. Agritourism is big in Sebring as well as racing. You may recognize Sebring as hosting America's oldest and most famous road racing track, Sebring International Raceway. It's most famous race is the Mobil 1 Twelve Hours of Sebring. Golf is another reason people come to Sebring, with 10 courses to offer.
Highlands Hammock State Park, one of Florida's first, is in Sebring. You'll enjoy nature hikes along with gators, birds, and abundant wildlife. Sebring also has a quaint 1920s downtown square that's on the National Register of Historic Places and has a retro soda shop, galleries, and boutique shops. In April, plan to attend the annual Sebring Soda Festival, a one-of-a-kind event that brings in a crowd to sample craft sodas from around the country. Doo-wop musicians, classic car shows, and other fun events make this a party you can't miss.
A unique opportunity in Sebring is the Military Sea Services Museum, which offers veteran-led tours and question-and-answer sessions.
Indulge in a stay at the Inn on the Lakes, a high-quality, independent hotel with modern furnishings, a beautiful pool setting (viewing the lake), and one of the best hotel restaurants (Chicanes) I've ever eaten at. It is temporarily closed for a kitchen remodel, but once it is open, you'll have to try the Rollovers (filet mignon rolled around pepper jack cheese and bacon) or the Delmonico steak. Faded Bistro and Beer Garden is another superb dining choice, with amazing charcuterie boards and specialty cocktails.
Before leaving Sebring, drop in family-owned Maxwell Groves (est. 1936) for a sample of fresh orange juice or a dairy-free orange soft-serve cone — so darned tasty and refreshing!
4. Lakeland
Lakeland is home to Polk Museum of Art, Circle B Bar Reserve Park, Florida Southern College, and Hollis Garden, which showcases over 10,000 flowers. Many don't know that you'll find the most extensive collection of Frank Lloyd Wright buildings in the world right here in Lakeland. I'm willing to bet you can't even imagine the architectural gems that await you here. Take an impressive, educational, and stunning stroll around on a pristine campus dotted with palm trees and beautiful blooms. I would allow three to four hours to see the Frank Lloyd Wright properties and schedule a tour when they are up and running again.
Another gem in Lakeland is the Historic and Antiques District in the heart of town, with eateries, galleries, local shopping, and plenty to explore. Treasure hunters hit the jackpot in this town!
Less than 30 miles from downtown Lakeland is a lesser-known gem, Safari Wilderness. Hop aboard a socially distanced African safari vehicle as you travel across the park's 260 acres, home to exotic animals from around the world. From feeding ostrich and water buffalo (the cutest animals in the park!) to coming face-to-face with eland, zebra, and camels, you'll love the adventures that await you in this one-of-a-kind attraction. Private tours are available.
Pro Tip: Add the lemur feeding to your ticket and see how soft their footpads are as they gently cradle your fingers between their hands while eating the pieces of grapes you'll feed them. It is a memorable experience, and one guaranteed to make you smile. Bring plenty of water … it is hot in this part of Florida.
After sight-seeing, head over to Harry's Seafood Bar and Grille for the day's fresh catch, signature crab cakes, jambalaya, or shrimp and grits. Save room for a serving of bananas foster, perfect for ending the day.