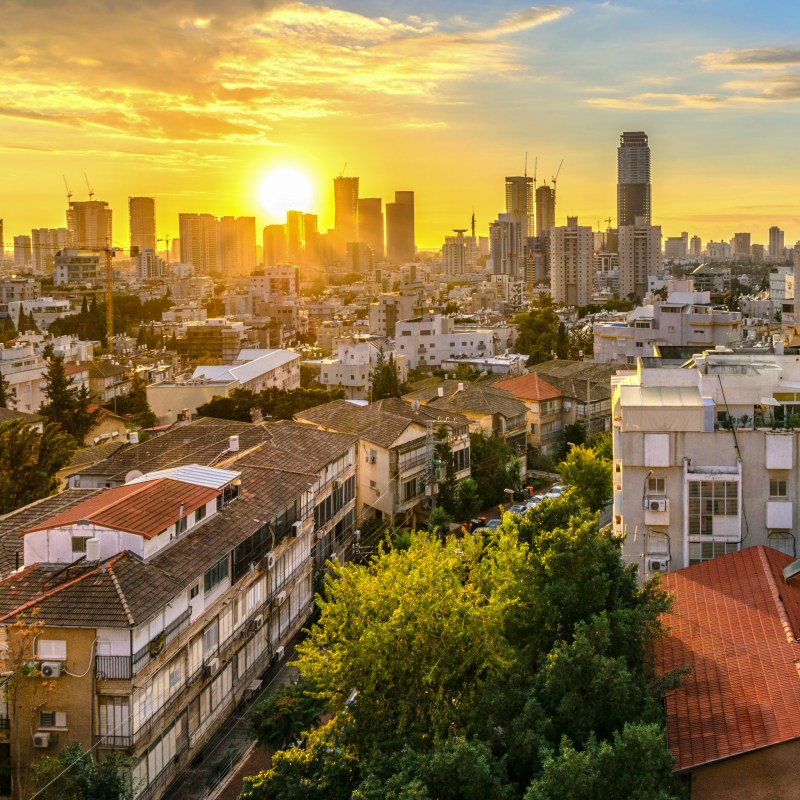 I recently had the opportunity to chat with Dr. Christine Wilson, former education specialist at the Walworth Barbour American International School in Israel. Wilson lived in Tel Aviv for three years while she taught at Walworth Barbour. She loved the warm, welcoming Israeli culture; the long and varied history of the region; the beautiful beaches; and the tantalizing cuisine.
This intriguing cosmopolitan city has captured the hearts of visitors who come for the food, the beaches, and the friendly citizens who immediately treat you like family.
Here are nine things to know before visiting this captivating city on the Mediterranean coast.
1. Spring And Fall Are The Best Times To Visit
"The best time to visit is in spring or fall. The weather is beautiful, and it is not too crowded," said Wilson.
Spring (March and April) and fall (September through November) are the best months to visit if you are looking for temperate weather and off-season prices. During the summer (May through August), you'll encounter throngs of beachgoers looking to perfect their Mediterranean tan. The winter can be crowded as well, since it's the time when many Northern Europeans seek an escape from the cold. Temperatures in Tel Aviv range from a low of 49 degrees to a high of 87 degrees, so the weather is pleasant almost all year long.
2. The Beaches Are Spectacular
There is an 8.7-mile stretch of beach along the Tel Aviv shoreline where sun lovers and outdoor enthusiasts can walk the long promenade, lounge on the beach, or sip a beverage at one of the outdoor cafes.
Each of Tel Aviv's beaches has its own flavor; there's sure to be one that's right for you! Check the Visit Tel Aviv beach page for information on the more than a dozen area beaches. Keep in mind that some beaches are limited to people of a particular gender on certain days due to religious beliefs. As a tourist, you are expected to respect these restrictions.
"For swimmers, riptides can be especially dangerous on the Israeli coast, and tourists need to know the flag system for warnings that mark the beach swimming areas and whether or not you can go in at all," Wilson cautioned.
Israel's beach flag system includes a red flag that indicates dangerous swim conditions, a black flag that indicates swimming is not allowed, and a purple flag that warns about jellyfish. However, when the white flag is flying, you are free to enjoy the beautiful Mediterranean waters.
3. The Food Is To Die For
Tel Aviv is known for its bustling markets.
A must-stop foodie destination is the Carmel Market. The vibrant market is lined with stalls offering gorgeous fruits and veggies, spices, and other items. You will encounter tourists and locals winding their way through the crowds, and your senses will be delighted with the sights, sounds, and aromas. Some of Tel Aviv's trendiest eateries can be found at this market, too. Stop at a bakery for some warm, cheesy breadsticks; lunch at a cafe for a kebab; and sip a locally produced beer at a pub. You could easily spend a day here, happily shopping and munching away.
Wilson's favorite market, however, is the Sarona Market, with its stalls that offer some of the finest meats, cheeses, and wines in the city. The market's restaurants serve up traditional and inspired local dishes that both look and smell amazing. You will find an eclectic selection of cuisines from the region and plenty of happy, satisfied patrons.
Be sure to enjoy a traditional shakshuka — creamy eggs poached in a tomato sauce flavored with olive oil, peppers, onions, and garlic and spiced with cumin, paprika, cayenne, and nutmeg — while you are visiting. You will remember the culinary experience for years to come!
4. Biking Is The Best Mode Of Transportation
"I enjoyed biking in Israel. I biked to work daily — 24 miles a day on farm roads through orange orchards," Wilson recalled.
The busy city streets and backcountry roads of Tel Aviv are the perfect places to bike. The city makes biking easy by providing bike lanes on all major thoroughfares. They also operate Tel-O-Fun, a bike ride-sharing program. You'll need to sign up for an annual rental; however, the cost is not prohibitive if you are planning on riding around the city for a week or more.
5. Read Up On Judaism Before You Go
Wilson recommended doing some research on Judaism before a trip to Tel Aviv.
"Judaism defines everything in Israel. Having a basic understanding of the religion will give you insight into how the people live and how the country operates," she said.
For example, Yom Kippur is an important Jewish holy day.
"During this official holiday, businesses nationwide close at noon, and there is virtually no traffic on the streets except for emergencies. As the sun sets at the beginning of the holiday, airports, border crossings, broadcast stations — the entire country suspends work for about 30 hours," said Wilson.
Visitors should note that on these holidays, everything may be completely shut down, leaving the unprepared without dining or transport. However, these times of celebration can also be an opportunity for lots of fun.
"It was at this time that I joined a group of enthusiastic bikers to ride from Jerusalem to Tel Aviv. It was a downhill ride for most of the way on highways that were empty of all vehicles except for two- or four-wheeling bikes or skateboards," Wilson recalled.
6. It's A Shopper's Paradise
Wilson emphasized that there is a shopping adventure in Tel Aviv for everyone.
The Dizengoff Center is an iconic shopping destination with a dizzying array of shops, restaurants, and entertainment options.
Shenkin Street is the place to go for the trendiest shopping spots. Here you will find classic, high-end name brands alongside Israeli designer boutiques. This is the place to shop if you are looking for something out of the ordinary — something nice to remember your Tel Aviv adventure by.
Tel Aviv's newest shopping destination is the TLV Fashion Mall, home to other popular name-brand stores.
7. Jaffa Is Worth Exploring
Jaffa, also known as Yafo, is an ancient port city and the oldest part of Tel Aviv. With buildings tightly packed together, Jaffa is a tangle of narrow streets, hidden courtyards, and small shops. The neighborhood is a mix of Jewish and Arab peoples living and working together in harmony. You will find great restaurants serving a wide range of Middle Eastern cuisine plus unique shops and galleries tucked away along the passageways.
After exploring the area, find an outdoor seat at a cafe by the water, order your favorite libation, and watch the beautiful sunset for a picture-perfect evening.
8. Make Time For A Day Trip To Caesarea
Less than an hour north of Tel Aviv is Caesarea. This historic coastal city was originally a Phoenician settlement, and then a great Roman port city. Caesarea is known for its archaeological dig, the remains of a hippodrome (a large Roman amphitheater), and its beautiful historic port.
Caesarea National Park offers several tours, including the Lantern Tour of Ancient Caesarea, where you'll walk in the footsteps of the Crusaders led only by your tour guide and lantern light.
Wilson highly recommends visiting the beach area of Caesarea Maritima as well.
"There are museums, wonderful restaurants, and a beach full of Roman ruins. It's not to be missed," she said.
9. You'll Love The Welcoming Culture
You've probably heard the Hebrew toast L'Chaim, which translates to "To life." Life in Tel Aviv centers on family, friends, and celebrations. The culture is warm and inviting, and you become part of the family as soon as the introduction is completed.
"On Friday, four of my colleagues and I would bike back from school directly to the beach in Herzliya, where we would cool off in the Mediterranean and then get beer and chips with hummus at one of the beach cafes at Rainbow Beach to celebrate the beginning of the weekend," Wilson recalled.
Celebrating with friends over a meal is an important part of the culture in Israel.
An adventure in Tel Aviv is the trip of a lifetime for some, and a yearly pilgrimage for many. With its beautiful beaches, amazing cuisine, and wonderful people, the city has become a popular destination for travelers of all ages.
The city of Tel Aviv, steeped in history and tradition, will capture your heart. It has managed to retain its culture and religion while becoming a bustling, cosmopolitan city.