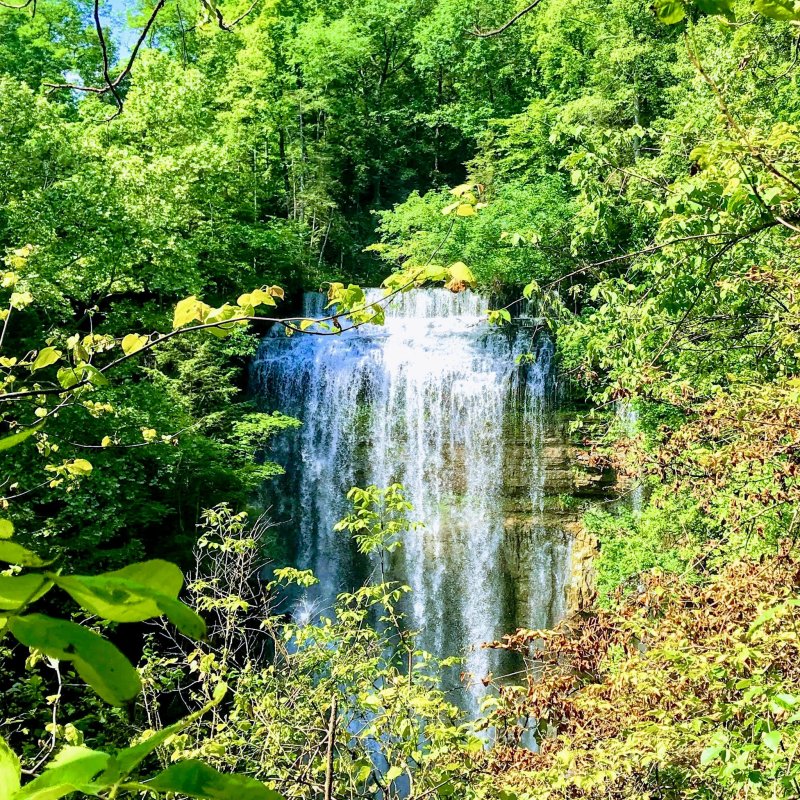 This was a difficult list to compile, mostly because the national park known as a hiker's paradise — Great Smoky Mountains National Park — is located in southeastern Tennessee. I could probably make a list of a dozen great hiking trails in that park alone. And then I could add 12 more on the North Carolina side of the park!
But Tennessee is much more than just the Smoky Mountains. I've been on great hikes outside of Memphis, outside of Nashville, in the Chattanooga area — all over the state, really. So here are a dozen great hikes across the entire state. And yes, two are in Great Smoky Mountains National Park.
1. Lookout Mountain Bluff Trail
Chattanooga
My wife and I refer to this one as "that one time we hiked from Tennessee to Georgia." It's really not all that impressive of a feat — from the trailhead of the Lookout Mountain Bluff Trail, it's not even 3 miles to the Georgia border — but it was fun to be able to say we hiked from one state to another.
When people think of Lookout Mountain, they think of the touristy spots like Ruby Falls and Rock City. When I was younger and drove through the area, it seemed like there were 50 billboards on the highway inviting cars to stop at Lookout Mountain.
But most visitors aren't aware of the park at the top of Lookout Mountain and the trails within the park. You'll have to pay a small fee to enter Point Park, but once inside, you'll see signs directing you to the Lookout Mountain Bluff Trail. You'll wrap back around the west side of Lookout Mountain and, as I mentioned above, you can walk all the way to Georgia if you want.
Besides the descent from the park (which contains an old battlefield) to the trail, the route is relatively flat. It's a simple hike with incredible views.
2. Twin Arches Loop Trail, Big South Fork National Recreation Area
Oneida
There are dozens of neat trails within the Big South Fork Recreation Area, but I'm only going to list the two best in this piece.
The first is the Twin Arches Loop Trail, which will take you to two massive stone arches. You'll encounter a short loop near the arches and then a much longer loop (around 4.5 miles). There is some elevation change here — around 750 feet — and a lot of that elevation change is covered by stairs. So if you're looking for stair-climbing and then a long, meandering trail with great views, this is your trail.
3. Abrams Creek Campground To Abrams Falls, Great Smoky Mountains National Park
Tallassee
I'm including two hikes in Great Smoky Mountains National Park here. As I said above, I could include 12, but I'll try to list two that are quite different. The second one I'll discuss is a very popular (and often crowded) trail. This one is typically empty.
The stretch through the center of the park — along the road from Gatlinburg, Tennessee, to Cherokee, North Carolina — is by far the most popular, and that's where the most popular hikes are located. Abrams Creek Campground is on the far western tip of the park. You enter off of Happy Valley Road, and the road ends in less than a mile at the ranger station and campground. From there, the hike to Abrams Falls is approximately 5 miles.
There are three main climbs on this hike, but the remainder is fairly flat. It's not 5 miles of long, consistent climb up to the falls — it's a climb up and back down three times. So it's not as daunting as other hikes in the park. And you'll likely be by yourself. You might see people at the falls (there's a trail from the popular Cades Cove area that brings you to the waterfall from the other direction), but for the majority of the hike, you'll enjoy the Smoky Mountains in solitude.
4. Sherwood Loop Trail
Sewanee
We've been discussing a lot of difficult trails, but the Sherwood Loop Trail in Sewanee is a much easier option. This trail isn't too far off of Interstate 24 (about 15 miles) and offers a secluded, simple hike with some great overlooks.
The loop is only 2.5 miles long, so it's a hike you can complete quickly. Or you can pack a lunch and spend some time at the main overlook. Not every hike in Tennessee has to consist of climbing up to the top of a rocky mountain. This hike proves that you can find great views on a relatively flat, short loop.
5. Lake Trail, Radnor Lake State Park
Nashville
On a recent trip to Nashville, my wife and I went for a nice, comfortable morning hike in Radnor Lake State Park. We were staying near downtown Nashville, but it felt like we got to this park in less than 15 minutes. It's always great to find some nature that close to a downtown area.
The Lake Trail circles the entire lake — a 2.5-mile loop. We added the Ganier Ridge Loop to make it a 4-mile hike. It was fairly easy to find the turn for the Ganier Ridge Loop, and at the end of that loop, you rejoin the Lake Trail and continue circling the lake.
There were a lot of people on this trail, but it was very wide and very open. Just a perfect little loop around a lake that's close to everything.
6. House Mountain State Natural Area
Corryton
The House Mountain State Natural Area, located just outside of Knoxville in Corryton, is a great place to see a mountain in Tennessee. You can drive up into the mountains, park your car, take a 3- or 5-mile trek around the mountain, and then head right back down to Knoxville.
This trail isn't easy, but it's not all that difficult, either. For the first mile or so, you'll be climbing (around 1,000 vertical feet), but after that you'll be walking along a ridge with some amazing views. The main loop up and back down is around 3 miles, but you can add the Crest Trail to your journey to walk along the entire ridge, adding another mile out and mile back for a 5-mile journey.
7. Parksville Lake Recreation Area
Ocoee
My wife and I hiked here just last year. In far southeastern Tennessee, the Ocoee River widens into Parksville Lake. It's a gorgeous lake, and as we were driving through the area, we had to stop and explore. That turned into a long hike within the Parksville Lake Recreation Area.
There are many different trail loops here, so you can choose the length you want. If you hike the outside edge of all the loops, you can walk up to 15 miles. We weren't in the mood for that, so we mostly stuck to the Clemmer and Clear Creek Trails, which made for a 6-mile loop. I remember a fairly significant climb the first 2 miles, but the rest was a very gradual descent. A great, unplanned, discovered-along-the-road hike!
8. Blue Trail, Meeman-Shelby Forest State Park
Memphis
My wife was in Memphis on business, and I joined her for a weekend. We were looking for a trail on Sunday, and we headed to Meeman-Shelby Forest State Park north of Memphis.
This state park sits right at the edge of the Mississippi River Valley. You're close enough that you can see the river off in the distance. There's a flat floodplain between you and the river, so you can see how during a major flood, the Mighty Mississippi would come all the way to the bluff where this trail is located.
There are 12 miles of trail along the bluff, and we chose the Blue Trail for an out-and-back hike of approximately 4 miles. There were a few climbs, but for the most part, it was a fairly flat trail along the bluffs. And you can customize it to whatever length you want.
9. Laurel Falls, Cherokee National Forest
Johnson City
Laurel Falls in Cherokee National Forest is in the far northeastern corner of the state near Johnson City. There's also a Laurel Falls in Great Smoky Mountains National Park, so don't get that one confused with this one.
This is a very straightforward hike. From the trailhead, it's completely flat for a mile. Then you'll descend some stairs and follow a .25-mile trail to the waterfall. Take your photos of the waterfall and then repeat the process — back up the stairs (around 400 feet), and then the flat trail a mile back to your car.
10. Dome Rock House Loop Trail, Big South Fork National Recreation Area
Oneida
This is the second trail I'm listing in the Big South Fork National Recreation Area. The area is known for its river valleys, but this hike is on a ridge up above the south fork of the Cumberland River.
You'll be hiking to the Dome Rock House, a massive rock overhang and cave. You'll head from the trailhead up to the Dome Rock House and back down for a 5.5-mile hike, or you can add the Big Island Loop Trail and make it a 9-mile hike. This is a fairly popular equestrian trail as well, and there's a spur off of the main trail over to a horse camp, so be prepared to encounter some horses on your hike.
11. Virgin Falls Trail
Pleasant Hill
For some people (like my wife), it's not a hike unless you get in a long workout. And the Virgin Falls Trail certainly provides a long workout.
Located outside of Pleasant Hill in the center of the Nashville-Knoxville-Chattanooga triangle, this 7-mile trail takes you down to a river where you can see the falls and then back up the hill. So while many hikes start at a low point, head up to some attractions, and then go back down, this hike is the opposite. The 3.5 miles in are almost all downhill. Then, in the second half of the hike, you have to climb 1,400 vertical feet.
But it's worth it. The falls are great, and you'll get a wonderful sense of accomplishment when you finish the steep climb near the end of the hike.
12. Alum Cave Trail To Mount LeConte, Great Smoky Mountains National Park
Gatlinburg
I saved the best for last. And it's not just the best in my view — Mount LeConte is a mecca for hikers from across the country. Besides the paved trail up to Clingmans Dome, the hike up to the top of Mount LeConte is probably the most famous in Great Smoky Mountains National Park. In fact, for those in the eastern half of the country, I'm guessing Mount LeConte would top many lists of best hikes in the United States. The hiking app AllTrails rates it the number-one trail in Tennessee.
There are several ways up to the top of Mount LeConte. When I was there, we took the Alum Cave Trail. People travel from all over to hike this specific trail, so please know that if it's a nice day in the summer, there will be a lot of folks on this trail. It's not a big deal — the trail is wide, and there's so much to explore — but just know that you won't be alone.
About halfway up the mountain, you'll pass Alum Cave, a massive rock overhang with a rich history. After that, the trail starts getting steeper. This is the most difficult trail on this list, with a climb of nearly 3,000 vertical feet. It's a very long climb to the top.
Once you reach the top, grab one of the rocking chairs on the porch of the LeConte Lodge and enjoy the view. It's one of the best destinations I've ever hiked to!
Pro Tip: The AllTrails app is a great resource when hiking. Other app users will "map" a trail by using the GPS on their phones, and you can pull up those maps as you're walking a trail. If you feel like you're lost, a quick check of the map will let you know if you're still on the right path. All you have to do is make sure your blue dot (GPS) is following the red line of the trail. To see my all-time favorite hike in Tennessee, check out TravelAwaits' picks for the best hikes in all 50 states here.
This article is presented by KEEN Footwear. I basically spend the entire summer in my KEEN Newports. Because of the toe cage, and because I can get them wet, I pretty much wear them everywhere I go. On a hike, I zip the strap tight and they're just as good as my hiking boots. Shop KEEN's Newports and other hiking shoes here.