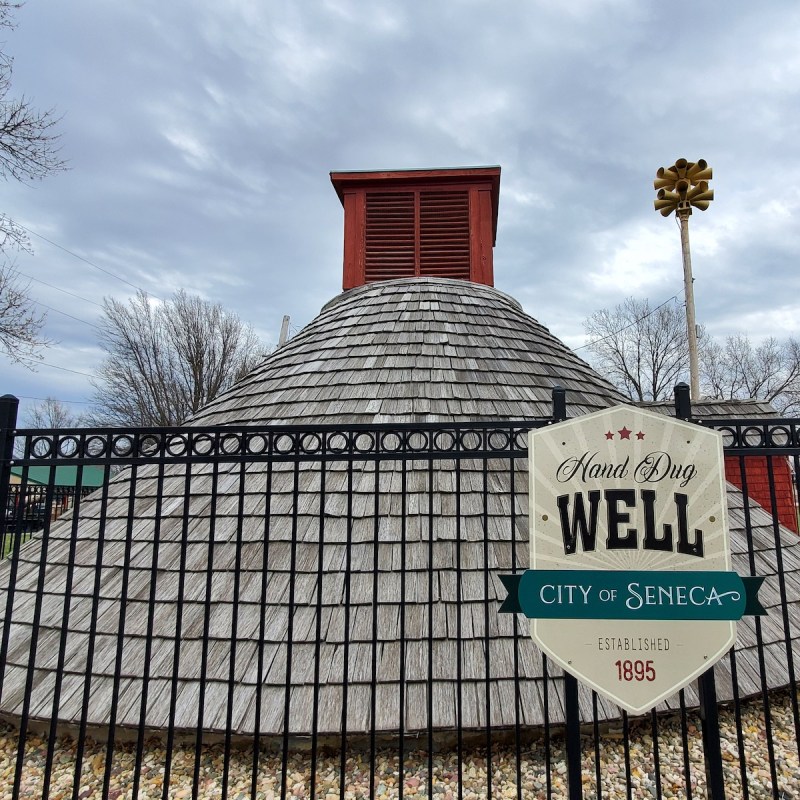 Interstates are convenient and fast, but did you know U.S. highways often offer the same convenience and speed but with an opportunity to slow down? A perfect example is U.S. Route 36 through Kansas, which is a fantastic alternative to Interstate 70.
There are fewer than 10 stoplights on U.S. Route 36 (commonly referred to as Highway 36) through Kansas, making it a speedy option for travel across the wide state. The small towns that you travel through will greet you with a smile and an opportunity to experience things that you will not find anywhere else.
Here are some of the best reasons you should take Highway 36 instead of I-70 through Kansas, heading east to west.
Note: I toured this route as a guest of the US 36 Highway Association in April 2022. All opinions are my own.
1. The Seneca Hand Dug Well
Seneca, Kansas
With more than 130,000 bricks, 100 cords of stone, 570 barrels of cement, and 20,000 feet of lumber, this masterpiece is just over an hour into Kansas heading west on Highway 36.
The second-largest hand-dug well in the state of Kansas, the Seneca Hand Dug Well, is 34 feet wide and 65 feet deep. In 2006, it was added to the National Register of Historic Places. The well stopped being used in 1937, and since then, two new wells have been dug, along with a million-gallon reservoir near Seneca.
There is free parking close to the site, making it accessible for everyone to see this masterpiece up close. Tours are available by appointment, by calling (785) 336-2294. Pack a picnic lunch and enjoy the view of the well from one of the picnic tables nearby.
2. The Pony Express Route
Marysville, Kansas
In the 1860s, mail carriers hopped on horses to deliver mail using a relay-style system. This service was called the Pony Express. From April 1860 to October 1861, this short-lived mail service had a route in Kansas. When you travel Highway 36 in eastern Kansas, you will travel the exact route that the horse riders took.
Visit the Pony Express Museum & Barn in Marysville. You will see saddles, wagons, and all sorts of tools that were used during the era of the Pony Express Route. There is a small fee to visit, and the main level of the museum is wheelchair accessible.
3. High Banks Hall Of Fame And National Midget Auto Racing Museum
Belleville, Kansas
Belleville, Kansas, is home to one of the most unique museums that I have visited. The High Banks Hall of Fame & National Midget Auto Racing Museum will inspire you to attend an auto race. If you are not a car enthusiast, still give this museum a chance. You will be excited by something or someone when you visit this museum in Belleville.
Showcased at this museum are NASCAR's first official trophy and 1949 midget cars, which are small racecars with a massive power-to-weight ratio. You can also see spring cars, micro midget cars, Indy cars, modifieds, and more.
Donations are accepted, and you can plan to spend a minimum of 1 hour gazing at these beautiful cars.
Pro Tip: After your visit to this fun car museum, drive to the Belleville High Banks Speedway Fairgrounds to see where these cars have raced.
4. Dine At Sweden Creme
Mankato, Kansas
Sweden Creme sits right on Highway 36 in Mankato, Kansas. The restaurant is known for its burgers and ice cream.
The day I visited, the restaurant was packed with people enjoying Sweden Creme's famous burgers. I ordered a burger, and I can attest that it was one of the best burgers I have indulged in while in Kansas. My ice cream dessert arrived, and it was just as good as the burger — over the top.
Rumor has it that people will travel hours to enjoy a meal at Sweden Creme. After dining here, I understand why people will make the trek. If a fat, juicy burger calls your name, start mapping your route to Mankato, Kansas.
5. Geographic Center Of The United States
Lebanon, Kansas
The geographic center of the United States sits near Lebanon, Kansas. You will drive on a few miles of gravel to get to this site. Sign the guest register and visit the roadside chapel. I have always enjoyed visiting this site early in the day. When you turn to face east, away from the geographic center, the view down the gravel road that you traveled is a memorable one. There is ample parking, and there is no fee to visit.
You may recall seeing this site in a Super Bowl commercial that Bruce Springsteen starred in.
6. Home On The Range Cabin
Athol, Kansas
You will see signage along Route 36 for the famous Home on the Range Cabin, officially named the Higley Cabin. Dr. Brewster M. Higley penned the song Home on the Range. Soon after his election, President Franklin D. Roosevelt declared Home on the Range his favorite song, which brought national attention to the tune. In 1947, Home of the Range became the official song of the state of Kansas.
As you stroll the grounds near the Home on the Range Cabin, there's a spirit that you will feel. I felt as though I had been lured into a different place in time. It was calming, and yet exciting. There is no fee to visit the site, and there is plenty of parking.
Springtime brings an annual town celebration to raise funds to keep the grounds clean and welcoming to all visitors. Around town, there are sports tournaments, panels with athletes, and more.
7. Destination Kitchen
Norton, Kansas
Destination Kitchen is a must see when you are in Norton, Kansas. This charming shop will win you over as soon as you set foot in the door.
Destination Kitchen carries bakeware, cookware, tableware, and anything and everything you need to make your kitchen a success. Their baked goods are fantastic to grab in the morning. They also serve lunch Monday through Saturday. For a quick sit-down lunch, grab an individual brick-oven pizza with a plate from their fresh salad bar. You can plan on spending 2 full hours in this fun shop.
8. Landmark Inn
Oberlin, Kansas
One stop with three different experiences await you at the Landmark Inn. The Landmark Inn in Oberlin, Kansas, offers a mercantile, bed and breakfast, and a restaurant on site. Reserve your night's stay at this classic 1886 Bank of Oberlin building.
The Landmark Inn has been noted as one of Kansas's most romantic places to stay. With several rooms to choose from, your stay will most likely be one of the most memorable in your lifetime.
Before you check out of your room, swing through the mercantile. You will find scarves, jewelry, and boutique items.
I am a bread pudding connoisseur, and the Landmark Inn's restaurant had some of the best bread pudding that I have ever had. The menu in the restaurant frequently changes, which gives you a reason to visit time and time again.
9. Decatur County's Last Indian Raid Museum
Oberlin, Kansas
A museum that you do not want to miss while traveling Route 36 is Decatur County's Last Indian Raid Museum.
With more than 15 well-kept buildings, 13 of which are original buildings from 1885 to 1952, this museum is one of the most organized museums I have visited. The museum covers a Native American raid from 1887, along with other battles and skirmishes in town. Visitors will learn about "Wild Bill" Hickok, buffalo hunters, and the life of the homesteaders in the 1800s.
The museum is wheelchair accessible, with guided and self-guided tours available. If you have any questions while visiting, the helpful staff will be happy to assist you. A small fee is collected at the door.
10. St. Francis Motorcycle Museum
St. Francis, Kansas
The St. Francis Motorcycle Museum in St. Francis, Kansas, is home to nearly 150 vintage motorcycles from more than 40 manufacturers. The motorcycles are spread out on 10,000 square feet in the museum. You can be up close with all of them. I am not a motorcyclist, but I find myself stopping at this museum when I'm in the western part of Kansas.
They are open daily from 10 a.m. to 5 p.m., except Easter, Thanksgiving, and Christmas. Donations are accepted at the door, with a suggested $7 entry fee. The volunteers will greet you with a smile and are happy to answer any questions you might have.
Highway 36 Has It All
This is a glimpse of what you can experience while traveling this alternate route through Kansas. Depending on your time schedule and budget, you can spend as little or as much time as you want at each location. Each of the above stops offers hours of enjoyment.
You will also find several parks that feature hiking, camping, fishing, and wildlife viewing while traveling this route. Several of these parks offer lodging, and many of the towns along Highway 36 also offer lodging that is unique to the area. If you know that you will be in an area for an extended period of time, book your lodging ahead of time.
Travel at a pace that you enjoy and savor every moment of your road trip. After all, when was the last time that you traveled hundreds of miles on a U.S. highway that didn't have dozens of stoplights along the route?