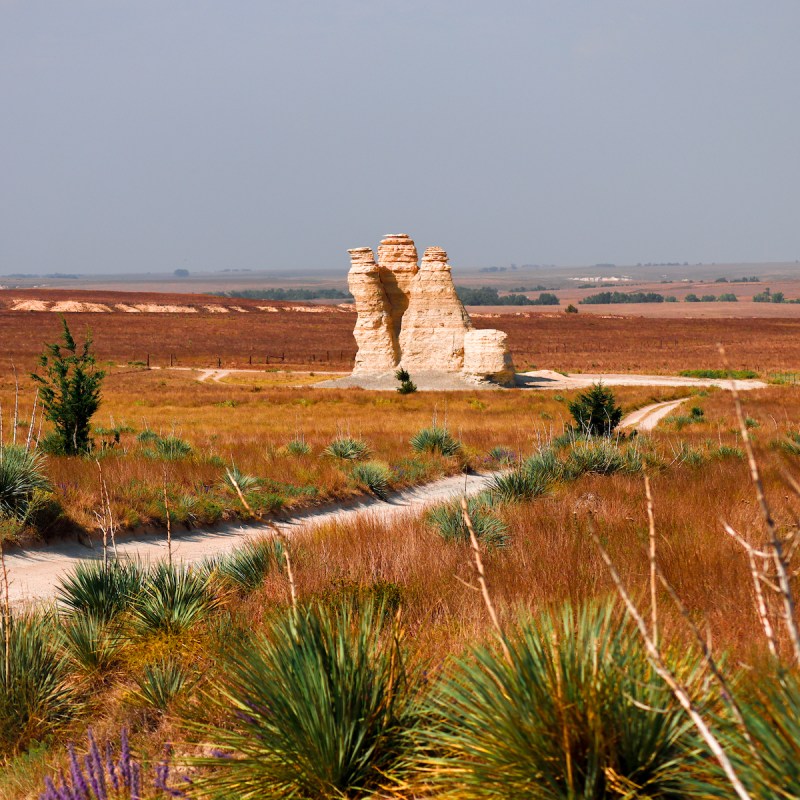 If you've never visited Kansas, your mental picture of the state probably includes flat prairies, sunflowers, and Dorothy's house being carried away to the Land of Oz by a twister. Hays, population 20,000, is the largest city in Ellis County of Northwest Kansas and is most likely not what you conjure up when someone mentions the Sunflower State.
The city of Hays is 197 miles from Wichita, 264 miles from Kansas City, and 330 miles from Denver. I flew into Wichita and rented a car. It's an easy 2-hour drive with great roads and ample places to stop if you need to. If you're coming from (or connecting through) Denver or Chicago O'Hare, United offers daily flights to Salina Regional Airport, 97 miles from Hays. (However you decide to travel to Hays, you'll need a car to get around.)
If you like being outdoors and relish travel experiences that are a little bit outside the box, Hays, Kansas, is a good place to visit. This small city offers quality restaurants, several lodging choices, shopping, and a fun list of festivals and celebrations throughout the year. And if you've heard the rumor about Kansans being truly nice people, that's true here.
Note: I was hosted by Kansas Tourism for the experiences I describe below. I'm on a quest to visit all 50 states (I'm currently three-quarters done), and I was super excited to be invited to experience some of the things Hays and Northwest Kansas have to offer.
1. Chestnut Street District
Affectionately termed "The Bricks," the Chestnut Street District in downtown Hays has 100+ businesses to explore. You'll find a variety of shops, boutiques, and galleries nestled amongst historical markers memorializing the history of Hays.
Visitors can also take a self-guided walking tour (a map is available in the visitor's center) and walk the same path as Wild West icons like Calamity Jane, Wild Bill Hickock, Buffalo Bill Cody, and General George Armstrong Custer. A series of plaques mark the route and explain the historical significance of each site.
Interestingly, there is no street named Chestnut. That was the original street's name, but it was renamed Main Street in 1929.
2. Sternberg Museum Of Natural History
Managed by Fort Hays State University, the Sternberg is a fantastic place to learn about how evolutionary forces have impacted our natural history. If your travel group includes any dinosaur-loving kids, a stop at the Sternberg is a must. There's a mix of traveling and static exhibits and a great staff on hand to answer any questions.
Present-day Kansas was once a shallow ocean known as the Western Interior Seaway, which means a plethora of fossils has been found in this area. If you're wondering why a museum in Northwest Kansas is so rich with fossils of prehistoric sea life, now you know.
This two-story museum is fully accessible and has six permanent exhibits. For me, the diorama area was hands down the highlight. If you've ever wanted an experience that mimics being inside Jurassic Park, this is one to check out. Allow 2 hours to see everything.
Pro Tip: For more recent area history, check out Fort Hays State Historic Site, a historical park commemorating the city's fort that protected railroad workers and others traveling the east-to-west Smoky Hill Trail from 1865 to 1889.
3. The Hays Bison Herd At Frontier Park West
Established in 1953, the Hays Bison Herd currently has approximately 20 bison. This number is ever-changing, and there's no guarantee the full herd will be on display when you visit. Visiting in spring increases your odds of seeing some babies. At present, the herd includes a rare white bison and her calf.
The park is free to enter, and anyone can view the herd at a safe distance from behind a double fence. The Hays Parks Department, which manages the herd, reminds visitors to keep in mind that even though the bison appear to be domesticated, they are to be considered wild animals. In other words, enjoy these creatures from a distance and don't attempt to enter their pen or wave them over to the fence line.
4. Cedar Bluff State Park
Located 28 miles from downtown Hays, Cedar Bluff State Park is a great place for an easy hike, a picnic, and to take in some very un-Kansas-like scenery. The park is located alongside the shorelines of Cedar Bluff Reservoir, a manmade lake that provides a backdrop for various outdoor activities, including camping, swimming, and fishing.
We hiked a portion of the Butterfield Trail, which is an easy, relatively flat dirt and grass path through the prairie. There's not a great system of trail maps posted online, although you can find a few trail reviews on AllTrails. If you want to go hiking or walking, I recommend checking in at the ranger station and asking for suggestions. Threshing Machine Canyon was recommended as a great hike but the trail was closed for safety reasons on the day we visited the park.
Cedar Bluff State Park is free to enter but camping and other use permits may apply. If you plan to fish or hunt make sure you're following the appropriate steps to obtain a license.
5. Monument Rocks
Monument Rocks is one of Kansas's most well-known natural landmarks. Located 114 miles from Hays, it's a great picture-taking spot to check out if you're up for a little bit of a drive. These 70-foot-tall sedimentary chalk formations once sat on the ocean floor and can be spotted from miles away.
Monument Rocks are located on private land, but the area is free to enter. You can walk around and look at the rocks, but make sure you heed the signs warning you not to touch or climb on the rock formations.
6. Castle Rock Badlands
Castle Rock Badlands are less known than Monument Rocks, and I enjoyed getting to see both. That said, if you have to pick one over the other, choose Castle Rock Badlands. You won't be sorry.
Castle Rock Badlands is located 62 miles from Hays, which makes it a slightly shorter trip than Monument Rocks. The actual Castle Rock, which has eroded through the years, sits a bit away from the badlands. Also located on private land and free to enter, the wow factor in Castle Rock Badlands is that you can explore and climb on the rock formations, which are much sturdier than what you'll see at Monument Rocks.
There's also a herd of cattle that grazes around Castle Rock Badlands. If your objective is to get stunning photos, those bovines are happy to be your subjects and add a little depth and interest to your pictures.
Castle Rock is a great place for kids and more adventurous souls to explore, but be mindful of snakes. Also, most would consider this fairly mild climbing, but if that's not your thing, it's very easy to explore and enjoy the scenery on level ground.
7. Nicodemus National Historical Site
Nicodemus National Historical Site (don't forget your National Parks Passport!) is 51 miles away from Hays. The site tells the story of formerly enslaved African Americans from Kentucky who left the south during Reconstruction and highlights the role of African Americans in the westward expansion. The community of Nicodemus is the oldest and only remaining Black settlement west of the Mississippi River.
The visitors center has displays, a small gift shop area, and a 15-minute film to watch. Some of the park rangers who work at Nicodemus National Historical Site are descendants of the original settlers.
The grounds are always open (and free to explore), but the visitors center and any ranger-led programs have limited hours, so check their website or call in advance of your visit. Nicodemus is a fairly remote area, so you'll want to make sure you don't make the trip from Hays just to find everything closed. There's also a Junior Ranger Program available for kids under 12.