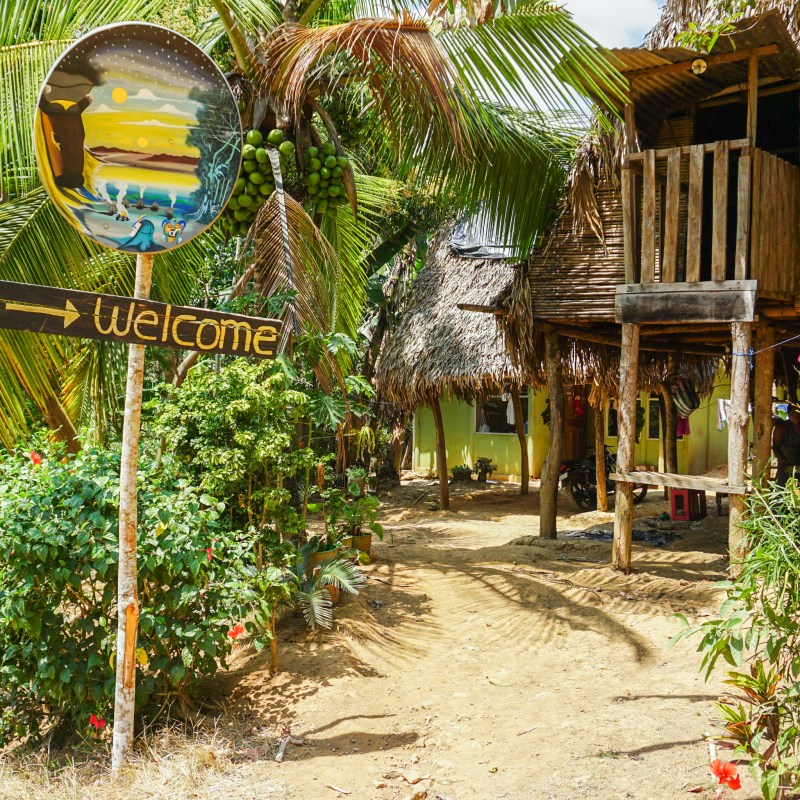 In January 2018, I started what I thought was a career break. I booked a one-way ticket to Costa Rica. I planned to spend two weeks there, two weeks in Peru, and two weeks in Argentina. I booked all my travel and accommodations for my first two weeks in advance. Then I challenged myself to stop pre-planning since I wanted to see what "go with the flow" travel felt like.
I Stepped Outside My Comfort Zone
As luck, or fate, would have it, I ended up in Corcovado, a national park in the proverbial middle of nowhere when my pre-planning ran out. I was staying in a tent on a property with crappy Wi-Fi and a useless manager, trying to make my way to Samara (which I kept referring to as Samsara for some reason). I learned my only two options were an expensive flight or a dangerous-sounding overnight bus ride. I had a complete meltdown because I was alone and unable to make the travel plans I wanted. I contemplated giving up, returning to America, getting another job, and forgetting my idea of traveling the globe.
Once I finished feeling sorry for myself, I got inspired. Rather than try to get to Samara, I researched which cities were accessible from Drake Bay, the gateway to and from Corcovado. Opening to true flow and letting myself end up where I could, instead of attempting to control the destination, I came across the town of Uvita. What finalized my decision to go there happened when I went on Booking.com to book accommodation. The first hotel that popped up was called Samsara. I reserved it immediately. I took a boat from Corcovado to Drake Bay, then transferred to a bus that took me to Uvita.
I Started Seeing Signs
Intriguingly, I learned the definition of samsara is "the cycle of death and rebirth to which life in the material world is bound." This resonated completely with my circumstances and made me shiver with the feeling that someone was watching over me. Uvita was not on my list of places to go in Costa Rica, but it ended up having great purpose for me.
Uvita is small. It has a supermarket, a few shops, and some casual restaurants. The Hotel Samsara is what truly made my stay there. Besides the excellent margaritas from Raul every night, I learned they had a jungle in their backyard that leads to a beach. I didn't expect the jungle to be so lush. I felt lost in nature walking through it and happened upon a small stream.
A movement caught my eye, so I stood still for a while. I thought I saw a creature run across the stream but didn't believe that was possible. As I stared, a lizard dashed across the water, on its hind legs, standing up. I'm not religious, but seeing my first Jesus Christ lizard at this time felt hugely significant. I had done the seemingly impossible by quitting my job, then stepped outside my comfort zone to be standing there, at that very moment.
I continued my walk through the jungle and saw a cow. If you didn't already know, I love cows. Finding one in a jungle was quite a sight! While I was surprised, she seemed to think it quite normal to munch on jungle vegetation. I continued walking and ended up on a beautiful, mostly empty, beach.
In the sand were various patterns left by some creature. One of them looked, to me, like an angel. Another cherished moment that made me feel coming here was no accident. I walked along the beach for what seemed like ages. I noted I was looking out at the Pacific Ocean, a rare experience for a native New Yorker.
I stopped at a spot where the beach jutted out into the ocean. I learned this part of the beach is called Punta Uvita. It's part of Ballena National Park. Ballena, in English, means "whale." This name is very appropriate because, from above, the Punta Uvita looks like a whale's tail!
I Trusted My Instincts And Accepted Help
In a previous article, I wrote about how to travel safely as a female solo traveler. My first lesson in travel safety happened in Uvita when I walked to the Uvita waterfall (Cataratas). I ended up alone on the last part of the road to it. A passerby said hello. I returned the greeting but felt anxiety about his intentions. I was alarmed when, after he passed, he called for my attention. With my spidey senses tingling, I took a few more steps away from him and turned around. He asked if I'd like to come with him to see his "special place." Comedy aside, it was a scary moment being alone and imagining what this man would do if I went with him. His eyes were on the bulge of my iPhone in my pocket. I hastily declined and continued to the waterfall. Once there, I met a European couple and watched, awe-struck, as a man climbed up the rock to the side of the waterfall and then jumped off the top. The European couple offered me a ride back to my hotel. While I pride myself on being independent, I gratefully accepted their offer, realizing it would save me from another potential run-in with my "special place" guy.
I Learned To Love Traveling With The Locals
The local bus in Uvita has official stops that aren't always well marked and will also drop you off any place you want along the route. I was grateful to speak some Spanish — and really happy to have the Maps.me app, which gave me a general clue of where I was. Every ride I took, I'd tell the driver where I wanted to go and sit down. The ladies at the front of each bus would give me a heads up when my stop was coming, pull the stop signal for me, and tell me when to get off. This lovely gesture endeared me to local bus travel ever since.
I took the bus to Alturas Wildlife Park one day. It's in the neighboring town of Dominical. The view and sanctuary are beautiful. I loved meeting the rescued wildlife and learning they had a chance of returning to nature. If you prefer more luxurious accommodation, you'll find it here, as well as budget accommodation if you want to stay and volunteer.
My trip to Uvita completely changed me as a traveler. Learning to use my resourcefulness and get comfortable with last-minute travel and local bus services gave me the courage to continue my journey. It was also the beginning of tangible experiences where I felt guided and began to trust myself more than ever before. I traded the American-style corporate vacation — two weeks of running to every tourist site possible — for longer stays that encourage the appreciation of cultures. I postponed my Peru and Argentina plans and spent five wonderful weeks all over Costa Rica.
Pro Tips
The best time to visit Uvita is between December and April, unless you like rain! Be aware that the Envision Festival happens here every year in February. Billed as an entrepreneurial experience, it tends to take over everything for a week. The hotels are booked up, tent accommodation is created on the festival grounds, and many of the attendees stay up all hours drinking, smoking weed, and playing music. If you don't enjoy crowds and partying, I suggest avoiding Uvita during that week. Any other week, you'll love it!
The easiest way to get to Uvita is by shuttle bus or regular bus. I found the shuttle buses more reliable and air-conditioned, but regular buses are cheaper. Interbus is the primary shuttle carrier. You can get to Uvita from most major cities in Costa Rica. You could also rent a car, but the roads aren't always paved, which is why I preferred to let someone experienced do the driving.