TravelAwaits participates in affiliate programs with various companies. We may earn commission when you click on or make purchases via links.
Electric bikes, or e-bikes, have skyrocketed in popularity recently, and it's easy to see why. People are finding creative and inventive ways to explore the outdoors, regardless of their physical condition. While traditional cycling may seem like an overwhelming endurance sport, the e-bike offers hybrid options to give riders the ability to pedal when desired or sit back and enjoy the ride with motor assistance. Finally, people of all ages can get back on the horse again, ditch the cars, and enjoy two-wheeled travel that's reminiscent of childhood.
We reviewed some of the most popular -- and affordable -- electric bikes on the market and present our top choices here. Read through carefully, because e-bikes have become more specialized in recent years. If you're lost on which bike is best for you, we include a handy buying guide to reference at the end.
Best Value E-Bike
AmericanElectric GenZe E101 350 Watts - 7 Speed Class 2 E-Bike - 20"
The GenZe e101 electric bike has two ride modes: throttle mode (no pedaling required) and pedal-assist mode for those still wanting to exercise with a push. This bike comes equipped with a 350-watt motor for a 25-mile (throttle mode) to 50-mile (pedal-assist mode) traveling distance before requiring a battery recharge. The throttle is super simple to use, built into the right handlebar, and with one twist, the bike zooms forward up to 20mph. Although this bike is only available in one color, the silver design is aesthetically pleasing for both men and women.
Pros
2 modes: throttle and pedal-assist
Unisex
Cons
Battery requires a recharge after 25 miles of throttle use
Key Features
Battery-powered for up to 50 miles of travel
Battery charges in 3.5 hours
Battery and balanced frame offer superior weight distribution
Specifications
Motor: 350 watts
Weight: 46 lbs
Wheel Diameter: 26'
Battery: Lithium ion / 36 volts / 8.5 ah hours
Check Latest Price
Most Popular Pick
Batch Step-Thru E-Bike 2020
The Batch Step-Thru electric bike provides pedal-assist motorized power via its Bosch 250-watt motor. This bike is excellent for those wanting an extra push up the hill or steady assistance during a long excursion. The included Kenda Kwik Journey 700x50c tires are the ideal choice for the everyday rider, as they ride smoothly across any surface. It also comes with a rack for those traveling for work or simply to carry an accessible backpack to any destination. Complete with Tektro hydraulic disc brakes for peace-of-mind when it comes to quick stopping power, this is a superb choice for those ready to start electric biking.
Pros
Priced as an entry-level e-bike
Gender-neutral white gloss exterior
Shimano Altus 8-speed drivetrain for easy shifting
Cons
One power mode for pedal-assist, so the rider is always working
Key Features
Aluminum build ensures bike is lightweight
Available in two sizes to fit men and women of any height
Designed for use on all surfaces
Specifications
Motor: 250 watts
Weight: 52 lbs
Sizes: Small/Medium (Riders 5'1"-5'6"), Medium/Large (5'5"-6'2")
Check Latest Price
All The Bells & Whistles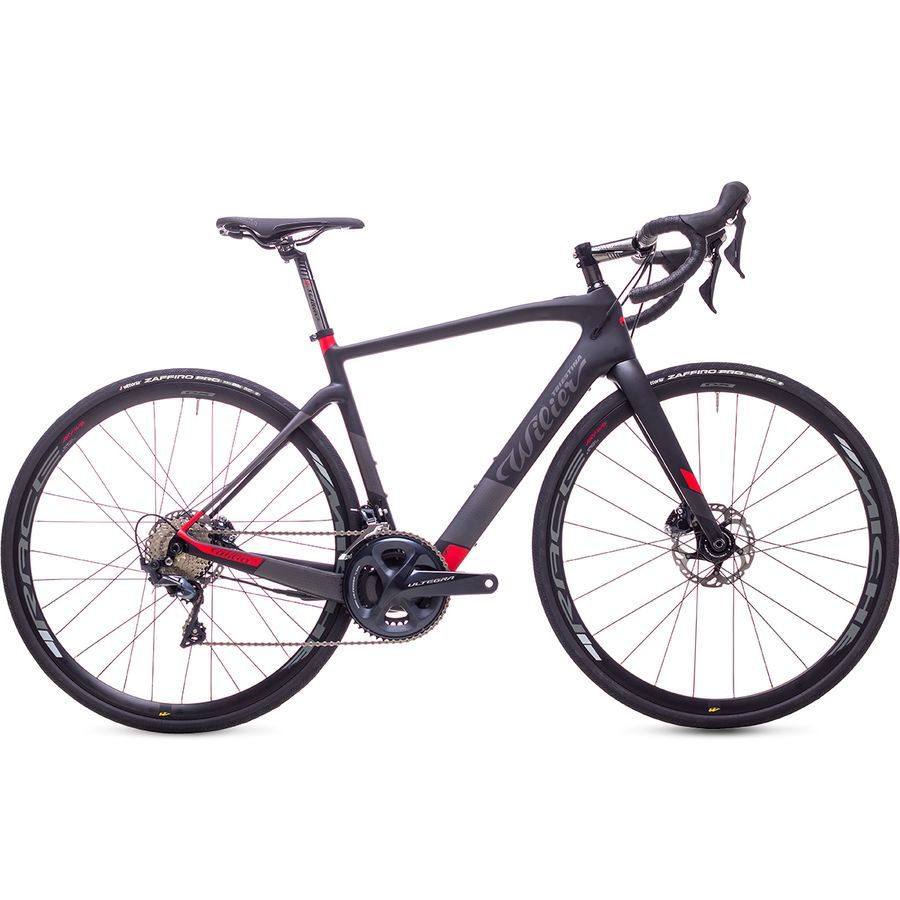 How To Choose The Right Electric Bike For You
Types Of Electric Bikes
There are four basic types of e-bikes. Once you get into the higher-end models, they may break into more specialized categories, but for our purposes, we'll stick with the main classifications:
Electric Mountain Bike: These e-bikes are built for thrillseekers who plan to mainly use theirs while offroading and on trails. They traditionally feature wider tires for stability and flat handlebars for rider grip and security.
Electric Cruiser Bike: These e-bikes are designed for recreational riders who value comfort over advanced performance. They travel best on flat surfaces like paved roads and bike paths. These also typically feature wide tires, wide seats, and taller handlebars so the cyclist isn't hunched over in an uncomfortable position.
Electric Commuter Bike: These e-bikes are similar to Cruisers in that they are also designed for flat and paved surfaces. However, the tires are much more narrow, allowing the rider to travel faster and more efficiently. The handlebars are also more upright and they feature comfortable seats, though not as wide as those on Cruisers.
Electric Road Bike: These e-bikes are also similar to Cruiser and Commuter models, but, ultimately, speed is the goal. The tires are narrow and the handlebars are placed lower to eliminate wind-resistance for maximum velocity.
Classes Of Electric Bikes
E-bikes are required to follow basic traffic laws and additional classes were created to determine how each should be appropriately used.
Class 1: Class 1 e-bikes provide the least amount of motorized assistance and only provide a boost while the rider is pedaling, up to 20mph. These bikes are ideal for riding bike lanes or trails, where one would typically ride a non-electric bicycle.
Class 2: Class 2 e-bikes include a throttle in addition to the pedal-assist feature and also go up to 20mph. Typically, they are allowed in the same places as Class 1 bikes, but check the local laws first.
Class 3: Class 3 e-bikes can go higher speeds, up to 28mph, and must include a speedometer. Depending on local laws, these bikes may or may not include a throttle for non-pedaling assistance.