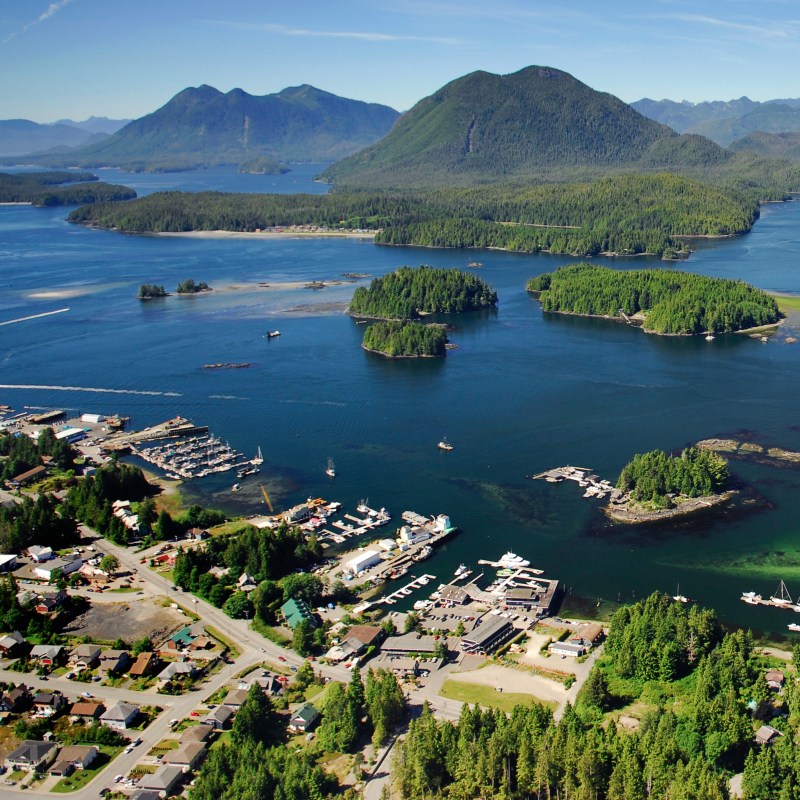 A road trip is a great way to explore Vancouver Island off Canada's Pacific Coast. You'll find quirky coastal communities, world-class whale watching, a thriving arts scene, and a stunning landscape that includes rainforests, snow-capped mountains, and snug harbors. One of the most popular road trips runs from Victoria, British Columbia's capital city, to Tofino, a small coastal village along the western edge of the island.
The summer months offer the best weather for this trip. The months of May through October are prime for whale watching. In recent years, Tofino and nearby Ucluelet have become popular destinations for storm watching in the winter months. If you make this trip in the winter, be sure to check road conditions and be aware that winter tires will be required.
It takes approximately 5 hours to drive from Victoria to Tofino nonstop, but with so many interesting stops along the way, you will want to make this a multiday trip — anywhere from a quick weekend jaunt to a weeklong trip or longer holiday.
Victoria
The beautiful city of Victoria is located along a sheltered harbor on the southern tip of the island. Abundant parklands, a range of outdoor activities, a thriving arts community, Victorian architecture, and delicious farm-to-table dining make the oldest city in the Pacific Northwest a delight to visit. It is sometimes called "the most British city in Canada" and is known as the Garden City because of its many gardens and its mild climate that allows for year-round blooms.
For more to see and do in Victoria, see this piece.
Cobble Hill
Cobble Hill, known for its antique shops, boutiques, and art galleries, is one of several communities in the scenic Cowichan Valley.
The Cowichan Valley is home to many wineries, including Cobble Hill's Cherry Point Estate Wines. With one of the largest vineyards on the island, Cherry Point offers guided tours, wine tastings, and dining. Be sure to try the port-like blackberry dessert wine made from wild blackberries growing along the Cowichan River.
Merridale Cidery & Distillery is also located in Cobble Hill. Merridale produces a variety of slow-fermented ciders made from apples grown in their own orchard as well as craft gin, vodka, and brandy. Tastings, guided cellar tours, self-guided orchard tours, and restaurant dining are available. The grounds are beautiful to stroll. Be sure to pick up their Mystical Orchard Adventure Map to look for fairies, dryads, hobgoblins, gnomes, and elves. For something extra special, glamp in the orchard by booking an overnight stay in one of their yurts.
Before departing, stop at Drumroaster Coffee, a long-time family-owned coffee roastery and cafe, for delicious ethically sourced coffee. They roast their own coffee on-site.
Cowichan Bay
Cowichan Bay is a picturesque village located along the waterfront. Colorful float homes on pilings overlook the water. Browse the village's small collection of boutique shops, and then enjoy seafood or baked goods at one of the local restaurants. Rent a kayak or take a whale-watching tour. The Cowichan Bay Maritime Centre is well worth visiting to learn about the shipbuilding and fishing history of the area.
There is much more to see and do in the Cowichan Valley. You may wish to spend a few days here exploring the wineries, quaint communities, forests, and lakes. Check out this article for more ideas.
Pro Tip: Look for authentic Cowichan sweaters in shops in Cowichan Bay and elsewhere on the island. These distinctive heavy-knit sweaters, handspun from unprocessed wool, evolved from a combination of Scottish knitting and indigenous Coast Salish spinning and weaving techniques. Featuring horizontal bands of geometric designs, the sweaters often depict the same kind of animals seen on totem poles.
Qualicum Beach
Miles of curved sandy beach gave the town of Qualicum Beach its name. Stroll through the sand, swim, or kayak at the Qualicum Beach Waterfront. A paved promenade lined with picnic tables allows you to stay dry at high tide.
Later, browse the galleries and studios in town or walk amidst old-growth forest on the bark mulch trails of Heritage Forest, located 5 minutes from the town center.
Coombs
Coombs is a small community on Highway 4 best known for its Old Country Market, a mixture of shops and eateries with live goats on the roof. The sod roof market was built in 1975. The goats borrowed to "mow" the grass and provide entertainment during the Coombs Fall Fair have become a permanent fixture. You will want to get your camera out.
Englishman River Falls Provincial Park, located 8 miles southeast of Coombs, features two waterfalls cascading into a deep canyon amidst a lush forest of Douglas firs, cedars, hemlocks, and maples. Less than 2 miles of easy trails follow the river and lead to the upper and lower falls, offering spectacular views along the way. There is a picnic area and a viewing platform for those who'd like to take in the scenic view without walking the trail. Note that heavy rains sometimes cause portions of the trails to be closed, so check online in advance of your visit.
Cathedral Grove
Cathedral Grove is a magnificent old-growth forest in MacMillan Provincial Park with easy, wheelchair-accessible trails. Trails run on both sides of the Alberni Highway with majestic Douglas firs, some more than 800 years old, on the southern side, and groves of ancient Western red cedars on the northern side. Allow 45 minutes to an hour for a stop here.
Be sure to exercise caution when crossing the highway. Note that BC Parks advises staying off the trails on windy days because of the danger of falling branches.
Ucluelet
Surrounded by the Pacific Rim National Park Reserve, Ucluelet is a laid-back fishing village on the sheltered shore of the Ucluelet Inlet. Use the On This Spot app to discover the history of Ucluelet on a self-guided walking tour.
While you're there, you can visit Canada's largest catch-and-release aquarium, wander through shops and galleries showcasing work by local artists, and dine overlooking the ocean. Other popular activities include salmon or halibut fishing, kayaking, and whale watching. You can even view the Pacific Ocean from a lighthouse that is more than 100 years old.
Pro Tip: Ucluelet is a quieter, less touristy place to stay than Tofino. However, the attractions of Tofino are only a 30-minute drive away.
Rainforest Hiking Trail
The highway between Ucluelet and Tofino runs through Pacific Rim National Park. The popular Rainforest Hiking Trail along the way offers a great opportunity to trek to the heart of an ancient rainforest. You'll feel as if you've entered another world as a cool misty atmosphere of lush green surrounds you when you walk the boardwalk through giant trees, ancient cedars, ferns, and other forest plants.
The trail, which runs on both sides of the highway, is 1.2 miles long and is rated moderately difficult. There are some stairs, and there is a fee for parking in the lot. If you have a national park entry pass, display it in the windshield. Otherwise, you'll need to pay at the automated park use machines.
Tofino
Located at the tip of a peninsula and surrounded by the waters of the Clayoquot Sound, the village of Tofino has a relaxed, resort-town feel. The village core is easily walkable. Shops offer unique coastal goods made by local and regional artists. Independent restaurants serve locally sourced meals. On Saturdays during the summer, the Village Green hosts the Tofino Public Market featuring artisan wares, fresh food, and entertainment. Spas offer pampering and rejuvenation.
Surrounded by water, Tofino has no shortage of beaches. The popular Chesterman Beach is located at the edge of the village core and features a 1.7-mile stretch of sand. Walk the beach, explore tide pools at low tide, watch the surfers, or take a surfing lesson yourself — after all, Tofino is known as Canada's surf capital.
Other beaches include crescent-shaped Cox Bay, home to many surf competitions, and the sheltered MacKenzie Beach, known for its calm waters and gentle waves. Long Beach, located in the Pacific Rim National Park just outside of Tofino, is the epicenter of surfing on Vancouver Island. The aptly named beach seems to stretch on forever. Note that a national park pass is required to park in the parking lot or walk the beach at Long Beach.
The waters around Tofino offer more than surfing — you can fish, kayak, paddleboard, canoe, or take a whale-watching tour. Why not view the amazing landscape from a seaplane? For a land adventure, try a bear-watching tour.
Tofino boasts a range of accommodation options, including campsites, bed and breakfasts, inns, vacation homes, hotels, and luxury resorts. Your time in Tofino, whether one day or several, is sure to be a refreshing and relaxing break.