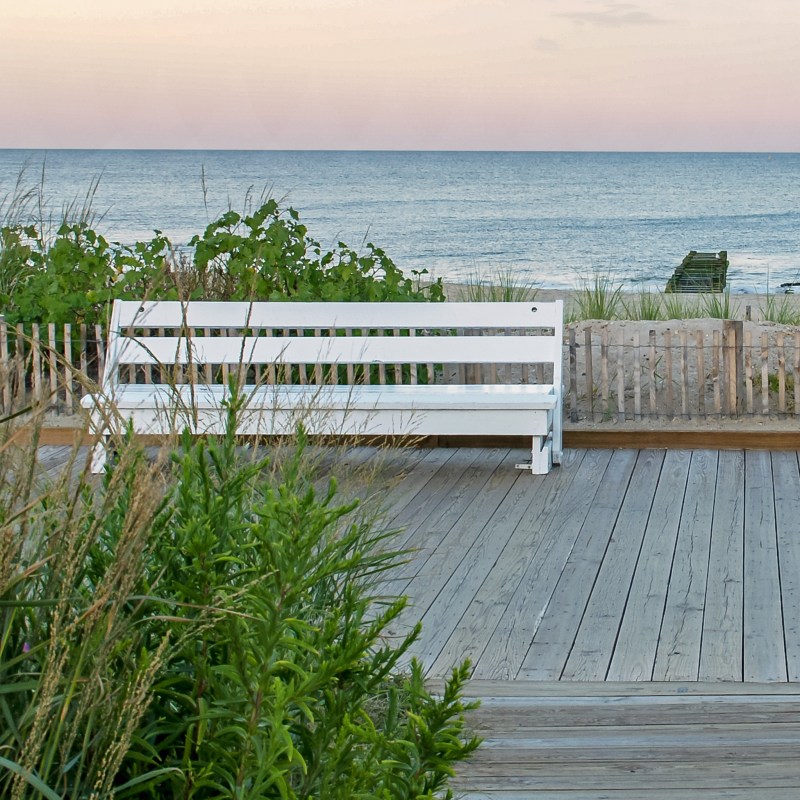 Cruise up Route 1 along the Delaware coast and you will be treated to spectacular ocean views, sumptuous fresh seafood, and tax-free shopping.
Boasting casual beachy accommodations and oceans views that go on for days, historic cities and charming towns, the little state of Delaware is road trip worthy.
North Ocean City
Start your Delaware road trip in Ocean City (that would be Maryland). Drive north, and when you pass 146th street in North Ocean City, you have arrived in Delaware.
Kick off your drive with a stop at On The Bay Seafood for all things crab: crab cakes, soft shell crabs, Maryland crab soup, crab clusters, and other regional delicacies. Enjoy all the yummy seafood goodness on their fun outdoor patio paired with an iced sweet tea or cold draft.
Fenwick Island
The little sister of Delaware beaches, Fenwick Island is a picturesque spot.
If you are a lighthouse chaser, then Fenwick Island Lighthouse, whose first official lighting was in 1859, is certainly worth a stop.
Fenwick Island State Park is a quiet slice of beach just on the other side of hectic Ocean City. The park has a beautiful sandy beach that attracts families who enjoy swimming and splashing in the Atlantic. Amenities include a bathhouse, snack shack, lifeguards, umbrella and chair rentals, and Mobi-Mat equipment for accessibility.
Coastal Kayak offers kayak, paddleboard, and sailboat tours, rentals, and instruction. If you want to relax and enjoy the sites, sign up for the Sailing Nature Tour for a unique adventure. They sail catamarans and sometimes waves happen—getting wet is part of the fun right?
Bethany Beach
Bethany Beach is a quiet, family-friendly town with a beautiful beach and a relaxing vacation vibe.
Enjoy coastal casual fine dining at Bluecoast Seafood Grill and Raw Bar. Ask for a seat on the porch, where you will have a view of the pond under romantic lighting. Dine on oyster stew, corn-fried Chesapeake blue catfish, or crab fra diavolo served with a side of Dirty Duck Fat Brussels. Pair it with one of their amazing wines, like Chateau d'Esclans Whispering Angel Rose, and you will reach dining nirvana.
Biking around this sweet beach village is the perfect combination of exercise and sightseeing. Rent a bike from Ocean Cycles. Enjoy a low-energy, relaxing ride along the shoreline, where you can stop frequently and take in the panoramic views.
Dewey Beach
Dewey Beach is the party beach. It is where all the action is happening. When you hit the town, it welcomes you with a rock and roll vibe that doesn't stop. You can play all day at the beach and party all night on the boardwalk.
You want to jet ski, play beach volleyball, parasail, wakeboard, water ski, or windsurf, this is the place!
You must stop at the Starboard for its legendary Sunday brunch. Be sure to try out the make-your-own Bloody Mary bar. Expect this joint to be jumpin'; it's always busy, it's always loud, and it's always fun!
Do you crave a great party, check out Bottle and Cork, a 21+ venue where you can see live entertainers — maybe Justin Moore, Miranda Lambert, or Goo Goo Dolls, jamming, rocking, and rolling all night long.
Rehoboth Beach
Rehoboth Beach is just a few minutes north of Dewey Beach, making it a great place to stop for a day or two. You can access all the craziness of Dewey Beach and return to a quaint foodie town to regenerate.
Stop by Jam Bistro for a happy hour signature martini and stay for their seasonally inspired, locally grown, organic cuisine. Try the Kobe beef burger with bacon and onion jam or the Jam's Salmon with edamame guacamole.
Beer aficionados all know about Dogfish Head. Dogfish Head Brewing and Eats in Rehoboth offers exclusive on-tap brews like the Much Malarkey Irish stout and their Macaron Rose Framboise sour ale. You can grab a beer or pizza to pair with your favorite draft. If you are interested in the Dogfish Head Tasting Room, take a side trip to Milton to experience a multitude of frothy goodness.
For a mid-afternoon pick-me-up, try The Ice Cream Store. Don't be surprised if it takes you a while to decide on a flavor. Go for the Bacon Maple Crunch or the Chocolate I Don't Give A Fork loaded with brownies, pretzels, Oreo cookies, cookie dough, and chocolate chips — it's served with a fork instead of a spoon! Ice Cream for lunch. Why not?
For a quiet, restful night, stay at The Bellmoor Inn and Spa. Two blocks off the beach and boardwalk, it affords you easy access to the action, but a buffer when it's time to turn in. A sumptuous breakfast is included.
Lewes
Lewes is where you want to relax. The peaceful and serene vibe is perfect for strolling quaint Second Street visiting one-of-a-kind boutiques or wandering down to the canal for some lunch and a ride along the waterways. Finally, cycle through Cape Henlopen State Park for some quiet beachfront biking.
Explore Lewes from your basecamp at the Dogfish Inn. The inn offers a quirky charm wrapped in modern design. Make sure to get back in time for the complimentary after-dark s'mores at the Cowboy Cauldron fire pit.
Prime Hook National Wildlife Refuge
The Prime Hook National Wildlife Refuge is a migratory stopover on the Atlantic Flyway that provides a protective landing form migrating birds. The refuge is home to over 300 species of birds along with an array of wildlife.
The Prime Hook Auto Tour Route (PDF) is a 22-mile tour of the refuge. The tour highlights the best stops and offers pointers on where to find refuge residents. It is a wonderful way to spend a relaxing drive surrounded by nature's glories.
Dover
No trip to Delaware is complete without a stop in Dover, the capital city.
Biggs Museum of American Art houses 25 galleries dedicated to mid-Atlantic decorative and fine arts ranging from the 18th-century to modern-day pieces. Docents lead general and curated tours with reservations for an in-depth look at this special collection of craftsman pieces.
Dover Air Force Base offers Air Force Ambassador-lea tours through various on-base operations. These unique tours make U.S. Air Force life accessible to curious civilians.
Grab a coffee and head for the Bombay Hook National Wildlife Refuge for a sunrise drive. The refuge opens a half-hour before sunrise and offers a 12-mile wildlife drive along Delaware Bay. A refuge for waterfowl and shorebirds and home to a tidal salt marsh, it is a perfect place to watch the sun welcome a new day. Early morning is also the best time for bird sightings.
New Castle
Historic New Castle is lined with century-old brick manors standing guard on cobblestone streets. You can almost feel yourself stepping back in time. The New Castle Historical Society has a free, self-guided audio walking tour. There are two tours, 30 minutes or two hours, available to download. Additionally, you can add on tours for the Amstel House and Dutch House, homes of prominent Delaware families that were instrumental in New Castle's history.
Visit Nora Lee's French Quarter Bistro for Cajun and Creole goodies like blackened catfish with alligator jambalaya, fried oysters, or a classic po'boy Sandwich. This tiny little bistro packs big Southern flavor.
Wilmington
Brandywine Creek State Park, a former dairy farm owned by the du Pont family, is a nature preserve home to old trees like the tulip poplar. The park offers wonderful hiking trails, freshwater fishing, and camping options.
The home of Henry Francis du Pont, Winterthur Museum, Garden, and Library, proudly displays du Pont's American decorative arts collection in the 175-room mansion. Reserve a one- or two-hour tour of this spectacular home that houses changing exhibits filled with the family's extensive collection. Francis du Pont was an avid gardener, and he designed the 60-acre garden, which you can explore on the narrated garden tram tour. If you have munchkins with you, they will love the Enchanted Garden ruled by woodland fairies.
There are several golf courses in the Wilmington area. Lester George-designed Rock Manor is a playable course that won't break your budget.
Pro Tips
Plan on leisurely driving during this road trip. Delaware is blessed with a glorious coastline, and her beaches have their own distinct personalities. Explore the many nature preserves and charming villages to enjoy the history and sereneness of Delaware.