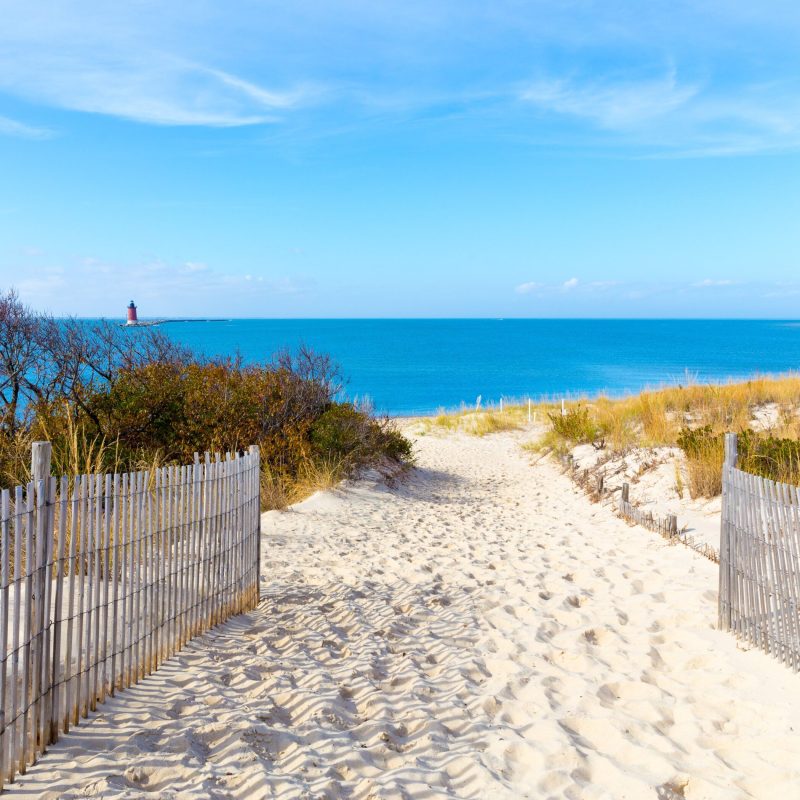 When you think of beaches, you probably think of semitropical swaths of white sand under palm trees and the calm waters of the Gulf of Mexico. But much farther north than Florida, you'll find another state that has as high a ratio of beachfront to land as the Sunshine State.
Situated on a peninsula surrounded by the Delaware Bay, Delaware River, and the Atlantic Ocean, the state of Delaware is home to a wide variety of beaches that are worth a visit on any summer afternoon.
Here are some of the best and most beautiful.
Rehoboth Beach
One of the most popular beaches in the state of Delaware is Rehoboth Beach, situated on the Atlantic side of Delaware in the southern third of the state. Thousands of tourists stroll the beach looking for the best spot in the sand all summer long.
There's a wide wooden boardwalk that skirts a mile of the 1.5-mile beach; it's lined with hotels, eateries, and shops. There's even the family-focused Funland amusement park that's been around since 1962. It's most popular in the evening, when it's not so hot and the beach is less crowded.
Rehoboth Beach is a public, free-entry beach, which means there are no showers or changing stalls, but there are public restrooms along the boardwalk. You can find metered parking on the streets or by the convention center a few blocks away.
Bethany Beach
Bethany Beach is nearly as well known as Rehoboth Beach, but it promotes itself as one of the quieter resort towns in the area. Bethany Beach lies farther south along the Atlantic Coast in Delaware, about 30 minutes from Rehoboth Beach. There aren't as many traffic jams in the small town as there are farther north on Route 1 in the shopping district, but Bethany Beach doesn't have quite as lively a downtown area as Rehoboth.
The crowds, however, still flock to this mile-long stretch of beach on the Atlantic to enjoy the glistening sands and sparkling water. The sand dunes provide a gorgeous backdrop for family photos and relaxation, and the ever-crashing waves make for a great time for older kids and grown-ups.
Because the lifeguards are off duty in the early morning, the crowds are thinner, and those who enjoy water sports like paddleboarding will find the beach more enjoyable and easier to navigate.
There is a small boardwalk that runs along the beach, where you'll find some restaurants and shops. And on Monday nights during the summer, you can catch family-friendly films playing on the beach.
Cape Henlopen State Park
For a full outdoor experience and day of beachgoing, you'll want to venture to the beautiful Cape Henlopen State Park just a little north of Rehoboth Beach. Here you'll find not only two swimming beaches but a host of other activities as well. There are hiking and biking trails, a basketball court, and an 18-hole disc golf course available for breaks from the balmy sea.
Lifeguards are on duty from Memorial Day weekend until Labor Day, and the park offers full bathhouses and restrooms, showers, umbrella rentals, and concession and rental shops.
You'll love the family-friendly picnic areas as well as the World War II-era observation tower that visitors can climb. There's an old bunker at the Fort Miles Historic Site as well, which will appeal to history buffs who love a great learning opportunity. Boat and kayak rentals are available, and there's a great fishing pier as well.
One of the other nice things about this park is that it's very accessible. Mats are available to give access to the beach to anyone with mobility issues.
Broadkill Beach
If you're looking to avoid the crowds, Broadkill Beach is a great alternative. And you won't have to travel far to get there, since Broadkill is just 40 minutes north of Rehoboth Beach along Route 1. This low-key beach has a snack shack at one end, portable toilets, and no entry fee. Parking is limited — that's one reason there aren't as many visitors — so you'll want to hit the beach early to make sure you snag a spot.
The beach offers surf fishing, swimming, kayaking, stand-up paddleboarding, and other water activities, as well as access to Prime Hook National Wildlife Refuge. The refuge features lovely trails perfect for those who love wildflowers, wildlife photography, and bird-watching.
Fenwick Island State Park Beach
Between the Atlantic Ocean and Little Assawoman Bay lies Fenwick Island State Park. The 3-mile strip of barrier island beach offers several sandy areas for relaxation. The park provides changing rooms and showers, gift shops, and a snack stand, and lifeguards are on duty from 9 a.m. to 5 p.m. daily from Memorial Day to Labor Day.
You'll find a designated surfing area — a rare bird in Delaware — and great fishing spots along the water for those with fishing licenses. Some of the beaches are wheelchair accessible, thanks to the mats provided by the park. Local guides offer eco-tours of the dune system and surrounding waters, and you can rent kayaks and paddleboards or take a sailing lesson just outside the park.
Lewes Beach
Lewes, Delaware, is a charming, peaceful town where the pristine Lewes Beach attracts thousands of beachcombers annually. Lewes Beach is close enough to Cape Henlopen State Park that you can make it a double-beach day. Because the community itself is picturesque and relaxing, the beach has become one of the most popular places to go on a summer afternoon in Delaware. You can swim and enjoy water sports, stroll through the sand, and catch glimpses of the Breakwater Lighthouse just offshore.
Lewes Beach is especially great for those traveling with young children, thanks to the gentle surf, gradual slope, and little to no undertow. The lifeguards add to the safety of the beach, while the bathhouse is kept clean and offers showers for easy cleanup at the end of the day. There's also a small concession stand where you can grab snacks, as well as an ice cream shop within walking distance and other vendors offering refreshments.
The town of Lewes welcomes visitors with its fantastic restaurants, historic sites, and shops filled with various gifts, souvenirs, and goodies.
Metered parking is available at the beach.
Delaware Seashore State Park
The Delaware Seashore State Park comprises 6 miles of photo-worthy shoreline about halfway between Bethany Beach and Rehoboth Beach. The Atlantic Ocean invites swimmers into the crashing surf, while views of Rehoboth Bay and Indian River Bay make for unforgettable selfies.
The beaches at the park feature swimming areas, concession stands, umbrella rentals, lifeguards on duty, chairs, raft rentals, and more. You can sail, boat, surf, fish, and enjoy just about every water sport you can think of while visiting the beautiful beaches of this park. And if you're looking for more than just sunbathing and swimming, you can hike the nature trails on Thompson Island and Burton Island within the park. Thompson Island is particularly well known for birding, while Burton Island teems with wildlife and unique plants and flowers.
If you want to stay longer to enjoy the beaches and trails, the park offers some beautiful campsites on either side of the Indian River Inlet. They accommodate everything from tents to large RVs. The North Inlet campsites feature three-point hookups — electricity, water, and sewer — and standard sites, while the South Inlet campsites feature only tent sites.
Dewey Beach
Adjacent to Rehoboth Bay, you'll find Dewey Beach, locally known as Delaware's party beach. The town offers more nightlife than most of the others nearby, along with music festivals all summer long, including the Elvis Festival and the Fiddlers' Festival. But don't let that keep you away if you're bringing little ones along. The beach offers plenty of activities that the whole family can enjoy, including bonfires on the beach, free beach movie nights, junior lifeguard programs, and environmental education programs.
You can rent paddleboards, kayaks, pontoons, jet skis, and other water sports gear at local shops or participate in seaside yoga sessions. Dewey Beach is also a pet-friendly location, so you'll want to bring Fido along.
If you can't find parking near the beach, you can hop aboard the Jolly Trolley and ride straight to the shoreline.
Ready for a Delaware beach vacation? Here's what to see and do on a weekend getaway to Rehoboth Beach.