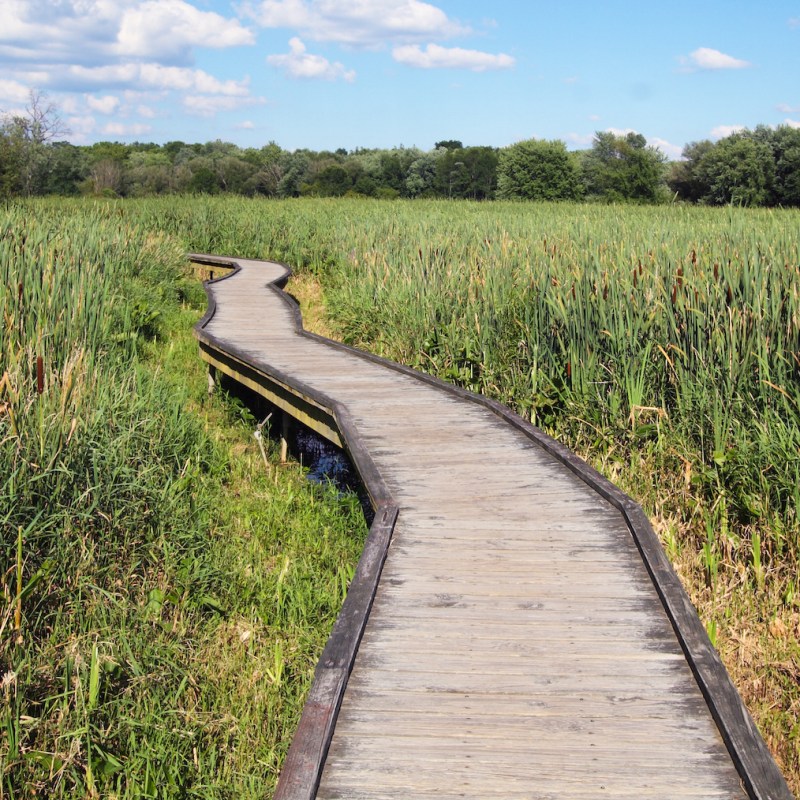 New Jersey has some of the best hiking and outdoor experiences in the Northeastern United States. From the Pine Barrens to the Appalachian Trail to the Delaware Water Gap, New Jersey has plenty of scenic lakes, trails, and waterfalls. Whether you are looking for an easy, moderate, or difficult hike, you'll find it on this list of the best hikes to experience in New Jersey.
New Jersey's trails are located just an hour or two from New York City or Philadelphia and make for great day trips.
1. Appalachian Trail, Stokes State Forest
Sussex County
Ever dreamt about hiking the Appalachian Trail? It's 2,200 miles long and takes at least six months to do. If you are not up for that long of a hike, more than 70 miles of the Appalachian Trail runs through New Jersey.
You can hike the Appalachian Trail at Wawayanda State Park, High Point State Park, Stokes State Forest, and Worthington State Forest.
We are most familiar with a section in Stokes State Forest. There are several trails in Stokes that include sections of the Appalachian Trail, ranging from the nearly 20-mile Sunrise Mountain hike to the five-mile Normanook Tower Trail. All of these are moderate to hard hikes with some elevation changes. The paths vary from flat and level to rocky and inclined.
A walking stick, hiking boots, water, insect repellent, and sunscreen are a must on these hikes. If you are an experienced hiker, it's possible to hike in Stokes any time of year, but take care during the winter and after heavy rains.
2. Batona Trail, Pinelands National Reserve
Burlington County
In the Pinelands National Reserve (called the Pine Barrens by locals), you'll find sandy soil and cedar bogs. The Batona Trail runs for 50 miles through the Pine Barrens. It's very different from most of the other hikes in New Jersey and well worth the trip.
The Batsto Lake White Trail is a good moderate hike to try for first-timers. It's about four miles and is well marked (keep your eye out for the white blazes). The elevation change is minimal. Make sure to bring insect repellent and water. Long pants are recommended (there are many ticks in the area).
Pro Tip: Access the White Trail from Basto Village just off Route 542 in Wharton State Forest.
3. Monument Trail Loop, High Point State Park
Sussex County
High Point State Park is, well, the highest point in New Jersey. You can walk or drive to the top to see High Point Monument and a beautiful view of the surrounding countryside.
The Monument Trail Loop is 3.5 miles with a 500-foot elevation gain. The trail is very crowded on the weekends.
An alternative is the White Cedar Swamp Trail, a very easy 2.5-mile walk on mainly gravel paths.
There is an entry fee for High Point, and it draws large crowds. Water and sunscreen are a good idea. Hiking boots and walking sticks for the two trails mentioned are optional. The trails can be accessed year-round.
4. Hemlock Falls, South Mountain Reservation
Millburn
Located in Millburn, the South Mountain Reservation is full of trails for hikers of every skill level. The 25-foot Hemlock Falls are lovely but best enjoyed in spring and fall. It can be unimpressive during dry season.
You can do an easy two-mile hike (starting from the Summit Field parking area) or a five-mile hike along the Lenape Trail. The longer hike has an elevation gain of 750+ feet.
It does get crowded and is best from spring to October but can be done any time of year. South Mountain reservation is only a 45-minute drive from NYC).
5. Tillman Ravine Trail
Walpack Township
Most people bypass Tillman Ravine and head straight for Buttermilk Falls a few miles away. If you do that, you'll miss a gem of a hike. This short hike (less than two miles) is picturesque and peaceful with many small wooden bridges. Make sure to follow the signs that say Teacup. That will bring you to some beautiful cascades on the stream.
You can also follow the nearby Maple Trail for a longer hike into the woods or hike down to the old cemetery.
Hiking boots and a walking stick are very helpful for this hike. It's short, but make sure to bring water, especially in the summer. And, since you'll be near water, insect repellent is a good idea. There are some steep and rocky areas on this hike, and it is best done in the spring, summer, or early fall.
6. Hikes Along The Delaware River
Delaware Water Gap
This is my pick for the best hike in New Jersey. Check out TravelAwaits' picks for the best hikes in all 50 states here. The Delaware Water Gap runs along the Delaware River in New Jersey before ending in Pennsylvania. Some of the best hikes in the state are in the Gap, including the Buttermilk Falls, Crater Lake, and Stokes State Forest. The McDade Trail, a 30-mile trail along the Delaware River, also has great hikes. McDade starts in Hialeah, New Jersey, and ends in Milford, Pennsylvania. For more details on these hikes, read up on the most scenic hikes in the Delaware Water Gap.
7. Mount Tammany Trail, Worthington State Forest
Warren County
The Mount Tammany Trail is a challenging trail with a steep incline. You will be climbing up almost 1,200 feet and some of the trail is very rocky. The reward for your efforts is a stunning view from the top. For an easier descent, take the Blue Trail down. Tammany is very popular and it gets crowded on the weekends and in the summer.
The trail is open year round, but we would not recommend doing this in very rainy or icy weather. Hiking boots and a walking stick are strongly recommended.
8. White Shore And Long Path Loop Trail, Palisades Interstate Park
Alpine
The Palisades Interstate Park runs along the Hudson River with magnificent views of the Hudson and New York City. It is most known for biking, but there are also some excellent hiking trails. There are a number of great hikes in the area. Many of these hikes are very difficult and include clambering over rocks.
The White Shore and Long Path Loop Trail is just over four miles with a beautiful waterfall. The walk along Long Trail to the waterfall is not too hard. It gets much more difficult after that, with a rock scramble and staircase. The elevation gain for the full route is almost 800 feet.
This hike is best done between April and November. The rock scramble is not advised in bad weather. It can get crowded during the weekend.
9. Jockey Hollow, Morristown National Historical Park
Morristown
If you like a bit of history on your hikes, Jockey Hollow is the place to go. This is an easy and short hike that follows in the footsteps of the continental army circa 1779. Located near Morristown, this is where General George Washington and the continental army camped during the winter of 1779-80.
There are several trails to take. The yellow blazed trail will take you past beautiful wildflowers, reconstructions of the log cabins from 1779, and Wick Farm.
This is a wonderful hike to take in the spring when the wildflowers are blooming. It's an easy trail and can be done all year round.
Pro Tips
Water, sunscreen, a hat, and insect repellent are advised for all of these hikes.
Since ticks are an issue in New Jersey, long pants are a good idea. Hiking boots and walking sticks are indicated for each of the hikes.
Waterfalls are often best to see after heavy rains. Keep in mind that the areas are also likely to be very muddy at that time.
There are black bears throughout New Jersey, especially in the northern part of the state. Most of the parks have instructions on what to do if you spot a bear. Take a moment to read the instructions, and read up on our tips for safely viewing wildlife in national parks.
Most of these trails are used by locals as well as visitors from New York and Philadelphia. The closer the location is to one of these cities, the more likely it is to be crowded. If you like solitude, try some of the harder and more remote trails.
This article is presented by KEEN Footwear. For my hikes, I wore the Terradora II Waterproof Boot. Shop KEEN's Terradora and other hiking shoes here.