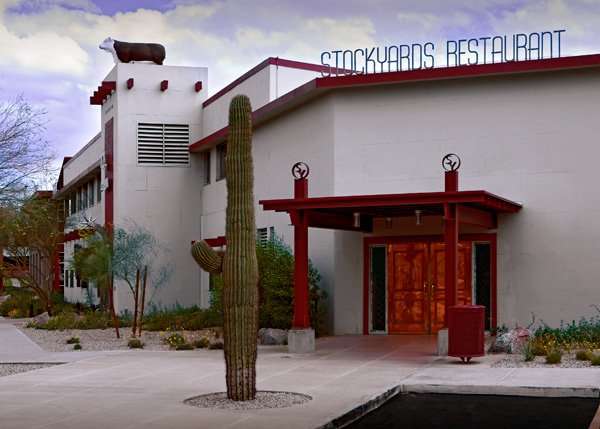 A great restaurant is never far away in Phoenix, Arizona. In addition to its luxury resorts, lushly landscaped strip malls, and enormous sports complexes, the fifth-largest city in the United States features an ever-evolving menu of innovative eateries.
Still, plenty of historic and quirky settings exist as well. Think groves of citrus trees, ranching outposts, and quaint bungalows.
Less than a century ago, the sprawling metro area known as the Valley of the Sun was more about gritty agriculture than urban chic. As every Arizona student is taught, the state's economy was built on the five c's: copper, cattle, climate, cotton, and citrus.
It should come as no surprise that the city's culinary scene showcases that rich and varied history. From former orchards to historic stockyards to repurposed old houses and churches, Phoenix boasts a host of distinctive and quirky restaurant venues.
Here are eight unique restaurants to try in the Phoenix area.
1. The Farm Kitchen At South Mountain
If a picnic lunch in the shade of leafy pecan trees sounds inviting, head to The Farm at South Mountain without delay. The casual Farm Kitchen is just one component of the cool green oasis tucked away from the traffic of south Phoenix.
The Farm at South Mountain dates back to the 1920s, when 100 pecan trees were planted. While the farm has evolved over the years, the pecan grove remains today. The land around it has been transformed into a charming venue that houses three separate eateries and several event spaces.
The Farm Kitchen is the most casual of the eateries, featuring wicker picnic baskets and a self-serve area with reasonably priced sandwiches, salads, pies, and cookies. After ordering, you can take your lunch to a picnic table in the shade of the pecan trees.
Another advantage of The Farm at South Mountain is its proximity to the South Mountain Preserve, a 16,000-acre park in south Phoenix with dozens of trails through pristine desert terrain. A trip to the farm and park makes for the perfect hike-and-lunch outing.
For a moderate hike amidst the cacti, consider South Mountain's Mormon Trail, a 1.2-mile route that offers a summit view of the entire valley, stunning rock formations, and plenty of prickly chollas and towering saguaro cacti.
Although the hike features a fairly steep climb, about 1,000 feet of elevation gain, and rocky terrain, it is easier than Phoenix's other summit climbs at Camelback Mountain and Piestewa Peak, and the payoff is arguably comparable. The peak offers a bird's-eye view of the entire metro area.
Allowing time for rests and photo breaks, the hike takes about 2 hours.
2. Luci's At The Orchard
Part marketplace and part restaurant, Luci's at the Orchard is a modern take on the classic Phoenix fruit stand. Built at the site of one of Arizona's first citrus groves, the restaurant retains the land's shady, rural atmosphere even as it exudes a modern vibe.
Families flock to the moderately priced central Phoenix complex that includes Luci's brunch, lunch, and dinner spot and whimsical marketplace with indoor/outdoor seating. The space also features the kid-friendly gelato spot Splurge and the more upscale Pomelo.
For a spicy Southwestern brunch, try Luci's popular chilaquiles, a mound of corn chips smothered in eggs, pulled pork, salsa, and potatoes.
3. House Of Tricks
Hearkening back to the days when Phoenix and nearby Tempe consisted of quiet streets of quaint bungalows, House of Tricks plays off its classic cottage setting. The result: a fine-dining experience just steps from the bustle of Tempe's hectic Mill Avenue.
Located in a renovated 1920s-era home not far from the Arizona State University campus, House of Tricks is a refined spot for lunch or dinner. Seating choices range from tables next to a stone fireplace to bistro tables beneath massive shade trees and strings of lights on the outdoor patio.
Restaurant founders Robert and Robin Trick have long been a part of the Phoenix culinary scene, and it shows in their creative menu choices, such as the popular grilled-salmon-and-chive risotto cake salad, a delicious creation topped with crispy corn tortilla strips and chipotle-grapefruit vinaigrette.
The creative choices make House of Tricks worth the splurge for a fine-dining lunch or dinner.
4. Taco Guild
If a good taco is akin to a religious experience for you, you shouldn't miss Taco Guild in central Phoenix.
Set in the old Bethel Methodist Church on Phoenix's Osborne Avenue, Taco Guild features lofty wood-beamed ceilings set off by vivid jewel-toned stained glass windows and pews original to the church.
The building is bursting with Phoenix history. Vintage black-and-white photos line the walls, reminding visitors of weddings and other church functions from days gone by, while a concrete cornerstone at the building's entrance carries an 1893 date.
Complementing the awe-inspiring setting is the restaurant's menu, which along with its classic Mexican cuisine features creative taco choices such as Korean fried chicken and shrimp and jalapeno bacon.
For a fun and tasty appetizer, try the street corn trio, a combo featuring Mexican elote — spicy corn served on or off the cob — slathered with habanero butter and chipotle aioli.
The reasonably priced appetizers and entrees come with house-made tortilla chips and a choice of salsas.
5. Rock Springs Cafe
Located about 45 miles north of central Phoenix, Rock Springs Cafe along Interstate 17 has long been a staple for Phoenicians on weekend or day trips to northern Arizona.
For more than 100 years, the cafe has served as a stopping point for travelers. In the late 1800s, it was a water stop for miners, cattle drivers, and sheepherders on the Black Canyon Trail. It was also a stop on the stagecoach line that ran between Phoenix and Prescott, and it later became a gathering spot for area ranchers.
Over the years, the stop has evolved from a general store and hotel to the thriving cafe and bakery it is today.
Rock Springs Cafe has a menu rich with ranching favorites, including moderately priced chicken-fried steak, barbecued chicken, pulled pork, and smoked brisket. But no stop at the bakery would be complete without a slice of its signature cherry crumb pie a la mode.
6. Gertrude's Restaurant
Phoenix is synonymous with the Sonoran Desert, and nowhere is the desert showcased more beautifully than at the Desert Botanical Garden. Towering saguaros and flowering wildflowers line the garden paths, all surrounded by Phoenix's rugged mountain ridges.
For those who want to stop for refreshments in a desert setting, the garden's Gertrude's Restaurant offers a unique Phoenix dining experience. Named for Gertrude Divine Webster, an early environmentalist who founded the Desert Botanical Garden in 1939, the restaurant is known for its seasonal offerings that celebrate Arizona's growers and producers in a sophisticated oasis setting.
Fresh herbs from Gertrude's patio are found in most everything that is served, from the green chili hummus with herbed quark to the salmon toast with house greens and caper vinaigrette.
Open for brunch and lunch, Gertrudes offers moderately priced options.
7. Chelsea's Kitchen
Central to Phoenix's agricultural scene has long been the system of canals that carries water throughout the arid community.
And for a lovely view of the Phoenix canal, sit for a time on the shade-dappled patio of Chelsea's Kitchen, an industrial-chic eatery described as an Arizona roadhouse.
The restaurant features a wood-burning rotisserie and grill along with a unique smokeyard and patio fireplace.
Located in the charming Arcadia neighborhood in the shadow of Camelback Mountain, Chelsea's Kitchen offers a mashup of Southwestern fare and American comfort food. Try the short-rib tacos, deviled eggs, and green chili cornbread.
The lunch menu offers moderately priced options, while the dinner entrees are pricier. The combination of atmosphere and superior quality makes Chelsea's worth the splurge.
8. The Stockyards Restaurant
Billed as Phoenix's original steakhouse, The Stockyards Restaurant claims a history dating back to an early-1900s cattle baron, along with a stockyard that once held thousands of cattle within its 200 acres of cattle pens.
In the 1940s, The Stockyards Restaurant opened, quickly becoming a popular meeting place for cattlemen, bankers, and politicians. Although the cattle pens slowly gave way to urban development throughout the 1950s, the steakhouse remained.
The Stockyards Restaurant was restored in 2004, and the site was recently added to the local historical register, both for its place in the history of the Arizona cattle industry and its architectural style.
Staying true to its history, The Stockyards features steakhouse favorites such as prime rib, ribeye, and New York strips, along with classic sides like cowboy beans, twice-baked potatoes, creamed spinach, and mushroom skillet. Expect steakhouse prices for the beef options and more moderately priced chicken and pork choices.
For a sweet steakhouse dessert with a Southwestern twist, try the ancho chili brownie topped with cinnamon ice cream, Mexican chocolate sauce, and spiced candied pepitas.