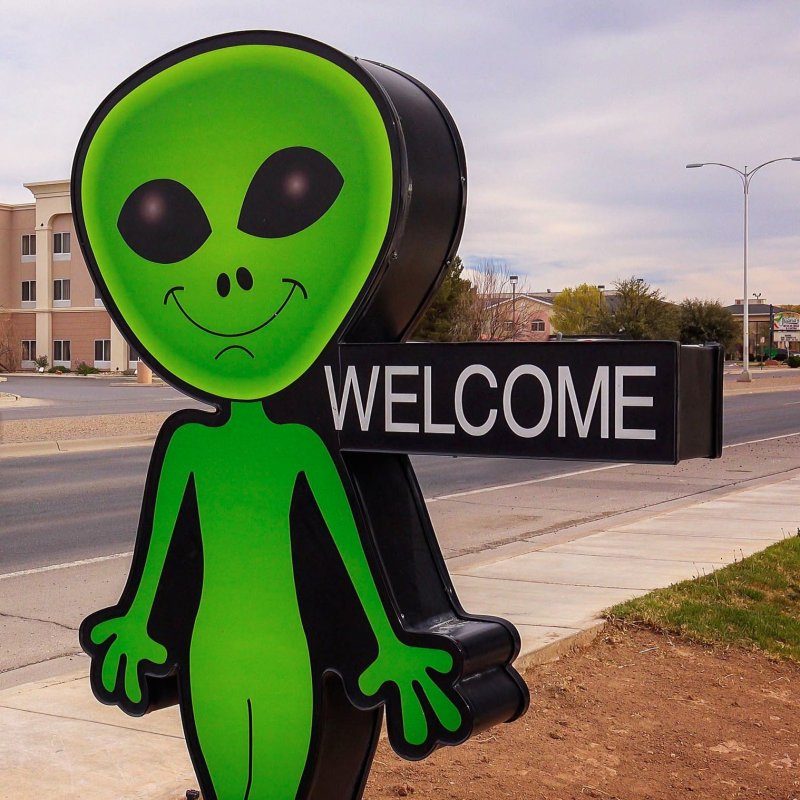 On a warm summer day in 1947, a New Mexico rancher stumbled upon mysterious debris strewn across the desert near his home. Although the rubber strips and bright pieces of tinfoil he collected and turned in to the authorities have since been found to be the result of Project Mogul, a military project that used high-flying balloons to monitor the Soviet Union's atomic bomb tests, many people still enjoy the idea that aliens landed in Roswell. It's a popular conspiracy theory on par with determining who really killed President John F. Kennedy or proving the moon landing was faked.
And so, curious visitors continue to flock to Roswell, a dramatic television series is based on the premise that aliens live among the townspeople, and the small southeastern New Mexico town embraces its connection to aliens more than 70 years later.
But once you've binged on all things alien, there is much more to see and do in Roswell.
Things To Do In Roswell
You can't go to Roswell and not do at least one thing related to extraterrestrials, whether you envision them as little green men with hollow black eyes or your high-school crush. That would be like visiting San Francisco and not seeing the Golden Gate Bridge or visiting New York and skipping the Statue of Liberty.
Stop By The International UFO Museum And Research Center
Located in the heart of downtown Roswell, the International UFO Museum and Research Center, established in 1991 as a nonprofit educational organization, is a great way to kick off a day in Roswell. It takes about an hour to explore the exhibits related to the 1947 Roswell incident and learn about other unexplained phenomena related to UFO research. And the gift shop is full of unique alien gifts to help you remember your visit.
Enjoy Other Alien Adventures
Along Main Street, there are many other alien-themed boutiques and experiences. My kids always get a kick out of Alien Zone, a unique gift shop with a variety of alien selfie stations. And each year in early July, the UFO Capital of the World hosts the UFO Festival.
For a different kind of otherworldly experience, check out the Goddard Planetarium at the Roswell Museum & Art Center. Covering topics from the origins of the universe to our efforts to explore Mars, out-of-this-world films are shown on the domed screen three times a week.
Explore The Historic Downtown
Many decades before aliens allegedly crashed in the desert, Roswell was home to John Chisum's Jingle Bob Ranch, the largest cattle ranch in the United States. As you explore downtown Roswell, it's easy to be captivated by the McDonald's shaped like a spaceship, the murals of little green men, and the alien-shaped streetlights. But also watch for public art displays and other nods to the city's ranchers.
And you can't miss the Chaves County Courthouse on Main Street, a beautiful beaux arts building topped with a green tiled dome. Completed before New Mexico became a state, the courthouse is now on the National Register of Historic Places.
Head To The Roswell Museum & Art Center
In addition to the Goddard Planetarium, the Roswell Museum & Art Center houses a collection of more than 11,000 works of art and historical artifacts. The museum focuses on the indigenous Pueblo tribes and artists of the region, but the collection also includes works by Dali, Picasso, O'Keeffe, and other world-renowned artists.
From a historical perspective, the museum focuses on the history of the American West, from the impact the Spanish conquest and European-American settlers had on the region to New Mexico's tie with missiles and space. In fact, the planetarium is named for Robert H. Goddard, the founder of modern rocketry, who built the world's first liquid-fueled rocket and broke the sound barrier with a rocket launched in the open desert near Roswell. Don't miss the opportunity to see a recreation of his rocket engine workshop at the museum when you visit Roswell.
Visit The Anderson Museum Of Contemporary Art
Contemporary art lovers won't want to miss the Anderson Museum, established in 1994 to showcase the work of the Roswell Artist-in-Residence Program. This longstanding "gift of time" program has provided studio-based visual artists with funding, allowing them to focus on their art in a collaborative environment for one year. The museum now displays more than 500 works of art, from intriguing paintings to impressive sculptures, in its 12 galleries.
Experience The Great Outdoors At Bitter Lake National Wildlife Refuge Or Bottomless Lakes State Park
With its mild climate and abundant sunshine, Roswell is a great place to enjoy the outdoors.
Located on the northeastern edge of town, the Bitter Lake National Wildlife Refuge is home to bobcats, badgers, and deer. The refuge is also a great place to observe thousands of migratory birds. While the scenery is always gorgeous, the best time to catch the critters is within a few hours of sunrise or sunset.
Just a few miles southeast of Bitter Lake National Wildlife Refuge is Bottomless Lakes State Park. This is another great place to go birding, but you can also kayak, canoe, fish, or even scuba dive at Bottomless Lakes. The state park got its name from the sinkholes that make the lakes appear to be bottomless. Some are as deep as 90 feet! In addition to the water, Bottomless Lakes State Park offers nearly 5 miles of hiking trails, campsites, and picnic areas.
Sample New Mexico Wines At Pecos Flavors Winery & Bistro
Did you know that the first wine grapes in the U.S. were planted in New Mexico? Before Prohibition, the Land of Enchantment was one of the largest wine-producing regions in the nation. How about that, California? Enjoy New Mexico wines, Land of Enchantment beers, and a bite to eat at Pecos Flavors Winery & Bistro just a few blocks west of Main Street.
Best Restaurants In Roswell
Green Chile Spots
From Alamogordo to Williamsburg, the 47th state is known for its chiles. While Roswell is more than 200 miles from Hatch, the Chile Capital of the World, there's no shortage of delicious ways to enjoy green chiles in Roswell.
At the Pecos Flavors Winery & Bistro, try the green chile cheeseburger or turkey with green chile jelly sandwich. To enjoy the flavorful chiles in more traditional New Mexican fare, check out El Toro Bravo, Popo's, or Amigos.
Cattle Baron
Embrace Roswell's cattle-ranching history with a burger or steak at the Cattle Baron. And, if you want green chiles and beef, this regional steakhouse chain has you covered with its green chile wonton appetizer and green chile stew. Plus, you can always get a side of green chiles!
The Cowboy Cafe
From its Wild West decor to its mothership burger, The Cowboy Cafe brings Roswell's rich history together in one delicious menu. Whether you enjoy biscuits and gravy, huevos rancheros, the chile relleno burger, or the chuckwagon plate, the portions are very generous. But you'll want to be sure to save room for a slice of pie. I highly recommend the pecan!
Big D's Downtown Dive
Whether they're topped with green chiles or not, some of the best burgers in town are at Big D's Downtown Dive. For a green chile burger with a twist, try the Holy Guacamole with housemade guacamole. For something other than burgers, try the Cuban sandwich or the crispy Monte Cristo. Be warned: Big D's motto is "Great burgers, sh*y parking," and they're telling the truth! Try to visit outside of peak mealtimes for shorter waits and better parking opportunities.
Best Places To Stay In Roswell
Although my stops in Roswell have been short ones on New Mexico road trips, there are many places to stay in Roswell if you plan to spend the night. The city has a variety of hotels and motels, from national chains to local gems. You can also find vacation rentals through services like Vrbo and Airbnb, enjoy a bed and breakfast like the Clary Sage, or book a campsite.
What To Know Before You Go
Many travelers are surprised to learn that New Mexico is the nation's fourth-highest state. While the elevation in Roswell is 3,500 feet, it only takes a change in altitude of 1,000 feet to trigger altitude sickness. Be sure to drink plenty of water and take other measures to avoid altitude sickness.
Throughout New Mexico, be prepared for the state question, "Red or green?" to determine if you'd like red chiles or green chiles added to your meal. If you want to try both, simply reply, "Christmas."