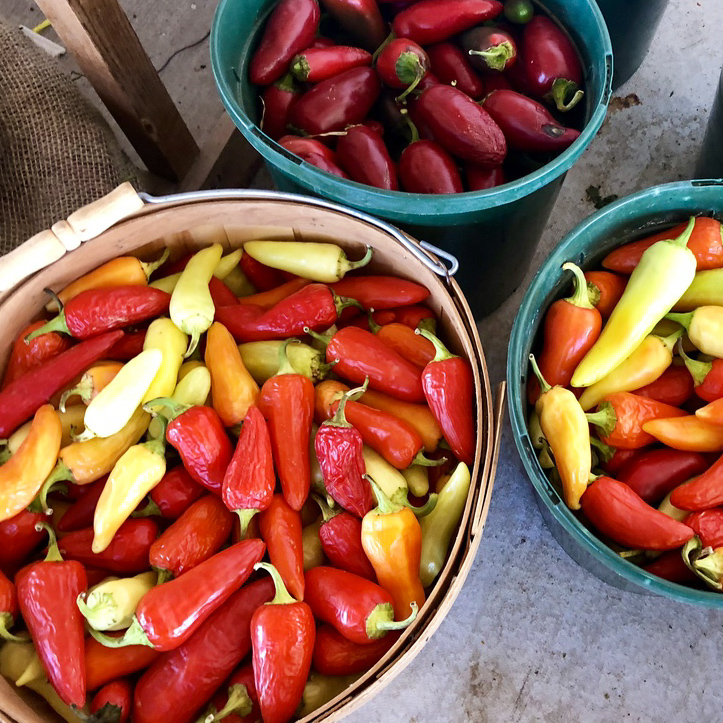 If you've ever been enticed by the rich, smoky fragrance of green chiles roasting over a grill at your local farmers market, the small New Mexico town of Hatch has a treat in store for you.
In the small farming village of fewer than 2,000 residents, green and red chiles are the main event.
In fact, Hatch is literally synonymous with chiles. Who hasn't heard of Hatch chiles — the long, glossy green chile peppers grown in the Hatch Valley?
The Hatch chile, known for its spicy-sweet flavor, is the go-to pepper for everything from salsas to chiles rellenos.
The chile variety is so popular that it has inspired a following of "Hatch-heads" who regularly seek out Hatch products — either in supermarkets or online.
To truly experience the chile bonanza that is Hatch, New Mexico, though, a pilgrimage is definitely in order.
At about 185 miles south of Albuquerque and 375 miles southeast of Phoenix, Hatch is a bit of a trek for most travelers. But if you're a chile lover like I am, the town is worth the long trip. Here's why.
The Ristra Strings Are Gorgeous
Almost from the instant you cross the Rio Grande and enter Hatch, located just off Interstate 25 in southern New Mexico, long strings of vibrantly red peppers will command your attention.
Shops along Hatch's main drag feature brightly colored signs and rows upon rows of strings of drying chiles. Known as ristras, the strings are a symbol of New Mexico.
Available in lengths of anywhere from 2 to 6 feet, the ristras are both works of art and a food-storage method. When I visited, the shops were busy with local cooks choosing the chiles that they would use for tamales and enchiladas. The strings also make colorful accents for kitchens or patios.
Numerous shops are available, and I stopped first at the Grajeda Hatch Chile Market. I was attracted by the lustrous curtains of ristras displayed along the street, and the market turned out to be a great spot to explore the chile creations.
But most of Hatch's shops carry similar products, and I recommend stopping whenever a particular chile creation catches your eye.
Along with the traditional chile strings, many of the markets offer peppers strung into wreaths or clustered together in multicolored arrangements.
It's also worth checking out the colorful pottery and wide assortment of red and green chile powders displayed inside the shops. The green chile powder is a perfect ingredient for adding zest to Southwest-inspired dishes, and bags of the unique New Mexico products make great gifts.
You'll Smell Roasting Chiles Everywhere
Along with the drying chile strings, another fabulous feature of Hatch is the availability of freshly roasted chiles.
Especially during the fall harvest months, the shopkeepers keep their large cylinder roasters fired up, and they roast chiles throughout the day. Not only does that provide a consistently wonderful aroma, but it means that chiles hot off the grill are often available for purchase.
When choosing your ristras or roasted chiles, it's wise to keep in mind the level of heat you are looking for in a chile. Most shops have their chiles marked as mild, medium, or hot. Some break it down even further — separating the medium chiles, for instance, into mild, medium, and hot categories.
I found the shopkeepers to be accommodating in helping choose just the right level of heat. They will even custom roast the chiles of your choice.
Keep in mind that New Mexico chiles tend to be hotter than chiles in other regions, even among the Southwestern states, so expect a medium-hot chile to pack a bit of a punch.
The Peppers Inspire Colorful Art
With their bright reds, greens, and yellows, chiles are an obvious inspiration for artists and crafters in Hatch.
You'll spot metal peppers and cacti on patios along the street, mixed in with quirky rock art and bunches of chiles.
Even if a piece of chile yard art isn't on your wish list, it's fun to browse the pepper-inspired art.
An especially flamboyant display is available at Chile Fanatic, an eclectic spot that offers everything from freshly roasted chiles to home decor, including pottery, ceramics, and kitchenware. During the off-season, Chile Fanatic offers a variety of frozen chile items.
You Can Try Chiles In Practically Everything
When dining in Hatch and the surrounding area, don't be surprised to find that chiles figure prominently in many of the menu items — often where you would least expect them.
That is especially true at the popular Sparky's Burgers & BBQ, a casual eatery located in the middle of Hatch. You won't have any trouble finding Sparky's. Just look for the turquoise-and-orange checkered awning, the colorful figures at the entrance, and the long line of diners out front. Try to arrive early to avoid the rush at lunch and dinner.
Sparky's is known for its green chile cheeseburgers, and it offers many varieties, from the classic burger with a generous helping of Hatch chiles to a double cheeseburger. For a change of pace from burgers, try the grilled chicken melt, served with melted Pepper Jack cheese and grilled onions on toasted sourdough bread.
While Sparky's sandwiches, barbecue, and entrees all looked delicious, the real star of my meal was the fresh-squeezed lemonade infused with green chiles. Who would have guessed that lemonade and chiles would pair so well? The spicy, tart drink is the perfect refreshment on a sunny New Mexico afternoon, sitting under the cooling misters on Sparky's patio.
For an even richer treat, Sparky's offers milkshakes made from soft-serve vanilla ice cream and — you guessed it — fresh green chiles!
It's The Chile Capital Of The World
Hatch proclaims it proudly on road signs and in stores: The village is the chile capital of the world.
And it turns out that the town's reputation is not a recent phenomenon. Chiles have been the region's premier crop for centuries — they were first grown by the Pueblo Native Americans. Since the late 1800s, chiles have been developed at New Mexico State University, which was previously known as the New Mexico College of Agriculture and Mechanic Arts.
Located in the fertile Rio Grande Valley, the Hatch Valley is perfectly suited to growing chiles in terms of its altitude, climate, and soil. Peppers, which require a long growing season, do well in southern New Mexico, where seeds can be planted directly in the warm soil.
The term "Hatch chiles" actually refers to a variety of chiles grown in the Hatch Valley region rather than to a single variety. They are similar to Anaheim chiles and are known for their relatively mild, spicy-sweet flavor and crisp texture.
Every Labor Day, Hatch celebrates its place in pepper lore with the Hatch Chile Festival, a two-day extravaganza that showcases all things chile. The festival attracts about 30,000 people to the town each year and has garnered attention from national food shows.
Festivalgoers are treated to famous chile recipes, the crowning of the festival queen, and a horseshoe-throwing tournament. The event also features booths, a chile roaster garden, a beer garden, ristra contests, live music, and a carnival.
For another taste of New Mexico's chile scene, check out the "Walk of Flame" Green Chile Trail in nearby Las Cruces. Located about 30 minutes from Hatch, Las Cruces offers a great staging spot for a day trip to Hatch.
Although harvest time in the late summer through early fall is a great time to visit the Hatch Valley, shops in town offer the dried ristra pods year-round, and frozen roasted chiles are available at many of the markets.
"Any time of the year, visitors can find stockpiles of roasted chile," says the New Mexico tourism website.