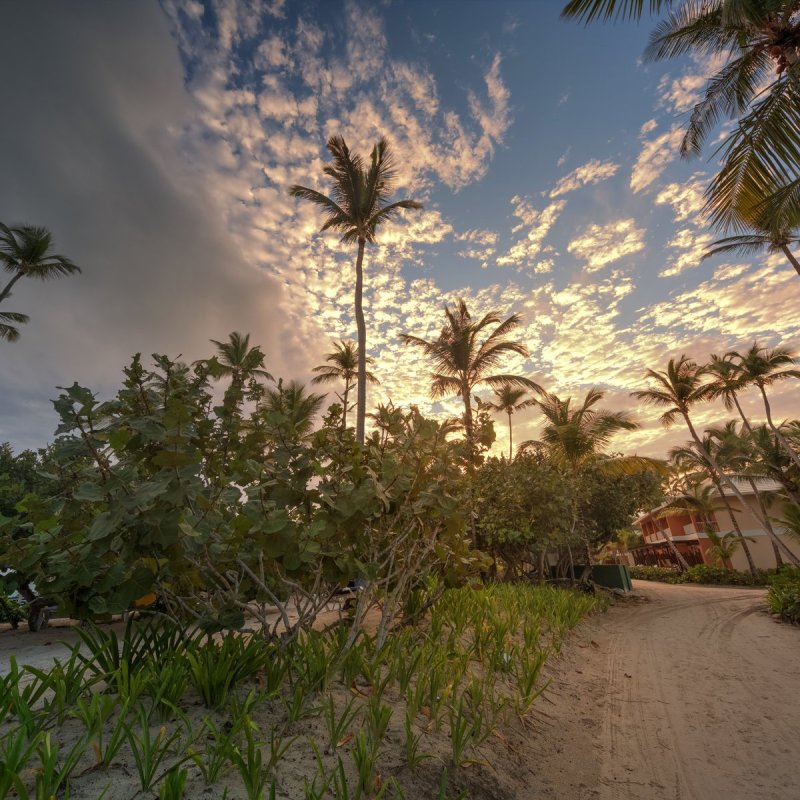 I was a guest of the Grand Palladium Punta Cana Resort & Spa, an all-inclusive resort in the Dominican Republic. All opinions are my own.
Multigenerational travel is on the rise. According to Virtuoso, an organization of travel advisors, multigenerational travel was the top trend in the industry in 2019. Destinations, resorts, and tour companies have responded by making themselves as attractive as possible for families traveling with two or more generations.
All-inclusive resorts are especially attractive to multigenerational groups because of the wide array of accommodations, activities, and dining options they offer. These types of resorts can be found all over the world, with options available for everyone from budget to luxury travelers.
The Grand Palladium Punta Cana Resort & Spa in the Dominican Republic is a perfect example of how all-inclusive resorts can meet the vacation needs of people of all ages. At this large, beautifully landscaped resort, family members can spend as much time together — or apart — as they choose.
Here are just a few of the reasons why an all-inclusive resort is an ideal place for a multigenerational trip.
Everything Is Included
Vacations are meant to be relaxing, but concerns about costs can instead cause stress for travelers. While it's always a good idea to have a budget for your trip, unexpected costs often arise. When there are several people involved, each with different ideas of how much a trip should cost, the situation can become uncomfortable.
All-inclusive resorts are a nice way to stick to your travel budget. Most packages include accommodations, meals, alcoholic beverages, activities, childcare, entertainment, and airport transfers.
When everything is included, there is no need to divide checks or decide who should pay. There is also no need to carry a purse or wallet — just leave it in the safe in your room.
It Requires Minimal Planning
I love to plan travel and relish extensive research on every part of my journey. But when there are multiple people of different ages involved, this process can become stressful. What makes grandparents happy will not be the same as what keeps the grandkids entertained.
All-inclusive resorts offer a streamlined planning process for vacations. Once the resort and level of accommodations are selected, no further planning is needed. Instead, each family member can choose what they want to do and where they want to eat. When desired, meals or activities can be coordinated, but little preplanning is required.
Everyone Can Relax
Traveling with kids or grandkids can be exciting, since it allows adults to experience a new place through children's eyes. But it can also be stressful when young ones need naps, get hungry, or aren't getting along with their siblings. Most all-inclusive resorts offer options that can help reduce that stress, like kid-specific activities and childcare.
Adults can really relax by taking advantage of the spa. For a small fee, the Grand Palladium offers the Zentropia Spa, with a selection of pools, hot tubs, mud treatments, and a snack bar. You can also book a massage or facial for deep relaxation.
There Are Accommodations For Everyone
A typical hotel room can feel cramped for a family, so many all-inclusive resorts offer accommodations for families, including larger rooms, suites, and adjoining rooms. Some may even offer multiple bathrooms — perfect if you're traveling with teenagers. If there are babies or toddlers in the group, be sure to look for a resort that will provide cribs, high chairs, and other essentials.
The Grand Palladium offers families rooms with a loft. With two separate sleeping areas and two bathrooms, parents and kids can have their own space. Adjoining rooms are also available for larger families.
During my visit to Punta Cana, I stayed in the adults-only portion of the resort called TRS Turquesa. This would be ideal if a couple without children was traveling with a multigenerational group. While everyone can get together for activities and dining, some may prefer that their room be located in a quieter section of the resort. A unique feature of the TRS Turquesa is the swim-up room located on the first floor of each building. Simply step out of your hotel room, then onto your private patio, and then into the pool.
There Are Daytime Activities For People Of All Ages
If your idea of a great vacation is doing as little as possible, that's okay — feel free to lay by the pool and order an adult beverage. But if you like to pack your day with activity, that's acceptable as well. An all-inclusive resort can accommodate each person in your group, no matter how much or how little they plan to do each day.
All-inclusive resorts offer a wide array of organized activities each day, including fitness classes like yoga and pilates, guided walks and runs, language classes, and cooking demonstrations. Typically there are games and contests as well. Additional activities may include tennis, golf, sailing, snorkeling, and much more.
During my visit to the Grand Palladium, I participated in a guided beach walk, Spanish lesson, and rum tasting — just a few of the activities offered daily. On my own, I strolled the grounds, went for a swim, and spent some time in the gym.
Childcare And Children's Activities Are Available
A few years ago, our family traveled to Jamaica and stayed at an all-inclusive resort. At the time, our daughter was a teenager, and our son was a preteen. Finding things to do that made everyone happy wasn't easy, but the week we spent in Jamaica was one of our most successful family trips ever. Everyone found something to do that was appealing. Our daughter enjoyed the organized activities led by the staff, while our son hung out in the pool playing volleyball.
No matter the age of your children or grandchildren, all-inclusive resorts are ready to help. I had the opportunity to tour the childcare facilities of the Grand Palladium and was impressed. There were a variety of games and activities, both indoors and outdoors, that would appeal to any child. Kids could spend half a day in care while parents relax by the pool, or just drop in while the adults enjoy a fine-dining experience. There was also a children's water park featuring a pirate ship, waterslides, waterfalls, and a mermaid fountain.
You'll Find A Wide Range Of Dining Options
Planning meals with a large group of people can be stressful. Everyone has food preferences, and some may even have dietary restrictions. All-inclusive resorts make dining much easier by offering a large selection of restaurants.
Buffets may be one of the best options for dining. With a large selection of salads, main courses, and desserts, everyone can be accommodated. Many buffets feature a children's section with simpler foods like hot dogs, hamburgers, and chicken fingers.
During my stay at the Grand Palladium, I enjoyed a breakfast buffet at Capricho. The typical breakfast foods were available along with a great selection of fruit and fresh juices. While buffets often bring to mind excess, they can be a nice alternative for healthy dining when there are abundant fruit and vegetable offerings.
If you're feeling more adventurous, all-inclusive resorts often provide international cuisine in addition to buffets. At the Grand Palladium, you can sample Indian, Peruvian, French, Mexican, and Japanese cuisine. These may require reservations, so be sure to check with the concierge.
You'll Enjoy Live Music And Entertainment
After a day of relaxing and dining, some in your group may be ready to party. All-inclusive resorts are well known for their entertainment options, which typically include live music, dancing, and other performances. During our Jamaica vacation, we enjoyed live reggae and a festive dance show on the beach. At larger resorts, there may be multiple live entertainment options to suit the different interests of your group.
During my visit to Punta Cana, we enjoyed after-dinner drinks and live music at Hemingway's, a Cuban-inspired bar. Those interested could also dance. The Lobby Bar Caoba offers nightly tropical-themed music. Sports fans can head to the Xtra Time Sports Bar to watch a variety of games from around the world, including soccer, basketball, and car racing.
For something really special, make reservations for Chic Cabaret. This six-course dinner includes more than 2 hours of nonstop entertainment in the form of dancing, singing, comedy, and acrobatics. There is an additional cost for this, and all guests must be 21 years of age.
You'll Meet People From Around The World
One of the top benefits of travel is meeting other people, and all-inclusive resorts are a great way to do this. Strike up a conversation with someone sitting next to you at the pool, or get to know the other people in your yoga class. The grandkids can find playmates while splashing at the pool or hanging out in childcare.
During my time at the Grand Palladium, I heard French, German, and Spanish being spoken, giving me just a glimpse of the countries represented at the resort. In a relaxed state, it can be much easier to open up to the people around you, making your vacation even better.