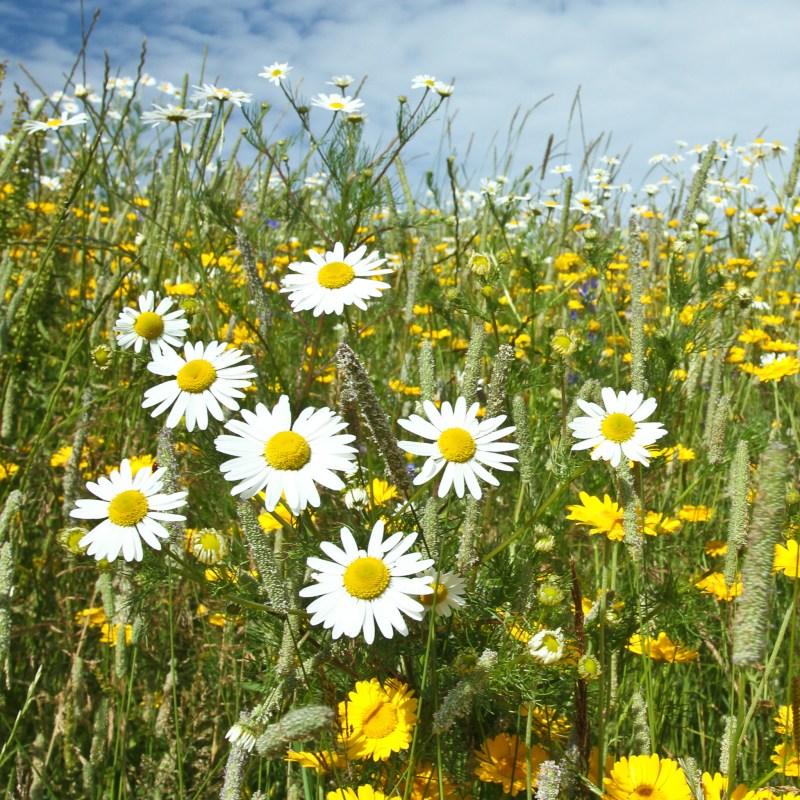 Traveling around the world gives you the opportunity to experience the beautiful landscapes of lands near and far. We love to discover different flowers in every place we visit. Some flowers are closely associated with a particular destination, while others are simply beautiful wildflowers found along roadsides, in undeveloped areas, or near trails. We've also visited flower markets featuring a variety of blooms.
It's wonderful to see — and smell — flowers around the world. But it's also possible to bring a bit of that world to your home. A fun way to do so is to plant the flowers you've seen and loved on your travels. Depending upon the climate in which you live, it may be easy for you to grow tropical flowers, plant an English garden, create a cold-weather floral paradise, or try a combination all your own.
Here are some of our favorite flowers we've encountered while traveling abroad, along with suggestions for where you might buy them if you're interested in adding them to your own garden.
1. Tulips
Holland
The tulip is almost universally associated with Holland. Not only do the locals treasure their bright and cheery blooms, but visitors come from all over the world to enjoy the large fields of color.
You can also spot these gorgeous blooms at festivals around the United States in the spring. Tulip Time in the aptly named Holland, Michigan, is the best known of them all.
One of the great things about tulips is that they can be grown from bulbs. That means that once you plant them in your garden, they can come up year after year. Though most people think of single tulips in bright yellow, red, and pink hues, there are actually many varieties of tulips, including double, fringed, and multicolor.
Pro Tip: Remember that to enjoy tulips in the spring, you'll need to plant them in the fall.
Where To Buy
Some large stores such as Costco and Home Depot carry tulip bulbs. If you want to order them online, Breck's and Holland Bulb Farms offer large selections.
2. Irises
France
The national flower of France is the beautiful iris. These delicate blooms are the model for the symbol of the French monarchy, the fleur-de-lis. There are some 300 flowers in the iris family, with colors ranging from quite subtle to very vibrant. We especially love the purple and blue varieties.
Areas around the Loire Valley offer many wonderful places to view irises; there is even a sightseeing circuit you can follow to see them.
Like tulips, irises can be grown from bulbs.
Where To Buy
Gilbert H. Wild and Son has a large selection of iris bulbs and offers planting and growing instructions as well.
3. Red Poppies
Belgium
Huge swaths of red poppies are bound to bring to mind images of Flanders Fields in Belgium, where it was said the flowers grew to memorialize the fallen soldiers of World War I. Since then, the red poppy has become a symbol of remembrance and hope.
Indeed, poppies are beautiful, especially when several plants bloom together. Red poppies can be grown from seeds.
Where To Buy
Red poppy seeds are available at many online stores, including High Country Gardens.
4. Lilies Of The Valley
Finland
The tiny strands of bell-like flowers on the lily of the valley will add fragrance and beauty to any garden. The blooms are small and delicate and may get hidden by larger plants that demand more space. But Finland appreciates the little blooms — the lily of the valley is its national flower.
Representing purity, sweetness, and beauty, the flower's unmistakable fragrance has been harnessed by perfumers as a desirable feminine scent.
Where To Buy
You can purchase lilies of the valley from Michigan Bulb Co. online.
5. Marguerite Daisies
Denmark
A favorite flower of the Danish queen, the Marguerite daisy is also associated with Denmark because it is one of the countries where this flower grows best.
The Marguerite daisy comes in many delightful colors like yellow, pink, purple, white, and even blue. Gardeners love these bright blooms, not only because they grow easily in abundance, but also because they attract butterflies. These lovely flowers are great for cutting and for bouquets as well.
Where To Buy
Marguerite daisies can be found at garden stores like Lowe's, and you can purchase seeds online from Under The Sun Seeds among other shops.
6. Lavender
Portugal And France
While lavender is often associated with the Provence region of France, it is actually the floral emblem of Portugal. Visitors to Portugal and Provence in the spring and early summer will find huge fields of lavender to enjoy.
These magnificent purple blossoms are as noted for their delightful and relaxing aroma as for their color. Oils, soaps, balms, sprays, and sachets of lavender offer therapeutic properties and are often used to help people sleep.
Pro Tip: When planting lavender in your garden, remember that it is in the mint family. This means that it will grow easily and spread out quite a bit. Use the dried blooms to make potpourri and herbal blends.
Where To Buy
You can purchase French Provence lavender on Etsy.
7. Gladioli
South Africa
The gladiolus is native to sub-Saharan Africa, and particularly South Africa.
Gladioli come in a wide array of colors, sizes, and shapes, but the one thing they all have in common is an impressive display. We're partial to the long stems that boast big red blooms. They're simply spectacular, and understandably quite a favorite with avid gardeners and beginners alike.
We love to see all the different colors spring up in our garden. They make quite a show!
Where To Buy
Gladioli can be grown from bulbs. You can buy them at many home supply stores and garden shops, as well as online from K. van Bourgondien.
8. Queen Anne's Lace
Great Britain And North America
According to legend, Queen Anne of England pricked her finger while attempting a challenge by her friends to create lace as beautiful as a flower. A drop of her blood fell upon the flower, making a purple-red center, and the flower was thereafter called Queen's Anne's lace.
Interestingly, this wildflower belongs to the carrot family, and the head is sometimes eaten raw in salads or lightly battered and fried. Though we associate the name with the Queen and Great Britain, the flower is commonly found along roadsides and in unused fields in North America.
Where To Buy
You can find Queen Anne's lace seeds online at The Vermont Wildflower Farm and Grow Organic.
9. Sunflowers
Ukraine
While we loved driving past fields of sunflowers in France, we have to acknowledge that the sunflower is the floral pride and joy of Ukraine. Sunflowers have a long history in Ukraine. They were woven into celebratory headpieces for young maidens, figured prominently on fabrics and household items, and were carved into wooden furniture. Sunflowers were believed to guard against bad fortune, evil spirits, and illness.
All you need to do is look at these big, bright yellow blooms to feel a bit of sunshine in your own life. The seeds can be eaten or made into oil. But you can simply let the flowers grow in your garden — and provide some wonderful treats for the birds and squirrels who visit you, too.
Where To Buy
You can find sunflower seeds at many garden centers. You can get giant sunflower seeds online at Gurney's and Baker Creek Heirloom Seeds.
We see flowers in so many places when we travel, from markets and gardens to roadsides and fields. We see flowers on the tabletops of the restaurants we visit and in the landscapes of the accommodations we stay in. When we plant them at home, their scent takes us back to the places we've traveled.
So many places have flowers that are special — we've only provided a glimpse into some of our favorites. We're sure that there are many others you've discovered on your own travels. We hope we've inspired you to bring some of them into your home or plant them in your garden to enjoy even when you're not traveling.