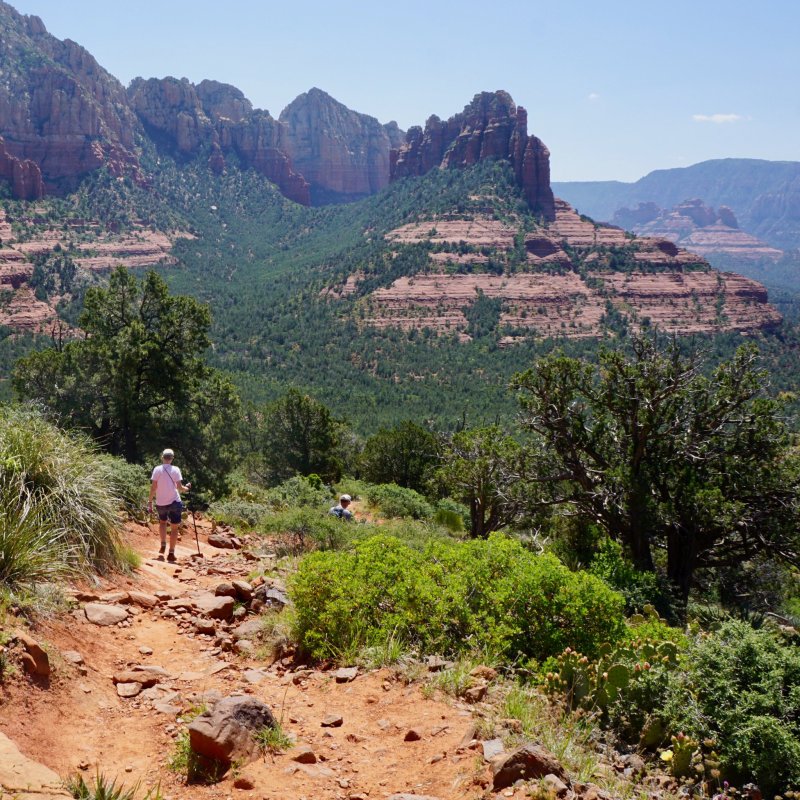 On a clear day, everything comes together perfectly in Sedona, Arizona. The soaring red rocks glow, the flow of Oak Creek sparkles, and the warm sun bathes it all in radiant light.
And, since there are nearly 300 days of sunshine a year in Sedona, there are plenty of clear days.
For decades, the small Red Rock Country community in central Arizona has been a tourist magnet. Today, nearly three million tourists flock to the upscale resort town each year to hike, mountain bike, bask in energy from the area's world-famous vortexes, and dine in restaurants in spectacular settings.
While a visit to Sedona is almost sure to delight, the town's growing popularity comes with a downside as well.
On busy weekends, hundreds of vehicles regularly get caught in a slow-moving parade along Sedona's two main roads, Highways 179 and 89A. It's not unusual for popular trailheads to fill to capacity by mid-morning, scenic overlooks to get clogged with cars, and traffic to come to a near standstill in bustling Uptown Sedona.
Still, the beauty of Sedona is irresistible. For me, the inconvenience is worth it, and after dozens of visits I've discovered a few ways to beat the crowds.
Despite the hectic scene, it's possible to enjoy a perfect weekend in Sedona. Here's how.
When To Go
If your schedule is flexible, try to make your "weekend" in Sedona a midweek stay instead. It is one of the best ways to avoid the flood of tourists, many of them day trippers who stream into Sedona on sunny Saturday and Sunday mornings.
And when it comes to the best time of the year to visit, the hot summer months and cool winter months are likely to have fewer crowds than the spring and fall.
The Sedona Chamber of Commerce & Tourism Bureau website notes, "Here in Sedona, the locals like to keep winter their biggest secret." It's the time when "crowds are fewer, the hotel rates are lower, but the variety of things to do is at its peak."
Because Sedona's average winter highs hover in the low 60s, December, January, and February tend to be cool but comfortable. Snow falls occasionally, dusting the red sandstone rocks with a beautiful frosting of white.
If you must visit in the spring or fall, make a point of getting out on the roads extra early. The red rocks are gorgeous at sunrise.
What To Do
Stop For Inspiration
If you arrive in Sedona in need of hiking or biking ideas, the Red Rock Ranger District Visitor Center at the south end of Village of Oak Creek is a great first stop on your drive in along Highway 179. The center's large interactive map offers a big-picture look at the range of outdoor activities available.
Not only is the center chock-full of information about trails in the area, but it's also positioned at the edge of Red Rock Country. Stop in the courtyard on your way into the center to gaze at the distant red rock formations.
Pro Tip: Many of Sedona's trailheads require the Red Rock Pass. This one-day or multiday pass is available at a number of sites around town, including at an automated pay station at the visitor center.
Hit The Trails
Trailheads are everywhere in Sedona. Whether you're interested in a leisurely walk, a rugged hike, or an exhilarating mountain-bike ride, Sedona's spectacular inventory of more than 200 trails means there's something for every fitness level.
Trail choices range from shady creek routes to steep, rocky climbs deep in Red Rock Country. Here are three of the best, listed in order from easy to difficult.
West Fork Trail
The West Fork Trail just off the Oak Creek Canyon Scenic Road is one of Sedona's most popular trails for a variety of reasons: magnificent canyon walls, leafy trees, and a babbling stream. The trail is especially enjoyable during the summer, when shady stretches and numerous creek crossings provide a cool respite.
Although West Fork is rated as easy, be prepared for numerous rocky creek crossings. At about 6 miles round-trip, the hike takes 2 to 3 hours. A fee is charged at the trailhead, which tends to fill up early in the day.
Soldier Pass Trail
For a crash course on the diversity of Sedona's terrain, consider the Soldier Pass Trail, a 2.4-mile (one-way) route that takes in the Devil's Kitchen Sinkhole, the Seven Sacred Pools, and a spectacular summit — all interspersed with steep climbs and rocky descents.
Rated as moderate, the trail takes about 2.5 hours to complete.
Wilson Mountain Trail
If an intense climb that offers one of the best views in Sedona sounds like a worthwhile adventure, consider the Wilson Mountain Trail, an 11-mile trail that features a 2,300-foot climb.
It's a strenuous workout and should only be attempted by fit and experienced hikers. You won't regret the effort once you see the payoff, though. From the lofty summit, all of Sedona is spread out below. The round-trip hike should take about 5 hours.
Off-Road In Pink
Off-roading in the seat of a rugged four-wheel-drive vehicle is another option for taking in Sedona's one-of-a-kind landscape. The ubiquitous Pink Jeep Tours are the most popular. You will see the brightly colored Jeeps all over the streets of Sedona and at gorgeous sites throughout Red Rock Country. Numerous tours, sites, and prices are available on the website.
Or, for an option that focuses on Sedona's scenic vortex sites, consider the Earth Wisdom Jeep Tours, which will take you deep into the local vortex energy lore.
Drive A Scenic Route
It's not for the faint of heart, but a drive along the Oak Creek Canyon Scenic Road is a must-do during a visit to Sedona. The narrow two-lane paved route follows the winding path of lovely Oak Creek and passes by the iconic Slide Rock State Park, Indian Gardens Cafe & Market, and West Fork Trail.
The route is popular, though, so expect heavy traffic, often delayed by road construction. Consider making the drive early in the morning to avoid some of the traffic.
Immerse Yourself In Sedona's Apple-Orchard Past
For a sweet taste of Sedona's past as an apple orchard, the Sedona Heritage Museum is a hidden gem just a few blocks off bustling Uptown Sedona.
In the shade of a towering column of red rocks, the museum is located on the historic Jordan Family Farmstead. There, in the early 1930s, Walter and Ruth Jordan built a one-room cabin and planted hundreds of apple trees on 65 acres.
Today, few of the apple trees remain, but the preserved one-room cabin, which was expanded by the Jordan family over the years, serves as part of the museum.
Along with all of the history, the beautiful grounds of the Heritage Museum offer a tranquil spot, even when Sedona is packed with tourists.
Where To Eat
Lunch In Village Of Oak Creek
Although Sedona gets much of the attention and name recognition, the nearby Village of Oak Creek is arguably equally scenic, with red rock formations rising on both sides of Highway 179.
The community also features a busy commercial district, complete with a selection of restaurants and cafes. It's a wonderful place for a brunch or lunch stop, with many of the eateries offering sweeping views of the nearby Bell Rock and Courthouse Butte.
Along the main drag is Famous Pizza & Beer, where an outdoor patio offers a front-row-seat view of the best of Village of Oak Creek's red rocks. Or for a hearty brunch, try local favorite Red Rock Cafe for its Southwest dishes such as biscuits and gravy, huevos rancheros, and chicken-fried steak.
Dinner At Tlaquepaque
With its mission-style design and its softly lit archways, the Tlaquepaque Arts & Shopping Village is magical in the evening. Located beneath towering sycamore trees along the banks of Oak Creek, Tlaquepaque is a popular dinner gathering spot.
Consider stopping in at one of the village's excellent restaurants, such as the Oak Creek Brewery and Grill or the Secret Garden Cafe.
Centrally located near the intersection of Highways 179 and 89A, Tlaquepaque is a short drive from many of Sedona's creekside and Uptown hotels.
Uptown Options
Lunch and dinner choices are plentiful in Uptown Sedona, and stellar views tend to come with the territory. For something quick but picturesque, Canyon Breeze offers an open-air food hall atmosphere and casual fare such as pizza and nachos. Or for a sidewalk patio setting serving street tacos and margaritas, check out 89Agave Cantina.
Where To Stay
Near Uptown Sedona, the Sky Rock Inn offers rooms in the moderate range. Billed as "between earth and sky," the hotel features panoramic views of the Sedona landscape and subtle influences from Native American tribes.
In Village of Oak Creek, the boutique-style Wildflower Inn at Bell Rock boasts "the best views of Bell Rock" at reasonable rates.
For an upscale stay, L'Auberge de Sedona, situated on the banks of Oak Creek in the heart of Sedona, features a full-service resort and spa.
Where To Shop
Souvenir stores, art galleries, gelato shops, and restaurants line both sides of the highway in Uptown Sedona. If you have an interest in the energy derived from crystals and vortexes, Sedona is the place to explore. Check out the huge selection of crystals at the Earthbound Trading Company or the Native American art at the Native Jewelry Gallery.
Don't forget to walk all the way to the northern end of Uptown Sedona for a great selection of local art at the nonprofit Sedona Arts Center, an Uptown institution for more than 60 years. The center offers year-round exhibitions, classes, and festivals.
What To Know Before You Go
Parking can be almost impossible along Highway 89A in Uptown Sedona, but the city offers free public parking lots throughout the Uptown area. Two of the lots are located along Jordan Road, not far from the Sedona Heritage Museum. Colorful, easy-to-spot signs mark the locations of the lots.
More on Sedona: