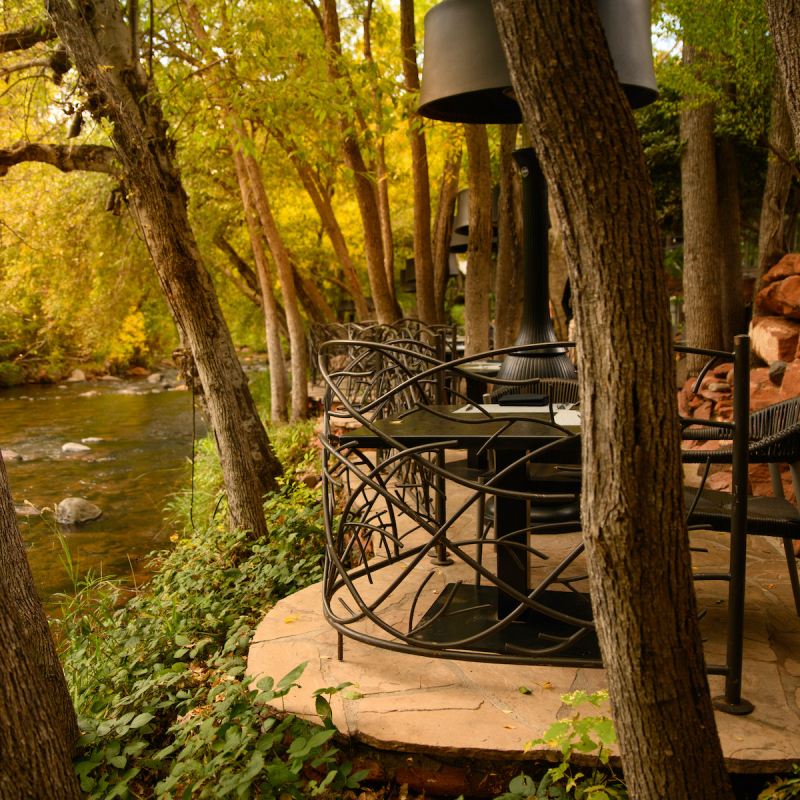 A long weekend getaway is a precious break from the occasional humdrum of everyday life. If you want one that will be the epitome of rest, relaxation, and reflection (or even romance), think no further than the L'Auberge de Sedona.
My husband and I found seven undeniable reasons why L'Auberge de Sedona in Arizona was the perfect gift to give ourselves.
1. Great Location
Sedona is a popular tourist destination. Massive red rocks in all sorts of fanciful formations frame many city views. I have always thought the whole area deserves to be declared a national park.
My husband and I consider it an attraction second only to the Grand Canyon in the state. Only 2 hours away from our home, we take our guests there when they have a day to spare. Having a picnic, taking hikes (short or long, easy or difficult), shopping, and other activities become extra special in such a lovely setting.
Dining there is a sheer delight. On our several trips to Sedona, we have collected 10 awesome dining experiences with unforgettable views: the more upscale Mariposa, Hideaway House, Creekside Bistro, SaltRock Kitchen, and The Hudson; or the more affordable Canyon Breeze, Mesa Grill, Sound Bites Grill, and even the fast-food chain Wildflower Bread Company.
In addition, Sedona is an epicenter of sacred vortexes, a central location from which to spend time hiking in nature, exploring nooks and corners, and enjoying personal reflection. Airport Mesa, Bell Rock, Cathedral Rock, and Boynton Canyon are the best-known magical spots. Actually, when you simply practice mindfulness, anywhere at all will do — even the sublime creek in L'Auberge.
2. Lovely, Lavish Lodging
We gave ourselves the chance to stay at this unique place nestled in Oak Creek Canyon (a river gorge often described as a smaller cousin of the Grand Canyon) and under many stately, Biblical sycamore trees. We own timeshares in Sedona and have stayed in various hotels and resorts, but our membership did not include L'Auberge de Sedona, the most luxurious lodging option available.
To reach this heavenly spot, you descend along L'Auberge Lane. At the bottom, your vehicle will be handled by valets. A shuttle van allows you to get back up to Highway 89 where the shops and restaurants are.
We usually go up in summer, but this time we visited in the fall, and the sycamores' leaves had turned yellow and gold. Even if it was a bit on the chilly side, the loveliness of the scenery more than made up for it. Amid the rustling of the leaves, the rushing of the waters, and the chirping of the birds, the experience became unforgettable.
The 5-bedroom Creekhouse makes the most luxurious getaway for a family of 10 to 12. But we stayed at one of the charming Creekside Cottages (there are 15, plus two Creekside suites). It was situated on the banks of Oak Creek, and we had a spacious private deck with views of the creek and the sycamores. The unit is unlike any room we had previously stayed in. It gives a feeling of being one with nature. There was even a romantic, private outdoor shower that I imagine would be awesome in the warmer months.
It is very well appointed and endowed with luxuries like a 65-inch (very) smart TV, a wood-burning fireplace, and premium-brand appliances. I loved the bedside desk/tray table, which I used for writing. The king-size bed was luxuriously comfortable, with all the pillow sizes and shapes that I needed for an elevated upper body; I never had to request more as I usually do. The armchairs and coffee table were quite comfy. A dining table served both as a place to share food and as a big study desk for laying out papers.
There are 62 cottages in all: Vista Cottages have legendary views of Snoopy Rock, Giant's Thumb, and Elephant Rock (some have telescopes); the quaint Garden Cottages; and Spa Cottages with jetted tubs, two of which have Peloton bikes. There is also a main lodge with 19 deluxe lodge rooms and two suites. But we will always stay at a Creekside Cottage.
3. On-Site Cuisine
Fine dining at Cress on Oak Creek is nationally recognized. In fact, we discovered d L'Auberge when a friend who was visiting Arizona on a residential art program invited us to experience dining there. Just as she expected, we fell in love with the chef-created meals served under the sycamores along the enchanting creek bank. A year later, we went back for an anniversary dinner.
This time, however, it was a bit chilly, so we opted to dine in the enclosed dining room. Still, we could feast on the fantastic view of the creek and the sycamores. A musician was in the waiting area playing his ukulele violin. When he did "La Vie en Rose," I was moved to sing. It's my all-time favorite French love song.
Whenever it's on the menu, I order French onion soup, and I was delighted when it came — it was so gooey-good I devoured every single bit and ended up so full that I struggled to finish the striped bass entrée. But I could not resist it; it was perfectly golden-crusted at the top, buttery soft inside, and had a thin layer of savory fish fat to boot. I decided to book lunch for the next day, too, which made another delightful meal. The mushroom bisque soup had such an exquisite smooth taste.
Totally satisfied, I asked to talk to Chef Shawn. I expressed my appreciation of his creations. He thanked me sincerely. The next night we tried room service. I love the food at L'Auberge.
We were also very pleased with the Mexican fare at its sister kitchen, 89 Agave Cantina, just above L'Auberge on Highway 89.
4. Special Experiences
There are other L'Auberge programs that deepen appreciation of the Sedona mystique. Beginner classes, like Crystal Introduction and Meditation, Sound Healing, Chakra, and Energy Healing, are available for free.
We participated in two: The Qigong and Meditation Beginner Class and the Vortexes and Hikes Talk by Paula, the lady in charge of the L'Auberge's metaphysical program. Especially arranged private experiences, including Shinrin-Yoku, 7 Flutes for 7 Chakras, Soul Energy Medicine, and others are also available for a more personal and deeper journey of discovery.
The session with Paula inspired us to take a hike to the Airport Mesa Summit to experience the upward and downward vortexes there. As she suggested, we also looked for the heart-shaped pads of prickly pear cacti on the trail. In fact, other hikers began to follow us when they found out what we were looking for. These special cacti stopped growing heart-shaped pad versions in the recent past, but the pads have reappeared this year!
And you should not miss the stargazing opportunity offered at the large veranda above the cottages near the main lodge. At 30-minute intervals, a guide points out the many stars and constellations to see. Stargazing with my husband became a romantic experience in the middle of the night.
5. L'Apothecary Spa
I tried the Signature Facial and my husband had the Arizona Apricot Scrub at the famed L'Apothecary Spa. In a Phoenix spa, I used to have a monthly facial, but it negatively impacted my chin, so I stopped. Here I was told that only once per change of season is recommended. I hope the time will return when people compliment how my skin glows. I brought home the maintenance serum.
The gentle massage was a very warm experience for my husband, too; but I guess spa pampering is not as much of a guy thing. I loved the luxurious waiting area, the special cookies and tea servings, and the dressing area complete with all that you need. I can only imagine how it would be during summer, when they do all those facials and massages under the sycamores beside the creek.
6. La Galerie Art Program
L'Auberge even has the La Galerie Art Program in partnership with the Goldstein Gallery of Sedona. At strategic spots on the trail connecting the cottages in the property, there are five large sculptures that add to the natural beauty and delight your aesthetic senses.
It was the Pastoral Dreamer at the Peace Garden that most impressed me. He appears to emerge from the ground in an extremely restful, contemplative pose, making me want to do the same — so relevant for a weekend getaway! At the main lodge, the Creekhouse, and the restaurant, there are plenty of paintings adorning the walls. Some are available for purchase.
7. Creekside Connections
I was just told that they have launched a new program that was not available when we were there. This offering includes one-of-a-kind activities like tarot card readings, vortex cocktails, a private workshop called "Unleash Your Visions," and others that can be held between and among friends for an experience that deepens relationships. This is something my husband and I are looking forward to.
Although I am typically a very frugal person, we have gone to L'Auberge for our anniversary, my birthday, and at Thanksgiving. Sometimes a luxurious getaway, like what L'Auberge can provide, is the best gift we can give ourselves over a precious long weekend.