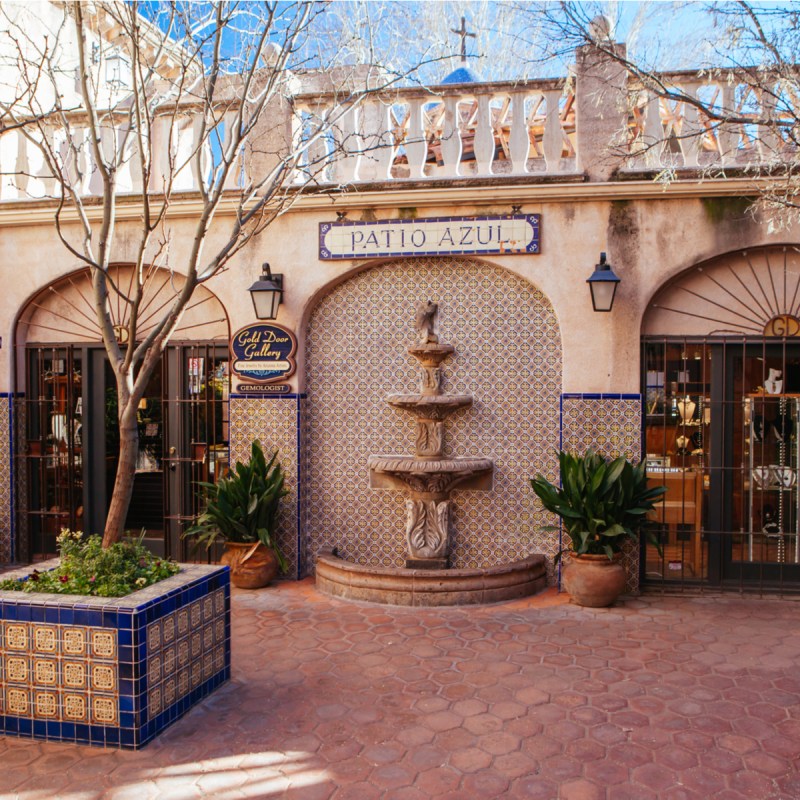 With mesmerizing geological structures and a community that owns its decidedly new age vibe, Sedona is a wonderful place to spend a few days. The town features over 89 named trails for hiking and biking, and its relatively high elevation allows for mild temperatures relative to other Arizona destinations. In other words, if you're an active vacationer, you certainly won't run out of things to do.
But many travelers head to Sedona for an entirely different reason: They want to relax. If you're looking to unwind while enjoying the awe-inspiring sights, we've got you covered. Here are nine essentially Sedona experiences that every vacationer should try.
1. Sedona's New Day Spa
If you're going to spend time at a spa in Sedona, you don't want to feel disconnected from nature — after all, it's the highlight of any Arizona vacation. Sedona's New Day Spa offers an extensive set of affordable treatments with organic, ecologically sourced ingredients.
Enjoy an anti-aging caviar-fusion facial or a desert stone massage, or if you're feeling especially adventurous, invest in one of the spa's Desert Nature body treatments. Designed to release muscle and joint tension while hydrating stressed skin, these luxurious services will leave you feeling ready to hit the trails.
You may even want to check out the spa's "Native Wisdom Spa Rituals," inspired by indigenous traditions. A trained reader will use symbolic cards or gemstones to guide you on your inner journey — or, if you're up for it, you can enter the "Sweat Lodge" to enjoy purifying steam while receiving a subtle energy head massage.
2. Verde Valley Wine Trail
Relax in a series of natural settings with a glass of wine at each stop. The Verde Valley features some of the region's best wineries, most of which use sustainable methods to produce their spirits. You'll have to take a short trip out of Sedona, but the Verde Valley Wine Trail is essential for any true connoisseur (or, really, anyone who can enjoy a nice glass of the good stuff).
The trail's winery stops include Flying Leap, Winery 1912, and Javelina Leap. We'd follow the trail in that order, since the Javelina Leap Winery has a nice bistro for a post-trail meal. If you're willing to take a drive, head down to the town of Cottonwood, where you can tour Burning Tree Cellars, Carlson Creek Vineyard, and Pillsbury Wine Company, among others. Arizona's wine industry is quickly building a strong reputation, and after exploring Verde Valley, you'll understand why.
3. Uptown Massage
If you're headed to Sedona to find a "sanctuary for relaxing and healing," Uptown Massage is the place for you. This massage spa offers a comforting environment with deeply restorative treatments. Take your pick off their extensive massage menu and get ready to enjoy a magnificent view of the red rock mountains from your massage table.
In addition to massage, Uptown provides body wraps, foot treatments, facials, sound healing, and yoga. You'll be treated by experienced professionals who care deeply for what they do and will tailor each treatment to your specific needs.
4. Therapy On The Rocks
The Therapy on the Rocks myofascial release treatment center is located in uptown Sedona. It sits among the beautiful red rock cliffs unique to the area, and is a tranquil, healing haven. You can enjoy the views of the area from the sun deck and many treatment rooms, or from the creek-side whirlpool.
The view isn't the only thing that brings people to Therapy on the Rocks — you can book your own personalized myofascial release treatment with a highly trained therapist. Myofascial release is a pain-management therapy closely related to massage. Adherents claim it can heal all sorts of chronic pain disorders. Therapy on the Rocks offers a range of pain interventions that use this touch-based treatment for healing.
5. Sedona Meditation Center
Total relaxation means living in the moment. The Sedona Meditation Center aims to help visitors occupy a place of peace within their own bodies through approaches including meditation, mindfulness, yoga, and qigong. Take a class or book a healing session to feel lighter, calmer, and more at ease in your own skin.
Private healing retreats are also available; each combines yoga, Tao meditation, and hiking trips that will leave you feeling refreshed and energized. It's one thing to relax while in Sedona; it's another thing to build a trip around learning relaxation techniques that you can take home with you.
6. Tlaquepaque Arts And Crafts Village
In the mood for some retail therapy? No visit to Sedona is complete without an afternoon of shopping at Tlaquepaque Arts and Crafts Village. This artist's retreat space is much more than an outdoor arts mall; watch the sculptors at work as you stroll through the vine-covered walkways, and listen to live music while you shop.
Tlaquepaque features more than 50 shops and galleries, with works in every material, from glass and bronze to fine oil paint. Stone arches wall the area off from the rest of the bustling city, creating a unique oasis of peace and creativity.
According to its website, Tlaquepaque translates as "best of everything." Spend some time here and you'll find it hard to argue.
7. Secret Garden Café
When you're in Sedona, even lunchtime becomes an occasion for meditation and reflection. The Secret Garden Café at Tlaquepaque gives visitors the chance to enjoy fresh, made-from-scratch meals surrounded by a charming floral landscape. It's custom-built to keep you living in the moment.
Drinkers can relax with a glass of California wine or a locally made beer. And even if you're not feeling particularly peckish, there's always room for a Secret Garden dessert.
Vegetarian, vegan, and gluten-free choices abound. The Secret Garden Café is open daily from 8 a.m. to 8 p.m., and it's the perfect place to recharge between excursions.
8. SPEX: Sedona Philosophy Experience
There's something about the wild beauty of the Sedona desert that gets you thinking about life's deeper mysteries. Lean into self-reflection by attending a "philosophy on the rocks" tour with Sedona Philosophy.
Philosopher-guides will take you on paths around dazzling Oak Creek or introduce you to the concept of the spiritual vortex. For rafters interested in metaphysics, Sedona Philosophy also offers river trips. Discuss the meaning of life while paddling your way through desert canyons, past red rocks and ancient sacred spaces.
For a more in-depth experience, attend a weekend retreat. Deep immersion into the question of the individual's place within the totality of existence can be a life-changing experience. Sedona is the ideal place to confront humanity's most difficult questions — and maybe even stumble upon an answer or two.
9. Aumbase Sedona Yoga Studio & Adventures
Reconnect with the Earth, loved ones, and maybe even yourself through the power of yoga. Aumbase Sedona Yoga Studio & Adventures offers holistic health activities like hiking, yoga, sunrise classes on the mesas, and shamanic healing.
Every weekday morning between 6:30 and 8 a.m., experienced yogis from Aumbase conduct outdoor yoga classes in the incomparable Sedona countryside. Be sure to book at least 14 hours ahead of time — these intimate classes have an attendance cap of just six people. If you can get on the list, though, watching the sun rise while stretching into a new pose is an unbeatable experience.
Don't leave the region without trying hiking yoga. Guides will take you and your small group down incredible paths while teaching yogic intention. Packages are available for mothers and daughters, fathers and sons, and even couples.
If you have yoga enthusiasts in your party, get in touch with Aumbase while you're in the region. Whatever you find yourself doing, remember to relax. In Sedona, it's not too difficult — and when you're ready for a more active excursion, be sure to check out our piece on spending time in the city.