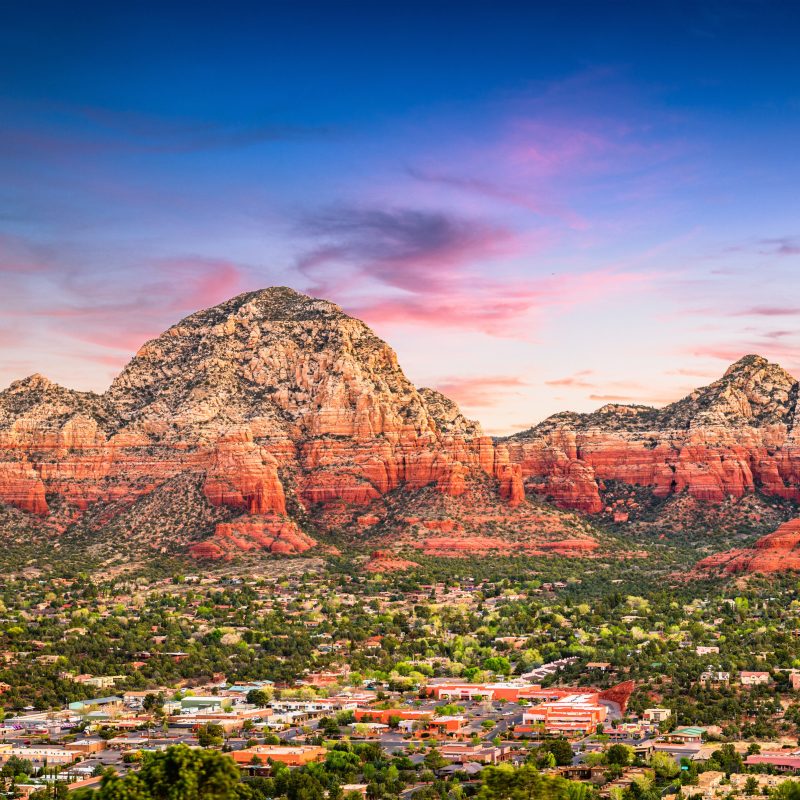 Travelers tend to forget about some of the amazing places to visit right here in the United States, and you'll be pleasantly surprised by everything you can do in Sedona!
1. Sample Some Sedona Wines
Wine isn't usually the first thing that comes to mind when you picture the great state of Arizona, but perhaps it will be from now on! Verde Valley is relatively close to Sedona, and it offers the perfectly balanced dry climate and water access that grapes need to grow and produce fantastic wine.
You can tour the area yourself on the Verde Valley Wine Trail where you'll get to visit the four primary wineries in the region: Javelina Leap Vineyard, Oak Creek Vineyards, Page Springs Cellars, and Alcantara Vineyards. Of course, you'll definitely get to try some vino at each one!
The Wine Trail is the perfect combination of hiking, striking natural beauty, and relaxing with a tasty glass of wine at the end of the day. Nearby Montezuma Castle is another local sight worth squeezing into your day if you have time.
2. See The Stars Like You've Never Seen Them Before
Sure, you can see stars from almost anywhere you can catch a glimpse of the night sky, but you can't really see them like you can in Sedona.
Certain parts of the world combine various natural factors to create a perfect stargazing environment, and Sedona is just such a place. With over 300 clear days a year and almost no light pollution, the sky will never look clearer then it does in Sedona. What makes it even better is being able to watch the stars from the high altitudes readily available throughout Sedona. If you're looking for guidance, companies like Evening Sky Tours will take you to the best stargazing spots while giving you proper telescopes to observe the heavens.
If you like to learn, the tour guides will walk you through the different stars, constellations, and galaxies visible from Sedona, and you'll get to see them all with your own two eyes. Nothing feels quite as magical as a sky completely lit up with beaming stars.
3. Pay To See Rocks… It's Worth It
You won't have to look too hard to find red rocks in Sedona, but although they're readily available, it's worth checking out the official Red Rock State Park to see some of the finest specimens in the area.
Spread across 286-acres, there are multiple noteworthy formations that you'll want to make sure you see, such as Cathedral Rock. It's one of the most well-known rocks in all of Arizona with a summit elevation of nearly 5,000 feet. Cathedral Rock is one of the most-photographed sights in the area, so make sure to grab a picture or two while you're there!
If you have limited time in Sedona, you'll want to make sure that Red Rock State Park is on your list. You won't see many sights like it in this world.
It doesn't cost more than $7 to get into the park, and that's a steal when you think of the memories you'll walk away with.
4. Dine At SaltRock
At some point along your trekking and wine tours, you're bound to get hungry. A local favorite is SaltRock, a restaurant that offers some of the finest views of red rocks to go with delicious dishes like their signature Smoked Trout Pate.
Ingredients are sourced from the area and seasoned with items only found in Arizona's Verde Valley. Southwest cuisine has never tasted better than it does when it's prepared by head chef Massimo De Francesca.
Wash it all down with one of SaltRock's classic agave margaritas.
5. Walk The Streets Of Sedona's European-Styled Village
You don't have to go to Europe to feel like you're there, and when you stroll through the cobble-stoned streets of Tlaquepaque, you'll feel like you've been transported clear across the Atlantic.
The Arts & Crafts Village is famous for its unique aesthetics, boutique shops, and art pieces. As you walk the streets, you'll see fountains, blown glass, designer clothes made of silk and leather, and a host of other one-of-a-kind items.
Tlaquepaque draws some of the most creative people into one place, and it's not unusual to see an artist working on a piece in the streets. Bring some spending money so you can pick up a few of these quirky items to take home with you — they make great souvenirs!
The United States has so many hidden gems that don't get half the attention they should, and Sedona is certainly one of them. Not every destination so perfectly combines natural beauty with a wealth of fun activities, but Sedona does. You might surprise your friends when you declare your travel plans to Arizona, but maybe they'll be booking their own trip when they hear stories of the amazing things you did and saw.