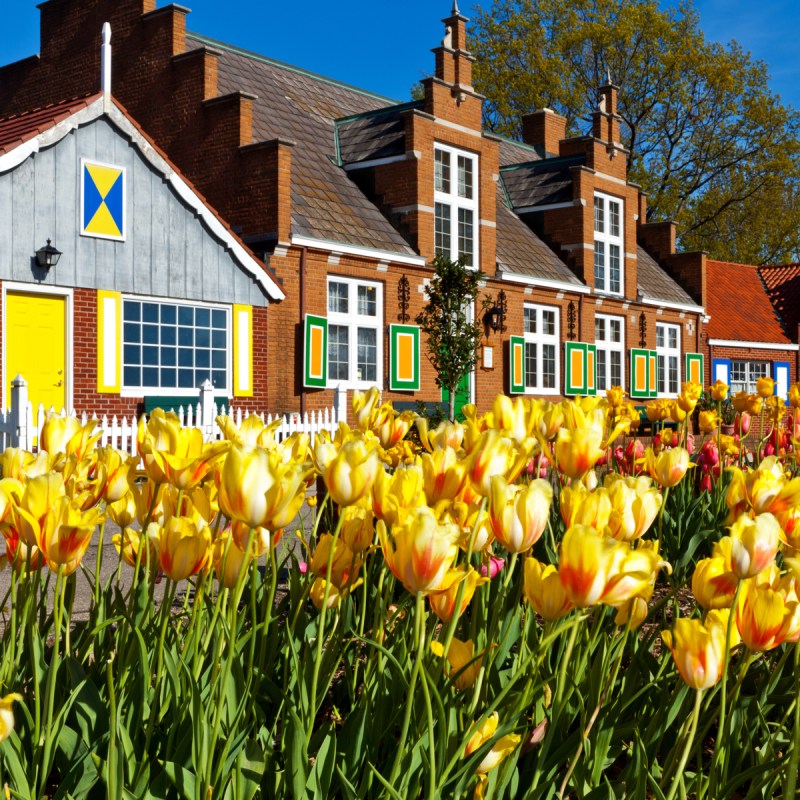 Tulips are some of the brightest, most beautiful harbingers of spring. When they start to bud — and then bloom — you know that warmer temperatures are right around the corner. Back in the 1600s, these flowers were so prized that in Holland, a single bulb could fetch the equivalent of thousands of dollars.
Today, tulips are celebrated across the country at festivals dedicated entirely to them. Usually held in cities or towns with a distinct Dutch heritage, these festivals are the perfect way to celebrate the end of winter.
Here are a few of our favorite tulip festivals across the United States — and the reasons why you should check them out.
1. Tulip Time
Holland, Michigan
It doesn't get more Dutch than Holland, Michigan. The city, about a 3-hour drive from Detroit, is located on Lake Michigan and hosts one of the nation's largest and best-known tulip festivals each year. Tulip Time is an 8-day celebration that features parades, traditional Dutch dance demonstrations, art installations, concerts, and five million blooming tulips planted by the Parks and Recreation Department across the city. New this year: You can even name a blooming bed for your family or loved one. Talk about the perfect floral gift!
Where To Stay
To be in the center of the action, consider staying downtown at one of several hotels there.
What To Eat
Nosh on Dutch favorites like buttery krakelingen, treats filled with almond paste, and saucijzenbroodjes, or Dutch pigs in a blanket. Locally-owned DeBoer Bakery has both.
Pro Tip: Weekends are typically the most crowded times. If you plan to visit then, be sure to book your accommodations far in advance. For more information and tips, see this piece.
2. Skagit Valley Tulip Festival
Mount Vernon, Washington
The fields near Mount Vernon, Washington — about 50 miles north of Seattle — have always been packed with tulips; the Dutch have planted bulbs in the area for more than 100 years. In 1984, after thousands began flocking to the town during bloom season, Mount Vernon leaders decided to add a series of events to the month, and the Skagit Valley Tulip Festival was born. It's since grown to include art shows, concerts, farm tours, a fun run, bike rides, and the Downtown Mount Vernon Street Fair. Many events that require tickets will be available online; check out the festival brochure here. 
Where To Stay
For a charming bed and breakfast stay just a few minutes from the tulip fields, consider the Nantucket Inn in Anacortes, Washington. You'll love the waterfront view from the front porch.
What To Eat
Make plans to visit Kiwanis Salmon BBQ in Mount Vernon for locally caught salmon and terrific sides. It's open from 11 a.m. to 7 p.m. almost every day of the festival. The event is held at the Hillcrest Park Lodge; outdoor seating and to-go orders are available. It's a delicious way to help support the local chapter of this charity group, which sponsors children's programs locally and globally.
Pro Tip: The weather along Washington's coast during the month of April can be rainy and windy. Make sure you pack a waterproof layer!
3. Wooden Shoe Tulip Fest
Woodburn, Oregon
Sometimes, growers host huge parties to celebrate their blooms, and that's the case in Woodburn, Oregon, about halfway between Portland and Salem. Since 1983, the Wooden Shoe Tulip Farm has raised and sold bulbs of all varieties. In 1985, the farm opened its fields on Easter weekend, and the Wooden Shoe Tulip Fest was born.
These days, the farm plants more than 40 acres of tulips and welcomes guests from the end of March until the first week of May. During the week, they sell cut flowers and bulbs. On the weekends, there's plenty of family fun on the farm grounds, including shuttles to the flower fields, a children's play area, and wooden shoe-making demonstrations.
Tickets must be purchased online.
Where To Stay
The Wooden Shoe Tulip Fest makes a terrific road trip from Portland; one of our favorite spots to stay there is the historic and funky Hi-Lo Hotel.
What To Eat
If available, try the fresh berry jam, jelly, or pie. Marionberries are the most famous — they are a cross between two native blackberries, and they were created in Oregon.
Pro Tip: Plan to stop in at the wine-tasting room to sample some of the farm's vintages.
4. Tulip Time Festival
Pella, Iowa
The tiny town of Pella, Iowa, is about 40 miles from Des Moines; it was founded by immigrants from the Netherlands. Pella's Tulip Time Festival began in 1935 as a small party to celebrate the town's Dutch heritage. Since then, it's become an entire long weekend featuring parades, performances, museum tours, a craft market, concerts, auto and tractor shows, and of course, several large tulip displays with hundreds of thousands of blooms in a whole host of colors.
Most events are free; tickets for others can be purchased on-site.
Where To Stay
While Pella has several charming bed and breakfasts, the Amsterdam Hotel is well worth your consideration with its luxe rooms and complimentary breakfast.
What To Eat
Street vendors sell traditional Dutch foods during the event, including delicious stroopwafels, or wafer-thin waffle cookies with caramel-molasses filling.
Pro Tip: Most of Pella's Tulip Time sights are within walking distance, but paid golf cart rides are also available at the festival.
5. Holland Ridge Farms U-Pick Tulips
Cream Ridge, New Jersey
One of the youngest tulip festivals on this list is Holland Ridge Farms' U-Pick Tulips Season in Cream Ridge, New Jersey, located between New York City and Philadelphia. In 2017, the Jansen family planted a million tulip bulbs on their farm in preparation for a festival to celebrate the flower. Thousands came out to enjoy the colors and, for a small price, pick some flowers to bring home. The festival has since become a popular place for families to take photos and have down-home farm fun. It's also recently expanded its plantings — visitors may clip all the blooms they'd like for just $1 a stem.
Where To Stay
There are a number of hotel chains and other accommodation options in nearby Hamilton, New Jersey.
What To Eat
The farm features a bakery barn for sweet treats; there are also food trucks on-site. While guests can bring their own picnics during the week, food and drink must be purchased on-site on the weekends.
Pro Tip: Be sure to grab a bucket and clippers so you can snip your perfect bouquet.
6. Tulip Festival At Thanksgiving Point
Lehi, Utah
Thanksgiving Point is a nonprofit learning and recreation center that seeks to connect visitors of all ages with the natural world. And when it's springtime, it's Tulip Festival time at the destination, located just a short drive south of Salt Lake City. The park's Ashton Gardens are awash with color from April through early May, with more than a quarter of a million bulbs blooming. Attractions include concerts, a children's play area, and plenty of fresh-cut tulips to purchase and take home.
Where To Stay
If you don't want to make the trek back to Salt Lake after tiptoeing through the tulips, there's a SpringHill Suites by Marriott property conveniently located near Thanksgiving Point.
What To Eat
Try the pork osso bucco or prime rib at Thanksgiving Point's Harvest Restaurant. Don't just take it from us; here's more on Thanksgiving Point's dining options from the town itself.
Pro Tip: When you buy your ticket, keep in mind that you can also reserve a preferred time slot for your entry.
7. Albany Tulip Festival
Albany, New York
On Mother's Day weekend, New York's capital city of Albany comes alive with spring blooms, including more than 150 different varieties of tulips. For more than 70 years, the city has celebrated its Dutch roots at the Albany Tulip Festival that's held at Washington Park. The fun includes fine arts exhibits, tulip tours, live music, and a street-scrubbing parade featuring participants in authentic Dutch costumes. More than 100 artisans sell their crafts in the park as well.
The best part? Admission to the event is free. The 2023 Albany Tulip Festival is scheduled for Mother's Day weekend; the perfect opportunity to treat Mom!
Where To Stay
The Washington Park Inn is a turreted Victorian mansion located right in the park. Its five guest rooms are well-appointed and charming, but this spot books quickly for the Tulip Festival! This gorgeous spot is also pet-friendly!
What To Eat
You can't go wrong with Dutch street food, but if you're in the mood for something different, El Loco Mexican Cafe on Washington Park's southeastern corner is convenient and delicious.
Pro Tip: When you've taken in your share of tulips, walk over to Center Square, a charming neighborhood chock-full of historic brownstones and boutiques.
8. Festival Of Spring
Nokesville, Virginia
Just 40 miles southwest of Washington D.C., you'll find the small town of Nokesville, Virginia. It's become a must-stop for the spring, thanks to Burnside Farms, a family-owned farm featuring more than 200 varieties of tulips at its Festival of Spring. More than two million bulbs are planted here each season! You can pick your own blooms, enjoy a picnic on the farm's grounds, and take part in a whole host of activities, including wagon rides to the fields, cornhole games, and even wooden shoes so you can try out your Dutch dance moves! Tickets for all the fun are available online.
Where To Stay
You'll find a whole host of lodging options in nearby Manassas; however, if you want to keep things cozy, check out the Inn at Evergreen, a stately inn dating back to the Civil War era. It's located in Haymarket, about 16 miles north of Burnside Farms.
Where To Eat
For a quick bite (and brew!), head to Cedar Run Brewery at Evergreen Acres. It's also located at a farm, and on the weekends, there's a food truck parked to serve patrons.
Pro Tip: Burnside Farms doesn't put an exact date on its Spring Festival because, as they say on their website, "Mother Nature is in charge." Check back with them in early spring for more information!
Related Reading: