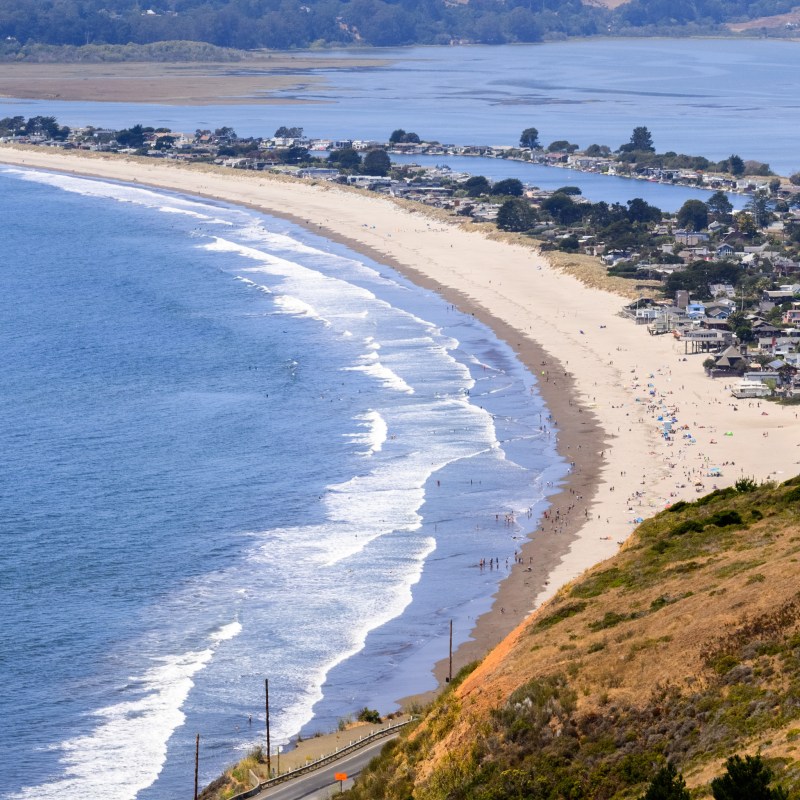 Part quaint oceanside village, part gorgeous white-sand beach, and part stunning hiking trail, Stinson Beach in northern California ticks plenty of boxes when it comes to scenic and entertaining seaside towns.
Located within the Golden Gate National Recreation Area (GGNRA) and the Point Reyes National Seashore, tiny Stinson Beach is situated right in the midst of all of the magnificence that West Marin County has to offer.
Local experts caution, however, that there are no hotels in Stinson Beach, and that parking is limited. And if the day is clear and warm, expect to share the beach with hundreds of other sun lovers.
Still, with a little preplanning, a visitor can spend a delightful day walking along the beach, perusing the rustic art galleries, taking in the beach views from above, and stopping for a lunch of roasted oysters.
On a recent visit to Stinson Beach, I was charmed by both the stretch of white sand dotted with interesting rock formations and the otherworldly views from above along the famed Dipsea Trail.
With its relatively easy access along California's iconic Highway 1, Stinson makes for a great day trip from San Francisco.
Here's how to spend the perfect day in Stinson Beach.
Swimming Or Surfing
As its name implies, Stinson Beach revolves around its lovely stretch of coastline. And although California's Pacific Coast has countless pretty beaches, Stinson stands out for a number of reasons.
First and foremost is the crescent of soft, white sand. From the surrounding cliffs, the beach glistens in the distance, beautifully setting off the feathery, white-capped waves.
Gina Marr-Hiemstra, vice president of the Marin Convention & Visitors Bureau, points out that Stinson Beach's moderate waves and soft sand make it an excellent spot for a variety of water sports.
"It's a very usable ocean at Stinson Beach," Marr-Hiemstra said.
Because of the sandy bottom and relatively shallow depths, the beach is known as a good spot for a dip.
"Stinson's white sand and oceanfront make it one of the best swimming beaches in GGNRA and northern California," states the GGNRA website.
Along with the swimmers and waders, the beach attracts plenty of surfers, boogie boarders, and wind surfers. And in the springtime, visitors can expect to see sea lions lolling along the beach as well.
For beach enthusiasts, a walk along Stinson Beach is pure pleasure. I loved strolling through the fine sand, dodging the gentle waves, and watching teenagers take turns climbing to the top of the craggy rock formations.
Pro Tip: The National Park Service cautions that although it is open year-round, Stinson Beach is only recommended for swimming from late May through mid-September, when lifeguards are on duty. Unexpected large waves called "sneaker waves" can wash farther up the shore than expected, the website says, and rip currents can also be present.
Dipsea Trail
While dipping your toes into the ocean is a not-to-be-missed experience at Stinson Beach, taking in the beach from above is equally gratifying. The popular Dipsea Trail offers both a great workout and stellar views and can be enjoyed in full or in part.
Entire Trail: Mill Valley To Stinson Beach
Fit and experienced hikers might want to try the entire trail, which starts in Mill Valley and ends at Stinson Beach. The trail takes hikers past the Muir Woods National Monument area and includes numerous sweeping views. But locals caution that the trail is rated as strenuous. It encompasses seven miles one-way and about 2,000 feet in elevation gain. Current detours are said to add to the total mileage. Allow half of a day to hike the one-way route and a full day for the out-and-back.
Out-And-Back
For those who want a taste of the Dipsea Trail without the massive mileage and climb, I suggest doing a quick out-and-back hike from Stinson Beach. By venturing a mile or two in, you will be able to take in some great ocean views and forest terrain. But remember that to get to the scenic overlooks, you will still have a steep climb that involves a series of rugged stairways. Expect to spend at least two hours on an out-and-back hike.
Dipsea Trail, Steep Ravine Trail, And Matt Davis Loop
Another option, rated as moderate, is the 7.8-mile loop that takes in a part of the Dipsea, as well as the Steep Ravine and Matt Davis Loop Trails. Although considered less strenuous than the entire Dipsea, the loop requires a 1,781-foot elevation gain, which includes a climb up a waterfall via a 10-foot-high ladder. Expect to take about 4 hours to complete the loop.
Art Galleries
Unsurprisingly, the beautiful scene has inspired a number of local artists to create their own interpretations of Stinson Beach.
Located in picturesque buildings along the beach are a number of art galleries, including Emmeline Craig's Blissful Gallery, which features lovely seaside views in miniatures, prints, and books; and Claudia Chapline's Contemporary Art, with its garden gallery and sculpture garden.
For upcycled denim works of art, check out the Sacred Tide shop located along the Shoreline Highway.
Best Restaurants With A View
Regardless of which activities you choose, exploring Stinson Beach is sure to work up an appetite. Luckily, the village is home to a handful of spots offering everything from casual beach fare to chic seafood with a view.
Here are several restaurants to try. Note that some of these spots have seasonal schedules.
Sand Dollar Restaurant
An institution in Stinson Beach, the Sand Dollar Restaurant was built nearly 100 years ago on three barges in nearby Tiburon. The restaurant's website says that "the barges were floated into Stinson Beach and fused together to form the historic restaurant you can come visit today."
The Sand Dollar specializes in fresh local seafood. Try the oysters roasted in garlic butter or the herbed mussels and pommes frites.
Parkside Cafe
Choose from a full-service seafood-focused restaurant, beach fare at a snack bar, pastries baked on-site, and a marketplace offering beach-themed household items at Parkside Cafe.
The snack bar dates to 1949 and is known for its burgers, fries, fish tacos, and half-and-half soft-serve ice cream cones. For an indulgence after a strenuous hike, try the snack bar's decadent half-and-half milkshake.
Breakers Cafe
Billed as a nautical-themed breakfast and lunch cottage with a big patio, Breakers Cafe specializes in Latin-influenced American comfort food, such as shrimp quesadillas, carne asada burritos, Baja omelets served with shrimp, avocado, Monterey Jack cheese, and pico de gallo.
Siren Canteen
The website for the beachside Siren Canteen says the restaurant is currently offering a limited menu because of an ongoing remodel. But, it adds, "we still have icy beer on tap with a view!"
Day Trips From Stinson Beach
Although Stinson Beach has no hotels, it does offer dozens of vacation rentals. For those who choose to stay for more than a day, Stinson Beach makes a great base for exploring the rest of the area, including the bustling Point Reyes Station and the scenic Tomales Bay.
Point Reyes Station
Featuring an old creamery building, a livery stable, and a hay barn, Point Reyes Station is known as the historic and commercial center of the area.
"As the coast's commercial anchor, Point Reyes Station has at least one — and usually just one — of everything: one hardware store, one grocery store, the only bank on the Marin coast, and likewise, the only feed story, and the only pharmacy," says the West Marin Chamber of Commerce's website.
Tomales Bay
Or, if fresh-from-the-farm oysters sound like a great picnic plan, head to Tomales Bay, where a number of spots sell fresh oysters. Tomales Bay Oyster Company offers wholesale oysters, while Hog Island Oyster Co. offers a Boat Oyster Bar and a Shuck Your Own Picnic Table.
Point Reyes National Seashore
While you're in the area, be sure to explore the Point Reyes National Seashore, with its vast expanse of protected coastline and extensive trails through grasslands, through fir and pine forests, and up to the peak of Mount Wittenberg.
Getting There
You have a few options for getting to Stinson Beach — one via public transportation, and others over somewhat white-knuckle highway routes.
Christine Bohlke, sales and marketing director for the Marin Convention & Visitors Bureau, suggests considering public transit first, noting that visitors could drive all the way to Stinson Beach and not find a parking place.
The National Park Service website points out that Stinson Beach parking lots often fill up before noon. On sunny summer weekends, Bohlke said visitors often arrive by 5 a.m. to get a spot at one of the picnic tables.
A number of shuttle options are available on the Marin Transit Stagecoach website.
Driving options are also available — either the hour-long drive from San Francisco to Stinson Beach via Highway 101 and Highway 1, or via Mill Valley and the Panoramic Highway. Either way, expect winding roads and heavy traffic.