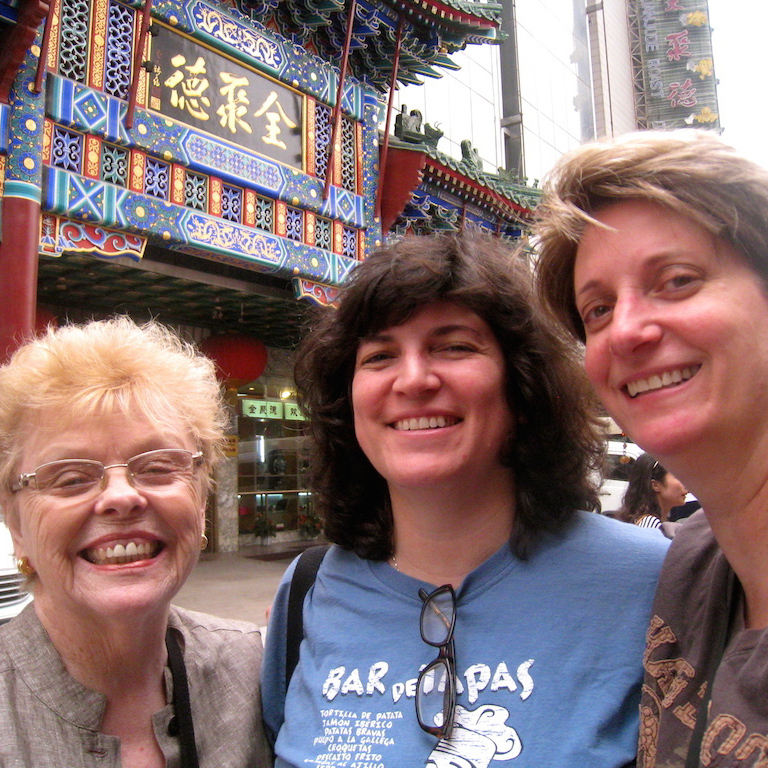 Many of us who are in our 50s and beyond have parents who are in fragile health. Sometimes we dismiss the idea of traveling with an elderly parent because there are challenges that make it seem so daunting that we just don't know how we would manage. But with some creativity, flexibility, and advanced planning, you might just end up with the trip of a lifetime — a trip that both you and your parent will cherish. That's certainly what happened to us when we took Diana's mother, Nancy, to Beijing.
Dreaming Of Beijing
After mentioning to Nancy that we'd be going to Beijing on business, she confided that she had dreamed of going to China since she was a little girl. Her fourth-grade teacher had read her The Story About Ping, a book about a duckling living on the Yangtze River, and from then on China had been her dream destination.
Hearing her excitement, we knew this was a bucket-list item for her. She was 80 years old and had diabetes as well as a few other physical challenges. Knowing that Beijing is a big city with millions of people, we had concerns, but we decided to take her along and make her dream come true.
Challenges Along The Way
The first issue was getting Nancy a passport. Her prior passport had expired, and she had multiple name changes as a result of divorce, so it was no easy feat. However, she was so motivated that she managed to get her paperwork together and even found a friendly helper at the post office. The lesson we learned is not to underestimate what elderly people can accomplish when they really want something.
The next challenge we faced was the flight. Since Nancy was nervous about flying alone, one of us had to meet her in Los Angeles and travel with her. Sue went to Beijing, while Diana accompanied her mom. We called China Airlines to be sure they could keep her insulin in the plane refrigerator, and we ordered a diabetic-friendly meal in advance.
The flight from Los Angeles to Beijing took 13 hours. We made sure we had plenty of movies to watch and snacks for Nancy. We also brought a travel guide on Beijing, and we took advantage of the long flight to learn about the things Nancy wanted to see and do.
Tips For Traveling With An Elderly Parent
It's important to have realistic expectations of what you can accomplish with an elderly parent. They move slowly and get tired easily. Nancy also needed to eat at regular intervals, stay well hydrated, and have candy on hand in the event of low blood sugar. It took serious convincing to get the fashion-conscious Nancy to bring some sensible shoes, but we did it!
When it came time for the big attractions, we took our time. The Forbidden City was one of Nancy's favorite stops. We didn't make it all the way through, but she was thrilled anyway. When your elderly parent says she is tired, you need to stop and go home — even if you had planned or wanted to do more.
Remember that you will likely be carrying your parent's supplies, so bring a backpack or roomy purse. Consider taking taxis to avoid long walks and other logistics issues.
The Great Wall was also on Nancy's bucket list. With a little research, we discovered that the Mutianyu part of the wall has a gondola that takes visitors up the hill and drops them off. You can explore as much as you'd like, and then take it back down. We hired a guide to drive us there and help Nancy get into and out of the gondola. That way, she got to see the Great Wall's magical views and take lots of photos — all without overexerting herself.
When traveling with an elderly parent, it might be helpful to pay for a hotel where you can get personalized attention. We splurged on a stay at the conveniently located Peninsula Hotel on a club level. While this wasn't necessary, Nancy felt special when she was greeted in the afternoon by her favorite tea and the same smiling faces.
The Benefits Of Taking Your Time
If we had been on our own, we would have gone to many more places, gotten up early, gone to bed late, and covered a ridiculous amount of territory, as we do every time we travel. But being with Nancy helped us focus on the quality of every experience, making sure that each was as comfortable, memorable, and fun as it could be.
For instance, we went to Quanjude, a famous authentic Beijing duck restaurant offering both delicious food and wonderful entertainment. That was our big event for the day. When we went to see Chinese acrobats, we ate at a little restaurant nearby, making it easy to get to the theater on time. We ate hot pot and sizzling platters, which provided enough fun and local experience that we didn't need to find other things to do. Nancy discovered lotus roots at one of these spots, and after that, she wanted to have them everywhere. You're never too old for the joy of discovery through travel!
Memories To Treasure
When we returned home, Sue made a beautiful photo book for Nancy, who told us over and over again that it was the trip of a lifetime. Apparently, she told lots of other people too, because they let us know how much they enjoyed hearing her stories.
Nancy died unexpectedly shortly after our trip to Beijing. As with the death of any beloved parent, it was a difficult loss to bear. Our memories of Nancy having the time of her life exploring her dream destination with us certainly lightened the load.
Unfortunately, we never know when our time with our loved ones will be up. If you have been considering traveling with an elderly parent, we'd advise you to plan ahead and make it happen. We probably never told Nancy that while it was the trip of a lifetime for her, it was for us, too. We continue to treasure our memories even though she is no longer with us.
It may not be easy, but it can be done. Take your time and plan ahead. Get help if you need it, and keep your expectations realistic. Traveling with an elderly parent takes patience and love, but that's what makes it one of the best decisions you'll ever make.