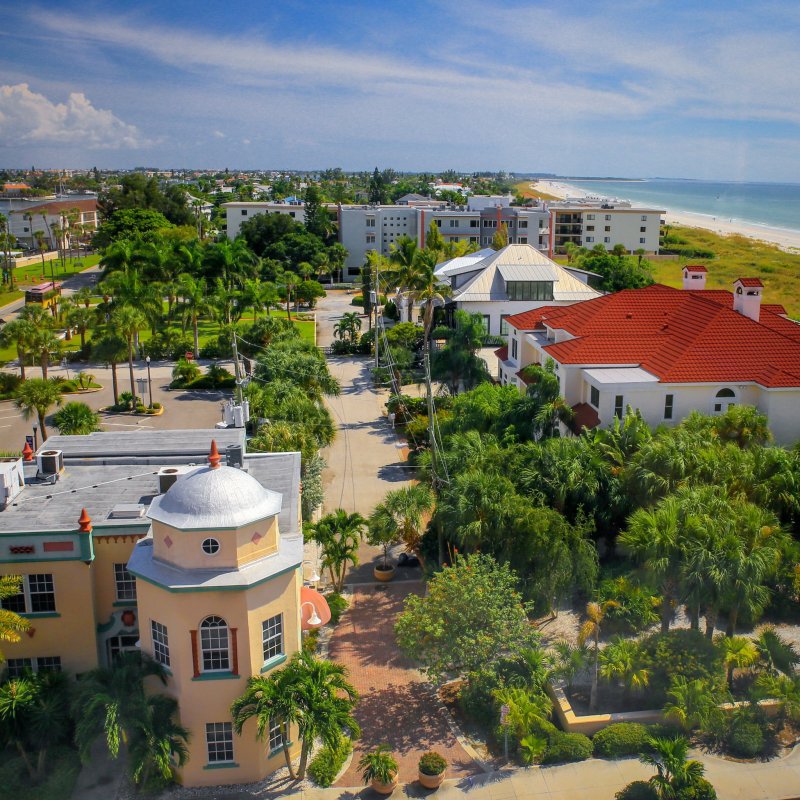 Pass-a-Grille, Florida, is located at the southern end of St. Pete Beach. I was invited to visit, and my lodging and a Sunset Cruise were provided for. That said, all opinions are my own, and it's my opinion that Pass-A-Grille is where you will find Authentic Florida.
There are no fast-food restaurants, corporate shops, or tall high rises. Pass-a-Grille is where you will connect with the beach and your inner soul. This area may be small in size, but it is mighty when it comes to things to see and do.
1. Eat Breakfast On The Beach
Paradise Grill offers waterfront dining with a view you will carry with you all day long. Enjoy eggs, bacon, toast, or whatever your breakfast calling is. The staff at this beach establishment will serve you up the breakfast that you order with a smile. Live music begins early in the day, so plan to hang around after you have devoured your breakfast with a view. There is often an art fair located near this restaurant, so stick around for the arts and crafts that the locals have to share.
2. Shop On The World's Smallest Main Street
Pass-a-Grille is proud to be home to the World's Smallest Main Street. Shop owners love the fact that folks come from all around to shop in their town. Main Street may be short and small, but the shop owners are mighty. The merchandise is quirky, fun, creative, and artsy. If you need a T-shirt or hat to commemorate your visit, they have those as well. While you are strolling, take a moment to sit in one of the colorful beach chairs that line the sidewalks and take in the view. If you look to the west, you will see the beach and the colorful Gulf of Mexico.
3. Take A Walk On The Beach
Walking on the beach is something that everyone needs to do when they visit this charming beach town. The sand will sink between your toes, and if you are lucky, sunset will be one to write home about. The beach is fairly narrow, which makes it easy to get to the water. It's important to note that there are benches along the walkways to and from the beach. This makes a perfect spot to sit and watch the sun drift down into the sea as your day comes to a close. Have a shell bag with you; you never know when that perfect shell will wash up on your feet.
4. Visit Shell Key
Shell Key is a small island off of the south end of Pass-a-Grille. Visitors can kayak to the island or hop on the Shell Key Shuttle, which boards at Merry Pier. The 1,800-acre Shell Key Preserve includes a barrier island known as Shell Key. Birding is fabulous on this island, as is the shelling.
Everything that you bring to the island must go off the island with you. This is truly one of Florida's most primitive areas that is accessible to visitors. Read the signs on the island and obey them. It's important to keep the island as natural as possible so its ecosystems continue to thrive.
Visit during the week for a quiet experience and an opportunity to connect with nature. Most importantly, know what time you need to meet your captain to come back to the Merry Pier. Be prepared for your stay on the island by dressing in layers and packing binoculars and bottled water.
5. Experience A Sunset Cruise
The Shell Key Shuttle offers sunset cruises, and they are a delight when the weather cooperates. The rich red-orange color of the sky is something you will carry with you for a long time. Reserve your spot on this cruise at least an hour and a half before departure. Due to the fact that sunset times vary throughout the year, the departure times vary as well. Call ahead (727-360-1348) to reserve your spot.
Parking passes are available for the metered parking, so be sure to inquire once you check in for your sunset cruise. Cruisers can bring snacks, food, and drinks with them if they wish. This is an inexpensive way to experience the beauty of this area of Florida, as the cost is under $30 per person.
6. Visit The Historical Museum
Gulf Beaches Historical Museum is home to a lot of history about the area. I found the volunteers to be extremely knowledgeable, and they also had great meal suggestions. A church that was built in 1917 has been repurposed as a museum that opens its doors year-round to visitors. Keep in mind that during the winter, hours vary a little bit. Be sure to check the website for current hours of operation.
Several newspaper clippings and postcards are featured in this museum. It was fun to visit with one of the volunteers whose family members were featured in these clippings; one readily shared his love of Pass-a-Grille and the beach town that he calls home. This museum is free to all who visit.
7. Hop On A Beach Cruiser Bike
Rent a beach cruiser from Wheel Fun Rentals and explore the beach in a new way, or — my suggestion — stay at the Coconut Inn and use the beautiful beach cruiser bikes they maintain for their guests. There's something carefree about riding a bicycle on the beach. The wind catches you and the views take your breath away. Pass-a-Grille Beach offers all of this and more. The streets are bicycle-friendly, too, and in some places, there are bicycle lanes.
8. Experience Deep Sea Fishing
If you are a fisherman or are a want-to-be fisherman, a Pass-a-Grille visit may be just what you need. Spend a day out on the water on a half- or full-day fishing trip. Miss Pass A Grille is waiting for you to board at Merry Pier, located at 801 Pass-a-Grille Way.
If deep sea fishing is something you have dreamed of doing, this is your opportunity. Trips vary in price from $50 to $75. Call 727-367-9833 to reserve your spot. This pier is located across the street from the Seahorse Restaurant, where I highly suggest you grab a bite to eat for breakfast or lunch. I personally loved their biscuits and gravy.
9. Ride The Mini Bus
What was once a bus stop in Pass-a-Grille is no longer a traditional stop, but does serve as a stop for the Pass-a-Grille minibus. Use the Freebee app to reserve your ride around Pass-a-Grille, or just flag down a minibus you see out and about. The mobile app allows riders to see where the bus is, so they know about how long their wait will be. Keep in mind, this is a relatively small area, so it is mostly walkable. The electric minibus can be seen driving around, and it makes for a fun way to experience the sights and sounds of the area. This is a great way to tackle the hard-to-find parking, and a fun means of traversing the streets of this authentic Florida town.
Parking will most likely be your biggest challenge in Pass-a-Grille. The best tip I can give you is to grab the first metered parking space that you find on your visit. The time of year you visit will most likely determine how difficult parking will be. I visited this charming Florida town in January, and parking was not an issue. To ease your parking woes, book a night of lodging at one of the properties in town. The parking spaces your reservation will afford you — and proximity to all of the attractions — are worth their weight in gold.
Have fun as you explore this authentic Florida destination. The beautiful waters and sunsets will stay in your memory for a long time. Embrace the culture and experiences that you can only find in Pass-a-Grille.
Looking for your ideal FL beach destination? These are the best Florida beaches that typically aren't ridiculously crowded.