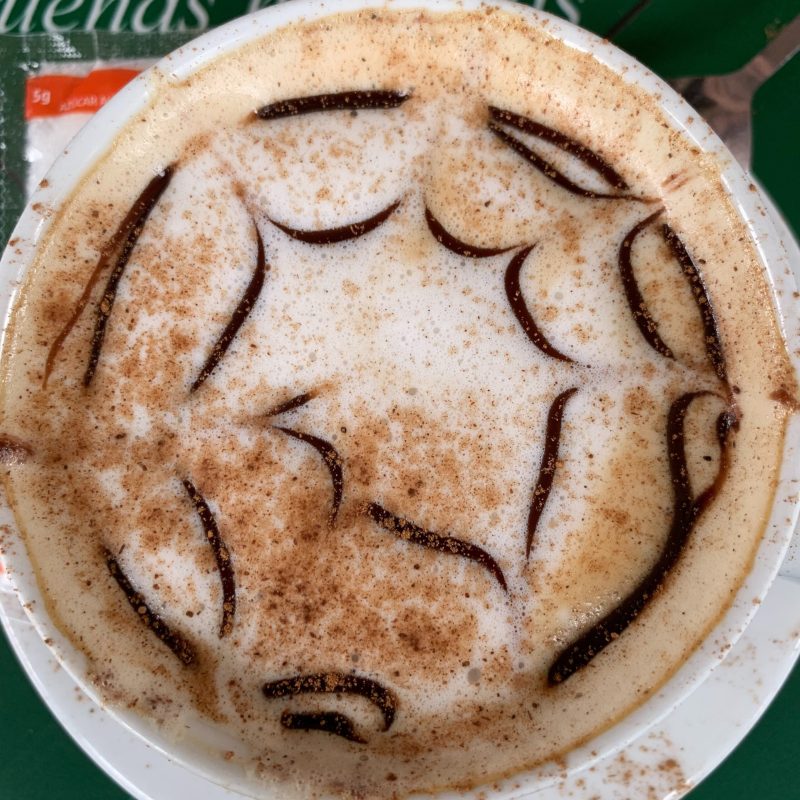 Traveling the world full time for two years, I knew I'd make many personal discoveries, but I didn't expect food and drink to be such major themes. Being open to local delicacies helped me have a deeper experience of each country. Here are some of my favorites.
Ceviche And Black Coffee, Colombia
While driving in Cali, Colombia, with a Colombian friend, we pulled over so he could order a cup of ceviche from a street vendor. They opened a cooler section, prepared the fish, and handed it to my friend. He offered me a taste. I was positive I'd get food poisoning. Instead, I ended up eating a fantastic mix of shrimp and spices.
Tip: The Mercado Alameda offers a great selection of ceviche and other excellent foods, including arepa.
Rumors about the coffee in Colombia being some of the best in the world are true. It's so good you don't need milk or sugar to improve the taste.
Tip: If you bring any coffee home, customs agents may poke holes in the vacuum-sealed bags at the airport to ensure you aren't carrying drugs. Bring Ziploc bags and plan to freeze the beans or drink them quickly once you get home.
Asado And Yerba Mate, Argentina
While you may know Argentina for the malbec and the beef, you haven't truly experienced this great country unless you try an asado: a plate of grilled meats such as beef, intestines, pork, sausage, and chicken.
Tip: Try a tenedor libre and you'll get to bring your plate up to the grill master, point to the sizzling meat on the grill, and eat all you want for a fixed price.
Yerba mate isn't an alcohol. It's closer to a tea. Locals drink it all day long and carry their mate wherever they go. Though it's rumored to help lower cholesterol and improve focus, its true magic is creating connection.
Tip: If a stranger invites you to share a mate, and you're up for saying yes, you'll find yourself in an enriching cultural discussion.
Alpaca, Corn, And Pisco Sour, Peru
After seeing alpaca roam the hills of South America, I didn't expect to eat them. I was even more surprised (and felt guilty) by how much I liked it. Alpaca is a hearty meat with no cholesterol. Turning to vegetables, the corn kernels are so big in Peru I thought, at first, the corn was fake. The taste is richer than North American corn, and it's worth trying both the cooked version and the dried, toasted corn snacks available throughout the country.
Tip: Try the corn and alpaca cooked three ways at Sonccollay in Arequipa.
I'd never tried pisco until I got to the north of Chile. I learned that Chileans and Peruvians argue over who invented it. The pisco sour, for me, is fundamental to your experience of Peru.
Tip: If you drink at high altitudes, it will go straight to your head. Better to try it out in Lima, but be warned that one won't be enough!
Tannat And Lamb, Uruguay
One of the best wines I ever tasted was in Uruguay. I found myself wondering how I'd never heard of tannat before but learned that Uruguay is such a small country they don't have the means to export large quantities. Too bad for all of us.
Tip: Visit the Bouza vineyard outside Montevideo for an intimate wine and food tasting.
Ask my mother, and she'll back up that one of my favorite foods in the world is lamb chops. I was shocked to find the ones in Uruguay dramatically more tender, less fatty, and richer tasting than those from Ireland or New Zealand.
Tip: Lamb chops are called cordero in Uruguay. In Montevideo, try them at El Palenque. In Colonia del Sacramento, go to La Florida, but note that it has random opening hours and limited seating.
Ostrich, Kudu, Warthog, Pinotage, Amarula, And Red Cappuccino, South Africa
In Africa, I'd see wild game on safari and then be surprised to find them on the menu. Eating game made me feel less guilty than eating llama.
Watching the comic gait of a running ostrich while on safari, I didn't expect to eat any. This was one of my favorite foods in Africa.
Tip: You'll find ostrich served as steaks and burgers. For an excellent ostrich steak in Cape Town, head to Free From Eatery.
Kudu, the animal that, as an adult, has beautiful antlers that twist three times, was my second favorite meat. It's a steak without the gamey taste or cholesterol. However, the meat that surprised me was warthog. If you're unfamiliar with this beast, look up Pumba from The Lion King. In real life, it looks like an ugly pig that made me chuckle because its neck is so short it has to kneel on its tiny front legs to drink from waterholes. It proved harder to find on menus, but I was able to taste the ribs, which are spectacular and have less fat than beef or pork ribs.
Tip: In Cape Town, go to Arnold's Restaurant for excellent warthog and kudu loin.
Before coming to South Africa I had never tasted pinotage wine. I found it ranged from drier to fuller bodied. The grape is a cross of pinot noir and cinsaut. It was created in 1925 by Abraham Izak Perold, a professor at University of Stellenbosch.
Tip: Two of my favorite vineyards were Groot Constantia in Cape Town and Remhoogte in Stellenbosch.
Amarula is South Africa's famous liquor. It's similar to Bailey's Irish Cream and just as enticing with its smooth, sweet flavor. With only 17 percent alcohol content, you'll want more than one glass.
Before going to Africa, I thought rooibos and hibiscus tea were the same. I was mistaken. Though I liked rooibos better, I found it weak. This is why I was surprised by my Namibian friend when she ordered a red cappuccino at a cafe. I asked her what it was, and she explained it was made from red espresso, a strong version of rooibos. Once I tasted it, I was hooked. It's delicious both as espresso and cappuccino.
Tip: Both drinks lack caffeine so you can drink them all day.
Tom Kha Soup, Thailand
I've been a fan of this soup for years in America. Thailand ruined that for me, forever. I had known it as a lime-flavored coconut broth with a couple pieces of meat and a few vegetables at the bottom. The broth was my favorite part.
In Thailand, I learned the soup is actually a meal. The meat and vegetables come all the way to the top of the bowl and the broth has every flavor known to the mouth: sweet, sour, bitter, salty. The convergence of flavor and heartiness took my breath away. I took a cooking class in Chiang Mai and was flabbergasted at how good it was even when I made it myself.
Tip: If you venture to Chiang Mai, try the Thai Farm cooking class. When in Bangkok, order Tom Kha soup at Chilli Culture Thai Kitchen.
Hanoi Spring Rolls And Egg Custard Coffee, Vietnam
In America, spring rolls are more roll and less filling. The Hanoi spring roll is the opposite — overfilled with meat, vegetables, and spices, then rolled in a thin sheet of rice paper and fried to perfection. I had the pleasure of making them from scratch in a cooking class and then eating them with my classmates.
Tip: If you want the best of the best, take the Blue Butterfly cooking class if you're in Hanoi.
I've loved Vietnamese coffee for years, but never imagined I'd drink a coffee with egg custard. I don't know who thought of that combination, but it works. It's a rich blend of flavors but worth having at least once in your life.
Tip: Try S'Patisserie in Hanoi, where you can combine your egg coffee with a great pastry.
Haggis And Neeps And Scotch, Scotland
I've loved blood sausage and black pudding all my life, so it's no surprise I enjoy the haggis in Scotland. Combined with neeps — mashed root vegetables — it stole my heart, and hopefully won't clog my arteries!
Tip: My favorite plate was at Stravaigin in Glasgow.
Obviously you can't go to Scotland without trying the scotch whisky. I fell in love without falling off my chair at the many tastings I did. My favorites were Aberfeldy, Dalwhinnie, and the cream liquor at Edradour.
Porto And Passion Fruit, Portugal
I was very familiar with this fortified wine before going to Portugal. What I learned, however, is that it comes in rose as well as white and red. Several samples in Porto led me to better understand the range of sweet to strong flavors from aging the wine.
Tip: When in Porto, enjoy a tasting at Graham's.
I associate great passion fruit with Central and South America. Therefore, I was pleasantly surprised to find them in abundance in Madeira. I had no idea there were so many varieties.
Tip: Visit the Mercado dos Lavradores in Funchal for a fabulous selection.
I believe that openness to local customs includes trying food and drinks you can't get at home. I think the real value of trying new cuisines, however, is the pleasure you give your international hosts and developing a deeper understanding of each of the cultures you take the time to explore.
Hungry? These are the best places to eat paella in Barcelona, Spain; the best gelaterias in Italy (and what to order when you visit); and how to do a taco crawl in Los Angeles.