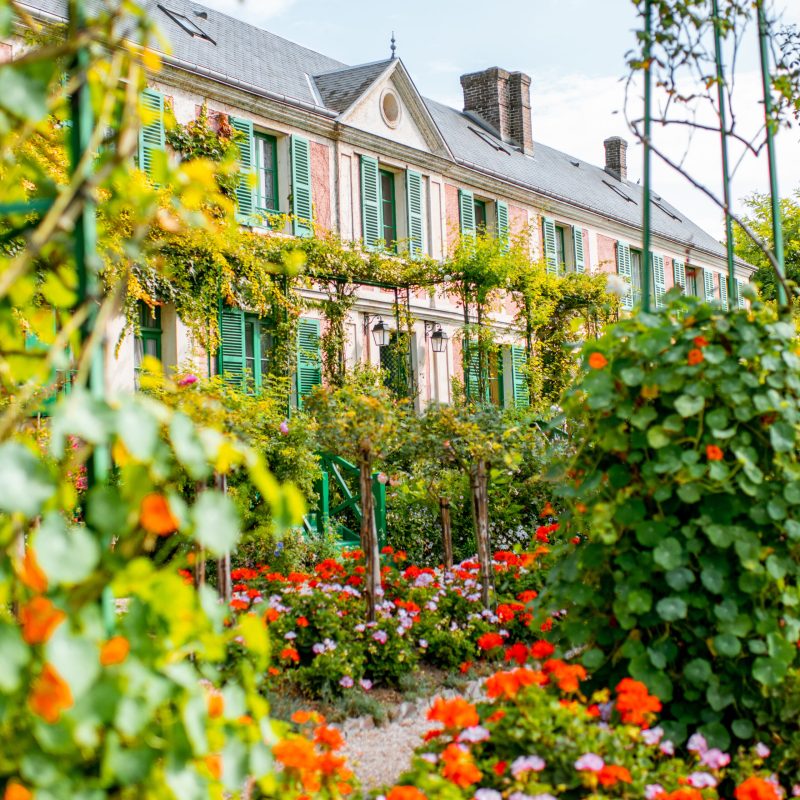 Giverny, France, is best known as the home of Impressionist painter Claude Monet. Not only did Monet live here, but he also painted its gardens for the world to enjoy. You can visit these gardens today, planting yourself in essence in the middle of a Monet masterpiece.
Monet moved into the residence at Giverny in 1883. He was riding the train through rural Normandy, saw Giverny from the window, and decided it would be the perfect place to paint outdoors. Monet was a key figure in the plein air (outdoor) school of painting. All he had to do in Giverny was step out his back door to find colorful flowers, a Japanese bridge, and his beloved pond. These would become the subjects of many of his great works.
A day spent wandering in the footsteps of Monet in Giverny is a day well spent, and it's easy to get to his home from other towns in Normandy or from Paris.
Here's how to make the most of your time in Giverny.
Ride The Train
Giverny is located on the Seine about 50 miles from Paris; it's an easy train ride from Gare Saint Lazare. You can purchase tickets to the closest town, Vernon, on the same day as your visit without a problem. Start in the morning to give yourself time for the 45-minute train ride and a full day of touring Giverny.
Take A Shuttle
Giverny is a 15-minute shuttle ride from the train station at Vernon. The shuttles come and go on a regular basis, so you won't have to wait long after getting off the train.
If you're hoping to get a bit more exercise, you could rent a bicycle in Vernon and ride to Giverny. The route is a beautiful one of rolling green hills and small farms. I wanted more time at Monet's house and gardens, however, so I opted for the shuttle.
Pro Tip: When you arrive in Giverny, check out the shuttle schedule or take a photo of it. You will want to plan your return trip to Vernon in advance so as not to miss the last shuttle of the day.
Head For The Renowned Gardens
Buy your entrance ticket at the house and enter the gardens. The first section you'll come to is the Clos Normand, the original garden right outside the house. Spruce trees and an apple orchard once grew here. Monet immediately set about painting these, but he was constantly modifying his 2 acres at Giverny, so he soon replaced the trees with the flower beds and graceful arches that are still present today. His wife objected to uprooting the spruce trees, but she lost the argument.
Monet preferred beds of daffodils, tulips, irises, oriental poppies, and peonies for a riot of color. He created and lived in his own palette. Today, his garden boasts 100,000 annuals and an equal number of perennials.
The yellows, purples, and reds of fall filled the garden on the day we visited, but whenever you visit, you'll find an abundance of seasonal blooms. I was hesitant to go, thinking it would only be worthwhile seeing the flowers in the spring. Happily, I was wrong.
Pro Tip: The Claude Monet Foundation provides a handy calendar of what will be blooming each month.
Relax In The Water Garden
Next, you'll step into the world of water lilies that you've undoubtedly seen in Monet's art. You can even stand on the curved bridge featured in many of his paintings. Circle the pond and enjoy the ambience.
Monet designed this water garden, with its willows, maple trees, and bamboo. He loved spending time here painting, and he often received guests here.
In his later life, Monet worked on a series of massive paintings of this garden. Some of them are now on display at the Musee de l'Orangerie in Paris, near the Louvre. The museum, built especially for Monet's art, showcases Monet's water lilies painted at different times of the day in different lights.
When asked why he filled the pond with lilies, Monet replied, "I love water, but I also love flowers. That's why, once the pond was filled with water, I thought of embellishing it with flowers. I just took a catalogue and chose at random, that's all."
The rest is history.
Tour The Charming Home
From the garden, head to Monet's home. Monet lived in this pink stucco house for 43 years until his death in 1926. He and his wife had eight children, so you can imagine how full of life the home was in its prime. Today several of the rooms have been renovated with period furniture and colors to show how they looked when Monet lived here. Reproductions of his paintings hang throughout the house.
My favorite room was the kitchen, with its bright yellow dining chairs and blue tiles made in nearby Rouen. The family prepared meals using foods grown in the garden, and they used the gleaming copper pans that you'll see on display. It's quite a cozy room.
Stop By The Gift Shop
The Emilio Robba shop carries a variety of Giverny-themed items. You can take home Monet's artwork on anything from bookmarks to scarves to calendars, and you can pick up soaps scented to match the garden flowers.
Pro Tip: Monet's house and gardens are open from April 1 through November 1. Check the Claude Monet Foundation website for more information.
Explore The Museum of Impressionism
Just a 3-minute walk from Monet's house and gardens, the Museum of Impressionism displays art of the late 1800s and early 1900s. Rotating exhibits feature works by Monet as well as his contemporaries. The museum charges a nominal fee, and the gardens are free.
A cafe at the museum is open all day for snacks. Meals feature quiches, salads, and grilled meat and seafood.
Visit Monet's Grave
A short way from the house, along Rue Claude Monet, is the Eglise Sainte Radegonde de Giverny. This church dates to the medieval period. After seeing the inside, walk outside to the cemetery to pay your respects at the final resting place of Monet and several of his family members. The crew members of a World War II Royal Air Force plane that crashed nearby are also buried here.
Eating And Drinking In Giverny
You will likely be at Monet's home at lunchtime. All you need to do is cross the street to enjoy a sit-down meal at Les Nympheas. Set in an old farm, the restaurant offers outdoor seating on a terrace decorated with flowers, perfect on a pleasant day. The traditional French menu items feature Monet's own recipes. The fresh local fare and artisan ice cream make this a memorable experience.
If you're in a hurry to catch the shuttle back to Vernon, ask for a meal box to go.
Another choice for lunch or dinner is the restaurant at the Hotel Baudy in the village of Giverny. Open seasonally, the restaurant offers Norman cuisine in a 19th-century setting.
Accommodations In Giverny
A popular hotel in Giverny is La Maison de Madame Baudy, a family-run guesthouse and restaurant in the center of the village. The Museum of Impressionism as well as Monet's house and gardens are within walking distance.
Giverny is in the countryside, so you'll find many bed and breakfasts in the area. The town's official website has a list.
A day at Giverny is like immersing yourself in pleasing artistic scenes. It's a definite change of pace from the bustling city of Paris — a world away, but close enough to visit on a day trip. Take your time wandering the flower-lined lanes and sitting by the lily pond. It's sure to be delightful.
Want to enjoy Paris off the beaten path? Check out these hidden gems, delightful shops, surprising things to do, and lesser-known churches in the city.