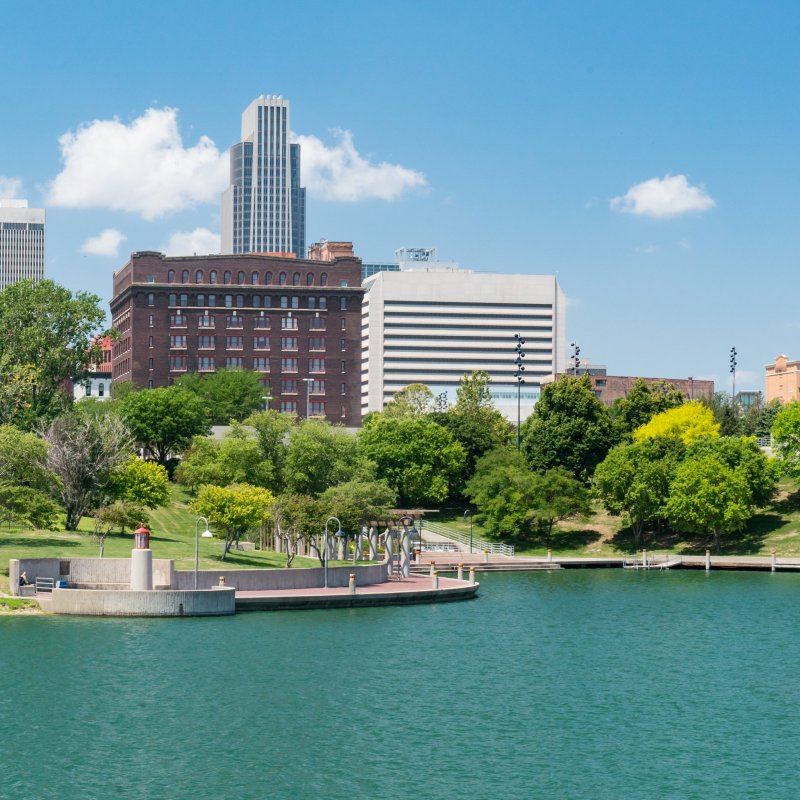 Omaha may be best known as the home of great steaks. While that reputation, which dates back to the days when the city was home to the world's largest stockyards, is certainly well deserved, Omaha's culinary scene has grown to include plenty of other options, including vegetarian and international ones.
In fact, visitors might not be aware that Omaha is home to some truly unique dining experiences, from dinner with raccoons to a massive cheeseburger-eating challenge.
Here are seven of the city's must-try restaurants — you won't find places like these anywhere else!
1. Alpine Inn
Alpine Inn serves up some of the best fried chicken in the country, but the real draw for diners is the local wildlife. What started as a way to get rid of chicken bones and other food has become a tourist attraction. Every evening, staff members dump leftover food and bones onto scaffolds just outside the restaurant's floor-to-ceiling windows, and dozens of raccoons and feral cats dine on the fixings. Some of the raccoons come from as far away as 2 miles for the feast! Customers gather around the windows to watch the animals devour the food.
If you only want to enjoy the delicious chicken dinner, you might want to arrive in the early evening. If you want to dine with the raccoons, plan to have dinner closer to sunset. The later you stay, the more raccoons and cats you'll see.
Whether you go for the food or the show, you'll be sure to enjoy your experience at Alpine Inn.
2. Harold's Koffee House
Walking through the door of Harold's Koffee House is like traveling back in time to the 1950s. Founded by Harold Halstead, a former shoe salesman, in the Florence neighborhood, Harold's quickly became known as a place to enjoy a delicious meal at a reasonable price. Halstead knew he needed something unique to attract customers, so one day he bought an orange sign with black letters spelling FOOD. The sign still hangs above the entrance. Halstead was also famous for wearing a white paper cap while he cooked.
Halstead's family was involved with the business early on, and it was his wife, Pauline, who created the dish Susie's Special. Their daughter Susie was sick and wanted her mother to make something for her to eat, so Pauline added some fresh-cut hash browns and onions to a scrambled egg. The dish was a hit with customers and remains one of the establishment's most popular items.
When Halstead retired, his children took over the business. Today, grandson Matt Bohnenkamp runs the restaurant along with his mother. Harold's welcomes first-time visitors with a free donut.
3. Stella's Bar & Grill
This Bellevue greasy spoon is perhaps Omaha's best-loved burger joint; it's known for serving up burgers without plates or silverware, and people use napkins (and plenty of them) as plates. You can order your burger with all kinds of toppings, including peanut butter, bacon, eggs, jalapenos, and jelly.
What's more, Stella's Bar & Grill offers diners an opportunity to get the Stellanator — six burger patties, six slices of cheese, six fried eggs, 12 pieces of bacon, and all types of toppings, plus an order of French fries — for free. The catch? You must eat it within 45 minutes. If you succeed, you'll get a free T-shirt and your picture on the Wall of Fame. If you fail, you'll pay $35 and get your picture on the Wall of Shame. One competitive eater managed to down the Stellanator in 3 minutes and 40 seconds!
Seating is limited, so be prepared for a wait.
4. Brother Sebastian's Steak House & Winery
Brother Sebastian's has been around since 1977 and is still considered one of the best steakhouses in Omaha. When the original structure was destroyed in a 1996 fire, owner Loren Koch quickly rebuilt according to the original design.
The building resembles a Spanish mission, and the waiters wear uniforms resembling religious habits. The restaurant's dining area is designed to look like a monastery, including a library and a wine room. In the low light, you'll feel like you're actually dining with monks.
While most steakhouses want to be known for their steaks and prime rib, Brother Sebastian's is also proud of its salad bar, which is one of the best in the city. The restaurant also boasts an outstanding wine selection.
5. Malara's Italian Restaurant
Widowed at 32 and needing to care for her four young daughters, Caterina Malara turned to what she knew best: cooking. The Italian immigrant (by way of Argentina) sold homemade ravioli from her home.
After a few years, she began to look for a site to continue her business. Rotella, a local bakery, rented a spot to her, where she sold sandwiches and ravioli through a takeout window. Later, an opportunity came to buy the building, but she didn't have the money to complete the deal. A family friend lent her the money so that she could grow her business.
Located in a residential neighborhood between downtown and South Omaha, Malara's has grown quite a bit over the past 35 years. With her daughters and grandchildren helping her, Malara has continued to cook well into her 80s. She still uses the old-fashioned pasta maker that she once used to prepare ravioli in her basement.
Her pasta has a unique texture and a special homemade sauce, and her restaurant offers a charming, family-friendly dining experience. You might get a hug from the matriarch after dinner!
6. Sage Student Bistro At Metropolitan Community College
At Sage Student Bistro, which is managed and staffed by students of the Metropolitan Community College's culinary arts program, you can enjoy unique and delicious entrees. The restaurant is designed to help students learn about restaurant management, and each student works as a server, floor manager, and in the kitchen.
Open daily during school terms, the restaurant offers a casual lunch, such as sauteed shrimp and pasta or a short-rib grilled cheese sandwich. Dinner is upscale, requiring reservations. Diners sit at tables covered in white tablecloths while they enjoy evening entrees such as chicken roulade and beef striploin.
Before you go, you'll want to check the website for hours and the menu.
7. The Monster Club
Classic horror film fans aren't sure if The Monster Club in the Old Market is a museum with food or a restaurant with a scary decor. However you look at it, a visit to the spot is a must!
Opened by horror-movie and pop-culture fans, the restaurant's decor features movie posters, props, and life-size sculptures of classic horror-movie creatures such as the Werewolf, Pennywise the Dancing Clown, and the Gremlin. Situated above each booth is a scary character climbing out of a window; you'll see Dracula and Freddy from the A Nightmare on Elm Street movie series. Customers are encouraged to walk around The Monster Club taking in the views.
The menu features burgers and sandwiches with scary names, such as the Monster Burger, the Son of Monster Burger, and the Chainsaw. The cocktails also have unique names, including the Hiya Georgie and the Corpse Reviver.
While it might be scary for some little ones, the restaurant does offer a children's menu.
What To Do In Omaha Before Or After Your Meal
While you're in Omaha, check out some of the city's best attractions before or after enjoying an outstanding meal.
Omaha is home to the Henry Doorly Zoo and Aquarium, one of the world's best zoos. You could spend an entire weekend exploring the zoo's many attractions, including the African Grasslands, Desert Dome, and Lied Rainforest Jungle.
Just a couple of blocks from the popular Old Market historic area, the Durham Museum, located in a former train depot, offers a look into the area's railroad and pioneer history.
Omaha's riverfront is another great area to visit. Walk along the Lewis and Clark Landing en route to the Bob Kerrey Pedestrian Bridge, the largest pedestrian bridge connecting two states.
Want to learn more about Omaha's food and beverage scene? Here's where to find the city's best beer, wine, and spirits, and here are 11 great brunch places to try.