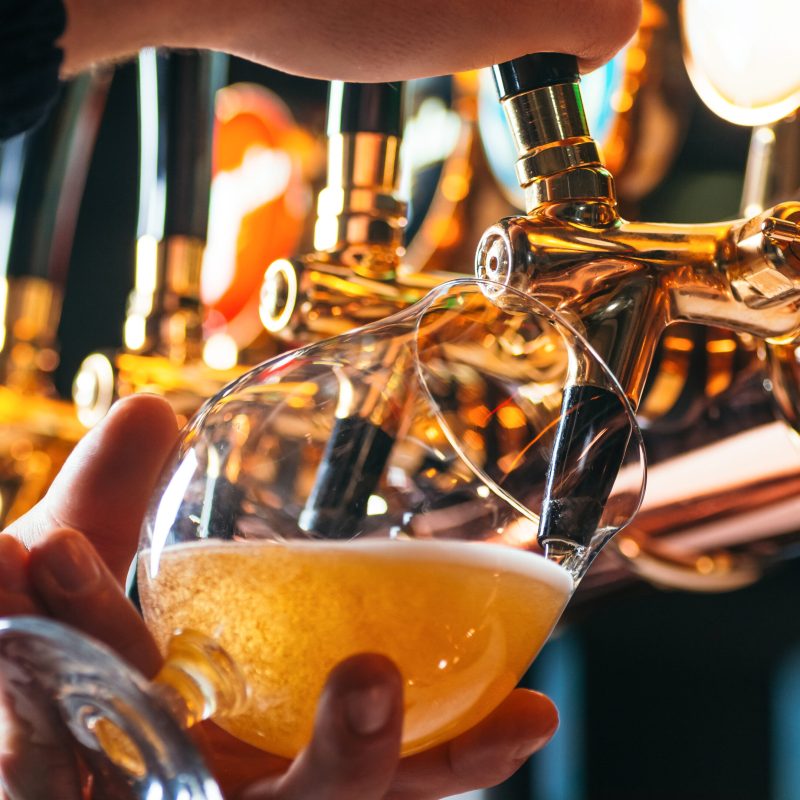 Omaha, Nebraska, has much more to offer visitors than you might expect. Besides resident business magnate Warren Buffett, a world-famous zoo, and a plethora of noteworthy steakhouses, Nebraska's largest city also boasts an up-and-coming beer, wine, and spirits scene. From rural wineries to inventive breweries and new distilleries, Omaha has something for everyone.
Here are the best spots to enjoy a boozy beverage in this pretty city on the prairie.
Brickway Brewery & Distillery
Located in Omaha's historic entertainment district, the Old Market, Brickway Brewery & Distillery is named for the area's famous cobblestone streets. This spot was the first craft combination brewery/distillery to open in the area since Prohibition.
If you're looking for a deal, visit during Brickway's "Hoppy Hour," Monday through Thursday from 2 to 6 p.m.; dedicated drinkers can also fill their growlers for 50 percent off on Fridays, and weekend brunchers can enjoy $5 beer mimosas and Bloody Marys on Saturdays and Sundays. Elevated pub grub is also available on-site, with menu standouts including the Sloppy Pimento Joe dip, Philly-style pretzels, and beer-braised brats.
When you visit, be sure to ask about the seasonal specials and unique one-run beers. If you're visiting during the fall, you should sample the Oktoberfest. Winter-weather drinkers can try the coffee vanilla stout, while springtime calls for the raspberry hefeweizen. In the sweet summer, there will be a couple of special pilsners available, including lime and jalapeño pineapple varieties. Brickway's spirits include single-malt whiskey, gin, vodka, bourbon, cinnamon whiskey, white whiskey, and rum.
Soaring Wings Vineyard & Brewing
Soaring Wings Vineyard & Brewing is actually located in Springfield, Nebraska, about 30 minutes south of Omaha. The vineyard has been producing wine on its property since 2001, but its doors didn't open to the public until 2004. Soaring Wings produces 22 wines, with 12 in the dry category and 10 in the sweet category. About 70 percent of the grapes used come from the vineyard itself, while the remaining grapes are sourced from other Nebraska producers. Soaring Wings has won more than 100 awards at various wine festivals and competitions.
Some of the company's most popular wines include the Falco Red, Edelweiss, Winter White, syrah, and La Crosse. Visitors can sample a flight of five wines and get a souvenir glass for just $8.
In 2009, the business expanded into brewing. There are nine beers on tap, including Aviator English Ale, Raspberry Wheat, and Imperial Stout. You can sample the beer for just $6 if brew is your beverage of choice.
These days, visitors can expect live outdoor music on most weekends for a modest $5 cover charge. Soaring Wings is a great spot to picnic and enjoy the pretty Nebraska greenery; it offers an idyllic escape from the city, though it's still close enough to be convenient.
Kros Strain Brewing
Located in sleepy La Vista, Nebraska, on Omaha's southwestern edge, is Kros Strain Brewing, a suburban gem of a brewery. With a cool warehouse vibe, complete with murals by local artists, this is a must-stop spot to enjoy a beer.
The company's most famous offering is its Fairy Nectar; it has a cult-like following. Visitors can opt for a brewery tour and beer flight to sample the other brews, including Thursday Night Book Club and Juice and Desist.
Kros Strain also offers sparkling hop water and kombucha on tap for designated drivers or those who want a break from the booze. Food from outside vendors can be brought in, and there are also food trucks parked there on occasion.
The Homy Inn
Champagne on tap, anyone? This laid-back neighborhood bar in midtown Omaha is another must-try spot. With its nostalgic decor and cheap drink prices, The Homy Inn is a decades-old haunt that deserves a visit. The bar offers four types of champagne on tap in either flutes or pitchers, is open every day of the week, and was named one of the 50 best bars in the United States by Esquire. It's the perfect dive bar for both locals and tourists.
There's no food available at The Homy, but neighborhood favorite Sgt. Peffer's Italian Café is just across the street. Guests can pick up takeout and bring it over to the bar, or pop across and dine in the Beatles-themed eatery.
Scriptown Brewing Company
Founded by a former Homebrewer of the Year winner, this microbrewery focuses on classic beer in the heart of Omaha. Scriptown Brewing Company was named for Omaha's first on-record subdivision, where scrip was used as payment. The brewery is located in the trendy Blackstone District in midtown Omaha. With its large indoor area, private party room, and small but charming patio, Scriptown is a great watering hole for every season.
Don't miss the company's Muddy Mo Brown Ale, named for the nearby Missouri River. Another fan favorite is the Ups & Downs Coffee Blend, which uses neighbor Archetype's specialty coffee. Other beers on tap are the Saddlecreek Wheat, Yotus IPA, Petal Pusher Hibiscus Ale, and more.
If you don't enjoy beer, visit on a Monday for half-off Moscow mules. Additionally on Mondays, nearby Noli's Pizzeria will deliver half-off pizza to Scriptown, since the brewery doesn't serve its own food. There is a Nepalese momo (dumplings) restaurant next door, and the neighborhood is also home to a hip Mexican spot, an upscale farm-to-table restaurant, and a posh sushi establishment.
Laka Lono Rum Club
Laka Lono Rum Club is a cool take on a tiki bar hidden in an Old Market basement. With inventive and friendly bartenders, this locally owned gem is upping the creative ante for Omaha-area bars. Laka Lono sees cocktail culture as a means of escape, and it invites guests to vacation in its vibrant atmosphere.
For the best deals, visit during the daily happy hour (5 to 7 p.m.), when select craft cocktails cost just $8. Winners include the mai tai, hurricane, smoked rum old-fashioned, and jungle bird.
Infusion Brewing Company
With three area locations, Infusion Brewing Company is another great stop on the Omaha beverage trail. The original location is in the hipster Benson neighborhood, while the expansion beer hall is located in the up-and-coming Little Bohemia area. The production facility and taproom is located in West Omaha, which means that no matter where in the city you are based, there is an Infusion location that is easily accessible. Brewery tours are available at both the West Omaha and Benson facilities.
Infusion is best known for its vanilla bean blonde ale, which locals consume at a rapid rate. But there are usually at least 10 beers on tap at all locations. Some other delicious brews are the Huell & Oats IPA, Vienna Lager, South Pacific Pineapple IPA, and Olson's Amber Ale.
Mr. Toad's Pub
The oldest bar in Omaha's Old Market, Mr. Toad's has occupied a spot on 10th Street for decades. With its prime location and large patio, this pub offers a perfect roost for people-watching. It boasts a large selection of both domestic and imported beers, friendly service, and shabby chic decor.
But Mr. Toad's truly shines in the harsh Midwestern winter with its warm cocktails. The Irish has been on the menu since the pub opened, while the newer peppermint patty drink is a winner with its combination of peppermint schnapps and crème de cacao in hot chocolate. Other hot cocktail favorites include the classic hot toddy, hot mudslide, and Baileys and coffee.
Upstream Brewing Company
Another Old Market spot, Upstream Brewing Company, is the oldest local brewery in town. And it's a local favorite, with a slew of Best of Omaha awards under its belt. Upstream also has two large patios, billiards, and a full-service restaurant available for visitors.
Its popular beers, brewed on-site, include the O! Gold Light Lager, American Wheat, Dundee Export Scotch Ale, and Firehouse Red Lager. Customers can try either a small flight of four samples or the entire 12-beer line. Be sure to ask about seasonal varieties and special releases.
Benson Brewery
A Benson neighborhood favorite since 2013, this small-batch brewery deserves a look for both its food and beverage offerings. Taking its inspiration from the nearby Benson High School's rabbit mascot, Benson Brewery sells beers with names like Dark Rabbit and Blonde Bunny. Guests who want to sample multiple options can snag a flight for just $8.
The Benson Brewery also offers an excellent curated menu. The fried green tomatoes (usually only available on the weekends) are stellar, while the pretzels, black bean burger, poutine, and fried chicken thighs all satisfy.
Other boozy Omaha favorites include the Wicked Rabbit speakeasy downtown, Inkwell in Countryside Village, the Bärchen Beer Garden in Benson, Bella Terre Vineyard in nearby Iowa, and the Nebraska Brewing Company in Papillion, Nebraska.
It's easy to see that the Omaha bar, brewery, wine, and distillery scene has a ton going for it. Drink your way through Nebraska's largest city with our recommendations, and add a little pizzazz to your prairie visit.
Want to spend some more time in the area? Check out the quirky roadside attraction of Carhenge, get your brunch on, or try one of those famous Omaha steaks.