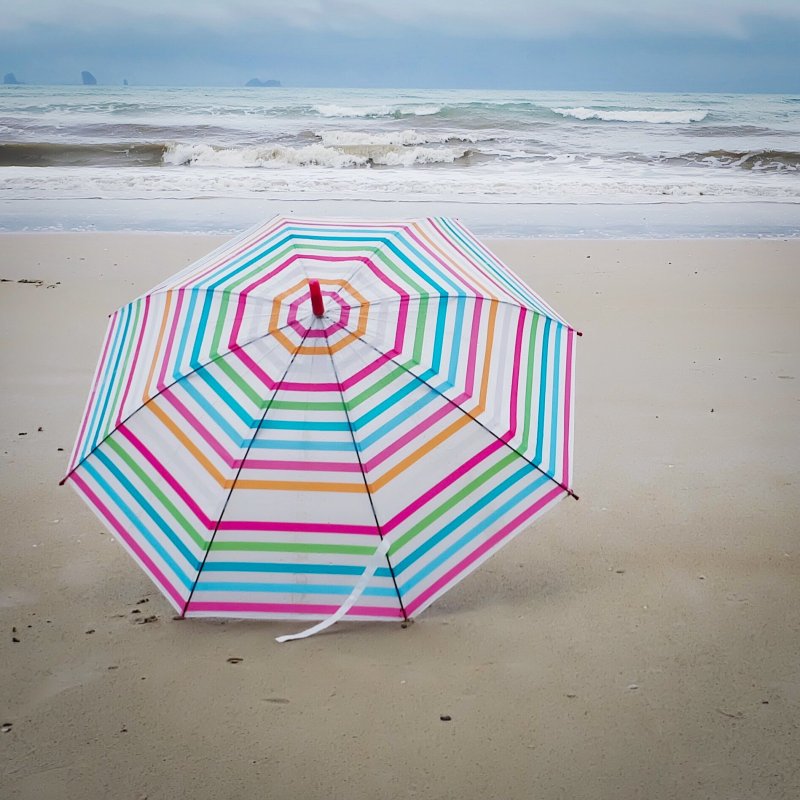 When you book a beach vacation in Gulf Shores, Alabama, the last thing you expect is to experience rainy days. There is no reason to be disappointed by the rain, though, as you will have many other things to see and do. Different experiences with the arts and fun foods await you as you reach for an umbrella. Here are ten things for you to enjoy when the rain takes over your beach vacation.
Note: I experienced some of these Gulf Shores offerings during a sponsored press trip, but all recommendations are my own.
1. Experience The Gulf Coast At The Coastal Arts Center
The Coastal Arts Center offers a beautiful view of Wolf Bay in all types of weather. This 10,000-square-foot fine art gallery is home to stunning works by artists from the Gulf Coast. You will also find the Hot Shop and Clay Studio on the same grounds as the Coastal Arts Center.
The one thing that I appreciate the most about this facility is how it shares the history of the area through works of art. Be sure to walk upstairs and look out the large glass windows. It's a majestic view, even when it's raining. The artwork located throughout is sure to catch your attention and might even inspire you to create your own masterpiece.
2. Create Glass Art
The Hot Shop is a popular place to make stunning glass creations, and it's located on the campus of the Coastal Arts Center. You will be out of the rain and have an opportunity to actually create art in Gulf Shores. Make Your Own Glass classes are offered, and I personally recommend them. You will choose the colors and glass design that you want to create.
On my two visits, I have made a Christmas tree ornament and a paperweight. An expert glass artist will assist you throughout the whole glass-making process. If you are flying home from Gulf Shores, I would strongly suggest the paperweight. It's the easiest to transfer home, as it is easy to pack. This attraction is handicap accessible and groups are also welcome. Wear closed-toe shoes (these are required), as you will be working with hot glass. Call 251-981-2787 to reserve your spot.
3. Throw Clay On A Pottery Wheel
The arts are a great outlet when the rain won't seem to let up on your beach vacation, and another fun place to visit is The Clay Studio, also on the grounds of the Coastal Arts Center. You can try your hand at hand-building with clay, throwing on a pottery wheel, or glazing pre-made pottery. Group classes and birthday parties are also available. Call 251-981-2787 to reserve your spot.
4. Weave A Scarf Or Shawl At Clara's Loom
If you enjoy textiles, you will appreciate all that Clara's Loom has to offer. Shawls and scarves are two popular items that many folks enjoy creating when they visit. Clara offers several different types of classes. The Try It and Let's Explore Classes are recommended for adults, children, small groups, and individuals. Participants can create their own freestyle weaving in the studio — no need to own or be familiar with the equipment involved. When a rainy day arrives, give Clara a call at 251-943-2960 and schedule your class or time in the studio. The best time to try something new is when you are on vacation, and Clara will welcome you with a smile to her textile learning center.
5. Make Your Own Scented Soap
One of the most unique experiences I have had in Gulf Shores is making soap at the High Cotton Bath Company. My husband and I created our own scented soaps and lotions. It was a lot of fun mixing and searching for the scents that we desired. With more than 200 fragrances to mix and match, this experience is ideal when the rain moves in! I would plan to spend an hour at this store, as it's an attraction in itself.
6. Enjoy The Craft Beer Scene In Gulf Shores
The craft beer scene has made it to Gulf Shores. Locals are proud of their friends at Big Beach Brewing Company, and craft beer enthusiasts will appreciate the 12 taps and the house-made lemonade for those who aren't drinkers. There is no food on-site, but all guests can order food in or bring it along with them. With four large garage doors and a fireplace, the atmosphere will be perfect for your rainy-day visit. Big Beach Brewing has events on the calendar all year long, so rain or shine, there's always a reason to visit.
7. Try Out An HD Golf Simulator
The Village Hideaway, located at the Beach Club Resort in Gulf Shores, is where you will find food, drinks, games, and a lot of fun. My husband and I enjoy the HD golf simulator, as it's a fun way to swing a golf club even when the course is soggy. The Hideaway's pizzas and burgers are crowd favorites. If you enjoy a nice crowd and televisions for watching sporting events, this is where you will find them.
8. Stroll Through The Lodge At Gulf State Park
The Lodge at Gulf State Park will inspire you to live a little greener. This lodge is a leader when it comes to sustainable tourism. The operations and facilities are environmentally friendly, there are direct and intangible social and economic benefits to the local people, and it supports the protection of cultural and natural heritage. Stroll through the main entryway and find a rocking chair looking toward the Gulf of Mexico. Here is where you will come to appreciate all that nature has to offer along the Alabama Coastline.
9. Enjoy The Ultimate Milkshake
The beautiful milkshakes at The Yard will fulfill your desire for a stunning Instagram photo, and of course a delicious milkshake.
The Yard is a casual milkshake bar that is always very busy. The best tip I can give you is to wait your turn in line. Upon your arrival grab a menu and a crayon by the door. You will have three different menus to choose from: Specialty Milkshakes, the Everything Else Menu, and the Shake Boss Menu. The ordering process can seem overwhelming, but don't stress when it comes to placing your order. Simply choose the toppings and flavors that you enjoy. Once your order is placed, sit back and wait. I always enjoy watching the huge milkshakes come out to customers, as it's a mouth-watering experience.
These are some of the largest milkshakes you will ever encounter, so order accordingly. I'd also encourage you to have your phone or camera ready, as these milkshakes are worthy of a photo or two.
10. Indulge In Bread Pudding At LuLu's
I love bread pudding and, in fact, I travel for bread pudding. LuLu's Gulf Shores is home to an entertainment venue as well as a menu full of goodness. Shrimp, fish, and gumbo are all very popular here. Anyone with food allergies will appreciate the customer service in this restaurant. There are separate menus for different types of food allergies, which makes dining out a breeze for everyone. Most importantly, order the bread pudding. It's one of a kind, as the name — Hot Fun Krispy Kreme Bread Pudding — implies. The best part of this bread pudding is the fact that it is drenched in a custard sauce and includes pecans.
If a little rain gets in the way of your beach vacation, it's nothing to worry about when you are in Gulf Shores, Alabama. The rain brings an opportunity to explore parts of the area that were not on your agenda, which often makes for an even more memorable vacation. In my opinion, any day in Gulf Shores is one of the best days ever, rain or shine. A little rain will not stop me from meeting new people and learning a new craft, and it should not stop you either.
Considering a trip to the coast? Here are eight reasons to visit Alabama's Gulf Shores.