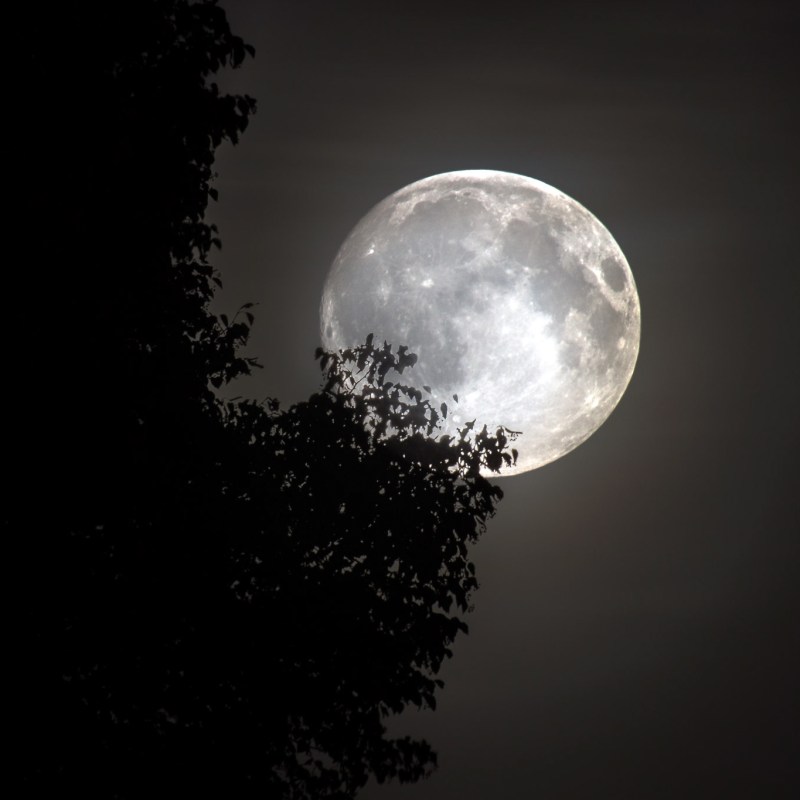 From ruminating over our astrological signs to watching in wonder as the Northern and Southern Lights dance across arctic and antarctic skies, our fascination with heavenly bodies seems to be a unifying feature of our humanity. There are so many celestial wonders to enjoy and places to make the most of them: dark sky sanctuaries, planetariums, and observatories to name a few.
If we're lucky, we can witness starry skies (or, alternatively, vivid cityscapes) from our own porches and patios, but if you're a true aficionado of the night and its defining features, seeing a supermoon from a special viewing place could make for the travel memory of a lifetime.
What Is A Supermoon?
Supermoon is a relatively new term. It debuted in 1979 to describe a full moon that occurs at perigee — when the moon is closest to the earth. The result? The moon looking up to 14 percent bigger and 30 percent brighter than full moons that occur when the moon is further away.
The mechanics of orbit and the relationship between the moon, the earth, and the sun mean stunning, glowy skies on clear supermoon nights, not to mention fantastic night-sky photo opportunities.
Supermoons only happen a few times a year. Here are some of the best places to see them (and when).
1. Chiang Mai, Thailand
Derek Remer, founder of travel gear company Alibi Supply Co., told TravelAwaits "One of the less-traditional best places in the world to view the moon is in Chiang Mai, Thailand."
"Chiang Mai has a perfect mix of circumstances to create a truly unique moon-viewing experience. Chiang Mai is situated in a valley surrounded by mountains that don't necessarily tower over the landscape but provide a beautiful backdrop."
"During the rainy season," he said, "after a huge downpour, the clouds start to disperse, and when a full moon or special moon appears over the mountains, it's truly breathtaking. The real kicker here is that buildings in Chiang Mai can't be built over six stories tall. If you make your way to Nimman — a neighborhood in the city — and situate yourself on top of one of the higher rooftops, you will be in for a real treat."
Before or after enjoying a supermoon viewing from a Chiang Mai rooftop on Tuesday, March 10 or Wednesday, April 8, you can venture outside the city to climb up Thailand's incredible sticky waterfalls, visit Na Phu Chet Si shrine, and see a nearby crystalline spring.
2. Mont Joly In The French Alps
Almost equidistant from Milan in Italy, Zurich in Swizerland, and Marseille on the coast of France, sits Mont Joly — a peak surrounded by some of the best-known ski resorts in the French department of Haute-Savoie.
If it sounds dreamy, that's because it is. In fact, Will Roberts of Freedom Snowsports, a ski school that operates in Chamonix, Saint Gervais, Megeve, and Les Contamines, France, said it's the ideal place to see a supermoon.
"During a full moon and with the luck of a clear sky, the light is so bright that it reflects off of the snow." He said you won't need artificial light of any kind — not even a flashlight — to see everything around you.
One of his favorite moon-viewing experiences: sitting out on the deck of a mountain hut on the shoulder of Mont Joly sipping hot chocolate.
"We are looking directly at Mont Blanc and the brightest, fullest moon." Since Roberts lives and works in the region, he said he feels privileged to be able to see this whenever the opportunity arises and, moreover to share it with others. See a supermoon from Mont Joly on Monday, March 9 or Wednesday, April 8.
3. Uluru-Kata Tjuta National Park, Australia
Watching the sun set and the moon rise over Uluru — a defining features of the Australian Outback — over 15 years ago remains one of my favorite travel memories. As the bright Outback afternoon slips into evening, the sky turns from piercing blue to dusky purple to deep navy. Once it rises, the moon and Uluru seem to commune telepathically. The sounds of the desert take on a different tempo, and the spiritual significance of the place becomes even more apparent than it was in daylight.
Of course, arriving in the Outback involves a trek. Learn all about how to visit Australia's Outback and plan on seeing a supermoon rise over Uluru Tuesday, March 10 or Wednesday, April 8.
4. Shelter Island, New York
Known as the un-Hamptons, Shelter Island is a wonderful, and star-studded, spot for reconnecting with nature. In fact, Susie Dempsey pointed out that it was on Shelter Island — at the secluded Ram's Head Inn — that Jerry Seinfeld enjoyed the 2017 eclipse from an Adirondack chair.
Why is Shelter Island, and Ram Island (an excrescence of land that juts out into the water across from Mashomack Preserve) specifically, such a great place for supermoon viewing? Dempsey said, "There are no street lamps or city lights to interfere with the star and moonlight, so the stars come through crystal clear and in serious abundance. Moonlight doesn't compete with any man-made light, so when it shines, it illuminates the island and the rippling bay water of Coecles Harbor."
You can spend Monday, March 9 or Tuesday, April 7 biking Shelter Island or exploring the walking trails in Mashomack Preserve, then settle into an Adirondack chair of your own as the moon comes up. Dempsey said, "You don't have to wait long to spot your first shooting star."
5. Sheldon Chalet In Alaska
Astrotourism is a thing at Sheldon Chalet — one of the most exclusive places to see a supermoon, period.
The property, situated on five private acres within Denali National Park, is only accessible via private helicopter ride from Anchorage or Talkeetna, a census-designated place up the Susitna River from Anchorage and downriver from the park. According to the chalet, where a one-night stay will cost $3,150 per person (and a minimum three-night stay is required), visitors can enjoy "aurora borealis and meteorological viewing, full moon glacier treks, and golden sunrises."
What's more: "At 63 degrees latitude and an elevation of 6,000 feet, Sheldon Chalet's troposphere is some of the thinnest on the planet, allowing guests to see shooting stars" — and supermoons — "brighter than anywhere else."
The chalet has expert guides are on hand to help visitors better understand the aurora borealis and to "offer insight into the night sky constellations."
"World-class stargazing is enhanced by the cozy fire and satisfying beverages custom crafted by your private chef." What the chalet doesn't have: Wi-Fi, but who needs it when you can enjoy a remote hot spring excursion or constructing your very own igloo as a supermoon lights the last frontier?
You could see a supermoon from Sheldon Chalet, or elsewhere in Alaska, on Monday, March 9 or Tuesday, April 7.
6. On Safari
I recently learned that one of our writers has been on safari nearly a dozen times. She finally went gorilla trekking in Uganda and said it was worth the wait. Another has participated in five Tanzanian safaris (and has stunning photos to prove it). They've convinced me that a safari should be at the top of my bucket list, and in reading about safaris, I've learned that night drives can be part of the experience.
Safari guides take participants out into the bush after dark, which means an opportunity to see nocturnal animals in addition to those who roam freely during daylight hours. What better time to witness the majesty of the savanna than a night when the moon is 14 percent bigger and 30 percent brighter?
You could venture out under the auspices of a Tanzanian supermoon on Monday, March 9 or Wednesday, April 8.
Want to see a supermoon closer to home? Park rangers host full moon hikes at national parks around the States, and these are the seven most incredible stargazing sites in the U.S.