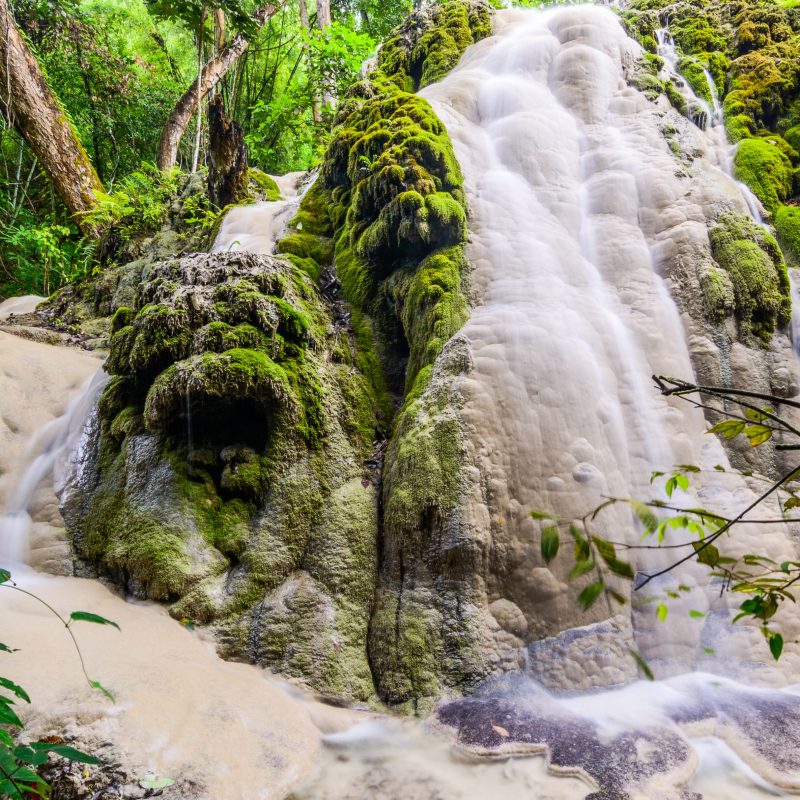 If you look at pictures of Thailand's amazing Bua Tong waterfalls, you may notice something seems odd about them, but you might not recognize what it is right away. You might look at several photos before realizing that the waterfalls are rippling over mineral deposits that give the falls their name.
The Sticky Waterfalls, as they're called, is a flow of water from a mineral spring that cascades down cream-colored, bubble-like limestone and mineral deposits. The rocks are prickly or rough to the touch — but not painful to walk on — and provide enough grip that agile adventurers can climb up the waterfalls.
The falls have five different levels that you'll experience as you climb up. Or, if you prefer a less watery climb, there are steps along the side of the waterfalls that go from top to bottom. Since you'll start your Sticky Waterfalls experience at the top, you may wish to walk the stairs down and climb back up the waterfalls.
Where Are The Waterfalls?
About an hour and a half away from Chiang Mai, you'll find the entrance to these stunningly unique waterfalls. There are picnic grounds at the entry point as well as a few restaurants. The waterfalls aren't necessarily a huge tourist attraction, but locals are known to visit for a day, climbing the waterfalls, dining, and drinking in the area.
How To Get To The Bua Tong Waterfalls
Because the waterfalls are so close to Chiang Mai, there are several ways to get there. You can rent a scooter, take a taxi, or rent a car and drive yourself. The prices of each mode of transportation vary and may be negotiable.
The best way to see the falls, however, is probably by touring with a local guide. Take Me Tour offers a "super local" tour of the waterfalls and surrounding area that includes transit to the site as well as far more information than you would glean going on your own. The price is not that much more than renting a car and is well worth it considering all the perks you wouldn't experience visiting Sticky Waterfalls on your own.
If you do opt to drive yourself, be sure to skip the main roads in the city, as traffic tends to be horrendous. Take Highway 1001 north to the waterfalls instead.
When To Visit The Sticky Waterfalls
The flow rate of the waterfalls is fairly steady year-round, but the best time to visit Thailand is during the cooler and drier season between November and early April. It's still hot during these months — as it is year-round in Chiang Mai — but cooler at night, making for a more comfortable visit.
Other Things To Do Near The Falls
If you're a nature lover, you could spend at least half a day visiting Sticky Waterfalls and its surroundings. Besides the waterfalls, there are some hiking trails, a picnic area, and restaurants. Nearby, there is also a pleasant walking trail that leads to the Nam Phu Chet Si shrine and a sacred crystalline spring, a local religious site worth the visit.
Tips For Your Visit To The Bua Tong Falls
There is no entry fee for visiting the waterfalls. The facilities are less than ideal for some, though. Squat toilets are available but they do not have toilet paper, so you'll want to bring some along.
There are small pools of water at each level of the waterfalls, which make great places to relax, but none are large enough for swimming. Consider wearing your swimsuit, though, as you'll likely want to cool off as you climb.
If you want to avoid crowds, visit first thing in the morning or as the evening brings cooler temperatures. Most visitors come during peak hours.