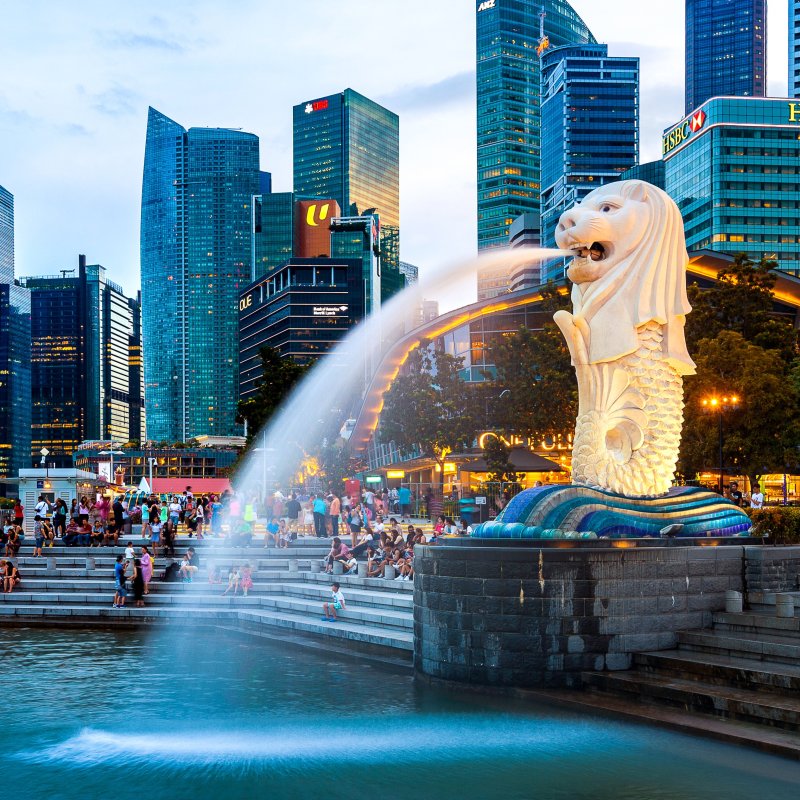 Keeping watch over Singapore's Marina Bay is an alabaster-colored sentry whose solemn duty started on September 15, 1972.
The Merlion celebrates Singapore's modest past as a small fishing village and its present as one of Southeast Asia's most important financial and cultural hubs. Its lion head is a nod to Singapore's early name, Singapura, which is Malay for "lion city." And this icon certainly embodies the spirit of the small island nation today.
Singapore's influence in the region can't be overstated, and the tiny country has more wealth and power than any of its larger neighbors. The stately Merlion is a nod to the past and an optimistic beacon of the future — not to mention an iconic stop during any first-timer's visit to Singapore.
The Original Merlion
Marina Bay's Merlion Park is the home of the original Merlion statue, crafted by sculptor Lim Nang Seng. Towering nearly 30 feet tall, the first Merlion was initially situated at the Singapore River before being moved to its new home near Marina Bay.
Today, the primary Merlion has company in the form of a Merlion cub, whose statue rises nearly 7 feet high and can be viewed right behind the giant Merlion.
There's no fee to visit the park, so you can see these enduring Singaporean symbols for free. Go during the evening to catch a glimpse of the sunset and one of Singapore's incredible light and water shows.
More Merlions
Until recently, there were five official Merlions in Singapore: the two residing in Merlion Park, plus three others scattered throughout the city. Sadly, the massive Sentosa Merlion is scheduled to be demolished, but you can still visit the remaining two using Singapore's fantastic public transportation system.
Take the MRT to Singapore's Tourism Court, where you'll see another of these hybrid creatures. Simply get off at the Orchard MRT station and walk a few blocks. Additionally, there's a 10-foot-tall Merlion at Mount Faber Park.
Mount Faber Park is a well-known scenic green space sprawling over 138 acres. It overlooks the city of Singapore and is known as a hiking and bird-watching hotspot. Unfortunately, the park is not wheelchair accessible and contains some rigorous terrain that could be challenging for some visitors. Tourists should bring plenty of sunscreen, comfortable shoes, and water if they plan to spend some time here.
The park is a phenomenal place to catch a ride on Singapore's cable car, where you will be treated to an unparalleled view of the sun setting over the city.
General Tips For Visiting Singapore
Singapore has very strict import laws, so familiarize yourself with what is prohibited to avoid fees or lengthy questioning upon arrival. There are also hefty consequences for littering and jaywalking. Abide by the rules of this island nation, and your trip will be smooth sailing.
Singapore is a lot pricier than many of its neighboring countries, but you can find fantastic deals on street food. Don't miss out on the delectable chili crab and chicken with rice — or the chance to eat at the world's cheapest Michelin-starred restaurant.
Since it sits right on the equator, Singapore's climate is tropical. Pack sunscreen and an umbrella to ward off hot rays and unexpected showers.
Singapore is a delightful country with a fascinating past and a bright future. The Merlion is the ultimate emblem of its success and independence: a quirky tourist attraction that invites you to fully appreciate all that this nation has to offer.
Once you've met the Merlion, make your way to these 10 truly stunning locations to see in Singapore.