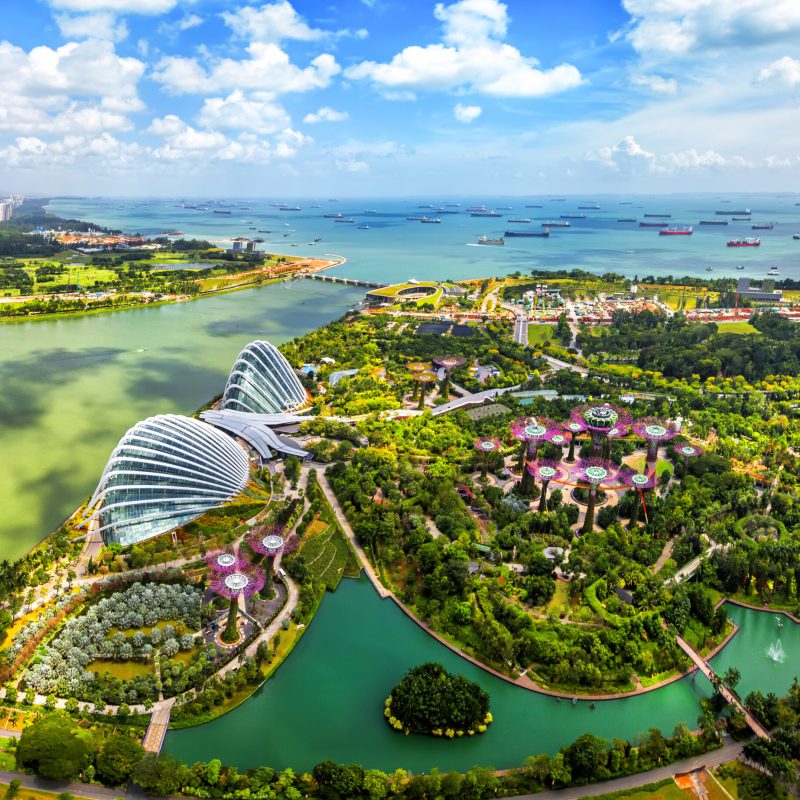 If you've seen the blockbuster hit Crazy Rich Asians, it's tempting to categorize Singapore as a playground for the wealthy. True, this small city-state is home to some of the largest and most frequented shopping malls in the world.
With endless opportunities for high-end shopping, relaxing at luxury hotels, and tantalizing your palate at some of the world's most exclusive fine dining restaurants, it's no wonder why Singapore is situated in the international spotlight as a worldwide consumer mecca.
However, Singapore has so much more to offer than just the chance to seize the latest Prada bag or Christian Louboutin shoe — though we fully support indulging if you wish. Singapore's rich cultural history offers the curious traveler a chance to revel in its vibrant public attractions and lovely public spaces, explore its diverse array of artistic venues, and uncover new mysteries in any one of its eclectic neighborhoods. Singapore is absolutely stunning, even if you're not a crazy rich shopper.
According to the Singapore Tourism Board, Singapore is "where passion and possibilities meet." They go on to share that, "it's constantly evolving, reinventing, and reimagining itself, with people who [desire to create] new possibilities." Whether you're an explorer, foodie, or social butterfly, if you've got a passion, you're bound to revel in a brand new experience every single day of your Singapore vacation.
Here are 10 truly stunning locations to see in Singapore, whether you have ample time or are just passing through.
1. Marina Bay Sands Resort
If you're new to the city, there's no better way to take in the sights than a panoramic view of a world-class cityscape from the Marina Bay Sands SkyPark. The SkyPark is one of the many extraordinary features of Marina Bay Sands Hotel. Although this resort operates mainly as a high-end luxury hotel, there are opportunities for the entire family to be amazed by a visit, even if you aren't checking in.
Marina Bay Sands boasts an infinity pool carved out of a ship that sits on top of the building (that's right…a ship), its own mall with a canal running through the center, theater shows, and nightclubs. Marvel your senses at the Digital Light Canvas, or enjoy an incredible outdoor spectacle, Spectra: A Light and Water Show. Think the Bellagio in Las Vegas, but bigger and with a dash of Singapore's own enchantment and wonder.
2. Gardens By The Bay
It goes without saying that an absolute must-do for any tourist in Singapore is a visit to the city's Gardens by the Bay. Spanning over 249 acres, this beautifully designed green space is a premier horticultural attraction internationally renowned for its garden artistry. Comprised of three waterfront gardens: Bay East, Bay South, and Bay Central, the gardens will enchant anyone seeking to escape the bustle of the city and enjoy the vibrancy of landscaped plant life. While you're there, be sure to check out Supertree Grove. Wander in amazement among these botanically inspired structures — made to look like futuristic tree-like giants — that loom between 82 and 164 feet tall.
3. Merlion Park Near Marina Bay
Located near the Marina Bay, Merlion Park is home to a 28 foot water sprouting Merlion. Weighing in at 70 tonnes, the Merlion is Singapore's iconic, mythical creature with the head of a lion and the body of a fish. Its name — combining "mer" meaning sea and "lion" — is actually a reflection of Singapore's original name, Singapura, which means "lion city," while the fish is a tribute to Singapore's ancient history as a fishing port. If you're standing on top of the Marina Bay SkyPark observation deck, you can pay tribute to this cultural icon as you breathe in the stunning views of the city skyline. Don't forget to take a few selfies with the Merlion to show your friends back home.
4. Fountain Of Wealth At Suntec City
When in Singapore, either go big or go home. The best way to do this is by casting your gaze on the Fountain of Wealth at Suntec City. Since 1998, the Fountain of Wealth has received accolades from Guinness World Records as being the largest fountain in the world. What's more, the fountain is located in the center of one of Singapore's largest shopping malls, Suntec City.
Using Hindu and feng shui principles to inform its design, the fountain was situated among five office blocks — each block representing the fingers and thumb of a left hand emerging from the ground. The fountain itself symbolizes wealth and life and serves as a common meeting point in the Suntec City complex. At night, visitors can be amazed by the fountain's laser show, which brings Suntec City to life after dark. It is said that good luck and fortune come to those who walk around the base of the fountain. Don't believe us? Give it a try and let us know.
5. The Buddha Tooth Relic Museum In Chinatown
Ah, the Buddha Tooth Relic Temple and Museum. No trip to Singapore would be complete without experiencing this mixture of culture, history, and architectural wonder. Based on the architectural style of the Tang dynasty, the temple was built to house the tooth of the real, historical Buddha. According to the museum, "The emergence of relics signifies that the spiritual energy of Buddha or the spiritual practitioner during their lifetime is constant and serene, untainted by nature's forces yet elevated due to persevering religious practices." The museum takes its duty to protect the tooth seriously, noting that relics hold "the very essence of wisdom, the fruit of spiritual labor free of lust, greed, and wrath."
In addition to a robust commitment to preserving this unique piece of Buddhist history and practice, the temple is grand in its own right as it's richly ornate and colorful. Its most distinguishing feature is probably the two-meter-tall gold stupa that weighs roughly 925 pounds and is located on the top floor by the Sacred Light Hall. While access to the inner chamber is limited to the monks who've vowed to serve and protect the relic, visitors have two chances a day, one in the morning and one in the evening, to gaze at the sacred Buddha tooth through the viewing gallery.
6. Henderson Waves Bridge
If you're in the mood for an evening stroll, then look no further than Henderson Waves bridge. Connecting Mount Faber Park to Telok Blangah Hill Park, this is Singapore's highest pedestrian bridge. Running about 810 feet long and 26 feet wide, this unique bridge is absolutely stunning. It's made up of seven undulating curved steel ribs that are actually alcoves and function as shelters with various seating options. Walk along this beautiful 5.6-mile trail that stretches over a lush green forest space. Take a moment to appreciate the flora, fauna, and views with your loved ones.
7. Esplanade Theatres On The Bay
You don't have to be an architecture fanatic to appreciate the beauty and brilliance of the Esplanade Theatres on the Bay. Located on almost 15 acres of waterfront property alongside Marina Bay, this architectural icon serves as the ultimate center for performing arts in Singapore. Surrounded by the tall buildings in the heart of downtown Singapore, this structure was designed to be admired from above. The aluminum shades that make up the roof aren't just meant to be aesthetically pleasing; they actually help to control the pavilion's internal environment.
Whether you're in the mood for a concert or event at a performing arts venue, you can rest assured knowing there's plenty of space in the Esplanade's 1,600 seat concert hall and 2,000 seat theater.
8. ArtScience Museum At Marina Bay Sands
Opened in 2011, the ArtScience Museum is the world's first museum with a primary focus of integrating art and science exhibitions. The museum has a total area of 50,000 square feet with over 21 gallery spaces for visitors to wander and explore. Its three main galleries — Curiosity, Inspiration, and Expression — explore the creative interplay of artistic movement and scientific invention. Its capstone feature is the building itself. Uniquely shaped like a lotus flower in bloom, its base is anchored to ten extensions, referred to as "fingers," that are open as if gesturing a welcome to visitors from all over the world. If you're looking for an all-around educational experience, both inside the museum and out, then look no further than the ArtScience Museum.
9. Clarke Quay On The Singapore River
Are you looking for a place to relax after a long day of exploring? Well, look no further than Clarke Quay. This refurbished riverside development gorgeously repurposed old warehouses into colorfully themed restaurants, bars, retail stores, and recreation spaces.
Singapore is well regarded for its vibrant nightlife, and the Quay is a perfect location for letting loose and having a nightcap. Restaurants running along the Singapore River offer lucky diners more scenic views of Marina Bay Sands. Bring your appetite and your urban curiosity as you make your way down to Clarke Quay.
10. Singapore Flyer At Marina Bay Sands
To cap off a perfect trip, we recommend taking one more glance at this gorgeous city from the top of one of the tallest Ferris wheels in the world. Standing at an astounding 541 feet, the Singapore Flyer offers its riders more than just a chance to take in 360-degree views of the district lights in Marina Bay. The Flyer is built over an immense three-story complex that houses a plethora of restaurants, late-night bars, and shopping outlets. Rotating slowly for a ride that lasts approximately 30 minutes, the Singapore Flyer will actually allow you to catch glimpses of neighboring countries like Indonesia and Malaysia. It doesn't get any better than that.
Don't have a car reserved in Singapore? Not a problem. Singapore has an excellent public transportation system that makes getting around convenient and easy. Be sure to secure a Singapore Tourist Pass, and get ready to have the experience of a lifetime by visiting these ten truly stunning places. Also pencil in a meal at the world's cheapest Michelin starred restaurant and at least one of the restaurants that made our list of the best food in Singapore and where to find it.