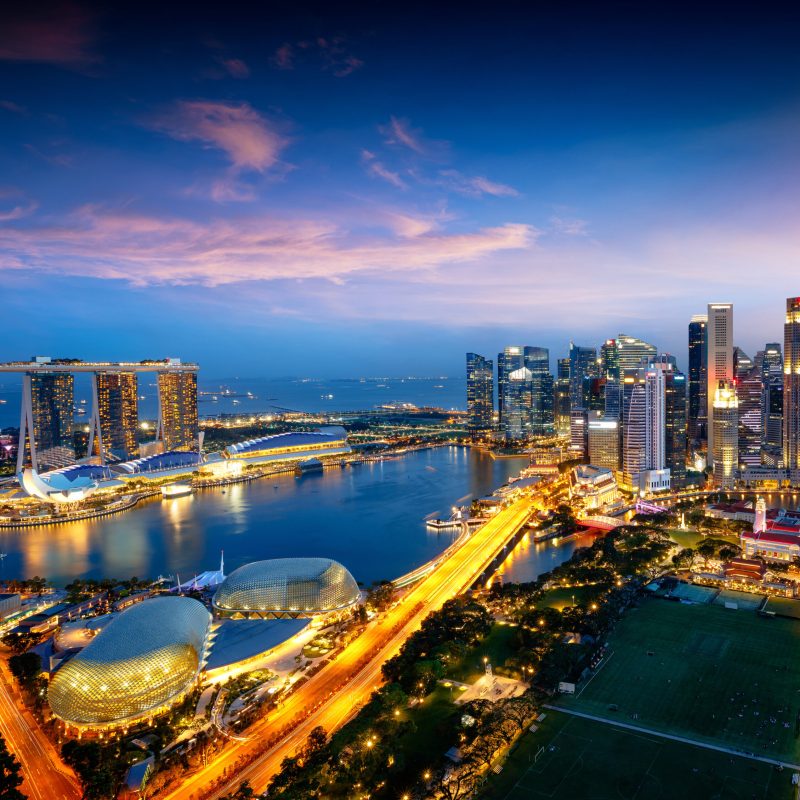 Perhaps you've heard about Singapore's food scene. If you know anything about Singaporean cuisine, you'll know that it's a mouthwatering mélange of Chinese, Malaysian, Indian, and Peranakan cuisines. And if you'd ever heard Anthony Bourdain's opinions on anything food-related (and he had quite a few opinions), you'll know that Singapore is one of the top international food destinations.
From its chilli crab to its famed Michelin-starred stalls and restaurants, the Lion City has some of the most exciting dining in the world. In fact, you don't even need to leave the airport to get a taste of Singapore's renowned cuisine (there's a Michelin-starred restaurant in Terminal 2). But let's get real: Exploring the destination, fork in hand, should be on every foodie traveler's bucket list. Here are the best foods in Singapore and where to find them.
Chicken Rice
First time in Singapore? Hit the ground running. Chicken rice, also known as Hainanese chicken rice, is the de facto national dish of Singapore, so before you can truly cross this destination off of your list, chicken rice has to end up on your plate. It's simple, classic, and delicious.
Fortunately, you don't need to go very far to find this succulent, iconic fan favorite. You can sink your teeth into bite-size slices of chicken served with fluffy rice, spicy chili, and ginger paste almost everywhere, from hawker centers (street food courts) to restaurants to cafés.
Everyone in Singapore has their own opinion of where the best chicken rice is to be found. One of the most popular spots is the Tian Tian Hainanese Chicken Rice stall at the Maxwell Food Centre — but bear in mind that the wait can be upward of an hour. If waiting isn't your thing, try Ah-Tai Hainanese Chicken Rice, just three stalls down from Tian Tian. The chicken at this stall is just as tasty as Tian Tian's, but it flies under the radar.
Chilli Crab
When it comes to Singaporean seafood (and there is a lot), one item stands out: the chilli crab. It's served straight out of the shell, deep fried, or on a steamed bun, and there's really no wrong way to eat it, provided you don't leave a single drop of sauce behind. Chilli crab is one of Singapore's most notable dishes and is readily available in most seafood restaurants, where it is typically served with mud crab, known for its sweet and juicy meat. The sauce, typically made with sambal, tomato paste, and eggs, is central to the dish.
As with classic chicken rice, the jury is out on who serves the best chilli crab in Singapore, and each place makes its own variation. Most agree, however, that Red House Seafood on Robertson Quay, which has been dishing out the spicy, marinated crustaceans since the 1970s, makes one of the best versions. Red House Seafood smothers the dish with vinegar, giving it a slightly sweet finish. Another option? JUMBO Seafood, open since 1987, is widely considered the place to go for this iconic dish. The restaurant's gravy is heavy on the tomato and egg.
Fish Head Curry
Adventurous eaters will not be deterred (though the more squeamish may avert their eyes) by this Singaporean classic. Fish head curry is exactly what it sounds like — a fish head prepared Chinese-style and bathed in a delectable South Indian curry. It's essentially Singapore on a plate, Chinese and Indian cuisines in beautiful, delicious harmony. Each restaurant in Singapore makes its own variation of the dish. Some blend in tamarind paste, while others add coconut milk. The fish, however, is always a red snapper. Tip: The professionals know that the best, meatiest parts of the fish head are the cheeks, so be sure to start there.
Where can you find this local delicacy? Fish head curry is on the menus of Indian, Chinese, Malaysian, and Peranakan restaurants all over. Visit The Banana Leaf Apolo, which has 45 years of experience preparing this Singaporean favorite. Fish head curry is its signature dish, but if there are wary diners in your group, chicken tikka masala and tandoori chicken are readily available and equally impressive.
Singapore's Dempsey Hill neighborhood is one of the most popular parts of the city for curry restaurants, and Muthu's Curry is the stop for fish heads. Here the dish is served on banana leaves with a side of basmati rice.
Hokkien Prawn Mee
What could be more enticing than fried noodles with prawns? Not much, we say. This universal crowd-pleaser, known as Hokkien prawn mee, is a favorite of locals and travelers alike. It's easy to see why, since the dish is packed with plump prawns, squid, pork belly strips, eggs, and crunchy bits of fried pork lard mixed with thick noodles and a splash of lime juice. We're certain this will become your go-to dish in Singapore.
But where to find it? Hokkien prawn mee can be found throughout Singapore, but it's good to know where to find the best. Head to one of the Kim's Fried Hokkien Prawn Mee locations. Mr. Kim's classic dish is known for its intense stock, but he also offers an XO version topped with oysters, garlic, pepper, fish sauce, and a dash of wine.
Kaya Toast
What's for breakfast? In Singapore, breakfast is all about simple comforts, and that can only mean one thing: kaya toast. This delectable breakfast treat is made from charcoal-grilled or toasted slices of bread surrounding cold pats of butter and a hearty smear of kaya, a jam made from coconut and eggs. Usually it is served alongside two soft-boiled eggs. Tip: Enjoy it with a hot cup of local kopi, or coffee.
Kaya toast can be found at many kopitiams, or coffee shops, but one of the best is tucked away in the central business district. Good Morning Nanyang Café is a little coffee shop that puts its own twist on the traditional dish by offering a choice of thick toast or orange ciabatta bread.
Laksa
There is nothing more satisfying than a hearty bowl of piping-hot laksa. This spicy, coconut milk-based soup is a Malaysian delicacy that's popular in Singapore and prepared a variety of ways. For example, Penang laksa has a tamarind taste to it, while Sarawak-style laksa is more like a curry. The locally created Katong laksa was inspired by the Peranakans, one of the indigenous groups of Malaysia. It's made from a spicy, orange-colored soup stock flavored with coconut milk, dried shrimp, prawns, and fishcake. The noodles are thick vermicelli that are cut into short, spoonable pieces.
It's tough to say who makes Katong laksa best, because every stall has its own style. One contender is Janggut Laksa, which claims to be home to the original Katong laksa. Its bowl of fiery goodness is certainly among the best — whether or not it's the original might not even matter. Located in Roxy Square, the only thing on the menu at this establishment is Katong laksa — a hearty bowl crammed to the brim with noodles, shrimp, samba, and broth.
Since 1956, Sungei Road Laksa has been doling out laksa cooked over charcoal. The customer dictates the level of spiciness, a fact much appreciated by many Western diners.
Of course, you can always up your laksa game by sampling a bowl called out in the Michelin Guide. Depot Road Zhen Shan Mei Claypot Laksa is certainly the most renowned bowl in town, but it might not be worth the long, long wait alongside other famished diners.
Rojak
Don't shy away from salad in Singapore. Rojak, the local salad dish, is anything but rabbit food. This cultural medley brings together vegetables, fruits, and dough fritters smothered in a black sauce and topped with peanuts and ginger flowers. The sauce is a blend of fermented prawn paste, sugar, lime juice, and chili paste.
Rojak is typically offered by Chinese hawkers and can be found in most hawker centers in the city. One of the most touted is Abdhus Salam Rojak in the Ayer Rajah Food Centre.
Roti Prata
Nothing says Indian comfort food like a warm, doughy round of roti. This South Indian flatbread is prepared by frying stretched dough drenched in ghee (clarified butter) and is served with fish or mutton curry. Roti prata is perfect at any time of day. It goes well with eggs, cheese, and even chocolate and fruit.
One of the best kept prata secrets is Mr. and Mrs. Mohgan's Super Crispy Prata. This weekday-only stall is all about texture: crispy and warm on the outside, soft and doughy on the inside. Then there's Springleaf Prata Place, where the very first thing you order must be the Plaster Blaster, an eggs Benedict prata piled with all the fixings. But if you're a roti purist, you'll love the Ameen Makan House in Bukit Timah. This coffee shop is a local favorite, day or night, for regional dishes. The standout is, by far, the roti prata.