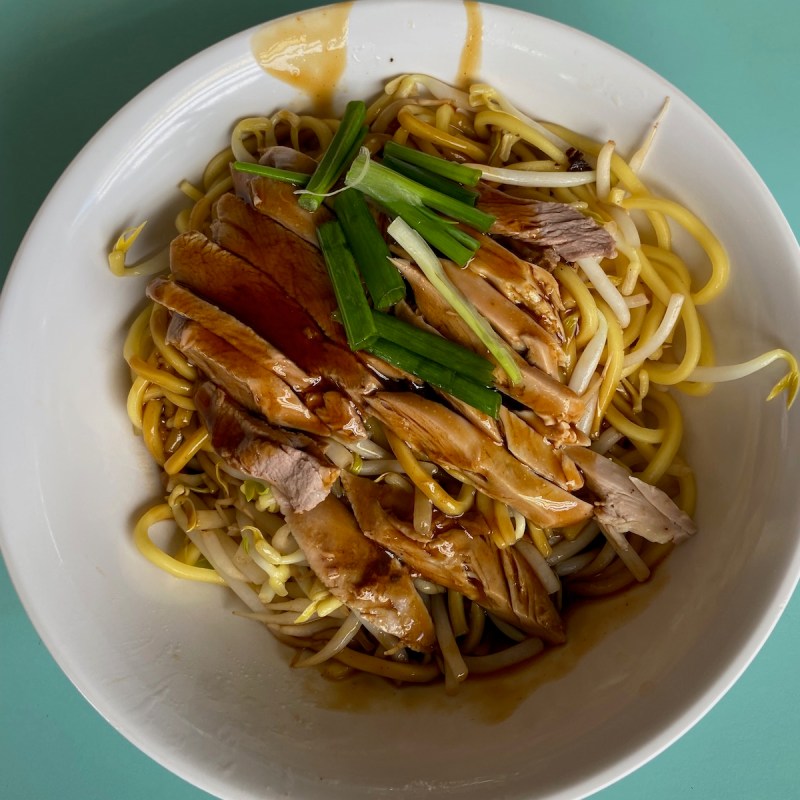 We've eaten at many Michelin-starred restaurants all over the world. Dining at one often involves making reservations far in advance, dressing up (any time we are not in shorts counts as dressing up), and making our way into places we don't ordinarily frequent. The food is usually worth the effort and the expense, though we've eaten at a few that did not live up to expectations.
Singapore offers an entirely different experience. Sure, there are very exclusive, expensive, and exquisite restaurant experiences to be had. At the same time, you can eat in a Michelin-starred restaurant or hawker stall for less than $10.
In addition, there are dozens of places that have been given Bib Gourmand awards for "exceptionally good food at moderate prices."
You can have an excellent meal at any of the places on this list for under $10.
Hill Street Tai Hwa Pork Noodle
Currently, Hill Street Tai Hwa Pork Noodle is the only place in Singapore to eat a Michelin-starred meal for under $10. The specialty here is bak chor mee, or minced pork noodles. Not only is the food good, but it's also a uniquely Singaporean dish.
Bak chor mee contains noodles, pork, pork liver, dumplings, lard, fried fish sole, minced meat, and meatballs. It's cooked in a vinegar and chili-based sauce. It's flavorful and the noodles are perfectly chewy. Each dish is cooked to order. You can order it wet (with soup in the same bowl), or dry (soup on the side).
You'll know that you've arrived at Hill Street when you see the long queue. It is open-air and covered, but there is no air conditioning. If you arrive during peak hours, expect to wait an hour or more.
Hill Street has had a Michelin star since 2016. The owner (Tang Joon Teo) decided not to expand to other locations. There are other members of the family that serve bak chor mee, but the Crawford Street location is the only one with a Michelin star.
Location: Tai Hwa Eating House, Block 466 Crawford Lane #01-12
Hawker Chan's Liao Fan Hong Kong Soya Sauce Chicken Rice & Noodle
From 2016-2021, Hawker Chan's held the distinction of the cheapest Michelin one-starred meal in the world — a plate of soya sauce chicken cost $2.50. Unfortunately, Hawker Chan lost its star in 2021.
Located in the Chinatown Complex Food (Hawker) Center, Hawker Chan serves juicy, well-seasoned soya sauce chicken from an original recipe created by Chef Chan Hon Meng. It is served with rice, sliced cucumbers, and peanuts. We also tried the char siu with rice, which is perfectly seasoned and moist. In addition to soya sauce chicken, Hawker Chan serves a few other traditional dishes.
After the Michelin star was awarded, Liao Fan re-branded as Hawker Chan and expanded into a restaurant across the street. There are now four locations in Singapore in addition to the original hawker stall as well as franchises in six countries. Some in Singapore feel that the Michelin star was lost because the expansion has impacted the quality of the original stall.
Expect a long line at the hawker stall in the Chinatown complex. It's the place where the locals and tourists both eat. It's crowded, noisy, and full of great hawker stalls. If you need air conditioning, you can try Hawker Chan's restaurant right across the street.
Original Location: Chinatown Complex Food Centre #02-126. The Hawker Chan restaurant is across the street.
Michelin Bib Gourmand Awardees
The Michelin Bib Gourmand award is given to restaurants that serve high-quality food at reasonable prices. Singapore has 69 restaurants and hawker stalls that have received this designation. We can't cover all of them, so we have selected eight of our favorites.
J2 Famous Crispy Curry Puff
A perennial Bib Gourmand selection, J2 Crispy Curry Puffs serves some of the very best curry puffs in Singapore. The crust is flaky and light, and the insides (curried potatoes, black pepper chicken, or sardines) are well-seasoned. Lee Meng Li was working the stall with his son Malcolm when we stopped by. They only make 500 curry puffs a day and close when they run out.
Location: Amoy Street Food Centre (#01-21)
Hong Kee Beef Noodle
This hawker stall has been in operation in various locations for 60 years. The savory dish contains beef slices, beef balls, and salted vegetables. The sauce is cooked for 24 hours and adds wonderful nuances to the flavoring. You can order the noodles wet (as a soup) or dry. Expect a long line if you arrive during lunch.
Location: Amoy Street Food Centre (#01-42)
Outram Park Char Kway Teow
We love char kway teow and couldn't pass up the opportunity to sample the wares at Outram Park. We arrived before the lunch rush and still waited 30 minutes. It was worth the wait. The noodles were luscious with plentiful and juicy cockles, bean sprouts, and fried pork lard.
Location: Hong Lim Market and Food Centre (#02-17)
Tai Wah Pork Noodle
Directly facing Outram Park Char Kway Teow, you'll find another long line for Tai Wah Pork Noodle. Don't confuse this with the Michelin one-starred Hill Street Tai Hwa. They both serve bak chor mee (minced pork noodles). This one is run by the nephew and the recipe is slightly different. This hawker stall was awarded the Bib Gourmand award. It's most known for the dry (soup on the side) version. Each dish is cooked to order. We arrived before the lunch rush and waited 50 minutes.
Location: Hong Lim Market and Food Centre (#02-16)
Famous Sungei Road Trishaw Laksa
Laksa is a quintessential Singapore dish, and Famous Sungei Road Trishaw makes one of the best. The spicy curry broth has less coconut milk than some other versions and it has generous helpings of sliced fishcake, dried shrimp, oysters, scallops, and fresh shrimp. It's not overly spicy. You can also eat mee siam at this stall, another Malaysian-influenced dish.
Location: Hong Lim Market and Food Centre (#02-66)
Chef Kang Noodle House
Located in Jackson Square, Toa Payoh, Chef Kang serves wonton mee. The springy and chewy noodles are imported from Hong Kong. They are delicious. There are only three dishes on the menu — noodles with char siew and wonton; noodles with abalone, char siew, and wonton; and pork belly char siew. The char siew is the perfect blend of sweet and char.
Location: 11 Lor 3 Toa Payoh, Block B, Jackson Square
Chuan Kee Boneless Braised Duck
The braised duck served at Chuan Kee truly stands out. The serving of duck is generous, and the braising sauce is very tasty, with just the right amount of sauce. The noodles are tender and soft.
Location: Ghim Moh Market and Food Center (#01-04).
Bedok Chwee Kueh
In 2019, Bedok Chwee Kueh is the first chwee kueh stall in Singapore to be awarded the Bib Gourmand award. Chwee kueh is a rice flour patty topped with preserved radish. The bottom is silky smooth while the topping is savory with a slight hint of spice.
Location: The original Stall is at Bedok Interchange Hawker Centre (#01-19). There are other stalls at Clementi 448, Chinatown Centre, Ang Mo Kio Ave 4, and elsewhere.
Pro Tips
Singapore is famous for its hawker centers — large food courts with dozens of stalls surrounding tables for eating. It's where the locals eat, and you find the best and most inexpensive food in Singapore. They are generally open-air and covered (with no air conditioning).
For most of the hawker stalls listed above, arrive early (11:15-ish for lunch) or expect to wait in a long line. In addition, many sell out early in the day.
Many stalls in hawker centers are closed on Mondays. Others may be open only at certain times or only a few days a week. You can search online for the most up-to-date information on opening hours/days.
Stalls have numbers on the top right-hand corner. For instance, #02-17 means that the stall is on the second floor, number 17. That's how to locate a particular stall on this list.
Many of the places that we've recommended are not found in touristy areas (except for Chinatown). These hawker centers are where Singaporeans eat and will give you authentic experiences of eating in Singapore.
Singapore is a Disneyland for foodies, and there are many more places we could have included. We've had our best meals going to a new hawker center and finding the stall with the longest line. Other times, we've gone with a certain stall in mind. Either way, you'll seldom have a bad meal in Singapore.