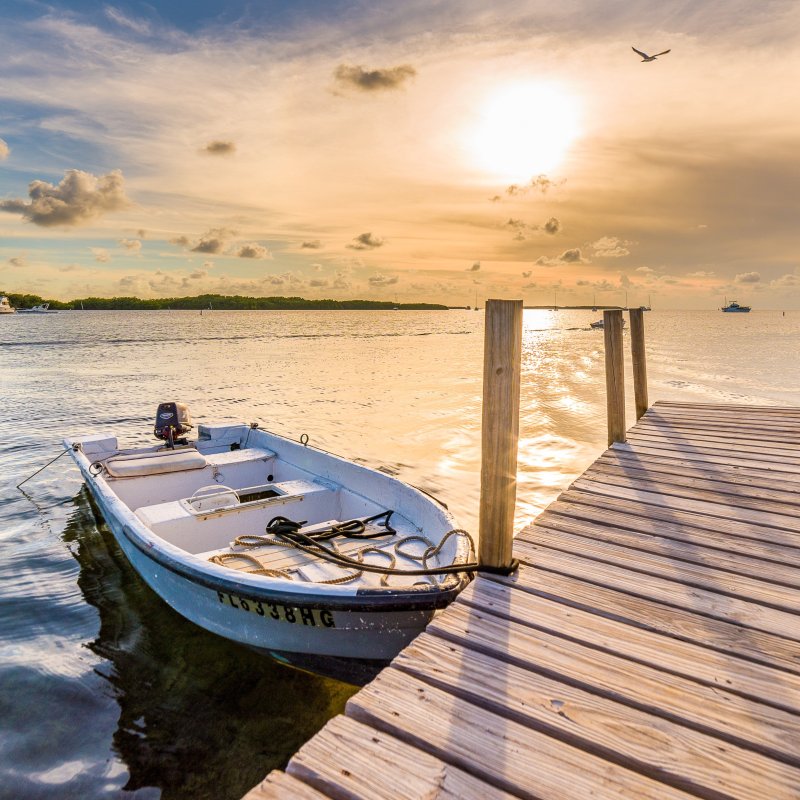 If you're craving a little peace and quiet that can't be found at Miami or Cocoa Beaches but still want the best sun, sand, and surf the Sunshine State has to offer, you're in luck. Florida's lengthy coastline is home to some of the quirkiest, cutest, and quaintest beach towns in the lower 48.
From the Gulf Coast to the Atlantic side, Florida is dotted with artistic havens, natural paradises, and laid-back towns where lounging by the shore with your cold beverage of choice is the order of the day. Next time you want some rest and relaxation sans the crowds, visit one of these quaint, sun-soaked beach towns.
1. Fernandina Beach
Amelia Island's Fernandina Beach straddles the Florida-Georgia border and is one of the most interesting beach towns on Florida's Atlantic side. Fernandina Beach is a hub for delicious shrimp and pirate lore, and you can get some of the freshest seafood in the state here.
When you're not savoring succulent shrimp pulled straight from the waters surrounding Amelia Island, you can brush up on your history. Fort Clinch is a nod to Fernandina Beach's military past, and reenactments are hosted there regularly.
Fernandina Beach is a popular spot for nesting sea turtles, and between March and October you can see infant loggerhead, green turtles, and leatherheads take their first awkward paces toward the ocean. Sea turtles are protected, so go with a reputable group and book in advance.
Fernandina Beach's climate is ideal for a visit in late spring or early summer, and with a small airport 10 minutes from downtown, it's extremely accessible.
2. Islamorada
Nestled halfway down the Florida Keys, Islamorada is a funky and fun town where chilling on the beach is a favorite pastime. If you're inspired to pull yourself out of your beach chair, you can snorkel or dive around Islamorada's impressive coral reefs or learn about the long tradition of underwater exploration in the area at the History of Diving Museum.
There are plenty of ways you can have fun on land, too. The national parks near Islamorada are spectacular and steeped in history. Lace up your sneakers and check out Indian Key Historic State Park and Windley Key Fossil Reef Geological State Park.
For astonishing sunsets, head back to the beach and savor a cold one from Florida Keys Brewing Co.
Islamorada's airport is roughly 12 minutes from the center of town, or you can drive in from Miami, which is about an hour and 40 minutes away. Enjoy this laid-back tropical utopia during spring when the climate is best.
3. Atlantic Beach
A hop, skip, and jump away from hectic Jacksonville, Atlantic Beach is a charming town full of cute local shops and a long, sun-dappled beach perfect for morning strolls and refreshing mid-day dips in the sea.
You could easily spend a full day strolling through the shops and luxuriating on the beach, but if you want to get in touch with nature, Dutton Island Preserve is a great place to do so. Get lost on the trails from 8 a.m. until dusk. Plan your outing to ensure you'll get back in plenty of time to catch the sun setting over the Atlantic Ocean at Casa Marina Hotel — a striking example of Spanish-inspired architecture.
Atlantic Beach is 40 minutes from the Jacksonville airport. Take Uber, Lyft, or the Jacksonville Beach Shuttle. This Floridian town is best enjoyed during the early summer months when it's warm enough to enjoy the beach but not stiflingly hot.
4. Anna Maria Island
For a Gulf-side slice of serendipity, head past Sarasota and toward Anna Maria Island. Anna Maria has resisted corporate development, preserving the idyllic feel of old Florida. Here, unique boutiques rub shoulders with local cafes and inviting restaurants.
Anna Maria Island is famous for its beachside horseback riding, so if you've ever wanted to trot through the surf on a trained horse, this is the spot to do it. There are fascinating attractions under the waves, too. The Bradenton Beach shipwreck is a famous vessel submerged a mere 20 feet under the water's surface. You don't need to be a diver to experience it: Snorkelers can marvel at this shallow wreck, too.
To get to Anna Maria Island, fly into Sarasota Bradenton International Airport and take the half-hour taxi, Uber or Lyft ride to the island. Anna Maria Island is best visited during the spring or fall.
5. North Captiva Island
If Matlacha whetted your appetite for unconventional Florida towns, North Captiva Island is another great option. If there was ever an island that shunned the manic pace of Miami for a relaxed and wholesome vibe, North Captiva Island is it!
No cars are allowed — only golf carts, and the unpolluted beaches are loaded with shells and sea glass. Wander along the beaches in the morning and you're bound to find an abundance of unbroken shells in all shapes and colors. Head a hair south to Captiva Island, and you'll be spoiled for choice with funky boutiques, coffee shops, and ocean-themed bars and restaurants.
Get to Captiva and North Captiva Islands from Southwest Florida International Airport outside of Fort Myers. It's one hour away, so make sure you compare prices on Lyft and Uber to get the best deal, but prepare to pay between $60 and $100, or consider driving or renting a car for the duration of your trip. The summer months are the ideal time to journey to these islands.
6. Matlacha
The Southwest Florida coast boasts a groovy little artistic oasis that is jam-packed with quirky antique stores, galleries, and some of the best fresh-food markets you can imagine. Matlacha is a mere 40 minutes from Southwest Florida International Airport (outside of Fort Myers), and this heavenly corner of the Everglades is guaranteed to amaze you.
Matlacha's location makes it the perfect haven for birds and wildlife as well as countless varieties of fish. Make the quick trip to Matlacha Pass National Wildlife Refuge to see more critters in their natural and protected habitats, or stay local and savor some of Florida's most scrumptious seafood and enjoy unique shopping.
This sleepy fishing village turned bohemian paradise is also a rare treasure for art lovers. There are plenty of galleries in Matlacha, including Wild Child, a local favorite. Visit Matlacha during the early summer months when the weather is balmy, not oppressively hot.
7. Vero Beach
For a spot of nature in the Sunshine State, head east to Vero Beach. Pelican Island National Wildlife Refuge is a fantastic place to see birds of all sizes in their natural habitats. You can learn about all of the creatures of the Everglades and get a brisk walk in as well.
For a celebration of botanical beauty, head to McKee Botanical Garden, where local plants mingle with tropical varietals over 18 acres of natural bliss. Vero Beach is also home to the McClarty Treasure Museum, an off-the-beaten-path showcase of sunken treasure pulled from the nearby ocean.
Although Vero Beach does have its own airport, it's not generally available for commercial use. The best option is to fly into Orlando Melbourne International Airport and take an Uber, Lyft, or taxi to Vero Beach. Check out this gorgeous bit of Florida during the early summer months.
8. Gasparilla Island
This Gulf Coast gem is home to pristine sand dollars, shell-lined beaches, and elegant lighthouses that invoke a time gone by. Gasparilla Island is 45 minutes from the Southwest Florida International Airport outside Fort Myers, but it couldn't be further in character from the hustle and bustle of the city.
Gasparilla Island is known for its proximity to the secluded sandy stretches of Cayo Costa State Park, where the beach stretches out as far as the eye can see and the sunsets are to die for. It's also famous for the Gasparilla Island Light Station, now known as the Port Boca Grande Lighthouse Museum, a carefully restored structure that acted as a beacon to sailors at the turn of the 1800s.
Visit Gasparilla Island in late spring for the most pleasant weather.
9. Apalachicola
There is no shortage of charming towns on Florida's panhandle, but Apalachicola takes the cake. This fishing village has a proud maritime history, and you can learn all about it at the Apalachicola Maritime Museum. Sample the local fruits of the sea at Buddy Ward and Sons locally renowned seafood market.
If you're feeling hands on, you can always hop on a charter tour and try to reel in the catch of the day yourself, but land lovers will still be able to sample seafood dips, spreads, and freshly caught fish all over Apalachicola.
Early summer is the best time to visit this quaint fishing village. Getting to Apalachicola from the Tallahassee International Airport involves a two-hour journey deeper into the panhandle. Since Ubers, Lyfts, or taxis can be expensive, consider renting a car.
Florida is fascinating, especially when you think outside the box and prioritize the Sunshine State's more offbeat offerings. During your quaint beach town trip, don't miss the opportunity to visit some of the best Florida beaches that typically aren't ridiculously crowded.