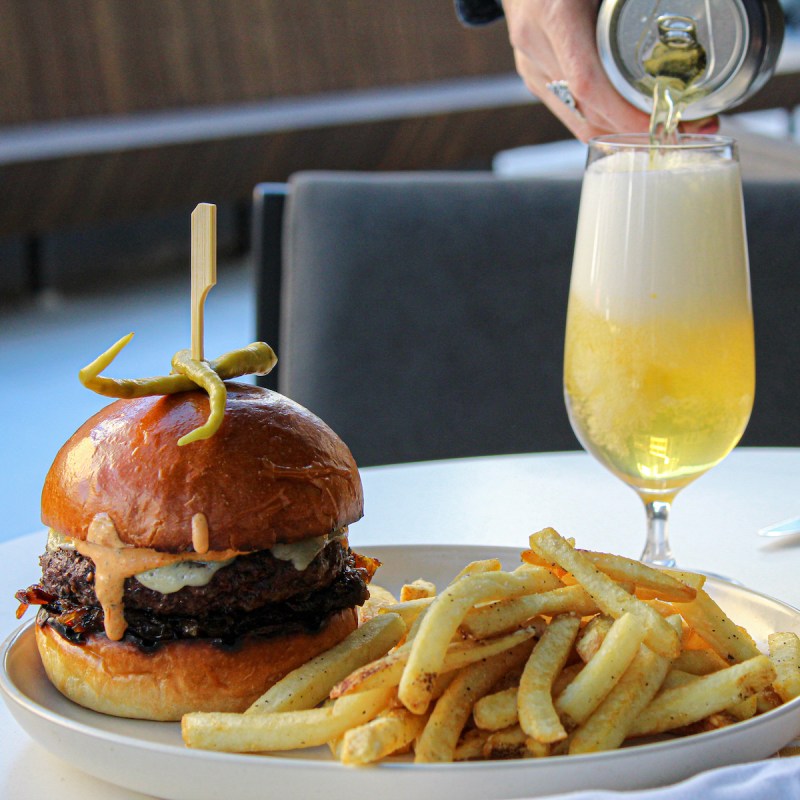 Whether you're in town for SXSW (South by Southwest film and multimedia festival), the Austin Food + Wine Festival, or one of the many music festivals in Austin, the "Live Music Capital of the World," why not stay at a first-rate hotel where you'll find gourmet eats as well?
Austin is a great city for culture and arts, food and dining, life and leisure, movies and film, music and concerts, and sports and recreation. Let's explore seven unique restaurants in Austin's downtown area, not listed in any particular order.
1. Garrison
Garrison is the Fairmont Hotel Austin's fine-dining restaurant with an open kitchen concept featuring Texas post-oak wood flame-grilled entrees. Garrison boasts accolades like being a Wine Spectator Restaurant Award winner and a AAA Four-Diamond-rated restaurant. The restaurant is also Forbes Four-Star-rated.
I found unique cuisine that caught my eye, like truffle tater tots, grilled Texas quail, and a grilled Sakura pork tomahawk. Executive Chef Jakub Czyszczon focuses on his specialized Texas cuisine and impeccable service.
What To Order At Garrison
Start with the warm biscuits with honey butter, a reminder of my sweet grandmother's homemade biscuits. We shared the creamy leek tart puff pastry and tater tots with gruyere cheese and lots of ums and ahs!
Our beverage choice was a Garrison martini with vodka, tequila, and dry vermouth, and a no-proof cocktail, the Newcumber, made with cucumber, blueberry, and ginger beer.
Try the beef tartare with smoked trout roe and egg yolk if you are game. For the main course, the 7-ounce Akaushi wagyu's eye of rib from Heartbrand Ranch was juicy and tender.
Pro Tip: For special occasions, indulge in the six-course luxury tasting menu in the private dining room seating 16.
2. Driskill Grill
The iconic Driskill Grill has reopened in the historic Driskill Hotel, the oldest hotel in Austin, built in 1886. President Lyndon B. Johnson escorted his future bride, Lady Bird Johnson, here for their first date.
Executive Chef Mark Dayanandan boasts Texas fare with a bit of French influence, continuing The Grill's tradition of excellent dinner service.
What To Order At Driskill Grill
I love the lobster bisque, rich and creamy with generous chunks of lobster. Don't skip the epi bread for two, served with Texas whiskey pate, olive tapenade, and pimento cheese. Another favorite is the oysters Rockefeller with rich Pernod sauce over creamy spinach.
For mains, I like the rich jumbo lump crab cake or the tournedos Rossini, a 6-ounce filet mignon with foie gras, sauteed spinach, potato rosti, and truffle sauce. For hearty appetites, go for the 12-ounce prime ribeye with green peppercorn café au lait sauce. The giant Cattle Baron Burger with smoked cheddar or Swiss cheese is great for burger lovers.
For drinks, I like the traditional Samantha's Ghost with mezcal, tequila, grand Marnier, and lemon, or the Pink Lady with gin, grand Marnier, lemon, and grenadine.
3. Vixen's Wedding
Located in the Hotel Arrive Austin, Vixen's Wedding serves flavorful cuisine featuring influences from Portugal and Goan (western India) with a Texas twist touting blends of heat, spice, and acidity.
Managing chef/partner, Todd Duplechan, says Vixen's Wedding describes a sun shower frequently followed by a rainbow.
What To Order At Vixen's Wedding
Enjoy shared plates like red shrimp served whole with a fried shrimp head and curry chili emulsion, red snapper with rainbow chard, or roasted mushrooms with coconut and green chili.
The Chef's Prix-Fix Menu with wine pairings includes crab pakoras, sourdough naan, duck, grilled snapper, or grilled lamb, along with chocolate cremeux for dessert.
Choose the Last Tango with tequila or the Margao mule for cocktails.
4. Luminaire
Chef Steve McHugh, the six-time James Beard Foundation finalist, opened Luminaire, his first Austin restaurant in the new Hyatt Centric Congress Avenue Austin. Chef McHugh is the San Antonio-based executive chef of Landrance at the Hotel Thompson San Antonio as well.
Enjoy the outdoor terrace with city views and the rooftop bar Las Bis on the eighth floor. Opened on February 1 this year, Luminaire is a full-service, all-day restaurant taking up the entire ground floor of the hotel. The restaurant features indoor and outdoor seating, steps from the state capitol and next door to the historic Paramount Theatre.
Focused on seasonal local Texas cuisine and charcuterie, the menu is heavily Spanish-influenced, sourcing ingredients from Texas farms and ranches.
What To Order At Luminaire
The specially curated meat boards feature the 24-month aged jamon, smoked chorizo de Leon, and lean and tender lomo embuchado, which pair well with a Rioja wine and Manchego cheese. There is an expansive selection of breakfast empanadas and chicken a la plancha.
The waiter recommended the Delgada Chops, including lamb t-bone, pork rib, boar cutlet, or beef rib. For burger lovers, order the Angus Beef Luminaire Burger.
I selected the Shrimp and Whipped Hominy with smoked tasso ham, tomatoes, and chipotle adobo; flavorful and delicious.
The bar offers sangria, craft beers, new-world wines, and classic cocktails.
5. Suerte
Named Food & Wine's Best New Chefs 2021, Chef Fermin Nunez heads up Suerte, featuring traditional Mexican cooking with local Texas ingredients, offering a unique dining experience in the heart of east Austin. Patio and open-area dining provide cozy comfort with a Mexican restaurant ambiance.
What To Order At Suerte
Start with tacos fritos made with white fish and homemade masa, or the suadero tacos made with wagyu brisket. The pork carnitas with black bean purée and the Mole Y Pato duck leg confit was outstanding.
Others raved about the Bistec Con Chichilo, an 8-ounce wagyu New York strip with mole chichilo (a traditional Mexican sauce from Oaxaca). Veggie sides include squash, sunchoke, or sweet potatoes.
For craft cocktails, try the Don Dario with tequila, or the Pep Talk mixed with rum, banana, and lime.
I liked the Yaupon Spritz, a mixture of vodka, strawberry, yaupon tea, aloe, and cava.
6. Hestia
A majestic, custom 20-foot hearth links Hestia's dining room and kitchen, led by award-winning Chef Kevin Fink and pastry chef and business partner Tavel Bristol-Joseph.
Touting accolades like Austin's most ambitious restaurant and Esquire's Best New Restaurants in America 2021, the industrial-style restaurant features wood-fired dishes, tasting menus, and curated wine pairings from over 250 wine selections.
What To Order At Hestia
Start with the snacks, the smoked crab tart or oysters with green sambal, an Indonesian sauce of green tomatoes, green chiles, shallots, and seasonings.
Small plates include butternut squash, apple, pecan, mushroom miso, or beef tartare with horseradish and grilled mushroom.
For my entrée, I selected the halibut with charred Bok choy, while others at the table chose the Red Ranger Chicken with fennel, radish, and turnip. For a hearty appetite, go with the 12-ounce Texas wagyu ribeye with a braised cabbage wedge.
Our choice for dessert was the bunuelo, roasted white chocolate mousse, strawberry, peanuts, and burnt thyme ice cream.
The chef's tasting menu features 13 courses with seasonal selections and added wine pairings.
Extensive wine selections include my favorite Spanish riojas, new and old-world whites, reds, pinot noirs, French whites, rosés, California wines, Southern Hemisphere malbecs, and Oregon Willamette Valley pinot noirs.
7. Emmer & Rye
Located on the ground floor of the Sky House Austin Building, Emmer & Rye boasts handmade bread and pasta and whole-animal butchery, working directly with ranchers, farmers, and growers for innovative farm-to-table food.
Keith Parker, Chef de Cuisine, manages the daily changing menu. His awards include a James Beard Finalist, Best Chef Texas 2020, Bon Appetit America's Best New Restaurants, and Austin American-Statesman #1 Restaurant in Austin.
Emmer & Rye is the first restaurant in Austin to offer dim sum service as part of the meal; order directly off circulating carts.
What To Order At Emmer & Rye
Start with the Crudo red snapper or Texas wagyu beef tartare with sunchoke. Add an order of bread and accoutrements with cultured butter, smoked honey, and sour orange.
For mains, savor the Fish Amberjack with fennel and trumpet mushroom or the Pork Mangalitsa Belly with mole chichilo and butternut squash.
For cocktails, choose the Bolo Tie with rum, Texas pecan, orange, and lime, or Praise the Sun with brandy, cold brew, vermouth, and mole bitters.
Or indulge in beer, cider, wine, sparkling wine, champagne, reds, whites, rosés, American and International whiskeys, tequila, mezcal, rum, and brandy.
Related Reading: