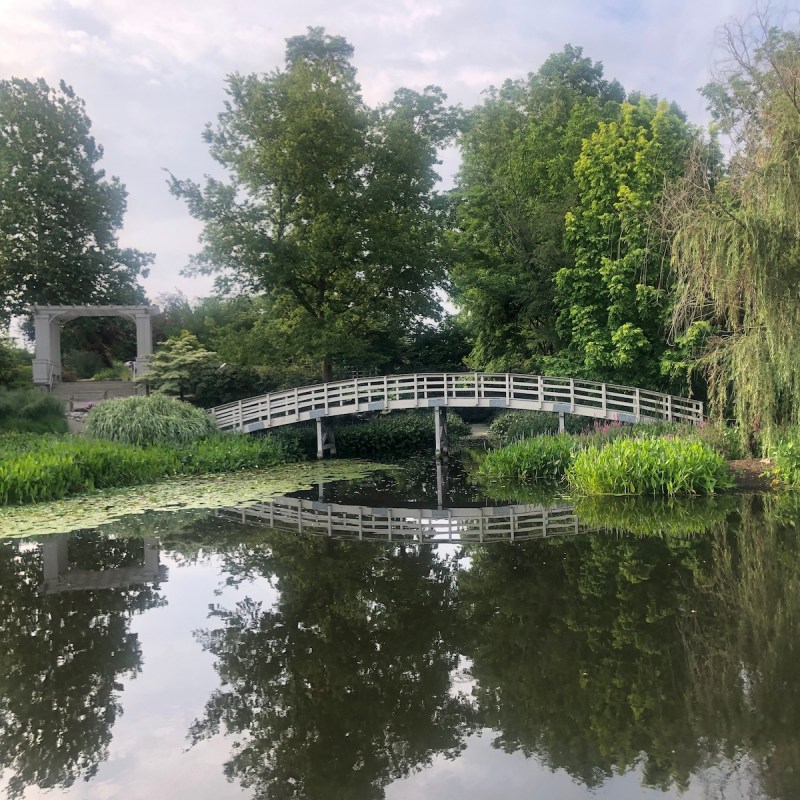 Have you ever wondered what it would be like to step into a Bible-themed world and explore the history of creationism? If so, visiting the Creation Museum in Kentucky should be on your travel list. This one-of-a-kind museum offers visitors a vivid look at history, culture, and creation.
I visited last year and found the museum to be fascinating. I loved how they compared creationism to evolution throughout the museum.
With towering dinosaur statues that open a window into Earth's prehistory, dueling biblical texts, and impressive scientific displays, this place is guaranteed to leave visitors wide-eyed with amazement. Whether you're a determined skeptic or a passionate believer, read on for everything you need to know before visiting this incredible museum!
What Is The Creation Museum?
The Creation Museum is an educational and entertainment facility built to promote the biblical account of creation, as seen in the book of Genesis. It also compares it to evolution and details both points of view. The museum offers a variety of interactive exhibits, lectures, films, and activities that explore the origin of life from a biblical perspective.
The museum's primary focus is to show how science supports scripture from a creationist point of view. Visitors take an interactive journey back to creation and learn about prehistory, natural history, geology, paleontology, and more. Exhibits feature life-like dinosaur models, realistic scenes depicting biblical events, and hands-on activities that allow visitors to explore science from a biblical perspective. Many exhibits are interactive and utilize high-tech audiovisuals to enhance the visitor experience.
Through its displays and presentations, the Creation Museum seeks to demonstrate how a literal 6-day creation can be harmonized with scientific evidence. Its mission is to equip believers with evidence of the Bible's accuracy and authority regarding topics such as history, science, and morality. Examples include fossils and other artifacts that show signs of rapid formation and explanations for why some animals are extinct or why some plants don't exist anymore. Visitors also learn about ancient civilizations, their beliefs, and lifestyles while being encouraged to think critically about these topics in light of scripture.
Additionally, the 75,000-square-foot museum offers educational programs for both children and adults that provide detailed information about creationism. In this way, the Creation Museum provides a unique opportunity for visitors to gain insight into how God created the world we know today.
Guests can also explore outdoor botanical gardens and a petting zoo. For the more adventuresome, there is a zipline to enjoy. The Creation Museum also hosts educational seminars on various biblical topics as well as special events throughout the year.
Where Is The Creation Museum?
The Creation Museum is located in Petersburg, Kentucky, about 20 miles southwest of Cincinnati. Since its opening in 2007, the Creation Museum has welcomed over 8 million visitors from around the world.
How Long Does It Take To Tour The Creation Museum?
The Creation Museum offers a variety of ways to explore its exhibits, so it's hard to say precisely how much time is needed for a complete tour. Generally speaking, visitors can expect to spend between 3 and 5 hours at the museum. When we visited, we were there for at least 5 hours.
This allows time for various interactive experiences, including life-sized dinosaur models that show how these creatures could have coexisted with humans, a digital planetarium with 3D animations of creation stories, and an observatory where visitors can learn about the stars and planets in the night sky. Guests can enjoy live performances, participate in tours and workshops, and visit the petting zoo and botanical gardens. We spent at least an hour in the botanical gardens and another hour in the zoo area.
By taking advantage of all the Creation Museum has to offer, you can have an unforgettable experience with friends and family that will last a lifetime.
Tips For Visiting The Creation Museum
Visiting the Creation Museum is a great way to learn more about the Bible, creation science, and natural history. Here are some tips for planning your trip:
Plan A Visit During Off-Peak Times
Try to visit the Creation Museum during off-peak times, such as mid-week or the off-season. This will help to avoid large crowds and make your experience more enjoyable.
Visit The Creation Museum Website In Advance
Check the website for days and hours of operation before you go. Also, check for any special pricing or major activities that might make the museum extra crowded on the day you plan to visit.
Plan For A 3- to 5-Hour Visit
Plan to spend several hours at the museum; it's an immersive experience with many galleries and exhibits. It would be best if you had enough time to see everything. When you go through the galleries, take your time and read each exhibit carefully; there is a wealth of information that covers everything from dinosaurs to dark matter. You don't want to be rushed. We were there for a full day.
Buy Tickets In Advance
Plan your visit ahead of time and purchase tickets online for the best experience saving you time waiting in line.
Wear Comfortable Shoes And Clothes
The Creation Museum is wheelchair-accessible. It's a good idea to wear comfortable shoes since a lot of walking is involved when exploring all the different exhibits. There is also a lot of movement, so comfortable clothes are essential.
Beat The Crowd
The museum opens at 9 a.m. every day, so plan to arrive early to explore all the exhibits before they become crowded.
Pick Up A Map Or Audio Guide
When you arrive, make sure to pick up an audio guide or map, which will help you navigate the museum more easily.
Check On Special Events
It's also a good idea to check ahead if any special events are occuring during your visit. They often feature guest speakers, live performances, workshops, and more.
Take A Camera
The museum has many great photo opportunities, including captivating sculptures and murals, a life-sized Garden of Eden, and a giant dinosaur. Be sure to snap some photos.
Immerse Yourself In Interactive Displays
Be sure to use the interactive displays throughout the museum, such as touch screens and simulators. They offer unique perspectives on some of the explored concepts.
Explore The Extras
While the exhibits themselves are interesting, remember to allow time to explore the botanical gardens, planetarium, petting zoo, zipline, and special events that may be going on during your visit.
Apply Sunscreen
If you plan to be out in the botanical gardens or the petting zoo, be sure to bring sunscreen and remember to apply it.
Visit The Bookstore And Gift Shop
The Creation Museum has an extensive bookstore with books about creation science, natural history, and Christian apologetics. The gift shop has many fascinating items related to science, faith, and culture that make excellent souvenirs.
Have Fun!
Most importantly, don't forget to have fun! The Creation Museum is a great place to learn about God's creation, ride the zipline, pet the animals, enjoy the flowers, and spend time with family and friends.
Visiting the Creation Museum in Kentucky is sure to be a great experience, regardless of your beliefs. Not only can you find fascinating displays, interactive exhibits, and educational activities, but it's also a great way to learn more about history and science.