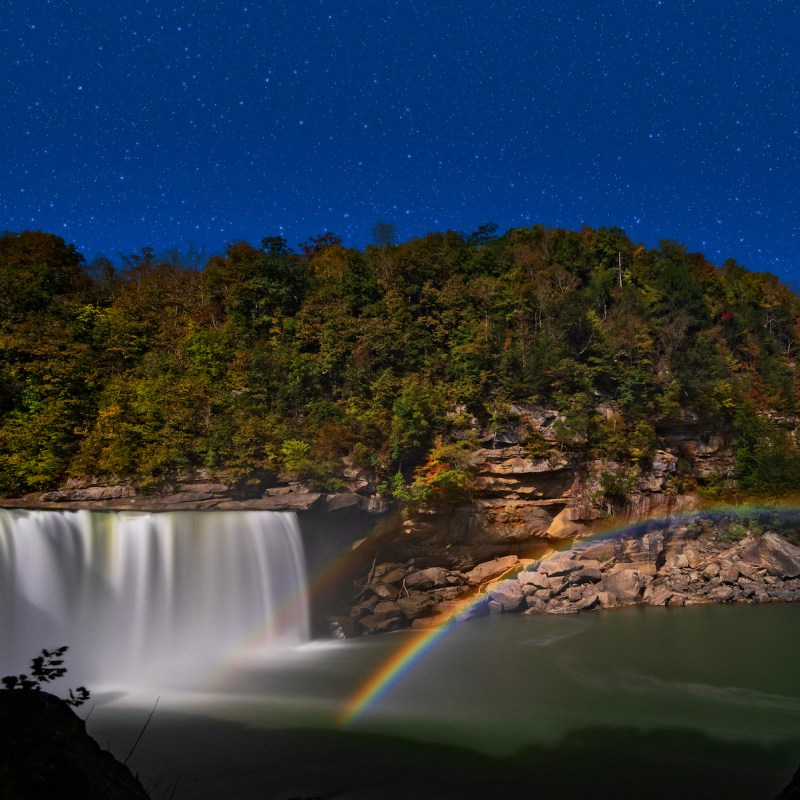 Everyone has seen rainbows — and maybe even double rainbows. But have you seen a moonbow?
It's a fairly rare phenomenon that requires a number of weather and astronomical conditions to align perfectly. When those conditions are just right, you'll see a white moonbow arcing across the night sky.
There are only a handful of places around the world where moonbows, sometimes called lunar rainbows, occur regularly. Cumberland Falls State Resort Park in Kentucky is not only one of those places, it's one of only two places in the U.S. where you can see a moonbow.
How Moonbows Are Formed
A moonbow is formed the same way rainbows are formed. When light shines on water droplets hanging in the air, light passes through the droplet. The light then bends, or "refracts," reflects off the back of the droplet, and exits the water droplet after refracting again, a Farmer's Almanac article explains.
In the case of a moonbow, the moon's light is refracted by water droplets hanging in the air. Moonbows are rare because they require those hanging water droplets, a full or nearly full moon low on the horizon, a clear night with few clouds, and very dark skies.
Moonbows aren't colorful like rainbows because light from the moon is nowhere as bright as light from the sun. Consequently, the colors of a moonbow are too weak "to be picked up by the color-detecting cells in our eyes," the Farmer's Almanac article notes. That means we see a white moonbow because when all the visible colors combine, it creates what we see as white light.
Cumberland Falls
Cumberland Falls State Resort Park, near Corbin, Kentucky, sits just outside the Daniel Boone National Forest. Although the park is known for its bird-watching and memorable hiking trails, near the park's waterfalls is one of the two places in the U.S. where you can see a moonbow.
Since it's just outside a national forest, the park is dark at night. Plus, the mist caused by water plunging over the Cumberland Falls hangs in the air. In the days before, during, and after a full moon — if the sky is clear — you'll see the moonbow.
To help plan your visit, the park even publishes a calendar of when the moonbow will occur. You can find that calendar here.
By the way, if you're wondering where else moonbows regularly occur, it's a short list of locations. They are Yosemite Falls at Yosemite National Park in California, Victoria Falls in Africa, and in the cloud forests of Costa Rica.
Know Before You Go
Cumberland Falls State Resort Park is open. Please note that facemasks must be worn in Kentucky State Parks while in indoor public places as well as outdoors when it's not possible to maintain social distance from people who are not part of your group. More details can be found here.
Related Reading: