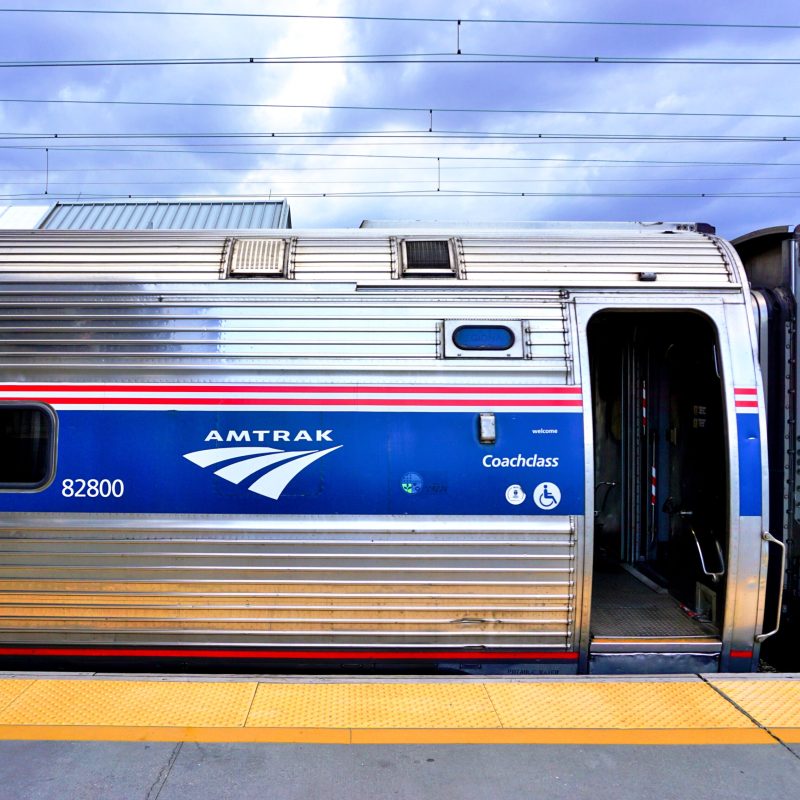 Traveling across America on the rails can be an amazing experience. It forces you to slow down, settle in, and really relax. Chances are, you'll make new friends, and you'll marvel at parts of the country you can't see from the interstate or from the window of an airplane.
We recently wrapped up an epic trip on Amtrak's California Zephyr. The adventure started in Emeryville, California, near San Francisco, and ended in Chicago — it's the longest route the train runs. We traveled about 2,400 miles and, all told, the trip took more than 60 hours to complete! We booked a bedroom (definitely the way to go on such a long haul), unplugged, kicked back, and marveled at the incredible scenery as we took the very long way home.
A few simple decisions we made went a long way toward ensuring our trip was an enjoyable one. Here are seven things you need to know before you embark on an overnight — or multiday — rail trip.
1. Clean Up And Clear The Air
While our bedroom was cozy and comfortable and had been cleaned the evening before by the Amtrak staff, we brought along a couple of important supplies to spruce things up during our journey. We wiped down all hard surfaces, including the sink and shower area, with antibacterial wipes. We also brought small essential oil-based room sprays to keep the air smelling sweet. It's something to consider, especially since some rooms include an ensuite bathroom! The lovely scents made the small space much more bearable, and a lavender-based spray on our pillows at night helped us get to sleep while the train rocked and rolled down the tracks.
2. Don't Skimp On The Snacks
When you purchase tickets for the sleeper car, all of your meals are included in the price. Breakfast, lunch, and dinner are served in the dining car, and for the most part, they are pretty tasty. However, you'll be spending a lot of time in your room, and it's a good idea to have your favorite snacks on hand in case you get peckish in between meals. That's because grab-and-go options from the café car aren't included in your fare, and honestly, they aren't the most healthful. Do yourself a favor: Head to the grocery store beforehand and grab a bunch of your favorite snacks. We brought along raw almonds, some fresh fruit, turkey jerky, whole wheat crackers, and dark chocolate squares. Just make sure you opt for nonperishable items, since there is no refrigeration available on the train.
3. Remember To Bring Cash
If you're like us, you rarely carry cash. Plastic is just so much easier, right? However, when you're on an Amtrak train for a couple of days, a cash stash is essential! That's because the people who take great care of you during your trip — your room attendant, who tidies up your room, and the dining car staff members who take your orders three times a day — should be tipped accordingly. Of course, this is based on the level of service you receive. That said, our staff was incredible, in terrific spirits and super helpful, so we absolutely wanted to show our appreciation. We gave $50 to our room attendant, who made sure we had plenty of bottled water, coffee, and juice whenever we needed it. He also pointed out interesting sights to us during the trip, including a stunning band of wild horses in the Nevada desert. We gave our dining car staff 20 percent of what each meal cost. It's the right thing to do — these people work really hard, after all — so don't be caught onboard without plenty of cash.
4. Play Games To Help Pass The Time
Part of the allure of a long-haul train trip is the fact that you'll be traveling through amazing, jaw-droppingly beautiful terrain. We were so impressed by what we saw, especially the Sierra Nevada, Donner Pass, the Colorado River, and, of course, the magnificent Rocky Mountains.
However, the gawking will only last so long. You're going to want to bring a few items along to help pass the time. Of course, a couple of great books are always at the top of our list. We downloaded our favorite podcasts in advance and brought a small Bluetooth speaker for playback as the world rolled by. We also brought several simple games, including UNO and Cards Against Humanity, that kept us entertained for hours, and an ordinary deck of cards turned out to be a terrific icebreaker. After lunch one day, a German couple we befriended in the dining car came back to our room for an impromptu and delightful card tournament.
The hours on the rails are long, delays can and do happen, and there was no Wi-Fi on the Zephyr (which made life interesting for my much-younger travel companion!). Make sure you've got entertainment options on hand so you don't go batty when the scenery becomes pedestrian.
5. Check Out The Observation Car
What should you do when claustrophobia sets in or when you just need to stretch your legs? Head to the observation car for a change of scene! Most of Amtrak's long-haul fleets include observation cars, which feature floor-to-ceiling windows. They are a great place to really soak up the scenery. On our trip, staff members, including the conductor, routinely pointed out landmarks via the intercom system. In the observation car, we watched as the land morphed from ocean bays to alpine meadows to rugged mountains to deserts and finally to farmland. It's a great vantage point! Keep in mind, however, that there are a limited number of seats in the observation car, and you'll likely be vying for them with the people camped out in coach. Our advice: Get there early, after breakfast, for your best chance at a seat with an amazing view.
6. Shower When The Train Stops
As I mentioned above, our room had a minuscule ensuite bathroom. While it was certainly more convenient — and obviously more sanitary — than sharing facilities or going without bathing for nearly three days, it did require a certain amount of planning and maneuvering to prevent an in-cabin disaster. That's because trains can shift and sway — a lot! Another thing to keep in mind is that the lip of the shower is very shallow, and the water can slosh around. In the worst-case scenario, if there are big bumps, the water could flood the floor of your cabin. So, your best bet is to get a route map from your room attendant. Ask which stops will take more than 10 minutes. When the conductor announces those towns, resist the urge to stroll the platform. Instead, head to your shower for a stable, slip-free experience.
7. Don't Be Afraid To Request Room Service
Keep in mind that when you go to the dining car, you'll likely be seated across from strangers. While this is a terrific chance to make new friends from around the world (we met people from Germany, New Zealand, France, and Australia on our journey), there might be occasions when you're not feeling as social and want to stay in your room. No worries! Just ring for your room attendant and ask for room service. Order whatever you want from the dining room menu, and a few minutes later, your attendant will be back with your food. It's a great amenity, but it's not widely advertised or discussed.
The best thing about this option is that you can enjoy a glass of wine or cocktail with that meal, straight from your own stash! That's right — you can bring along your favorite vintage or spirit, but it has to be consumed in your room. This is a great thing, because while alcohol is available for purchase onboard, the selection leaves something to be desired, and it's expensive. Another important thing to keep in mind: If you order room service, don't forget to tip. This is a perk, and your room attendant should be rewarded accordingly. Bon appétit!