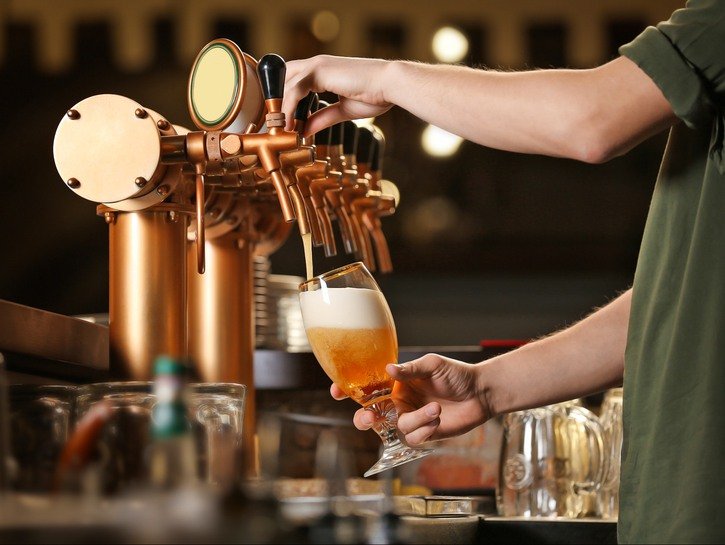 Portland, Maine, has much more to offer than meets the eye. Besides charming historic architecture, an interesting history, and an award-winning foodie scene, Maine's largest city also boasts an incredible beer, wine, and spirits landscape. From long-established microbreweries to brand-new distilleries to chic urban wineries, Portland truly has something for everyone.
Here are the best spots to indulge in a boozy beverage in this seaside enclave.
Allagash Brewing Company
There's no better place to spend your day in Portland than to have a drink at Allagash Brewing Company. One of the top craft breweries in the United States by sales volume, this 25-year-old mainstay is a must-visit for any out-of-towner.
Allagash is especially noteworthy for being one of the first companies to bring Belgian-style beer to the U.S. market. Visitors can learn more about the company's unique history, laid-back culture, and beer offerings at the tasting room and attached brewery in Portland's Riverton neighborhood. For about $5, beer fans can enjoy the classic brewery tour and sample four Allagash products. The experience usually lasts about an hour and can be booked online ahead of time; it's offered seven days a week for maximum convenience. Don't miss the main attraction, the classic Allagash White. This location is a bit out of the way from downtown, so consider visiting Foundation Brewing on the same trip.
Eighteen Twenty Wines
Another great stop on Portland's beverage trail is eighteen twenty wines. Visit the tasting room on a Friday, Saturday, or Sunday for a chance to sample some stellar rhubarb wine. It's crafted with locally grown plants and is surprisingly less sweet than traditional grape vino. Both the victoria, a classic rhubarb wine, and the dottie mae, a wild fermented choice, are always available to sample and/or purchase. The winery also sells specialty dry ciders and seasonal offerings like warm cider on occasion. Check out the wine flight for the best value, and be sure to chat with the dazzling proprietor, Amanda O'Brien, if you get the chance.
Formerly a home-brewing wine operation, eighteen twenty has since moved into a pretty tasting room with workshop space in the trendy East Bayside neighborhood. This creative haven is also home to some of the other spots on our list, including Urban Farm Fermentory, Maine Craft Distilling, and Rising Tide Brewing Company.
Hardshore Distilling Company
Next up, consider a trip to the Hardshore Distilling Company to sample the unbelievable gin. The Hardshore team focuses on mint and rosemary flavors rather than the traditional juniper-forward sip. This unique approach has caught the attention of gin fans all over the country. In fact, Hardshore recently made national waves when it was named one of the country's best craft gin distilleries by USA Today readers. Craft bartenders are available for cocktail creativity in the tasting room Wednesday through Sunday. Be on the lookout for the owner's adorable black lab, too — she frequents the space and is very friendly.
Blue Lobster Wine Company
Another excellent drink option is the aptly named Blue Lobster Wine Company. According to legend, one in a million catches will garner a rare blue lobster and bring good fortune. Try your luck with the small-batch canned wines for more sustainable wine consumption. Options include an unoaked chardonnay, a light and fruity rosé, and the vibrant red Bayside Blend, named for the winery's hip neighborhood. Blue Lobster offers a fun and approachable environment to learn about wine without all the stuffiness sometimes associated with viticulture.
Urban Farm Fermentory
No trip to Portland would be complete without a visit to the Urban Farm Fermentory. The purveyors use local ingredients to craft kombuchas, beers, ciders, meads, and more. The tasting room is open seven days a week and features a rotating tap of 24 pours. A flight will allow for tasting the most products, but full pours are also available on location. Urban Farm's website helpfully shares the daily options, so you can preview them ahead of time.
Foundation Brewing Company
Located on Industrial Way in Portland, Foundation Brewing Company is another great brewery in this legendary brew area. Founded in 2012 by two husband-and-wife teams, this operation has grown steadily since its inception. Visit the tasting room, open every day but Tuesday, to sample beers like the Burnside Brown Ale; the Afterglow, an American IPA; and the Weekender Session IPA. Another favorite is the Cellar Pomology Series, which pairs aging beer with various fruits, including wild Maine blueberries. Tours can be scheduled through the Maine Brew Bus or by calling ahead to book a private experience.
Stroudwater Distillery
Another Portland favorite is Stroudwater Distillery. The tagline, "Damn Good, Down to Earth, and Never Fussy," perfectly encapsulates this Thompson's Point spot and the historic village neighborhood. Stroudwater serves up numerous spirits, including vodka, rye, gin, rum, bourbon, and belfry, in its riverfront tasting room. If you're visiting in the summer, be sure to check out the nearby outdoor concert series schedule and plan your Stroudwater time accordingly. Outdoor games like cornhole are available, as well as special offerings like frozen drinks and seasonal punch. There's never a bad time to give this distillery and surrounding cute area a look.
Cellardoor Winery
Conveniently located next to Stroudwater Distillery is Cellardoor Winery's urban tasting room. The rural vineyard is also available to tour and is located less than a 2-hour drive away in Lincolnville, Maine. A flight of four wine samples or a full-glass pour will cost you just $10, and there are tasty bites on offer to balance out the alcohol content. Some of the wines available are Frontenac gris, chardonnay, petit verdot, pinot noir, and more.
Cellardoor is a really creative vineyard, since it must battle Maine's chilly climate when growing and harvesting. Most of the grapes used in the wines are grown right in Lincolnville, with a few from some warmer areas.
Rising Tide Brewing Company
Rising Tide is another fantastic Portland brewery. This artisanal brewing operation runs a taproom that's open seven days a week. Beers available on the regular include the Back Cove (pilsner), Daymark (American pale ale), Ishmael (copper ale), and Zephyr (India pale ale). Special batches are sometimes offered as well, and have included a sparkling brut ale and a grapefruit session IPA. Complimentary tours of the brewery are available each afternoon and do not need to be planned in advance; just be sure to wear closed-toed shoes.
Maine Craft Distilling
Portland's own Maine Craft Distilling provides an ideal backdrop for enjoying a beverage while in the East End of the city. Local ingredients like blueberries shine with the brewery's farm-to-flask approach. The distillery produces brandy, gin, rum, vodka, whiskey, and fun canned cocktails, and there's a tasty pub on-site, so visitors can sip and dine in the same place. Weekend tours are available at both the Portland and Freeport locations. Just don't visit on a Tuesday, since that is the only day the distillery is closed.
Bissell Brothers Brewing Company
Last on our list of must-try Portland drinking establishments is another Thompson's Point winner, Bissell Brothers. Beer flights aren't an option here, but traditional pours or half-pours can be enjoyed at the taproom seven days a week. Check the can release schedule online before planning a visit, since lines snaking down the street are very common on release days. The brewery is known for the funky graphic designs on its popular cans.
No private tours are available, but the public can take a tour of the brewery via the Maine Brew Bus. Depending on the season, beers on offer include the hoppy blonde Baby Genius; the flagship ale, Substance; Lux, a tropical pale ale; and Reciprocal, an Australian IPA.
Planning a trip to Portland? Check out these seven ways to spend a day in the city.
Disclaimer: Please note that the author was hosted at eighteen twenty wines, Foundation Brewing Company, and Hardshore Distilling Company as part of a Maine Brew Bus tour. All opinions remain her own.
Photo Credit: Africa Studio / Shutterstock
Photo Credit: Foundation Brewing Company